Marmalade fans will loves this method that doesn't require any peeling, just an overnight soak.  A delicious addition to your homemade pantry.
A recipe for a deliciously bittersweet blood orange marmalade with no pectin and no peeling. Perfect with your morning toast.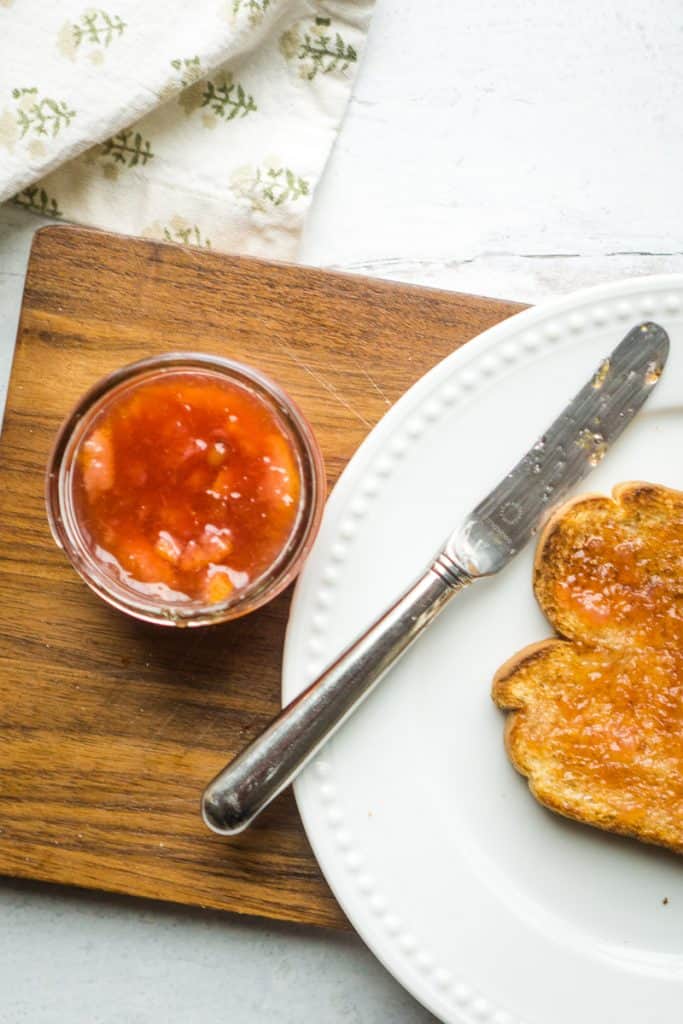 Canning is one of those activities that no one really loves until it's over. There's a lot of prep work, you have to lift up huge pots full of water, and it's hot. Really hot. To make matters worse, you are usually doing it in the summer because that's when everything is coming in the garden.
Luckily, blood oranges are in season in January and February. Making this marmalade feels like a cozy and productive project on a cold day. The heat is welcome in the kitchen, and the oranges are beautiful and cheery on a gray day. It's one of my favorite canning projects year after year. And the finished product is beautiful and looks like canned gems.
This article contains affiliate links, meaning that if you make a purchase after clicking on one, I may earn a commission at no extra cost to you. As an Amazon Associate, I earn from qualifying purchases.
[adthrive-in-post-video-player video-id="8r9dyglD" upload-date="2020-01-21T00:00:00.000Z" name="Homemade Blood Orange Marmalade" description="Learn how to make blood orange marmalade at home with only three ingredients: lemons, blood oranges, and sugar. This recipe is a delicious blend of sweet and tart for the perfect companion for your morning toast." player-type="collapse" override-embed="false"]
The marmalade making process
If you have never canned anything before, you will want to carefully read this article on home canned food safety.
This technique is one that I first learned in one of my favorite cookbooks, The Blue Chair Jam Cookbook. The traditional marmalade method is to peel the oranges so that you get the flavorful peel but don't have to worry about the bitter white pith. This method allows you to use all of the orange, no peeling needed. Cooking them and soaking them overnight adds a little time to the process but lets you skip the peeling, as the soak takes any bitterness out of the pitch.
It's essential that you use blood oranges for this marmalade, as regular navel oranges have a thick, bitter pith that has to be removed. Also, blood oranges are virtually seedless.
This is a multi-day process, but most of the time just involves waiting for things to soak.
Day One
You will cut up lemons into eighths and soak them in water overnight. This is so that they will release their juices easily the next day.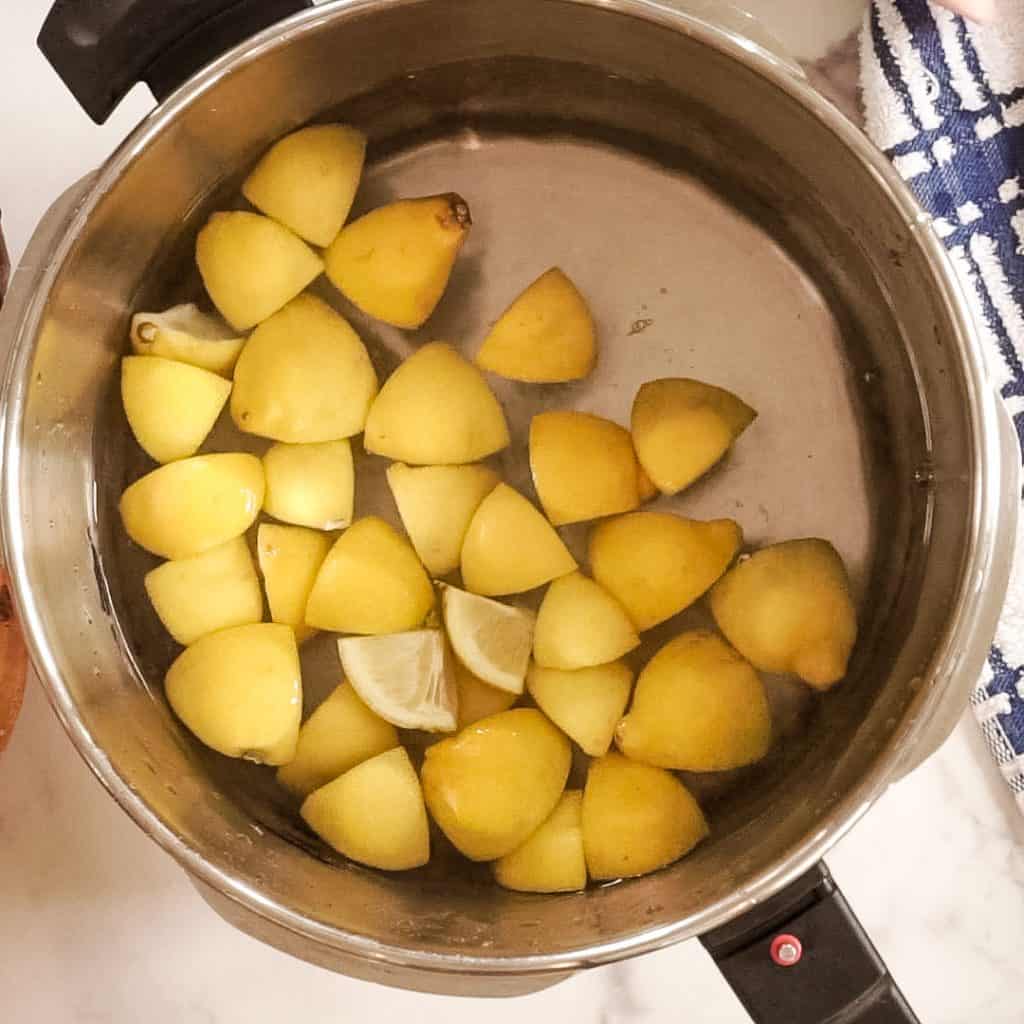 Day Two
You will prepare three different components that will be mixed to become the marmalade.
Making the lemon juice
You've already started on one of them, the lemon juice. Today you have to turn those lemon wedges into juice. Put the saucepan on the stovetop and bring it to a boil on high heat. And then you reduce it to a simmer and cook for three for four hours. Push down on the lemons to keep them submerged. Over time, the liquid will become syrupy. At that point, remove from the heat and strain with cheesecloth.
(I use a Greek yogurt strainer, which works very well.)
Making the blood orange juice
Next, you will juice the blood oranges to make orange juice. Just cut them in half and juice them. Easy.
Preparing the cooked fruit and peel
The last part is a bit more time consuming and weird. The leftover part of the orange is going in the marmalade as well.
We don't need to peel it, but we do need to slice it. Cut the halves into quarters and then slice them up. It's not that bad!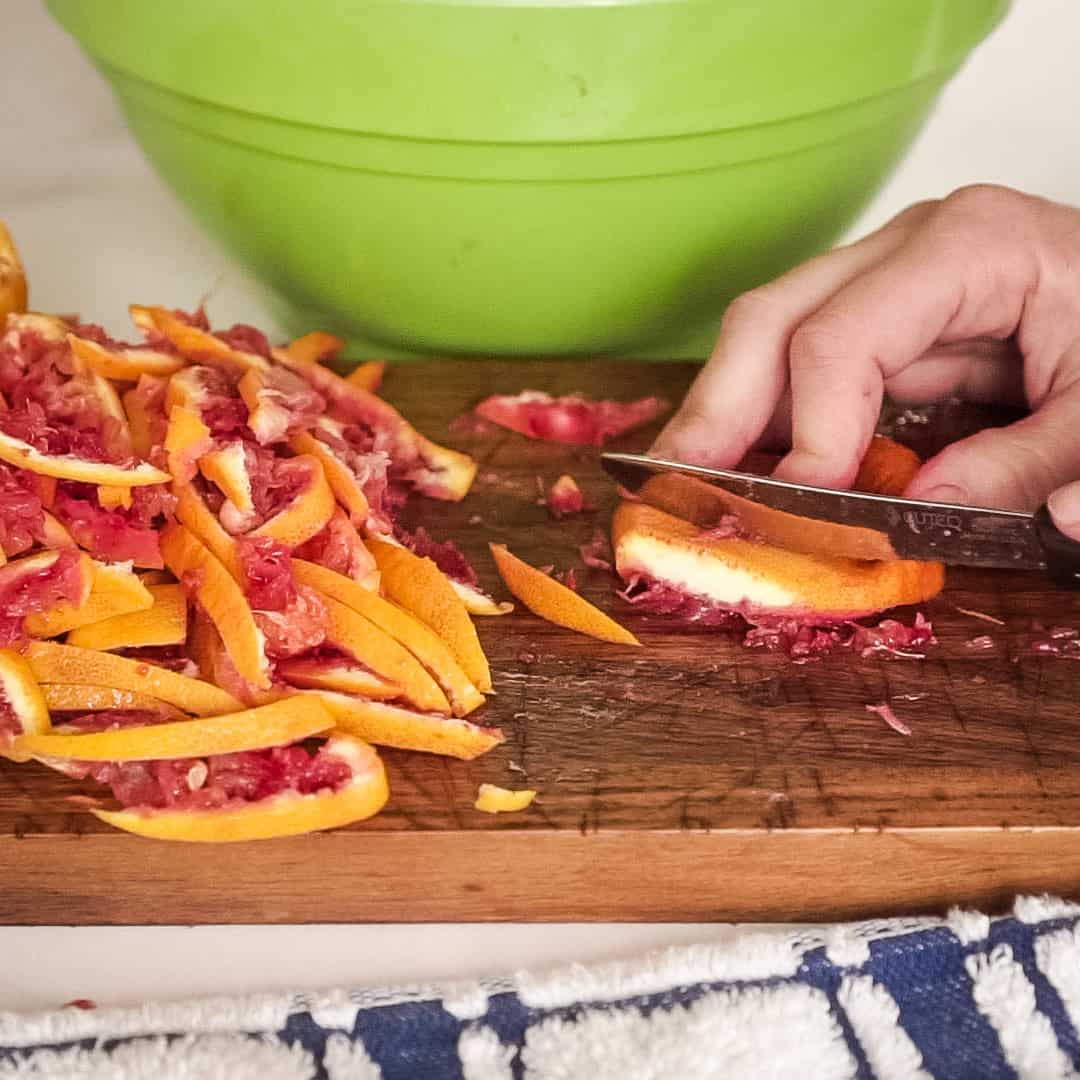 Put all the orange slices into a big saucepan and cover them with water until they are just covered. Bring to a boil on the stove, and cook them until they are very tender. You should be able to cut through them with a spoon. If they aren't tender at this point, they won't be soft and tender in the marmalade, so don't rush.
Once this has cooked, it needs to sit overnight. Cover it and let it sit at room temperature until morning.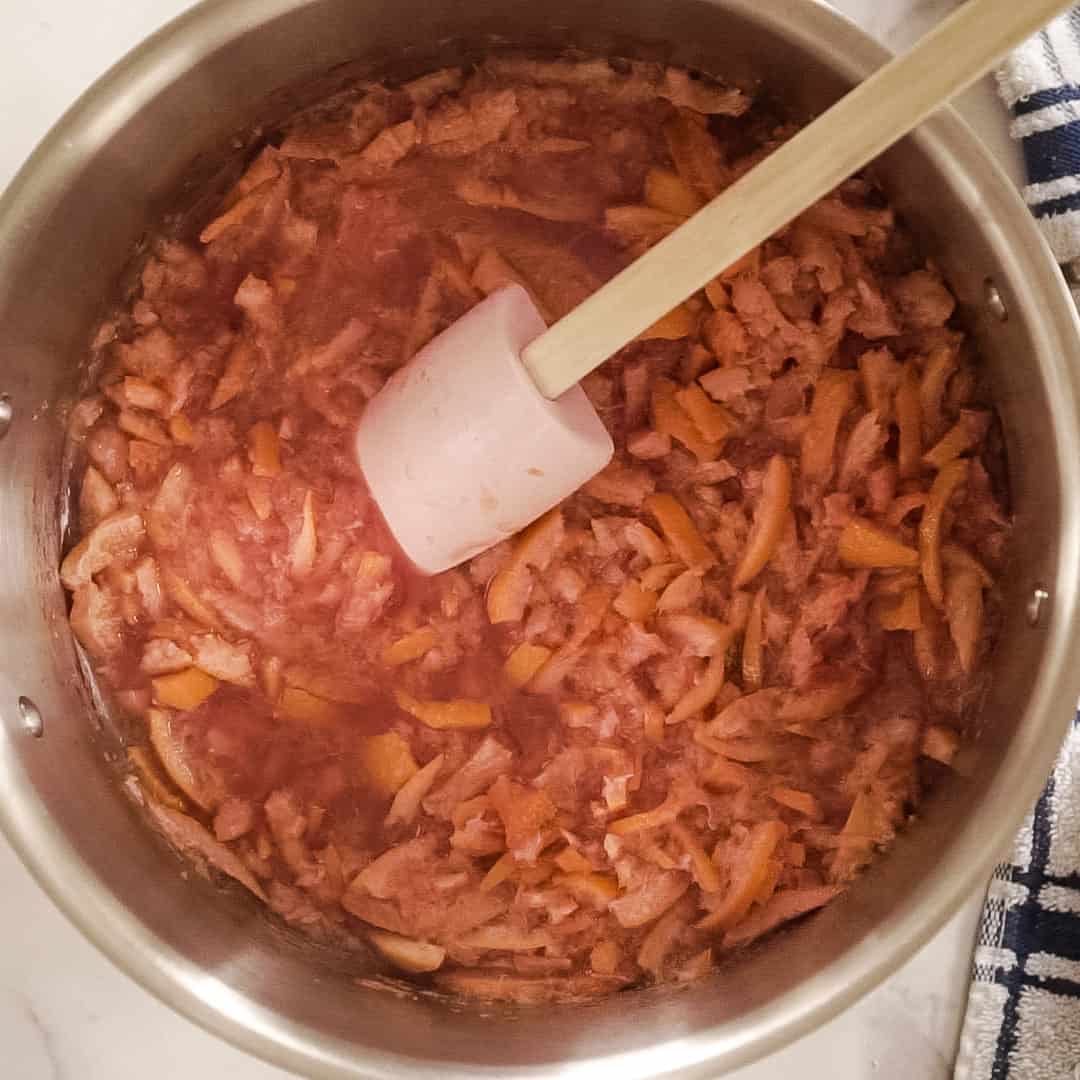 So we now have prepared the lemon juice, the blood orange juice, and the cooked fruit. We will be back in the morning to turn it into marmalade.
Day Three
We're almost done!
If you are going to water bath can the marmalade, prepare your jars and and lids in hot water. Set up your canner and start heating the water.
In a wide, shallow jam pan or heavy-bottomed sauce pan, combine the lemon juice, sugar, and the entire pot of orange peel and remaining water in the pot. Bring it to a boil over high high heat, then reduce the heat to medium.
Cook until the jam sets, which will happen at 220 degrees. If you don't have a thermometer, you can check by testing with a frozen plate. (Put a small plate in the freezer while the jam is cooking and place some jam on the plate. If it gels on the plate, it's set. If it just runs off, it needs more time.)
Once the jam has set, skim off any foam that has formed and ladle the jam into jars. (I prefer 4 ounce mason jars.) Process in the water bath canner for 10 minutes for 4 ounce jars, or 15 minutes for half pints. Allow to cool, undisturbed, until sealed.
Looking for something simpler?
Here's the recipe!
Blood Orange Marmalade
Print Recipe
Marmalade fans will loves this method that doesn't require any peeling, just an overnight soak. A delicious addition to your homemade pantry.
Click here to grab a free seasonal e-cookbook!
Ingredients
5

cups

white granulated sugar

1.5

pounds

blood oranges

about 6 medium

.75 pounds lemons

about 4 medium
Instructions
Make the lemon juice
Cut the lemons into eighths and place them in a large saucepan. Fill with cold water until the lemons are just covered. Place in the fridge overnight.

The next day, bring the saucepan to a boil and then reduce to a simmer. Simmer the lemons for three to four hours, pressing down to keep them covered by the water, until the liquid becomes slightly syrupy. Strain them overnight, reserving the juice. You should a little over 1/2 cup of juice
Make the blood orange juice
Cut off the end of each orange to remove the hard lump. Cut the oranges in half and juice them. Save the rest of the orange. Remove any seeds from the orange juice. Cover the juice and refrigerate overnight.
Prepare the orange peel
1. Slice the juiced oranges into quarters and then into thin strips. Place them into a large sauce pan and cover with water. Bring to a boil over high heat, then reduce to a simmer. Cook two hours, until fruit is very tender. (You should be able to cut through it easily with a spoon.). Remove from the heat and cover. Allow to continue to soak overnight at room temperature or in the refrigerator.
Make the jam
Place two small plates in the freezer. Prepare canning jars, lids, and rims. Start waterbath canner.

In a large, shallow jam pan or saucepan, combine the sugar, blood orange juice, cooked oranges, and lemon juice. Stir well and bring to a boil over high heat, then reduce to medium. Cook for about 25-30 minutes. A layer of foam may form at the top. 3. Jam is done when it reaches 220 degrees. You can also check for doneness by placing a small about of jam on a frozen plate. If it runs off the plate and is still liquidy, it's not set. If it forms a gel-like blob, it's done.

When jam is cooked, remove from the heat and skim off any foam. Ladle into hot mason jars, leaving 1/4 inch of headspace. Screw on lids fingertip tight. Process in waterbath canner 10 minutes for quarter pints, 15 minutes for half pints. Allow to cool, undisturbed for 24 hours, until jars have sealed. Will keep 1 year.
Notes
Day one: Soak the lemons. Day two: Make the lemon juice. Juice the oranges. Cook the orange peels. Day three: Combine everything, cook into a jam, and preserve
Nutrition
Calories:
163
kcal
|
Carbohydrates:
42
g
|
Protein:
1
g
|
Fat:
1
g
|
Saturated Fat:
1
g
|
Sodium:
1
mg
|
Potassium:
41
mg
|
Fiber:
1
g
|
Sugar:
41
g
|
Vitamin A:
51
IU
|
Vitamin C:
12
mg
|
Calcium:
9
mg
|
Iron:
1
mg
Did you make this recipe?
If you loved it, please leave a review!
What's your next project?