A sweet and tart blend of fresh strawberries and lemon juice, canned to be shelf stable for fresh strawberry lemonade any time of year.
A recipe for canned strawberry lemonade concentrate. Mix with water or club soda for a garden-fresh drink whenever you want, or try a family favorite and add to your iced tea
The Recipe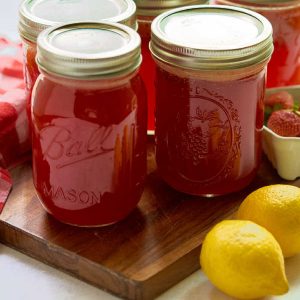 Strawberry Lemonade Concentrate for Canning
Print Recipe
A sweet and tart blend of fresh strawberries and lemon juice, canned to be shelf stable for fresh strawberry lemonade any time of year.
Click here to grab a free seasonal e-cookbook!
Ingredients
6

cups

strawberries

cleaned, tops removed

4

cups

lemon juice

bottled, fresh, or a combination

6

cups

granulated sugar
Instructions
Prepare water bath canner, pints jars, lids, and bands. Lids and bands should be placed in simmering water. Jars should be heated but do not need to be sterilized.

Puree the strawberries in a food processor fitted with the metal blade until liquified. Some seeds may remain but there should be no berry chunks. Transfer the strawberry puree into a large stainless steel (or other non-reactive) saucepan.

Add the lemon juice and sugar, and stir to combine. Heat mixture over medium heat until it reaches 190-200 degrees. Do not boil, just heat. If any foam forms, skim it from the surface using a large spoon.

Fill clean, hot pint jars with the lemonade concentrate, leaving 1/4 inch of headspace. Carefully remove lids and bands from the simmering water and fasten to be fingertip tight. Lower into boiling water canner, and process for 15 minutes at a full boil with the lid on.

Remove cans and allow to sit undisturbed on counter for 12-24 hours or until jars seal. When the lids are pressed, they should be firm and not move at all. Any jars that have not sealed can be placed in in the refrigerator and used within 2 weeks. Store sealed jars in a cool, dark place for up to 2 years.
Notes
Fresh lemon juice is delicious in this recipe, but squeezing four cups of it is extremely tedious.  Try a blend of bottled and fresh. 
To serve, mix 1 part concentrate with 2 parts water or club soda.  
Nutrition
Calories:
86
kcal
|
Carbohydrates:
22
g
|
Protein:
1
g
|
Fat:
1
g
|
Saturated Fat:
1
g
|
Sodium:
1
mg
|
Potassium:
39
mg
|
Fiber:
1
g
|
Sugar:
21
g
|
Vitamin A:
3
IU
|
Vitamin C:
15
mg
|
Calcium:
3
mg
|
Iron:
1
mg
Are you a beginner Canner?
This recipe is a great choice for new home canners. There's no worrying about jam setting, not too much chopping, and the end result is something fun and different.
Be sure to get a good canning book, which will be invaluable to you for finding safe recipes and tips for success.
Be sure you take your time, make sure you have everything you need before you start, and follow all the canning tips I've listed here.
Canning is hard work, but it's rewarding and (sometimes!) fun.
Choosing the right ingredients and equipment
Choosing canning equipment
If you need help picking out what you'll need as a beginner canner, I have some tips for you here. (Hint: basically a canner and an accessory kit will take care of everything!)
You'll also want pint jars (at least 6), with bands that fit and brand new canning lids.
I always like to have some old, clean dish towels and rags ready for setting down hot items.
Your Ingredients
Strawberries: make sure they are clean and that you've removed the tops. You can hull them if you want to get particular about it, but I never do.
Lemon Juice: any mix of bottled or fresh is fine. Usually bottled lemon juice is used in canning recipes because acidity is so important for safety. But this recipe has so much lemon juice that you don't have to worry about acidity.
Sugar: plain old granulated.
Serving ideas
(Be sure to try blackberry sweet tea and blackberry lemonade for more summery drinks that take advantage of what's in season!)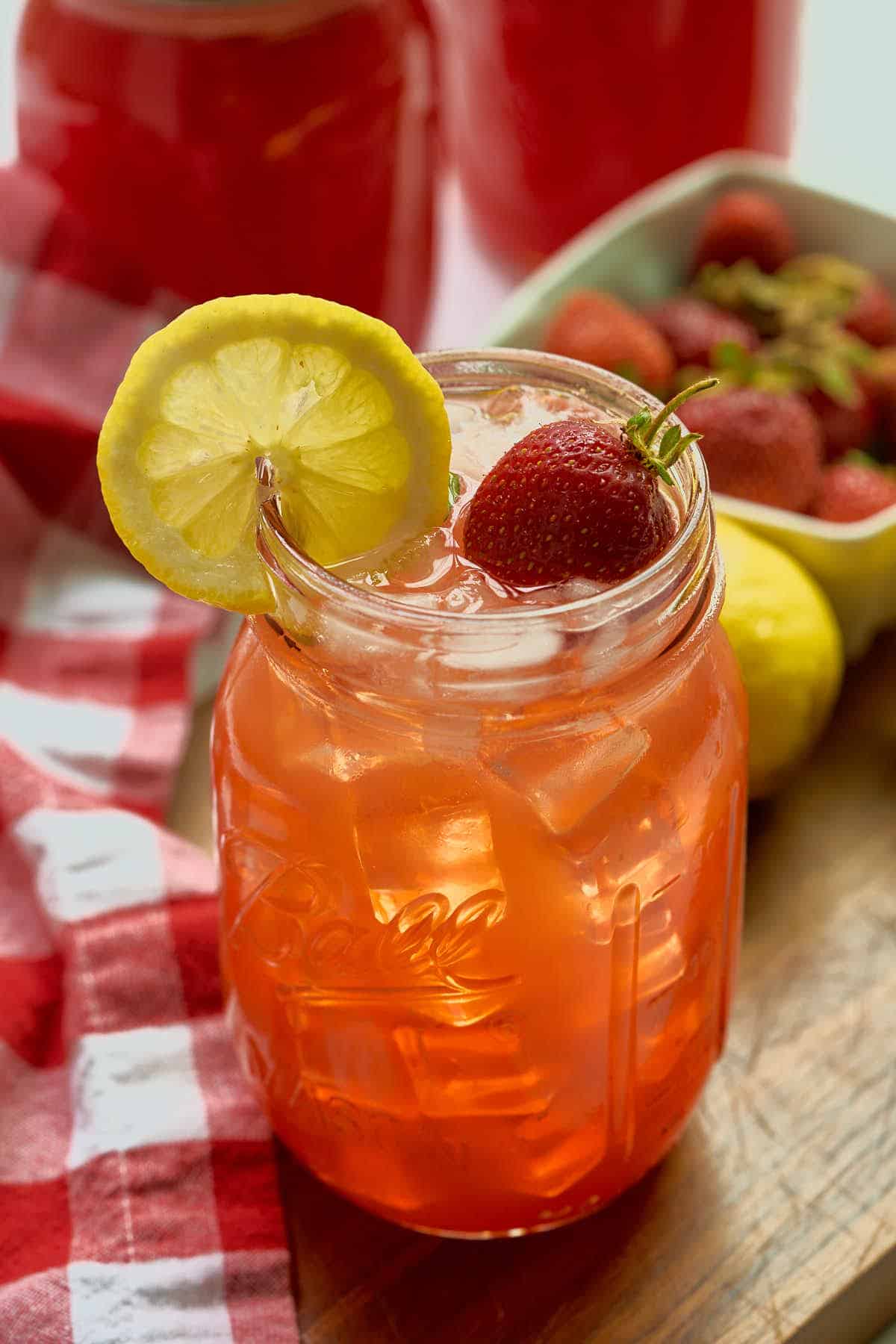 The "standard" serving suggestion is to mix the concentrate with water at a 1:2 ratio of concentrate to water. You can also try seltzer water or club soda. But we like it best mixed with unsweetened icd tea.
This concentrate is quite sweet, so you if you don't like sweet drinks you'll want to to dilute it quite a bit.
I hope you enjoy this recipe!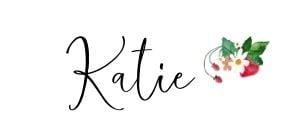 By