This caramel bundt cake has the same classic, sweet taste you know and love, just in a different shape. Tender cake and sweet buttery icing are the perfect combination for a special dessert.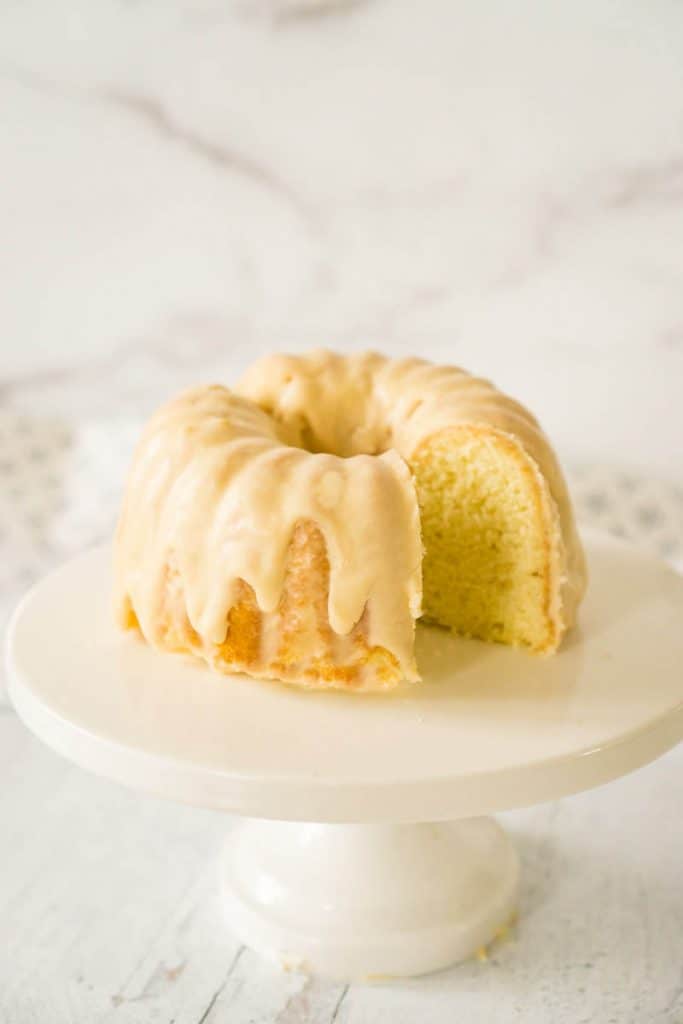 Everyone loves caramel cake
Caramel cake is a southern classic that has a reputation for being a little bit fussy. It's really not, but it is definitely more work than the average cake. This is because the icing is basically an actual caramel candy that gets beaten into a spreadable frosting. Not hard, just different.
You can beat the icing just a little and have pourable glaze, or you can beat it longer to have more of a piping consistency. Either way, as the icing dries it will harden because of all the sugar.
This cake is perfect to take to a church supper or any type of potluck. It's sweet, as it should be!
[adthrive-in-post-video-player video-id="KDWttRGR" upload-date="2020-01-11T00:00:00.000Z" name="Southern Caramel Bundt Cake" description="A twist on a southern classic, this caramel cake is baked as a Bundt cake and topped with a traditional caramel icing, made from scratch with browned sugar. Sweet, tender, and delicious, this recipe is the perfect choice for a church supper." player-type="collapse" override-embed="false"]
????Frugal baking tip:
Most discount grocery stores do not carry cake flour regularly. No worries! See the bottom of the recipe to see how to substitute all purpose flour.
Helpful tools:
You can bake this as one large Bundt Cake, or as two small Bundt cakes, or four "quartet" sized Bundt pans. I like the quartet ones best because they bake faster and if I make a mistake on one, there are still three left. ????
Bundt cakes are notorious for sticking to the pan. Make sure you use a cooking spray that includes flour, or use shortening and dust it well with flour.
To make the caramel icing, you need a shallow, heavy bottomed pot so that you can heat the sugar without burning it. It should hold at least 3 quarts because the caramel will boil in it. Here's the one I used.
Cake flour makes for a fluffier texture. But if you don't have any, you can substitute a combination of all purpose flour and cornstarch (2 3/4 cups plus 1 tablespoon flour and 3 tablespoons cornstarch.)
Step by step:
Any time you make a cake it is best to start with room temperature ingredients: softened butter, room temperature eggs, and even room temperature milk and sour cream.
For this cake we begin by beating the butter on its own for a few minutes, and then slowly adding the sugar. Beat until its light and fluffy:
Add the eggs one by one, then the sour cream and vanilla.
Mix all the dry ingredients in a separate bowl. Add them to the butter mixture, alternating with the milk and mixing on low in between. You don't want to over mix! Blend until just combined.
The finished batter will be light and fluffy.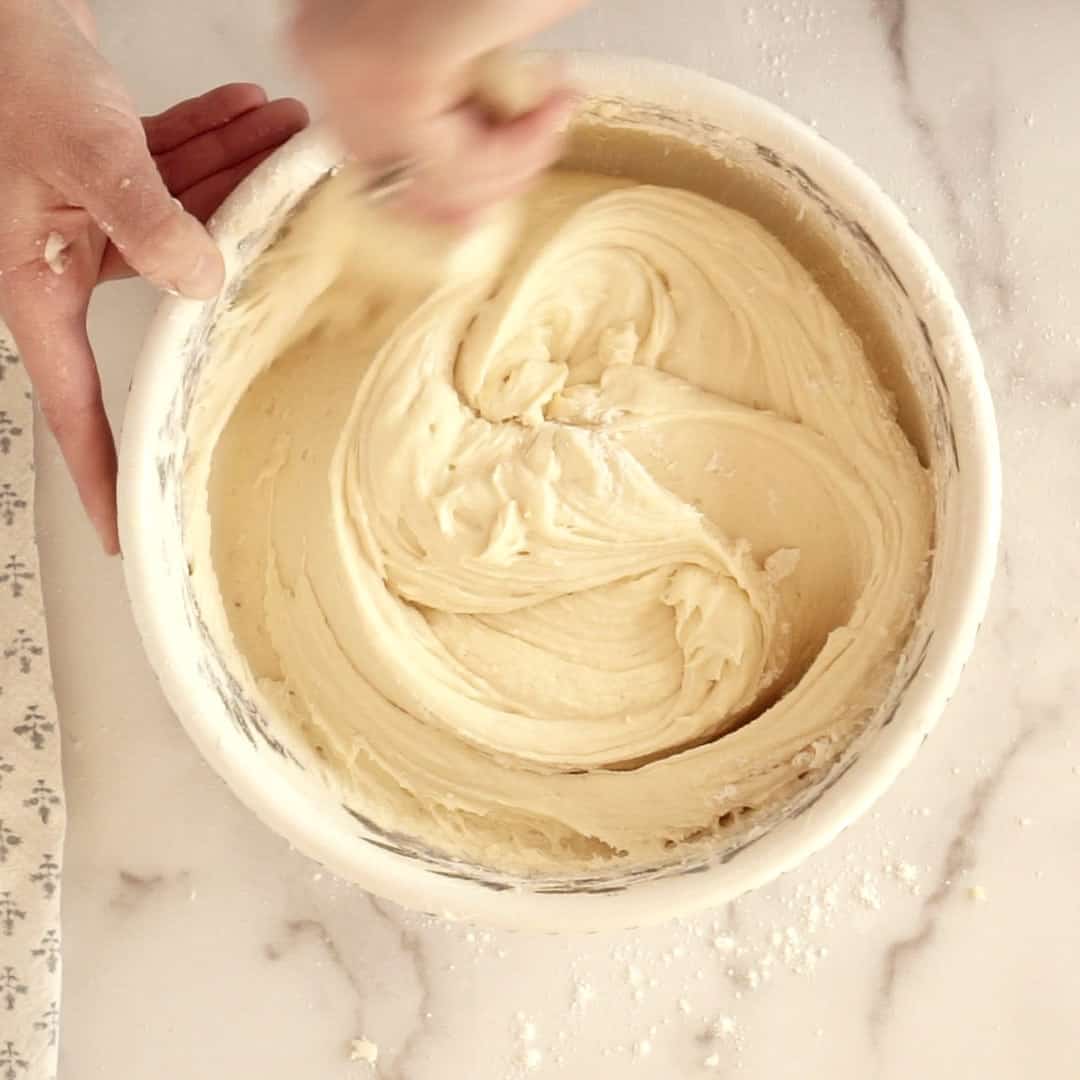 Preheat the oven to 350 and prepare your Bundt pans. Bundt cakes love to stick, so it's important to prep the pans well. Make sure you spray them heavily with a non-stick spray, preferably with a baking spray that includes flour.
Pour the batter into the pan. It won't fill it up all the way.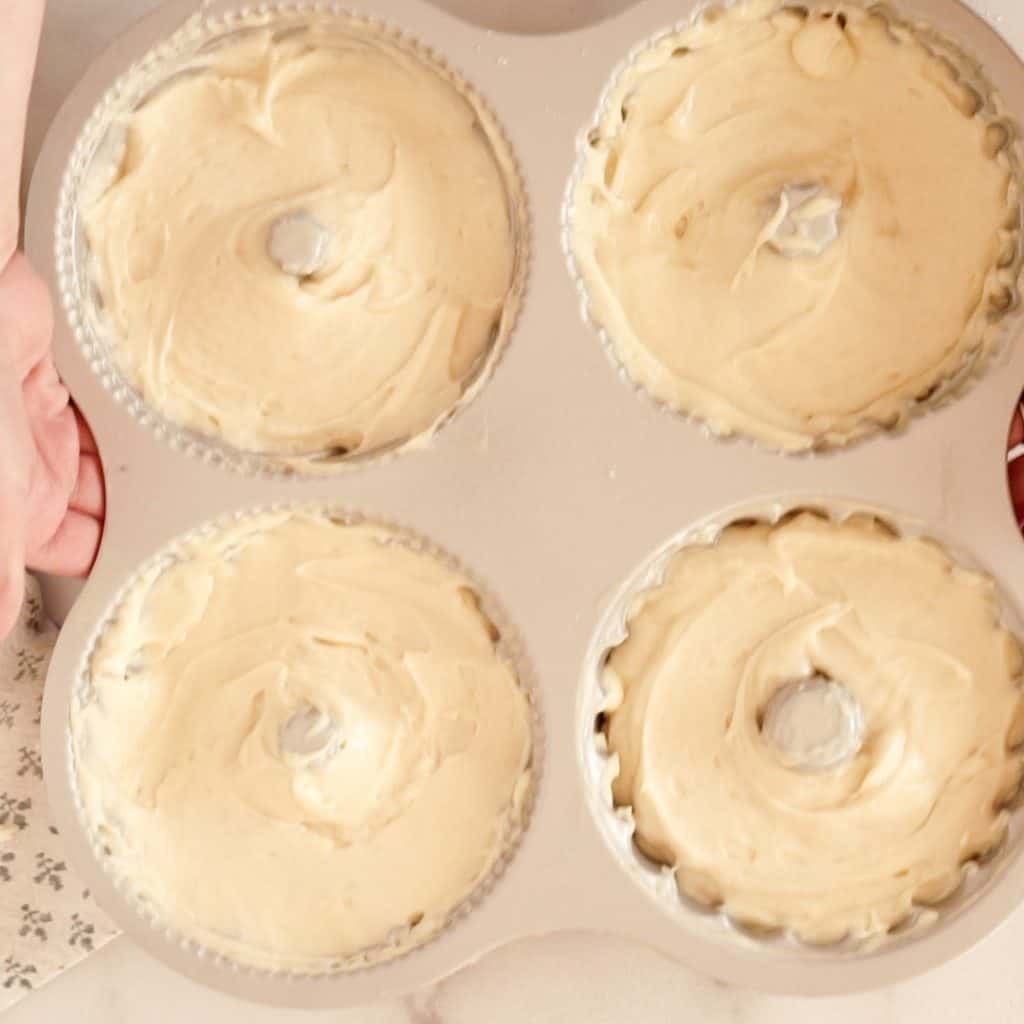 The baking time will vary depending on what type of pan you are using. The quartet pans will need approximately 30 minutes, the small Bundts 40 minutes, and the large Bundt at least an hour.
When they come out of the oven, let them cool in the pan for just a few minutes, then remove them to a cooling rack. You'll want them completely cool before you ice them.
Caramel icing, step by step:
The icing is the trickier part, but don't be scared! We are just making a caramel sauce, then whipping it up to make frosting. Things might look a bit weird during the process, but it will all come together beautifully in the end.
(If you REALLY are scared of making caramel, you could also just make a buttercream frosting and mix in some store bought caramel sauce!)
Alright. We start by browning 1/3 cup of sugar in a heavy-bottomed sauce pan over medium heat. It will clump, that's okay! Once it's melted into a golden brown syrup, remove it from the heat. There will still be clumps
In a separate pot, mix together the milk and remaining sugar. Bring it to a boil for just a minute, then turn off the heat. Pour the milk mixture into the pan with the browned sugar. Turn the heat on to low and stir, stir, stir. The sugar clumps will work themselves out.
Turn the heat up and cook for 5 to 10 minutes. Don't stir! It will change color and thicken up. If you have a candy thermometer, or instant read thermometer, it will read 238. At that point, add in the butter and stir. You just made caramel!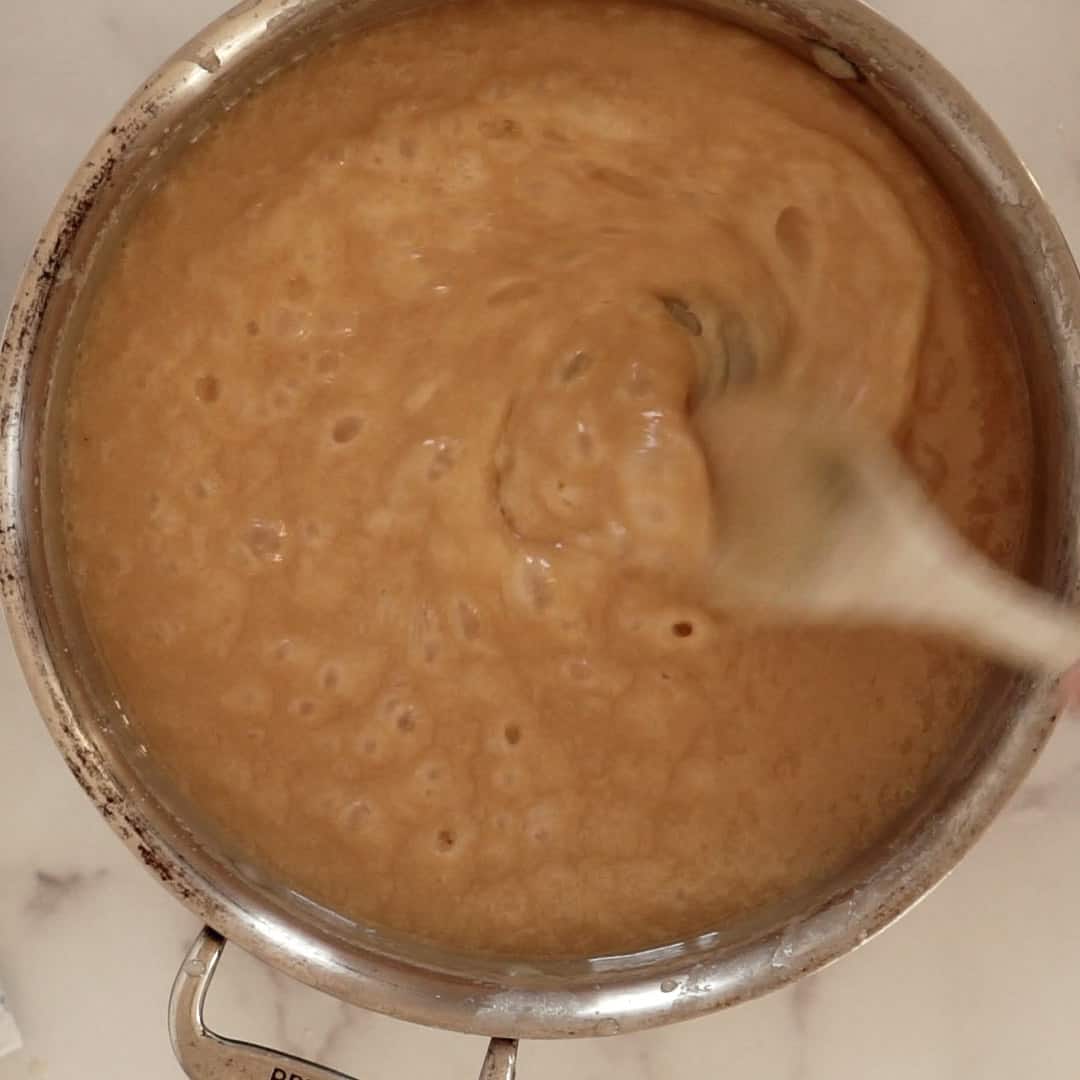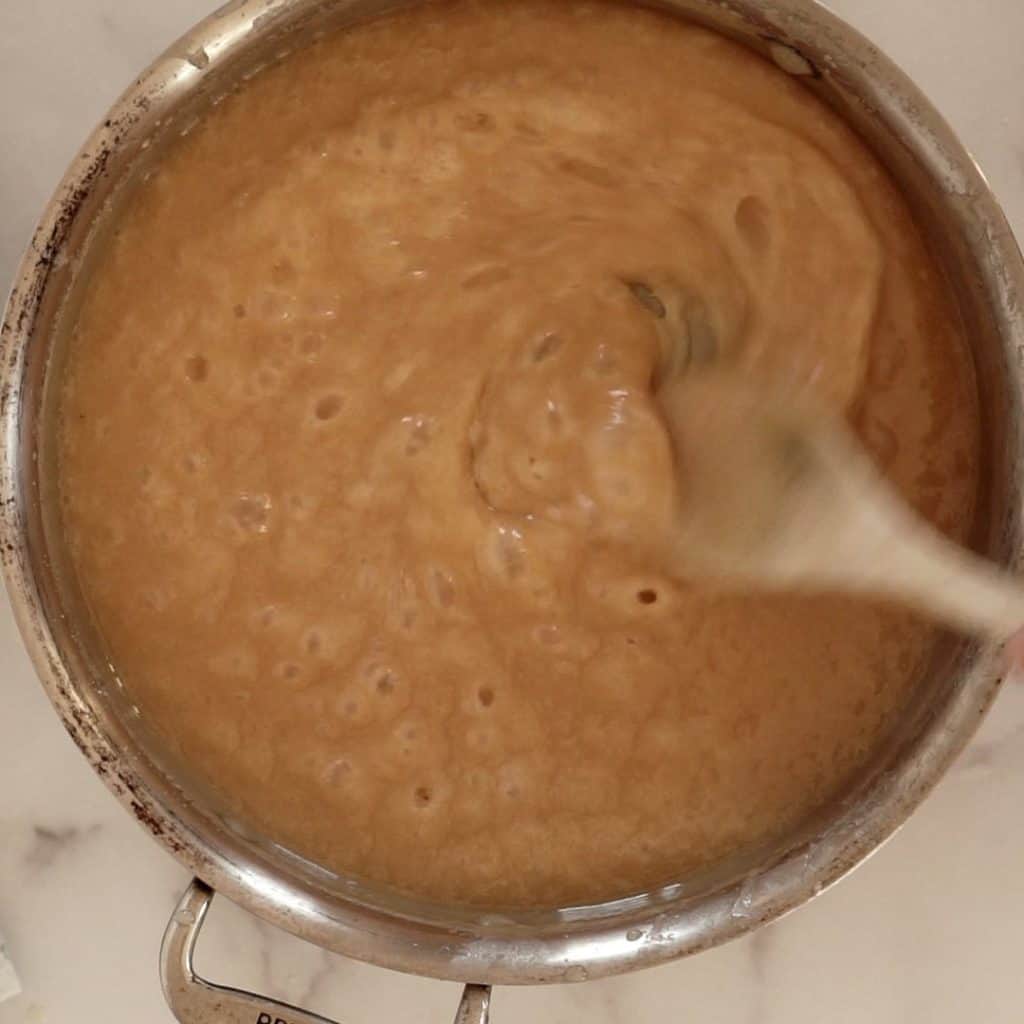 Now remove the caramel from the heat and let it cool until it is warm but not hot, about 1 hour.
Now to turn this into caramel frosting, we have to beat it. The butter in the caramel will whip up and become spreadable. How long you beat it will determine how thick the icing is.
If you want a thin icing that will be more like a glaze, beat it for about five minutes.
For a thicker icing you could pipe on, beat closer to ten.
(This is variable and depends on the temperature of your caramel and the speed of your mixture. I recommend testing the consistency after a few minutes and going from there.)
When the icing is done, pour or pipe it onto the cooled cakes. They will stay fresh a few days, tightly wrapped.
Here's the recipe!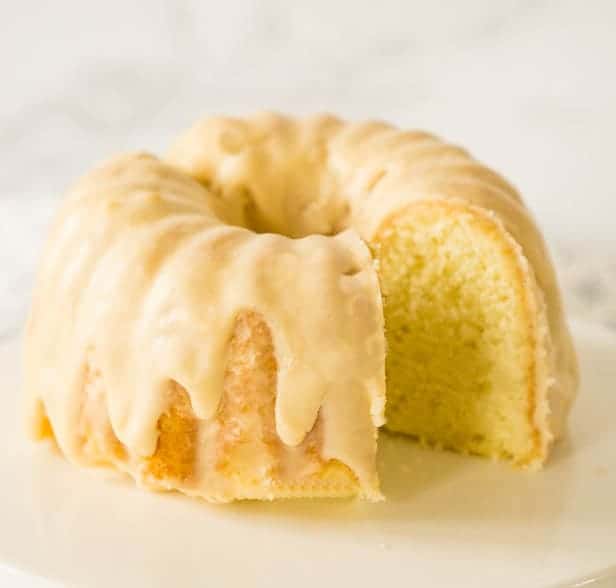 Servings:
1
large Bundt cake
Want a free fall cookbook? Click here to grab a cookbook with 25+ of my best autumn recipes
Ingredients
For the Cake:
1

cup

butter

softened (2 sticks)

2

cups

white sugar

4

eggs

room temperature

1/2

cup

milk

1/2

cup

sour cream

1

teaspoon

vanilla

3

cups

cake flour

see notes

2

teaspoons

baking powder

3/4

teaspoon

salt
For the Icing:
1/3

cup

white sugar

to caramelize

1 1/4

cup

milk

1

teaspoon

flour

2 1/2

cups

white sugar

3/4

cup

butter

1

teaspoon

vanilla extract
Instructions
To make the cake:
Preheat the oven to 350 degrees with the rack in the center. Prepare a Bundt pan by greasing with shortening or butter, then coating with flour, or use a baking spray that contains flour.

Beat butter until fluffy with an electric mixer. Add the sugar and beat well. Add the eggs, 1 at a time, beating well after each. Add the sour cream and vanilla and beat until blended.

In a separate bowl, mix the flour, baking powder, and salt. Add the dry ingredients to the batter alternately with the milk, beginning and ending with the flour. Pour into Bundt ban.

Bake at 350 degrees for 50-65 minutes, until a cake tester comes out clean. Allow to cool in pan for 5 minutes, then remove to wire rack to cool. Allow to cool completely before icing the cake.

To ice the cake, either pour the icing over the cake or pipe on drizzled icing (see icing instructions.)
To make the icing:
Sprinkle 1/3 cup of the white sugar in a shallow, heavy-bottomed pot that will hold at least 3 quarts. (You will be boiling the caramel in this pot, so don't go smaller.). Cook the sugar over medium heat, constantly stirring. Some of it will clump, which is fine. Remove from heat when the sugar melts and forms a light golden syrup.

In a separate large saucepan, heat the milk, remaining sugar, and flour. Bring to a boil, stirring constantly.

Pour the milk mixture into the pot with the caramelized sugar. Heat on low and keep stirring until any clumps dissolve. Turn the heat up to medium and allow to cook until thickened, about 5 to 10 ten minutes, until a candy thermometer reaches 238 degrees. Add the butter and stir. Remove the pan from the heat and allow to sit at room temperature 1 hour.

When the caramel has cooled to about 110 degrees, pour into a mixing bowl and add the vanilla. Beat with an electric mixer until it has reached the desired consistency. It will get thicker as you beat. Icing for glazing the cake will take just a few minutes to beat, but icing that's a piping consistency will take at least 5 minutes.
Notes
If you don't have cake flour, you can substitute 2 3/4 cups + 1 tablespoon all purpose flour and 3 tablespoons cornstarch.
You can also bake these in two small Bundt pans, or four "quartet" Bundt pans. The bake time will be approximately 40 minutes for small and 30 minutes for quartet.
Did you make this?
Let me know how it was! Please see below for serving ideas, storage instructions, and substitutions.
For the fellow Bundt Cake lovers: