Whimsy meets warmth in these cottagecore dining rooms. If you're dreaming of a dining space that feels like a cozy escape from the modern world, you've come to the right place. Get ready to be enchanted by spaces that invite you to sit down, relax, and savor the simpler things in life.
If you love farmhouse or country style, cottagecore will be your new obsession.
Dining rooms to adore
Let's take a look at each of these cozy and pretty rooms. You'll find lots of checks, flowers, paneling, and vintage accessories. So much to love!
This dining room has a cozy, old-fashioned feel with a simple wooden table and matching checkered curtains and tablecloth. The bunch of wildflowers in a clear jar and the old jars on the table add a homey touch. It's a simple, sunny space that feels welcoming and comfortable.
This dining room gives off a warm, inviting vibe with its bright window letting in the morning sun. The wooden furniture and shelves, paired with a checkered tablecloth, add a charming country touch. Fresh flowers and trailing green plants bring a bit of nature inside, enhancing the cottage-like feel of the space.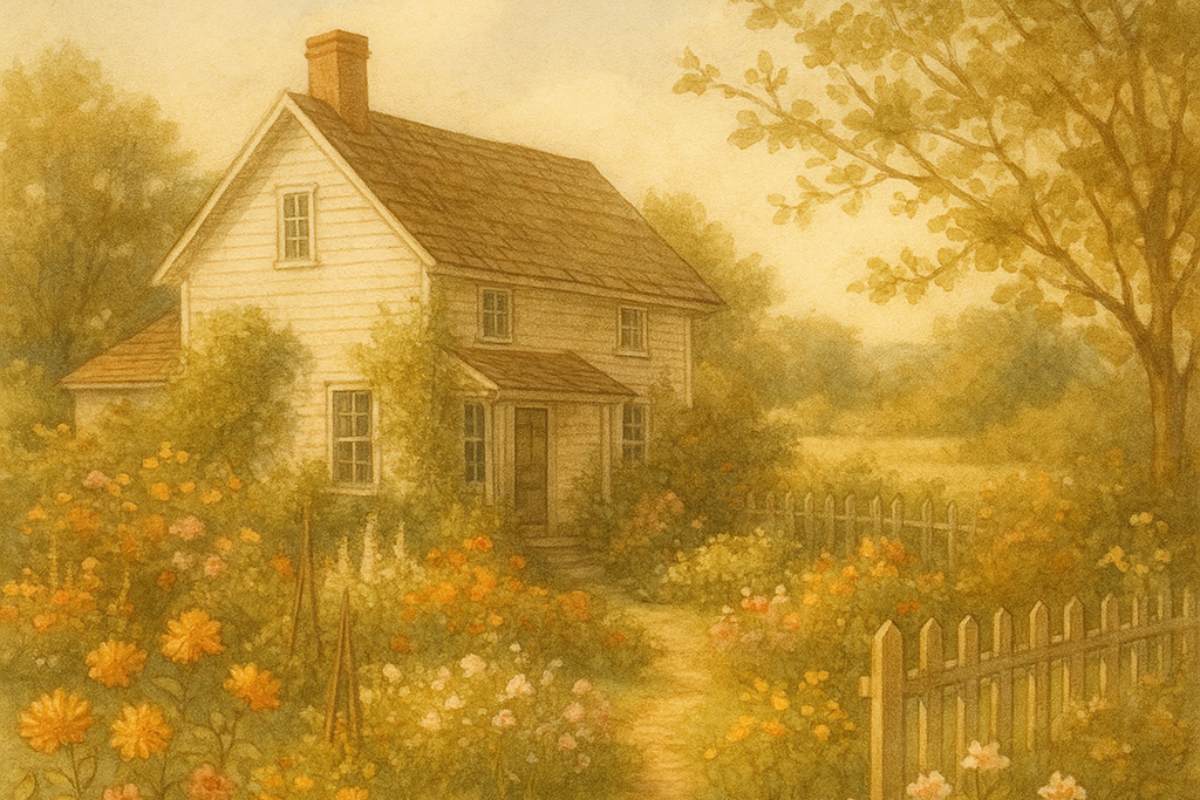 The room is cozy with a homey feel, thanks to the sunlight streaming through a window with yellow-checkered curtains. The wooden table is covered with a cloth that matches the curtains, and it's set with a teapot, cups, and a vase full of bright sunflowers. Wooden chairs and a hardwood floor give the space a rustic look, while shelves and framed pictures add a personal touch.
This is a well-lit room with a large window dressed in blue patterned curtains. Natural light floods in, highlighting a wooden dining table adorned with vases of fresh, white flowers. The wooden chairs have a classic design, and the floor is made of wide planks, which adds to the room's warm and inviting ambiance.
This room brings lots of cottagecore feels with its checkered red curtains and rustic wooden table and chairs, all of which create a snug, vintage look.
Even a tiny dining corner can have cottagecore charm. This dining room feels like a warm, sunny spot. The soft white curtains and the bunch of white flowers on the table make it simple and welcoming. The lace tablecloth adds a bit of an old-fashioned touch.
This dining spot is cute and cozy. Light blue chairs and a bunch of wildflowers on the table make it feel homey. The flower pattern on the curtains gives it a soft, country vibe.
This dining room feels cozy and inviting, with its wooden table and chairs that give it a rustic, homey look. The light from the window and the flowers on the table add a touch of nature, making the room perfect for a relaxed, countryside feel.
The dining space here exudes warmth with its soft, natural light and fresh flowers, which together create an inviting cottage-like atmosphere. The pastel-colored chairs and rustic wooden table contribute to a simple yet elegant country charm.
This room's charm lies in its cozy plaid curtains and matching tablecloth, coupled with the wooden furniture and serene outside view, creating a quintessential country kitchen feel.
The warm wood tones of the furniture, the floral curtains, and the fresh greenery in this room create an inviting, rustic cottage ambiance.
Featuring a traditional wooden table and chairs, this room has a soft pastel green color scheme, complemented by pink floral curtains and various plants, which enhances its cozy, country-inspired atmosphere.
The plaid window treatments and checkered tablecloth evoke a classic country feel, while the collection of plants and ceramics on the table suggests a lived-in comfort. Personal touches like the framed art on the walls add a sense of history and homeliness. The overall effect is a space that feels both timeless and inviting.
The hanging lantern-style light fixture gives an old-world charm, while the greenery seen both inside and outside connects the space with nature. The selection of ceramics and the casual arrangement of flowers on the table provide a homey touch, and the antique cabinet filled with dishes suggests a history and depth to the room's use.
The pastel-colored walls with vertical wood paneling evoke a soothing, cottage-like feel, enhanced by the warm glow of natural light. The floral curtains contribute a delightful burst of color and pattern, complementing the fresh flowers on the table and reinforcing the room's connection to the garden outside. The distressed white paint on the wooden table and chairs adds a sense of rustic charm and lived-in comfort.
In this room, the bold, dark blue trim contrasts beautifully with the soft white window frames and the muted, creamy tones of the walls, creating a cozy yet sophisticated atmosphere. The plaid curtains with floral details add a touch of rustic charm, reminiscent of classic country decor.
The old-looking table and chairs make it feel homey. Bright sunlight and see-through curtains make it light and welcoming.
A large wooden table and matching chairs that give a strong country feel. The big vase of white flowers in the center of the table adds a natural, fresh touch. The warm light from the lantern above and the natural light from the windows create a welcoming atmosphere.
The wooden round table and chairs show signs of wear, suggesting many shared meals and conversations have taken place here. A simple white jug holding a bouquet of wildflowers serves as the centerpiece, providing a splash of color and a connection to nature.
Cottagecore: Inspirational Ideas, Crafts and Recipes for Wholesome Country Living Laolitou Checkered Tablecloth Square Washable Buffalo Plaid Table Cloth with Tassel Cotton Linen Gingham Table Cover for Picnic Kitchen Dining Room, Beige, 55 Inch Yedio Porcelain Milk Creamer Pitcher with Handle, 17 Ounce White Porcelain Creamer Pitcher for Coffee and Tea
Bringing cottagecore to your home
Choosing Materials and Colors
Use simple and sturdy materials like plain wood and rattan to give your dining room a natural, earthy feel.
Pick colors that make you feel calm, like light greens and browns, and add some old-fashioned floral or checkered patterns.
Select sturdy wood for tables and chairs
Incorporate soft pastels like sage green and buttery yellow
Accent with floral and gingham fabrics for a touch of nostalgia
Plant Life and Accessories
Put some potted plants or herbs in your dining area to make it look and feel lively and useful.
Decorate with old items like clay jugs or old picture frames to make the space really feel like it's yours.
Place potted herbs on the windowsill for greenery and practical use
Use hanging planters to add vertical interest
Display vintage trinkets on open shelving
Tableware and Linens
Use dishes and silverware that have a history, maybe things you've inherited or picked up second-hand, to bring charm to your table.
Cover your table with pretty cloths or napkins to give your meals a touch of old-fashioned beauty.
Mix and match vintage plates and silverware
Use a lace tablecloth for an added touch of elegance.
Complement with linen napkins for a rustic yet refined table setting.
Functional Furnishing
Look for comfortable furniture that is useful too, like a bench with storage space or a big table that can get bigger when you need it to.
In a cottagecore home, it's great when things look good and work well. Choose items that fit your everyday life.
Invest in a sturdy, extendable farmhouse table
Select chairs with comfortable, cushioned seats
Consider a bench with storage to maximize space
More resources
Making a cottagecore space is not about getting everything perfect; it's about making a place that feels right to you, with each small, happy detail. Let these rooms inspire you, but also try out different fabrics, use old dishes, and add some new things to make the dining room really feel like it's yours.