Craving something crispy, comforting, and utterly delicious? These Deep Fried Potato Wedges are just the ticket.
Perfectly seasoned and golden brown, they're an irresistible side dish or snack. If you have a deep fryer (or even if you don't), they are simple to prepare and a super-frugal side dish.
We love them dipped in ranch, but any of your favorite sauces will pair perfectly.
Want a free fall cookbook? Click here to grab a cookbook with 25+ of my best autumn recipes
Equipment
Large, heavy-duty pot or deep fryer

Slotted spoon

Paper Towels

Mixing Bowls
Ingredients
4

large russet potatoes

2

cups

all-purpose flour

1

tablespoon

paprika

1

teaspoon

garlic powder

1

teaspoon

onion powder

¼

teaspoon

cayenne pepper

optional, for added heat

salt

to taste

black pepper

to taste

vegetable oil, peanut oil, or canola oil

for frying
Instructions
Prepare the Potatoes: Wash the potatoes thoroughly and pat them dry.Slice each potato in half lengthwise, then slice each half into 3-4 wedges. Ensure all wedges are of similar thickness for even cooking.

Prepare the Dry Mix: In a large mixing bowl, combine the flour, paprika, garlic powder, onion powder, cayenne pepper (if using), salt, and black pepper. Mix thoroughly.

Heat the Oil: Fill a large pot or deep fryer with vegetable, peanut, or canola oil, about 2-3 inches deep. Fill a large pot or deep fryer with vegetable or canola oil, about 2-3 inches deep. Heat the oil to 350°F (175°C). You can test the oil's readiness by dropping a small piece of bread into the oil. If it sizzles and browns in about a minute, the oil is ready.

Bread. Dredge each potato wedge in the flour mixture, ensuring all sides are coated.

Fry. Carefully place a few wedges into the hot oil, making sure not to overcrowd the pot. Fry for 6-8 minutes, or until the wedges are golden brown and crispy. Ensure you maintain the oil temperature by adjusting the heat as necessary. Place them on paper towels to drain excess oil.

Serve. Once all wedges are fried, sprinkle with additional salt if desired.Serve immediately with your favorite dipping sauce.
Notes
For extra crispy wedges, you can soak the cut potatoes in cold water for 30 minutes before drying and dredging. This helps remove excess starch.
Experiment with seasonings to make these wedges your own! Consider adding some grated Parmesan cheese or fresh herbs to the flour mixture.
Nutrition
Calories:
457
kcal
|
Carbohydrates:
86
g
|
Protein:
11
g
|
Fat:
8
g
|
Saturated Fat:
1
g
|
Polyunsaturated Fat:
4
g
|
Monounsaturated Fat:
2
g
|
Trans Fat:
0.04
g
|
Sodium:
15
mg
|
Potassium:
985
mg
|
Fiber:
7
g
|
Sugar:
2
g
|
Vitamin A:
129
IU
|
Vitamin C:
45
mg
|
Calcium:
38
mg
|
Iron:
5
mg
Did you make this?
Let me know how it was! Please see below for serving ideas, storage instructions, and substitutions.
With a few simple ingredients, you can bring these to your kitchen in just 30 minutes.
Whether you're planning a family dinner or hosting a game day feast, these wedges are sure to be the highlight.
Notes about what you'll need
Potatoes. The recipe calls for russet potatoes, the ultimate choice for frying due to their high starch content, which ensures a fluffy interior beneath that crisp exterior.
Spices. The spice combination of paprika, garlic powder, onion powder, and an optional pinch of cayenne pepper is delicious, but you can be flexible here. Add your favorite herbs and spices.
Frying oil. I prefer peanut oil, but canola and vegetable are okay too.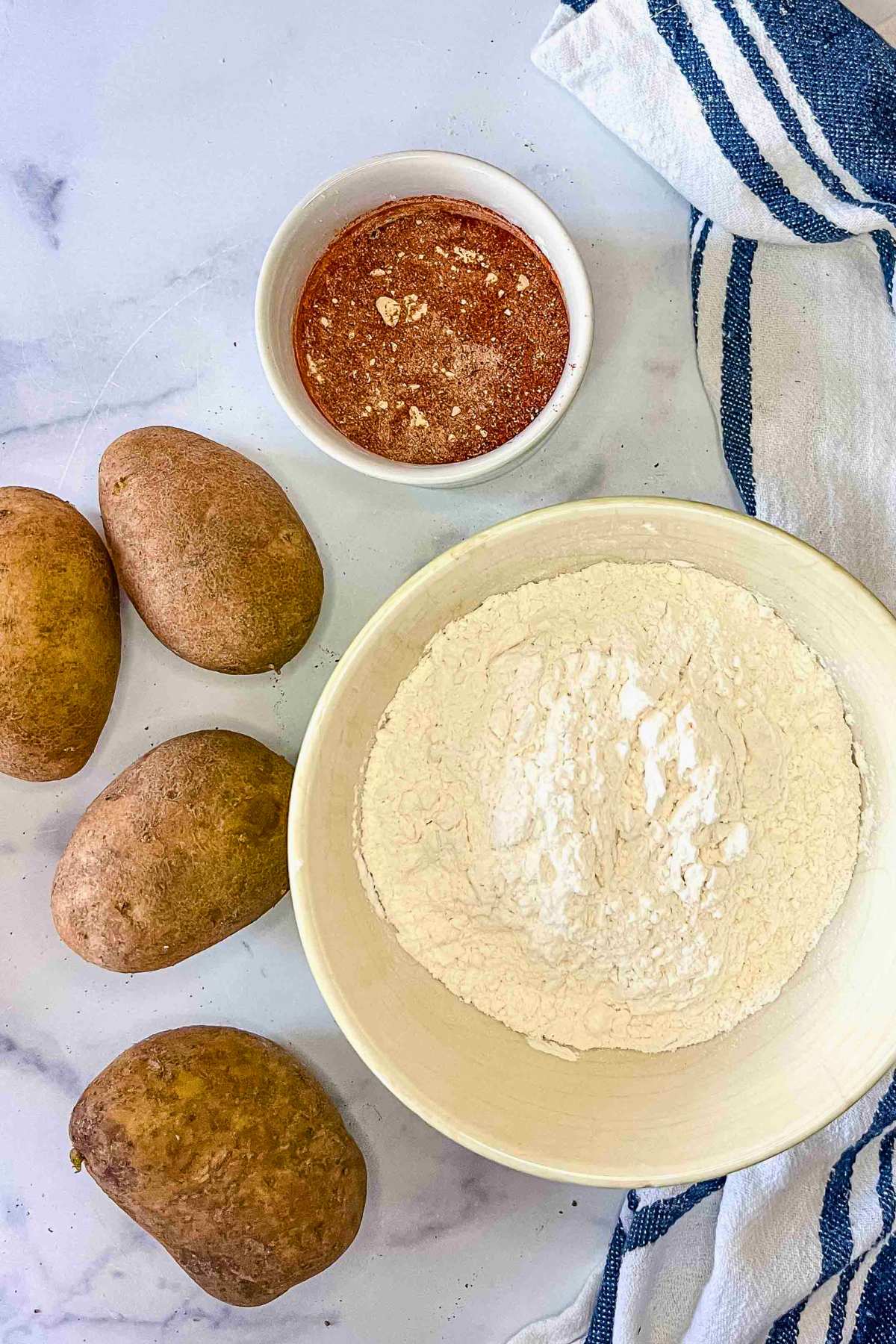 Heavy-Duty Pot or Deep Fryer – Essential for safe and even frying.
Slotted Spoon – For safely inserting and removing wedges from the hot oil.
Paper Towels – Key for draining excess oil off the fried wedges.
Mixing Bowls – For preparing the dry mix and dredging.
Cooking Thermometer – Ensures the oil is at the correct temperature for frying (if you use a deep fryer, you don't need this!)
T-Fal Ultimate EZ Clean Stainless Steel Deep Fryer with Basket 3.5 Liter Oil and 2.6 Pound Food Capacity 1700 Watts Easy Clean, Temp Control, Digital Timer, Oil Filtration, Dishwasher Safe Parts Godinger Mixing Bowls with Lids, Plastic Nesting Bowls Set, Food Storage Bowls, Microwave Safe Mixing Bowl Set, 3 Bowls 3 Lids Mercer Culinary M22608 Millennia Black Handle, 8-Inch, Chef's Knife
Tips for successful frying
Potato Prep: Consistency is key when slicing your potatoes into wedges to ensure even cooking. Aim for each wedge to be the same thickness.
Removing Starch: For extra crunch, consider soaking the sliced potatoes in cold water for 30 minutes before drying them. This step removes excess starch that can otherwise prevent the wedges from getting crispy.
Dredging Do's: Ensure each wedge is thoroughly coated in the seasoned flour mix for a full flavor in every bite.
Oil Temperature: Maintaining the oil at 350°F (175°C) is crucial. A cooking thermometer can be a game-changer here to keep that temperature steady.
Frying in Batches: Avoid the temptation to overcrowd the pot. Frying in smaller batches allows for better circulation of oil, resulting in evenly cooked wedges.
Draining: After frying, let the wedges rest on paper towels to soak up any excess oil so they stay crispier longer.
What to serve with potato wedges
This is a versatile recipe that goes with just about anything. But it's especially suited to other deep-fried foods!
Storage and make-ahead instructions
Refrigeration. Place the cooled wedges in an airtight container or wrap them tightly in aluminum foil or plastic wrap. Store them in the refrigerator for up to 3-5 day. Reheat in the oven or air fryer.
Pre-cook and freeze. For freezing, it's best to partially fry the wedges first. Fry them until they're just cooked through but not yet browned. Allow them to cool, then spread them on a baking sheet lined with parchment paper, ensuring they're not touching, and freeze until solid.
Once frozen, transfer the wedges to a freezer-safe bag or container. They can be stored this way for up to 3 months.When you're ready to eat, you can fry them straight from frozen until they're golden and crispy.
Prepping ahead. You can slice and soak the potatoes in water for up to 24 hours before you plan to cook them. This step not only can be a time-saver but also helps to remove excess starch, which results in crispier wedges.
The seasoned flour mixture can be prepared in advance and stored in an airtight container until ready to dredge the potato wedges.
related recipes: