Everyone will love these deep fried chicken tenders. A buttermilk honey marinate makes them extra tender.
A simple recipe for buttermilk chicken tenders that combines a honey buttermilk marinade with just the right seasonings for restaurant-worthy results.
Everyone loves chicken tenders, even adults. They're perfect for appetizers at a party, mixed up with a salad, or just served as a delicious dinner.
Now while I am certainly not one to look down on a frozen chicken tender, there's just something special about making them from scratch. They feel wholesome while still being kid-friendly. And I've always thought I had the best recipe, until we tried this kind! (I still stand by my original chicken tender recipe if you don't have buttermilk!).
We had these delicious buttermilk chicken tenders while visiting family, so of course I had to get the recipe and share it with you.
Ingredients
3 pounds boneless skinless chicken breast trimmed and cut into 1/2 inch strips then cut in half lengthwise
1 quart oil for frying peanut recommended
For the buttermilk mixture
1 1/2 cups buttermilk
2 teaspoons salt
1/2 teaspoon cayenne pepper
1 1/2 tablespoons honey
For the seasoned flour
3 cups flour
1 tablespoon salt
1 teaspoon pepper
1 teaspoon garlic powder
You'll also need something to deep fry in: an electric deep fryer (this model is my favorite), a Dutch oven, or even just a deep skillet will work!
Step by step chicken tenders
Marinating and breading the chicken
One of the best things about marinating chicken tenders is that you make part of the recipe ahead of time, take a break, and then come back to it.
Begin by cutting up your chicken into whatever size you like. I find that it's better to cut them smaller than you think because they cook faster and are just more appetizing for whatever reason.
Then mix up your buttermilk with the honey, salt and cayenne. Put your chicken in and let it marinate. You can pop it in the fridge for a few hours, or just leave it at room temperature for an hour or so.
Next, it's time to dredge these little guys in flour. Mix the flour with the salt, pepper, and garlic powder.
Take the chicken out of the buttermilk mixture a few tenders at a time, shaking off excess buttermilk. Then toss them in the flour until they are completely coated. You don't have to do them individually, but don't do too many at once or they'll start sticking together.
Set the breaded chicken aside on a plate and start preheating your oil.
deep frying
You can use a deep fryer, a Dutch oven, or even a deep skillet. Just make sure you have a way to monitor the temperature of the oil (a candy thermometer works great!).
First, let's prepare a place to put our finished tenders. I like to use a baking sheet lined with paper towels if I'm serving them right away. Otherwise, you'll want to set a cooling rack over a baking sheet. This allows you to pop them in a warm oven to hold them for a bit. They'll stay nice and crisp.
Place the chicken in the basket or directly in the oil in a single layer with enough room so that the chicken can be free floating in the oil. This will take a few batches!
In a deep fryer, the tenders will take about 6 minutes to be browned and cooked through. If you're using a Dutch oven or skillet, fry for 3 minutes per side.
Check the chicken to make sure it's cooked through; these tenders brown quickly which can be deceptive.
Once they are done, transfer them to their holding spot and keeping frying the rest of your chicken.
Serve right away, or keep them in a 200 degree oven for up to 30 minutes. Serve with you favorite dipping sauce, or try homemade Cajun ranch.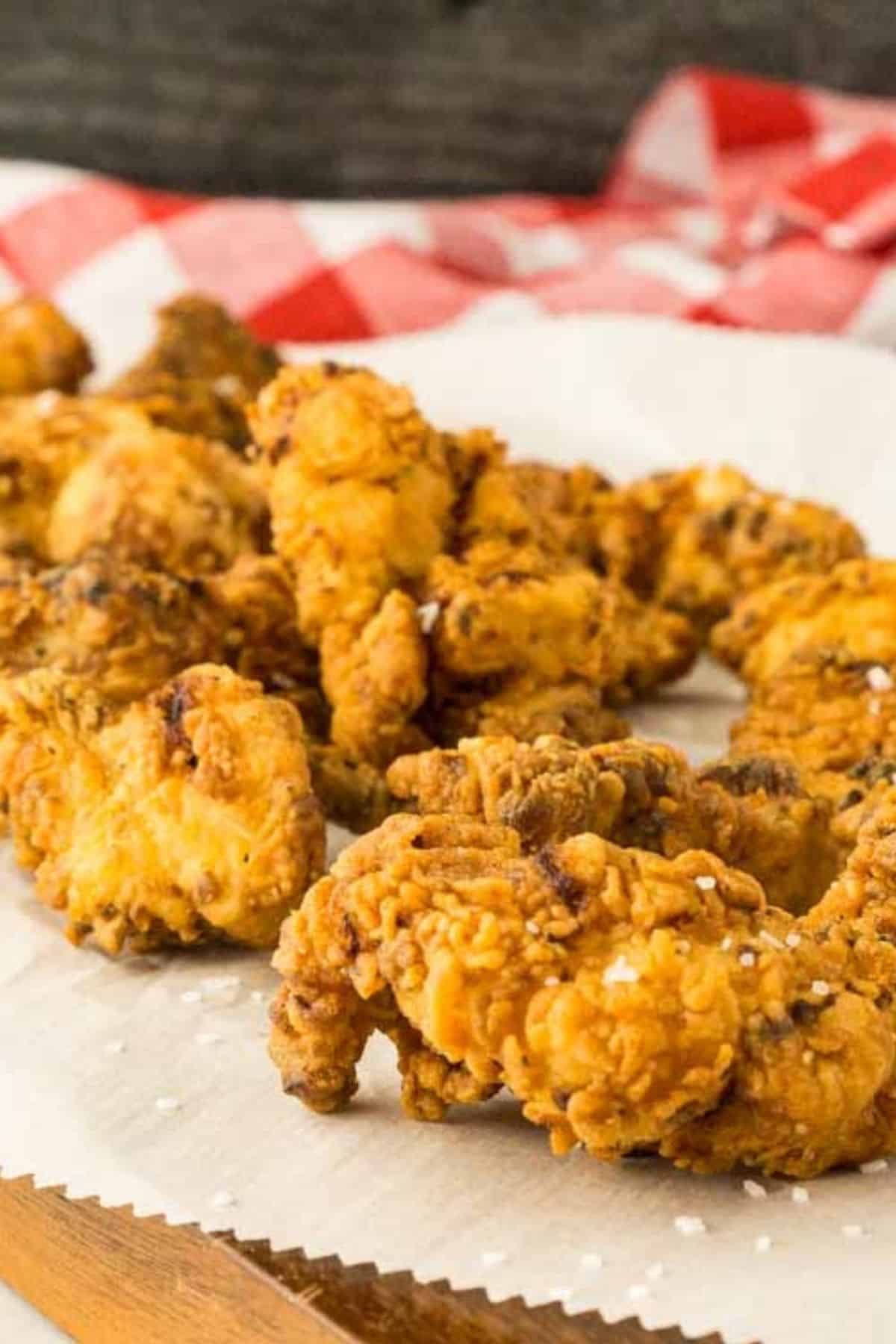 Serving ideas
Print the recipe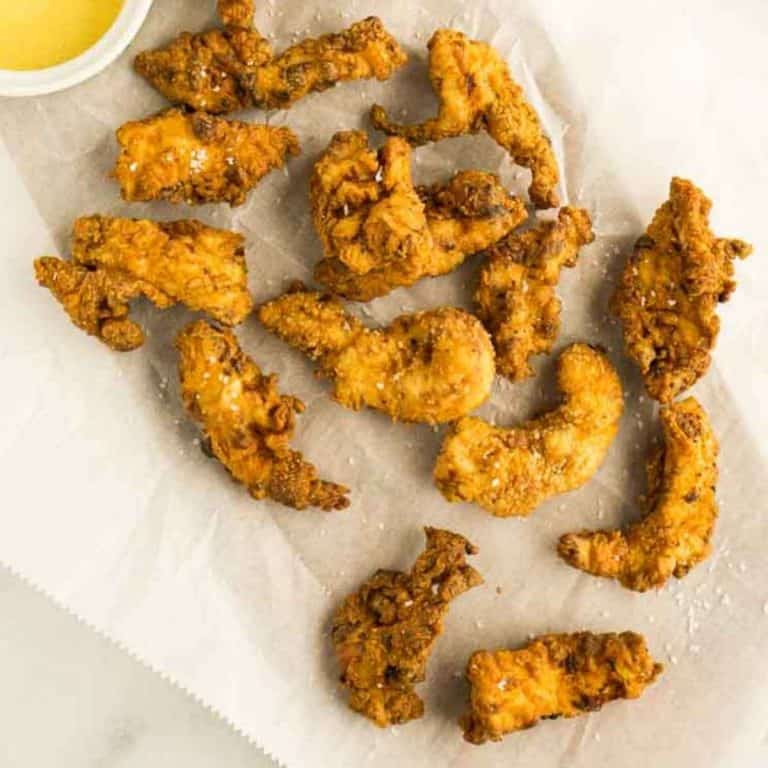 Uncle John's Buttermilk Chicken Tenders
Print Recipe
Everyone will love these deep fried chicken tenders. A buttermilk honey marinate makes them extra tender.
Click here for a FREE autumn cookbook (25+ Recipes!)
Ingredients
3

pounds

boneless skinless chicken breast

trimmed and cut into 1/2 inch strips then cut in half lengthwise

1

quart

oil for frying

peanut recommended
For the buttermilk mixture
1 1/2

cups

buttermilk

2

teaspoons

salt

1/2

teaspoon

cayenne pepper

1 1/2

tablespoons

honey
For the seasoned flour
3

cups

flour

1

tablespoon

salt

1

teaspoon

pepper

1

teaspoon

garlic powder
Instructions
Combine the buttermilk, salt, cayenne, and honey in a large mixing bowl. Add the chicken and toss until fully submerged. Cover and allow to marinate for 1 hour at room temperature or 4 hours in the refrigerator.

Preheat oil in deep fryer or Dutch oven to 365 degrees. While the oil is heating, combine the flour, salt, pepper, and garlic powder in a large mixing bowl. Remove the chicken from the buttermilk marinate, shaking off any excess. Working in batches, coat the chicken in the seasoned flour.

Prepare a baking sheet by lining with paper towels and laying a wire cooling rack on top. Deep fry the chicken in a single layer for 6 minutes, or until medium golden brown and thoroughly cooked. Allow to drain on the cooling rack while you finish cooking the remaining chicken.

Serve immediately, or keep warm in a 200 degree oven until serving.
Notes
You can also fry these in a skillet with a 1/4 inch of oil, but you'll need to turn them halfway through.
Serve with honey mustard, barbecue sauce, or ranch on the side.
Nutrition
Calories:
542
kcal
|
Carbohydrates:
56
g
|
Protein:
57
g
|
Fat:
9
g
|
Saturated Fat:
3
g
|
Trans Fat:
1
g
|
Cholesterol:
152
mg
|
Sodium:
2266
mg
|
Potassium:
1004
mg
|
Fiber:
2
g
|
Sugar:
7
g
|
Vitamin A:
238
IU
|
Vitamin C:
3
mg
|
Calcium:
93
mg
|
Iron:
4
mg
Did you make this recipe?
If you loved it, please leave a review!
Enjoy this recipe!