The easiest bread recipe you will ever make, but still an excellent loaf.
A simple and delicious recipe for French bread made in the Dutch Oven- crisp crust, soft crumb, and perfect to serve with dinner.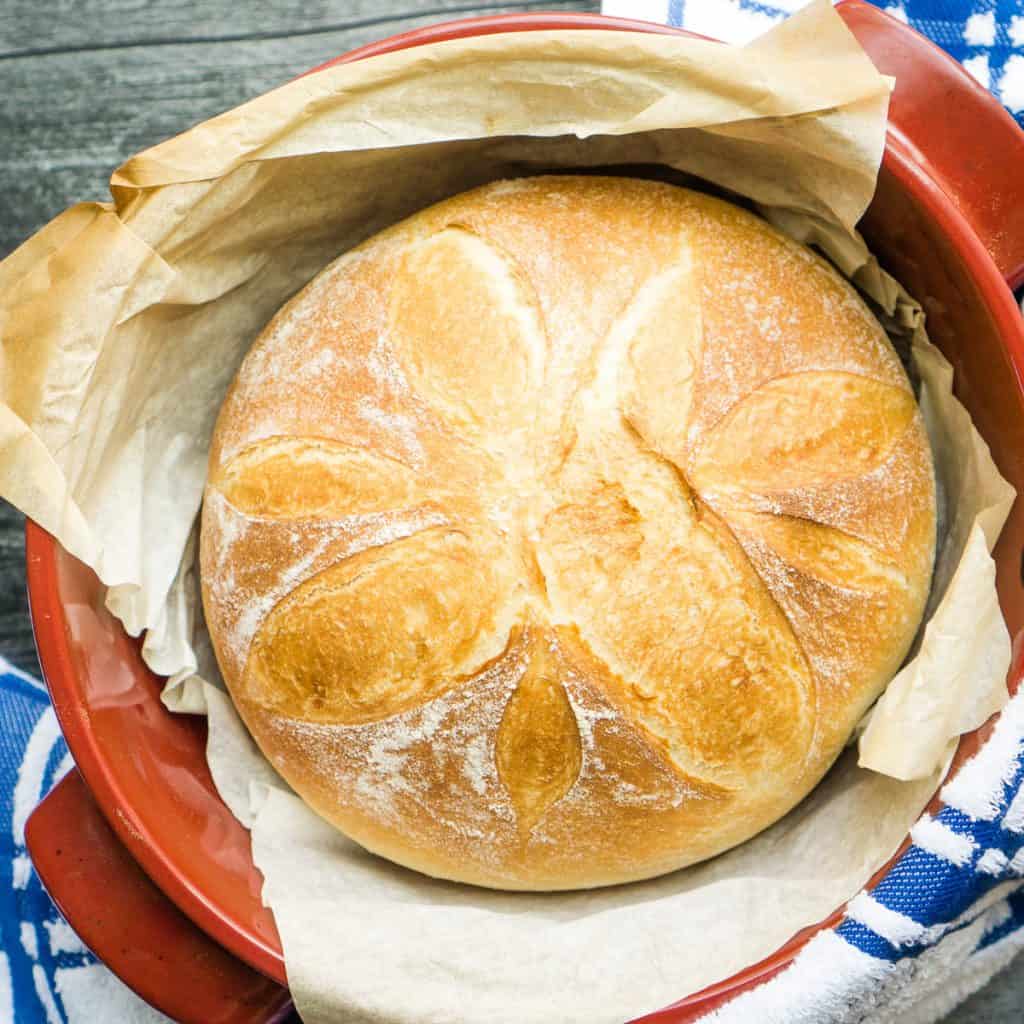 ❤️ Why you'll love this recipe
The best French Bread. This is the easiest bread recipe ever, and is great for beginners. I still make it all the time because it's good, not just easy.
Quick and easy. It rises easily and uses very few ingredients. If you knead it in the bread machine or stand mixer there is very little hands-on time, just rising time.
Good for beginners. If you are brand new to bread making, this is a great place to start.
Works well with many recipes. It's good sliced with butter or dipped in olive oil and balsamic vinegar. It also slices nicely for sandwiches or toast if you allow it to cool completely.
🧂 Ingredients
This is an overview of the ingredients. You'll find the full measurements and instructions in the printable recipe at the bottom of the page.
You'll need the following for this french bread:
bread flour
salt
instant yeast (SAF brand recommended)
water
cornmeal for sprinkling on the parchment
Dutch Oven (if you don't have one, no problem! Preheat a baking sheet in your oven and pour a cup of water in to create steam. This mimics the high humidity created by a Dutch Oven.)
🥣 Equipment
This article contains affiliate links, meaning that if you make a purchase after clicking on one, I may earn a commission at no extra cost to you. As an Amazon Associate, I earn from qualifying purchases.
dutch oven
stand mixer/bread machine (optional)
bowl
parchment paper
🍴Instructions
Step One: combine all ingredients and knead
The first step is simply to combine all the ingredients. There is absolutely no need to do things like testing the yeast and waiting for it to foam up, or anything like that. And if you are using instant yeast, you can just dump it in with everything else.
If you're using a bread machine just add everything to the bucket and set it on the dough cycle. If you're using a stand mixer, add it to the bowl and fit the machine with the dough hook.
You can also knead by hand, which is a bit tedious but get's the job done.
After a few minutes of kneading, evaluate the dough. It should come together as a ball might be slightly sticky, but it should still cleanly pull away from the sides of the bowl or bread machine bucket. If it's overly sticky, add flour a teaspoon or so at a time. If it seems too dry and is not coming together, add water a teaspoon or so at at time.
When the dough forms "windowpanes" when pulled apart, it's done kneading and it can begin the rising process. Shape it into a ball and place into a lightly oiled bowl. Cover with a damp tea towel and place in a warm place to rise, about 1 hour.
Step Two: bake
Prepare the Dutch Oven by lining it with parchment paper. Once the dough has risen, shape into a ball again. Place on top of the parchment, rub the top of the loaf with flour, and slash the loaf with an X.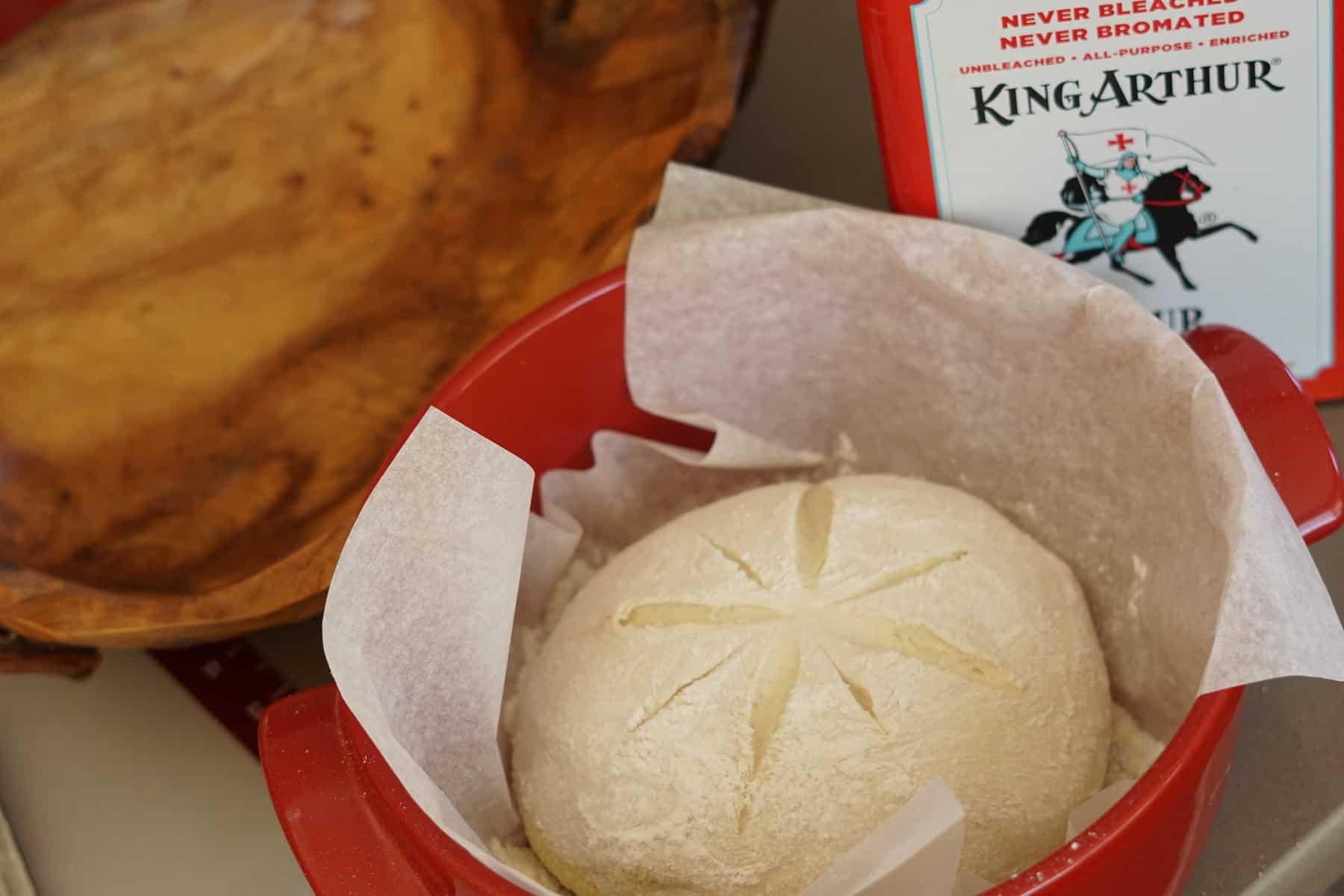 Cover with the lid and let it rise again for about 45 minutes. Towards the end of the rising time, preheat your oven to 450. Make sure that you leave a big enough space for the Dutch Oven to fit in between the racks!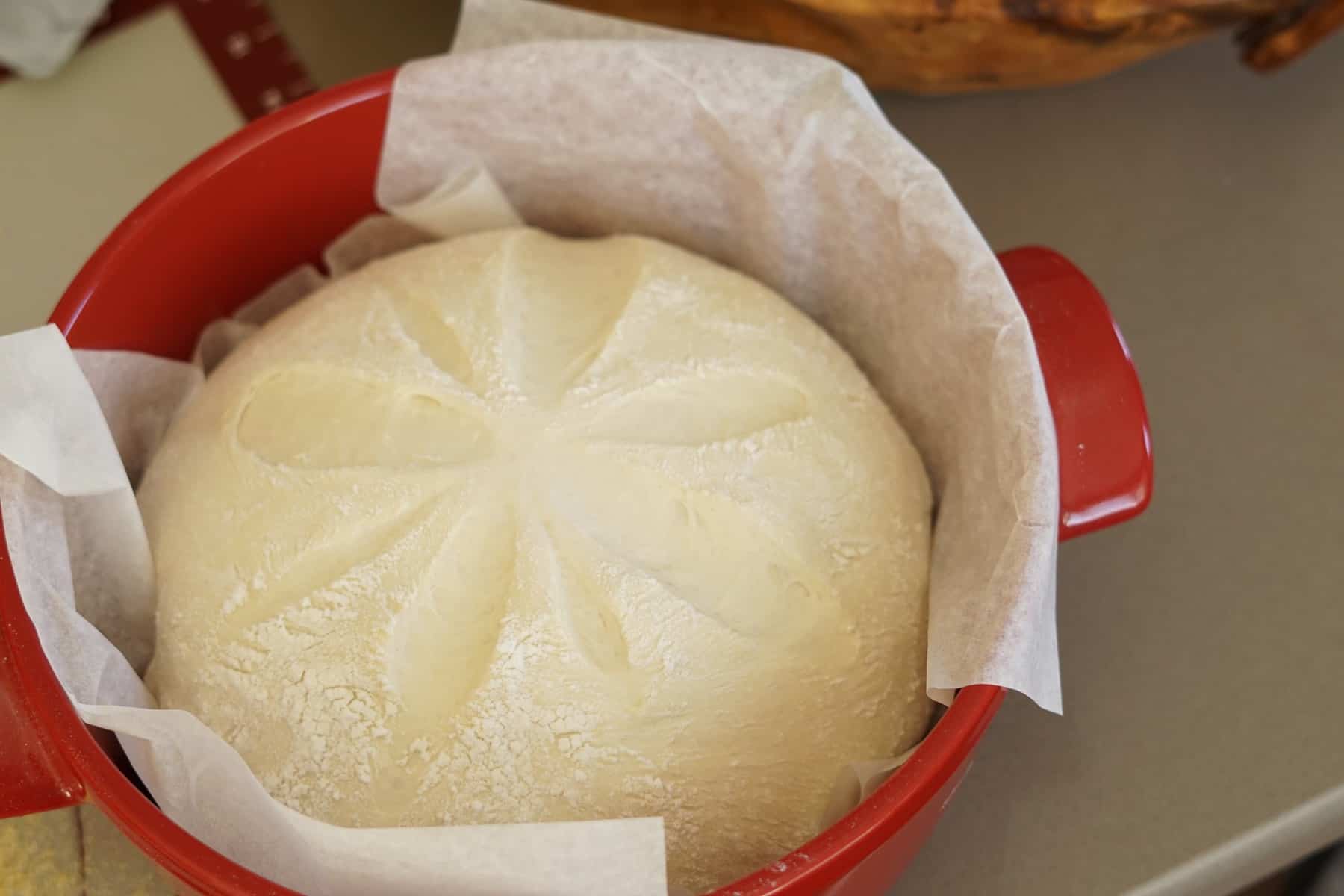 Once the dough is very puffy, it's time to bake! Bake for 20 minutes with the lid on and 20 minutes with it off, until golden brown!
Step three: let it cool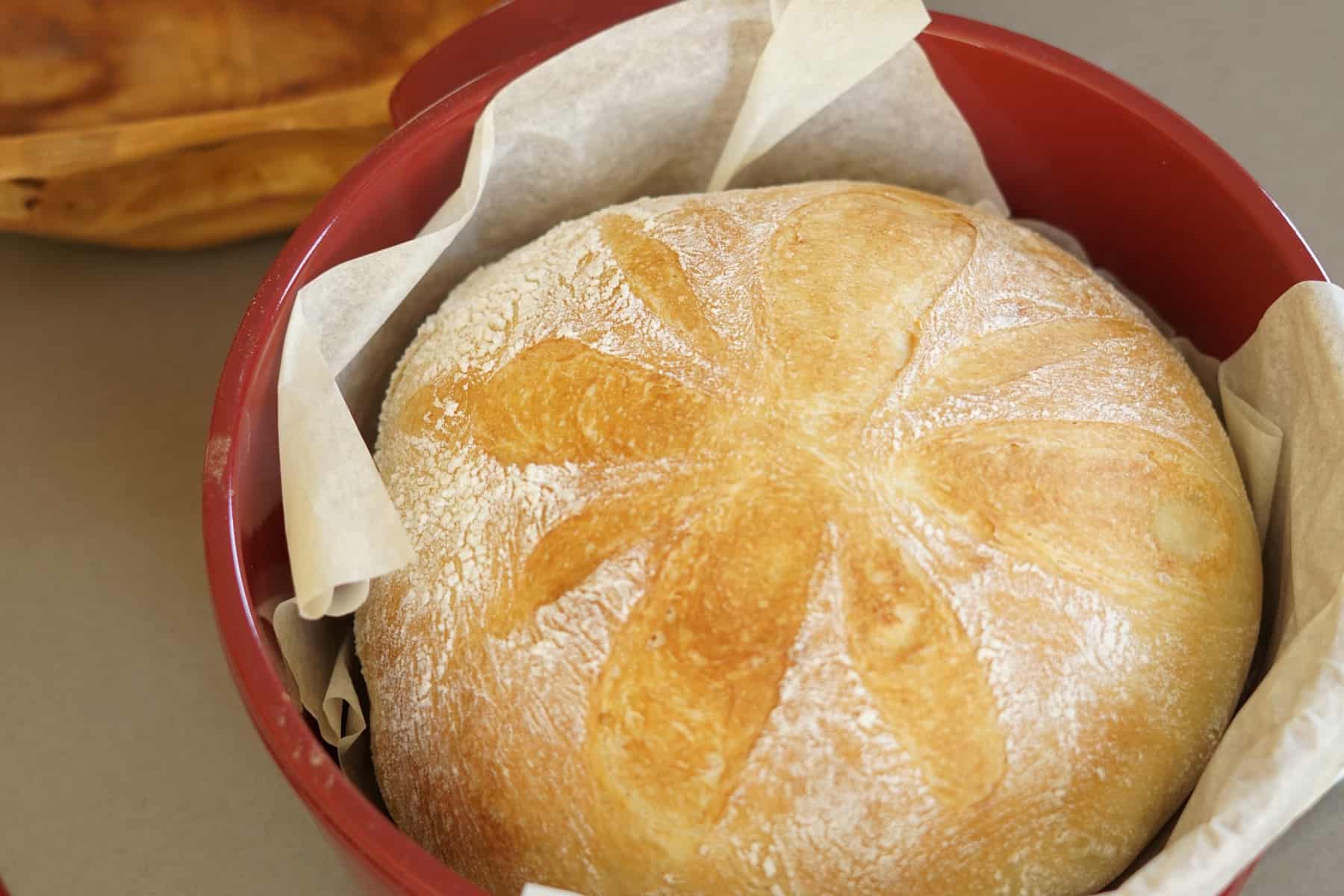 Let it cool on a wire rack before slicing.
🥫 Storage instructions
Once the french bread has cooled, you can store it in a bag or container on the counter for a day or two. If you want to store it for longer, you can place it in the fridge or freezer.
🔍 FAQs
What is the difference between French bread and regular bread?
French bread is made with a higher ratio of flour to water, which results in a crisper crust and a softer crumb. It is also often baked in a Dutch oven, which gives it a nice crisp crust.
Can I make this bread in a different type of oven?
This recipe is specifically for the Dutch Oven, but you could try making it in a regular oven by baking it at a high temperature.
👩🏻‍🍳 Expert tips
When making french bread, it is important to use a high-quality flour. This will help to create a crisp crust and soft crumb
Dutch ovens are perfect for baking french bread, as they provide consistent heat and create a nice crust.
Make sure to score the bread before baking, so that it will expand properly in the oven.
The key is to make sure the oven is nice and hot before you put the dough in, and that you bake it for a long time to get a nice crispy crust.
📘 Related Recipes
🍽 Serve it with
Want more bread recipes?
📖 Here's the recipe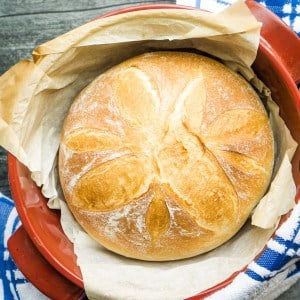 Easy French Bread in a Dutch Oven
Print Recipe
The easiest bread recipe you will ever make, but still an excellent loaf.
Click here to grab a free seasonal e-cookbook!
Ingredients
4

cups

bread flour

2

teaspoons

salt

2½

teaspoons

instant yeast

(SAF brand recommended)

1

½

cups water

pinch

cornmeal

for sprinkling on the parchment
Instructions
Combine all ingredients to form a smooth, soft dough, and knead. If you do this in a bread machine on the dough cycle, life will be good. Otherwise, a stand mixer with a dough hook will work, and will take about 7-9 minutes on a low setting.

Allow dough to rise, covered, in a warm place. It will take about 60 minutes in a setting that is about 90 degrees. You can use an oven that has been slightly warmed and then turned off or sunny windowsill. (The bread machine takes care of this for you too.)

After the dough has risen, remove from bowl and place on floured surface. Shape the loaf by pinching the bottom until the top is smooth.

Prepare your baking sheet or Dutch oven by laying down a piece of parchment and sprinkling cornmeal on the parchment sheet. Place the round loaf on top of the parchment and rub flour on top. Slash with a very sharp knife.

Cover the dough, either with heavily greased plastic wrap or the lid of your Dutch oven. Allow the dough to rise again. This will take another 45-60 minutes, in a warm place. Towards the end of the second rise, preheat the oven to 450 degrees.

When sufficiently risen, bake. If using a baking sheet, it will take about 30 minutes. The clay baker will take a bit longer. I bake for 20 minutes with the lid on, then another 20. with the lid off. The internal temp should be 200.

Cool on wire rack and serve while still warm.
Notes
This recipe does not keep well at room temperature (will go stale the next day), but freezes very well. Just wrap well to freeze, then defrost at room temperature a few hours and reheat briefly in a warm oven. Or just use it for toast or croutons on day 2.
Nutrition
Calories:
159
kcal
|
Carbohydrates:
31
g
|
Protein:
6
g
|
Fat:
1
g
|
Saturated Fat:
1
g
|
Sodium:
390
mg
|
Potassium:
66
mg
|
Fiber:
2
g
|
Sugar:
1
g
|
Calcium:
6
mg
|
Iron:
1
mg
Did you make this recipe?
If you loved it, please leave a review!