This cold process bar combines goats milk with shea butter, olive oil, and more. A gentle, cleansing, beautiful soap recipe.
A step by step tutorial for a nourishing and natural cold process soap. You'll love this goat milk soap recipe.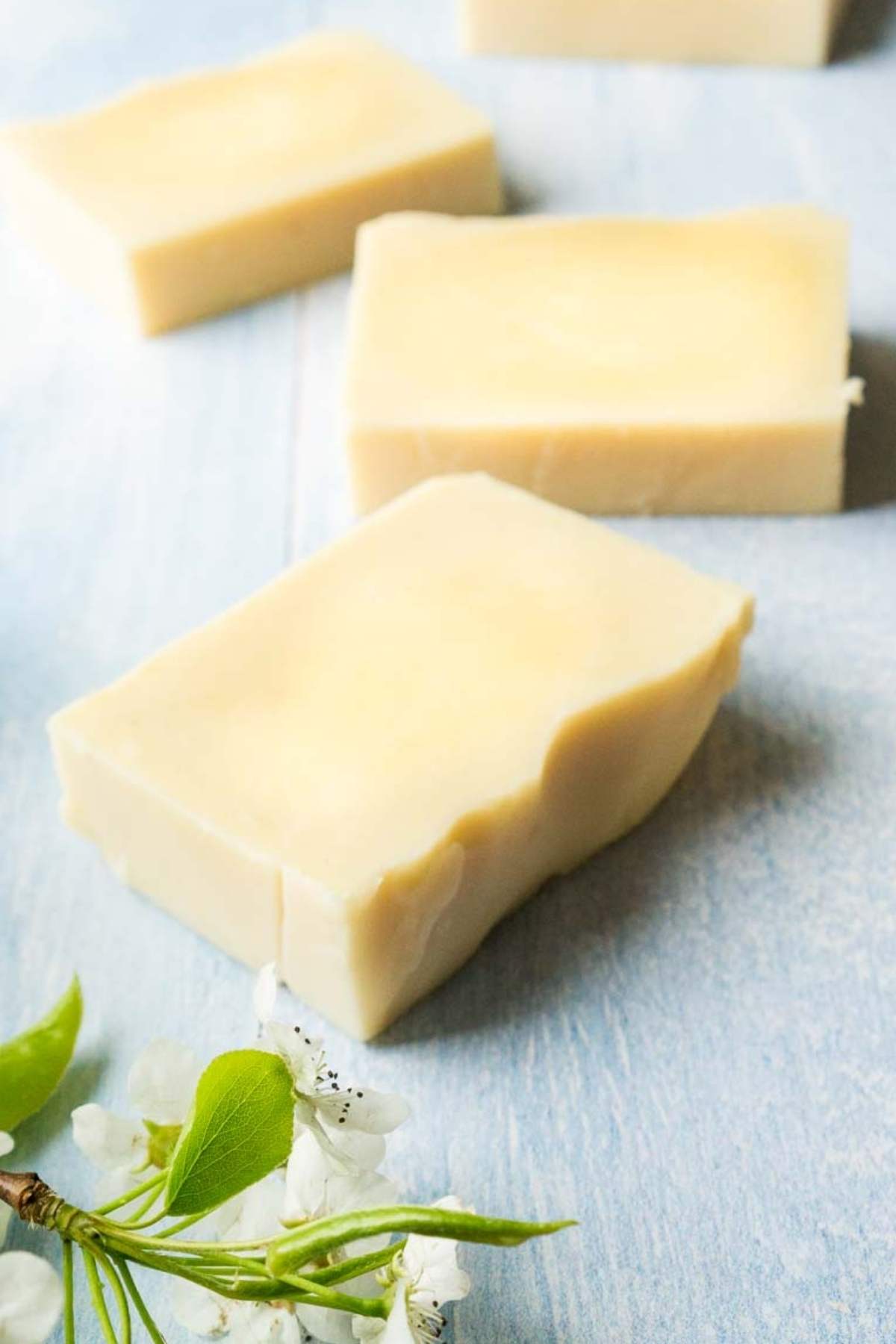 This post contains affiliate links, meaning that if you make a purchase after clicking on a link I may earn a small commission at no additional cost to you. As an Amazon associate, I earn from qualifying purchases.
why you'll love this soap recipe
Goat milk soap is growing in popularity, but to a lot of people, it's still a little weird. But it actually has a long history of being used in skin care. Goat milk has a long reputation for being soothing and moisturizing to human skin, and being able to dissolve dead skin cells and oils because of its lactic acid.
And just like making soap with beeswax and honey, it's fun to work with farm-inspired, natural ingredients.
Let's get to it.
some soap chat
What is the benefit of making soap with goat's milk?
Like anything in the soap making world, there are a lot of opinions about this! Many people argue that all the vitamins and minerals in milk benefit your skin, and many say that none of those minerals can be found in a finished bar.
Either way, goat's milk does contain a good amount of lactic acid, which is a natural exfoliant and can help give you glowing skin, improve acne, and make you look younger.
What other ingredients do we need?
Just any cold process soap, we still need lye and oils. You can actually make any cold process soap into goat soap by replacing some or all of the water in the recipe with milk.
So can I make goat milk soap without lye?
What if i can't find goat's milk?
No problem! Just get the powdered kind, mix it with water, and you're off to the races.
What You'll need
I recommend Nurture Soap for lye, oils, fragrance and colors. They are affordable and you can get fragrance and colors in small quantities if you want.
Ingredients
almond oil
castor oil
coconut oil
olive oil
palm oil
shea butter
lye
goat milk (I used this powered goat's milk and mixed with water)
fragrance oil or color (optional: I did not use color in this soap but used my favorite fragrance, which you can find here)
Supplies
Step by step soap
Preparing the goat milk, oils and lye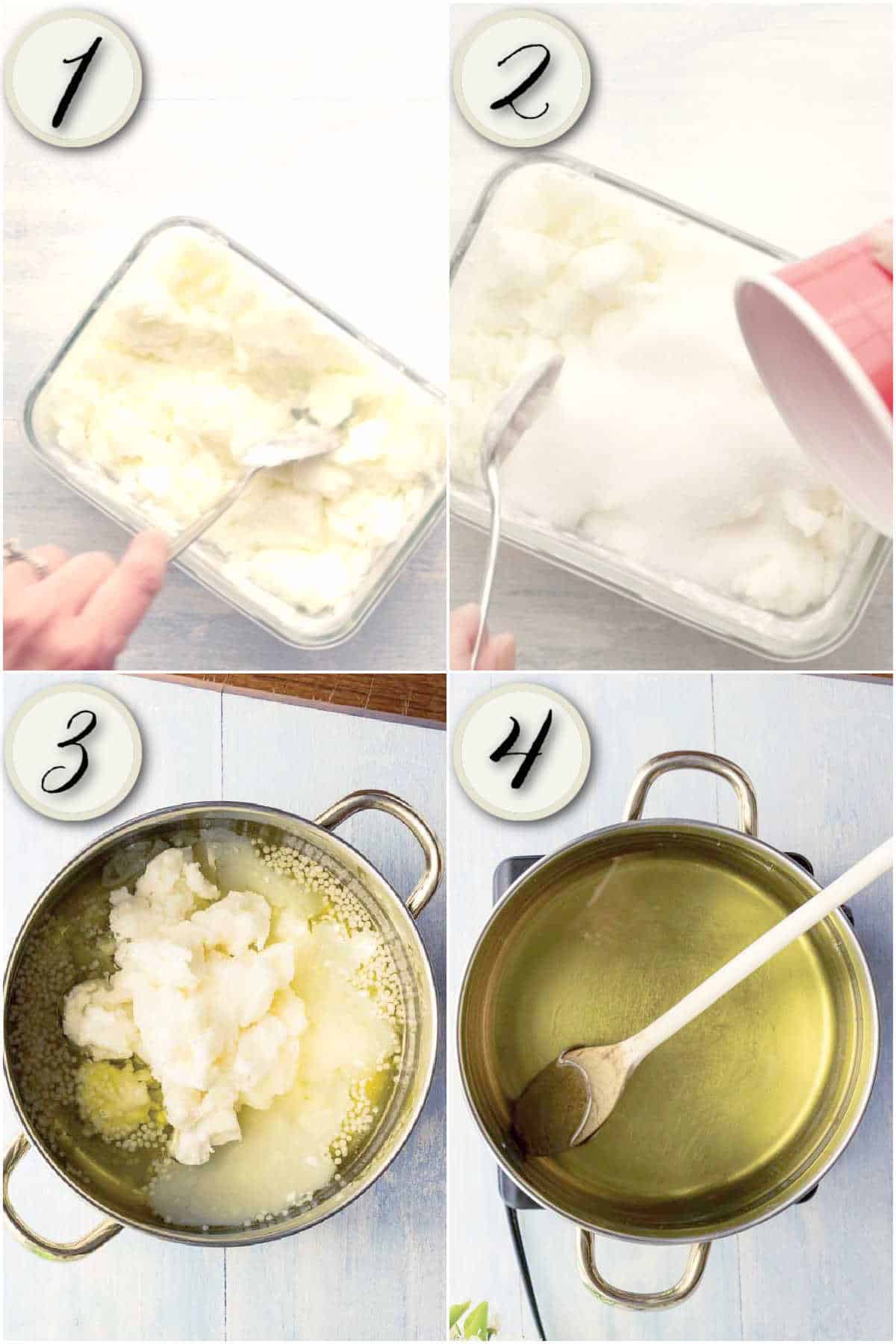 Okay my friends, let's make this! If you've made soap before, it will all seem very familiar, with one big, weird exception: the goat's milk!
We can't just go pouring lye into the milk, and here's why: when you add lye to any liquid, it will shoot way up in temperature because of the chemical reaction. If this happens with milk, there can be an unpleasant reaction like curdled milk. No thanks.
So first we want to get the milk to a semi-frozen, slushy state. Just put it in the freezer for about four hours, until it is partially frozen.
Then we proceed. Carefully measure out the lye and pour into the milk. You'll need to stir quite a bit, but almost instantly the ice will start to melt and the milk will heat up and perhaps change color.
Set aside the lye milk in a safe place, and being measuring and melting your oils. Everything has to be throughly melted and should be about 140 degrees.
Let both components cool for an hour or two, until they are about 110 degrees. (Anywhere from 100-125 is acceptable.)
Stick Blending and pouring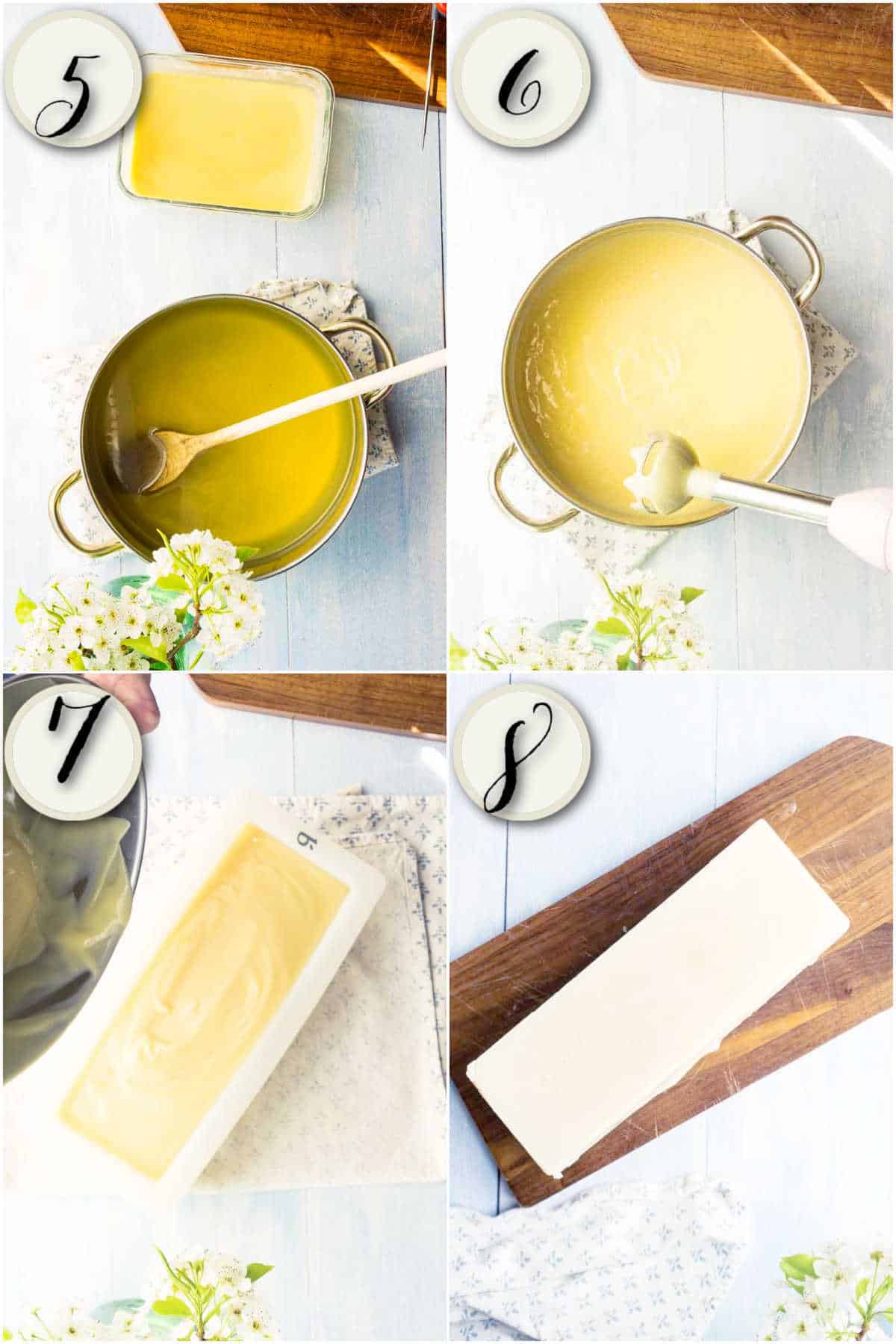 It's time for the fun part! Before you start blending, make sure your mold, fragrance oil, and any other additions are ready to go.
Pour the milk into the melted oils, and begin stick blending. Blend for a few minutes until trace is reached. The batter should thicken slightly and leave trails when stirred or when the stick blender is lifted.
Once you've reached trace, stir in the fragrance (if using) by hand and immediately pour the batter into the mold. Smooth out the top.
Because of thee sugars in the milk, this soap will get hot! To avoid cracking or any other problems, I'd recommend you put this in the fridge or freezer.
After 24 hours, turn the soap out of the mold (it may still be a bit soft), cut into bars, and store in a well-ventilated space for a few weeks.
You will love it.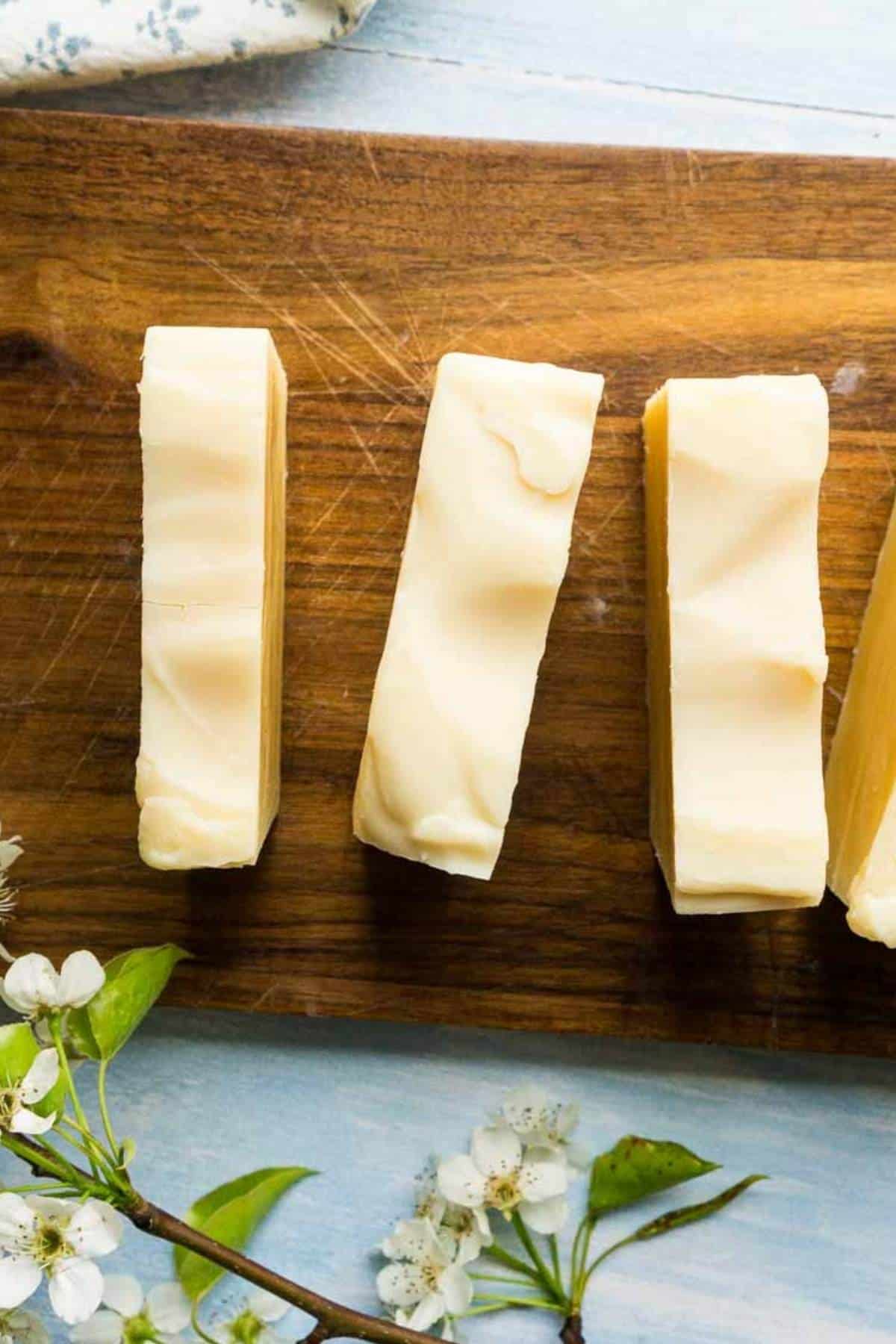 Want more soaps?
print the recipe here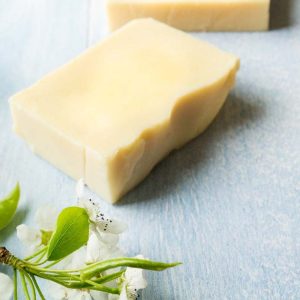 Nourishing Goat Milk Soap Recipe
Print Recipe
This cold process bar combines goats milk with shea butter, olive oil, and more. A gentle, cleansing, beautiful soap recipe.
Click here to grab a free Christmas cookie and candy ebook + holiday planner printables!
Ingredients
3

ounces

almond oil

2

ounces

castor oil

10

ounces

coconut oil

10

ounces

olive oil

6

ounces

palm oil

3

ounces

shea butter

1

ounce

beeswax

4.91

ounces

lye

12

ounces

goat milk

(or combine 1 ounce powdered goat milk and 11 ounces water)
Instructions
Prepare the goat milk by freezing for a few hours until it reaches a slushy consistency.

Add the lye to the partially frozen milk and stir until completely blended. It will melt, heat up, and may change color. Set aside in a safe place.

Measure the oils, butters, and beeswax and melt over low heat until completely melted and heated to 140 degrees. Set aside to cool. Prepare your soap mold and any color or fragrance you are using.

When the milk and oils have cooled to about 110 degrees, pour the milk into the melted oils and blend using a stick blender. Mix until "trace" is achieved, or the soap thickens slightly and a trail of soap rests on top of the batter rather than immediately sinking in. Add desired fragrance or color, stirring in by hand.

Pour into soap mold, gently smoothing out top. Place in fridge or freezer to avoid cracking. Un-mold after 24 hours, cut into bars, and allow to cure for 2 weeks before using.
Notes
To resize this recipe, enter the following percentages into a soap calculator: 8.57% almond oil, 5.71% castor oil, 28.57% coconut oil, 28.57% olive oil, 17.14% palm oil, 8.57% shea butter, 2.86% beeswax.
Be sure to follow safe soap making: wear gloves, googles. long sleeves. and work in a well-ventilated space. Take care that any raw soap or lye stays out of the reach of children.
Enjoy your soapmaking!