A soft and sweet bread recipe for those delicious Hawaiian style breads.  Simple to make at home and perfect for sandwiches, burgers, or French toast!
Everyone loves the sweet and soft Hawaiian rolls you can buy at the grocery store. But it's so simple to make these at home! This Hawaiian bread recipe for the bread machine is perfect when you are craving something just a little bit different from the usual.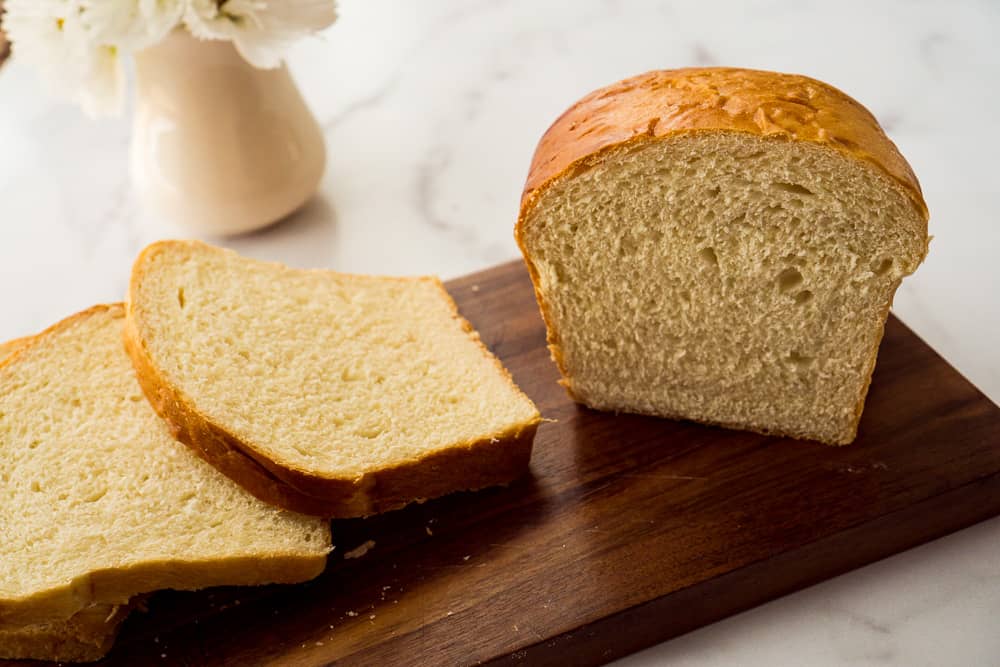 You know how there are certain things that your parents never bought you as a child, and then when you have them as an adult, they seem amazing? That's how Hawaiian bread was for me. I had never tasted it, or even heard of it, and then once at a party I had those ham and cheese sandwiches heated up in the oven on sweet rolls. They were delicious! I couldn't get over the bread. I had to ask what it was called, and see the package. (Probably a little weird.) But I loved it! When I got into baking bread a few years later, it wasn't long before I tried to create a Hawaiian bread recipe of my own.
What makes Hawaiian bread so soft and sweet?

Well, a few things contribute to soft bread. In my experience, some of the best ingredients for a soft and fluffy loaf are powdered milk, potato flakes, and an egg. I knew I would need a traditional yeast bread (rather than a sourdough or artisan bread), and it would need to be kneaded thoroughly in either a stand mixer or bread machine.

For sweetness, white sugar always works, but I knew there was something else sweetening the King's Hawaiian bread and giving it the tropical flavor. I don't know for sure that it's pineapple juice, but when I added it to my recipe, it tasted just right.

This bread is not overly sweet. It's definitely sweeter than the average bread, and perfect for french toast, but still a great bread for sandwiches, burgers,etc.

How to make Hawaiian sweet bread

If you have never made a yeast bread before, please check out my beginners guide to yeast bread baking, which will go over the basic steps and different methods you can try.
This is a typical yeast bread recipe. I almost always make yeast bread in the bread machine, but if you only have a stand mixer that can work as well.

As with any yeast bread, you simply add the ingredients in the bread machine bucket or stand mixer bowl, and mix. This recipe makes a very soft dough that should seem wet or sticky, just soft and smooth.

It may take a little longer than usual for the dough to rise because there are so many sweet ingredients in this bread. The sugar and pineapple juice will both slow things down. If the dough has not doubled in size after one hour, just come back in about twenty minutes and check again. It just needs a little more time.

After shaping (see below), brush with an egg white. This will make bread golden brown and give it a beautiful shine when it comes out of the oven.

Shaping into sandwich bread or rolls:

The amounts listed in this recipe will make either 1 loaf of sliced bread or 8-12 rolls, depending on the size.

To shape a sandwich loaf, use your loaf pan as your guide and shape the dough into a rough rectangle that is about the same size as your loaf pan. Fold it like an envelope into a log, pinching the seams.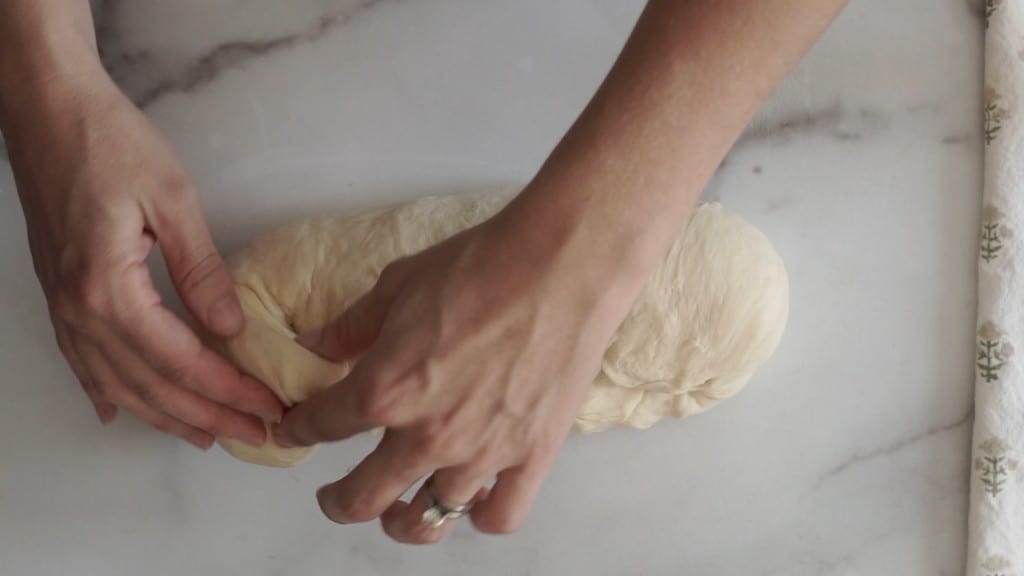 Fold in the ends. Turn it upside down so the seam is on the bottom and place it in a greased loaf pan.

To shape buns, I simply pinch the bottoms of a ball of dough until the top looks nice and smooth.

I typically double this recipe and make one batch of rolls and one sandwich loaf.

The top will look very browned because of the egg wash and all the sugar in this recipe. You may want to check the internal temperature with a thermometer to make sure it is thoroughly baked. It should be between 195 and 200 degrees.
Other sandwich breads you might like:
Video and printable recipe:
Hawaiian Bread Recipe for Bread Machine
Print Recipe
A soft and sweet bread recipe for those delicious Hawaiian style breads.  Simple to make at home and perfect for sandwiches, burgers, or French toast!
Click here to grab a free seasonal e-cookbook!
Ingredients
1/4

cup

instant potato flakes

3/4

cup

milk

3/8

cup

to 1/2 cup pineapple juice

1 1/2

tablespoons

softened butter

1 1/2

tablespoons

sugar

1 1/2

teaspoons

salt

3

cups

bread flour

2

teaspoons

instant yeast
Instructions
Combine all ingredients in bread machine, stand mixer, or large bowl.  Mix for a few minutes and check to make sure that dough is not too dry or too wet.  It should be soft and smooth but still clear the sides of the bowl.

Knead for at least 10 minutes until dough is smooth and elastic.  (If using bread machine, simply select the "dough" cycle and skip to step 4).  

Shape dough into a ball and place in a clean, lightly oiled bowl.  Cover with greased plastic wrap or damp tea towel and allow to rise in a warm place until doubled.

Remove dough from bowl and place on counter or cutting board.  To shape into a sandwich loaf, form into rectangle that is the same size as your loaf pan.  Fold into thirds, pinching the seams.   Tuck the ends under and flip the loaf over so the seam is on the bottom.  Place into a greased loaf pan.

Cover the dough with greased plastic wrap and place in a warm place to rise.  The dough should rise 1 1/2 inches over the top of the loaf pan.  Brush with beaten egg white.

Towards the end of the rising time, preheat oven to 350 degrees with rack in the center.

Bake for 40-50 minutes, until loaf is very golden brown and internal temperature is 195-200 degrees.  

Allow to cool completely on wire rack.  Slice when completely cool.  Keeps well at room temperature for 2-3 days.
Notes
To make rolls: at step 4, shape into 8-12 rolls and allow to rise 30-45 minutes until very puffy.  They will bake anywhere from 14-18 minutes, depending on size.
To freeze: allow to cool completely and wrap thoroughly in plastic wrap and/ or foil.  
Servings:
1
medium sandwich loaf