Whether you need inspiration or practical housekeeping advice, these homemaking books are all essentials for your home library.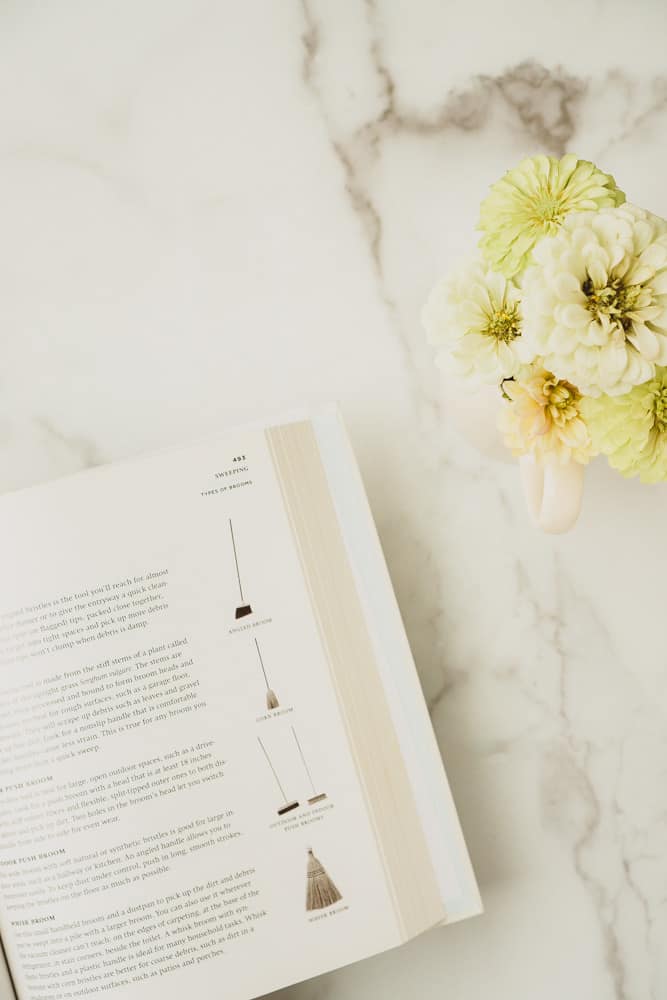 I love the internet and all the doors it opens, but I do make an effort to stay off it while my kids are around. So I like to have books around that are personally interesting to me that I am likely to pick up and actually read, instead of having them collect dust. (If you want to read more about setting up a cozy home library, this might help!)
And of course my favorite subject is…homemaking. I've amassed quite a collection of homemaking books, both ones I have bought, and gifts. Some of them are readily available used or at the library, and some I have paid full price for. I'm sharing the very best homemaking books here.
Brand new to keeping house? Check out my Homemaking 101 guide to give you a firm foundation.
Now this is not exactly something you would want to curl up with on the couch, because it is hard and the size of an encyclopedia, and because it is boring. But it's still an essential reference for everyone! Treat it as a reference and you will use it frequently. The charts on cleaning and laundry stain removal are very well done and well researched.
Martha is, of course, not terribly warm and likable, but I think she really shines in her cleaning and organizing advice. She has also mastered the art of decorating with practical items, and her laundry rooms and mudrooms are all beautiful. Any advice you need for a utility space, any cleaning tips, and any laundry advice you can dream of, will be found in this book.
Now this book, in contrast, is mostly inspirational. No cleaning charts or that type of thing, and not really much in the way of practical advice. But whenever I feel that I should be at a paying job, I pick up this book for an attitude change. It is a discussion of the value of domesticity, self sufficiency, and how they challenge the idea of keeping up with Joneses and buying your way to happiness.
The author lives on a farm and raises all her own food, and there is a big focus on homesteading in this book. But it is definitely applicable for homemakers who live in the city or suburbs as well.
(A word of caution: the author is very opposed to dual-income households and this may offend some people. It is an opinionated book and not for everyone.)
We all know about the Life Changing Magic of Tidying Up, but this illustrated sequel is much better, in my opinion. Marie Kondo goes beyond telling us to only keep what sparks joy, and gives very practical tips for folding and storing items. She shows you exactly how to fold everything in the your closet with illustrated step by step diagrams.
I am not a minimalist, nor would I consider myself a hoarder, but I still largely like her advice, and especially her methods for storing clothing.
For those of you who really struggle with accumulating things, I would still recommend the first book for inspiration and motivation. But if you just need practical tips to put her method into practice, this book is very good.
I love this book and actually keep it in purse to read while I am waiting in the pick up line at school.
This book focuses on lost skills that our grandmothers knew and we do not. But it's more than just a "how to" manual. It is well written, and I find the author's voice to be funny and charming.
Some of the things can discusses are how to filet a fish, how to knit, and how to waltz. The intent of the book is not to truly teach you these things, but to show you all the things we still can learn that are both enjoyable and practical. And that is a big, big part of what homemaking is all about.
This is not a high budget, big publishing house book. But it is packed with good, gentle advice and lots of inspiration. Mrs. White's style is very old fashioned, in a good way, and this book feels like a visit with your grandmother.
It is one of those books that is most useful as inspiration, and is not really a "how to" book. But I love it for that.
I'm including this book because it is a light and fun read and is often available for free on Amazon. If you are a member of Kindle Unlimited, all of Kate Singh's books are free. They are light and quick reads, and enjoyable for inspiration on frugal living. She does not pretend to be an expert on anything, but shares her successes and failures. She definitely has a talent for making you feel grateful to be a homemaker.
This one is my favorite book, and I highly recommend it. The author is a very busy homeschooling mother of 9, who is amazingly productive. I absolutely love this book. It feels like sitting down with a wise friend and getting all her best tips over a cozy chat.
But it's not just inspiration and discussion; there are so many practical takeaways in this book. She is a very motivated and hard working wife and mother, so it sometimes makes me feel a little lazy. But it's definitely good for a kick in the pants to get to work.
Do you really need books to help you with homemaking?
Of course not! Deep down, we probably already know how to keep a home. But we all struggle with motivation and time management, and these books are so helpful.
(If you're shopping for a stay at home mom, books about housekeeping might or might not be appreciated!)
There are also many great blogs devoted to homemaking, and I have a quite a few posts on it myself, which you can browse here.
But I hope you find a book here that inspires you!