Ready to use in just a few days, hot process soap is easy for beginners and gives you a moisturizing bar with great lather.
Are you eager to make your soap but don't want to wait weeks for it to cure? If so, this hot process soap recipe is just for you.
Ready to use in just a few days, this soap is easy to make and offers moisturizing properties and an amazing lather.
All you need is a few simple ingredients and some basic kitchen equipment. Let's dive into the world of soapmaking.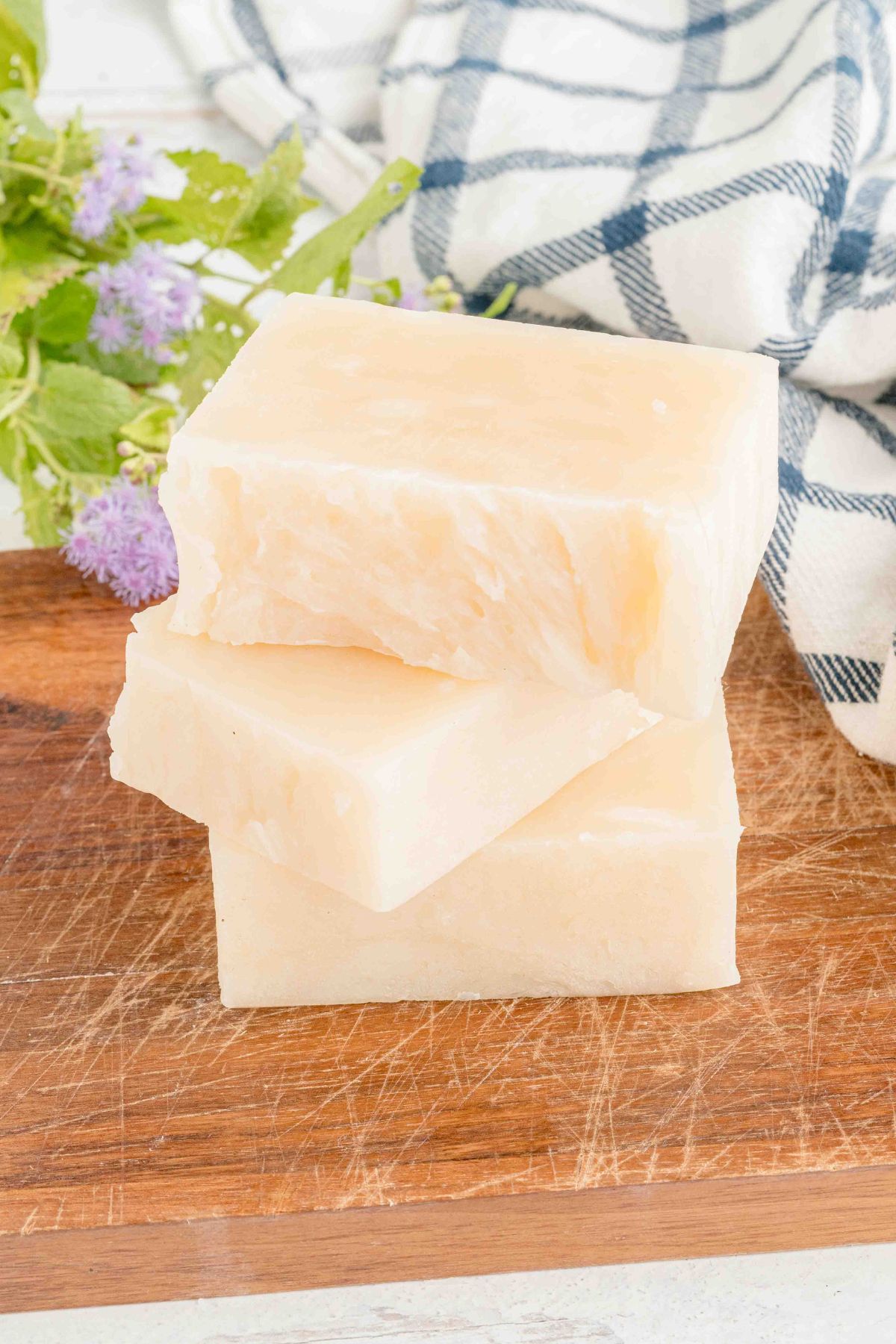 Hot process soap forces a faster curing time by heating the soap after blending. It makes cleanup simple, and your bars are ready to use right away.
Ingredients and Tools for Homemade Soap
Sodium Hydroxide, aka Lye: Yes, you must use it! If you aren't comfortable working with it, this recipe is not for you.
Palm Oil, Coconut Oil, and Olive Oil: These are standard soapmaking oils that help to provide a balanced bar. You can purchase bulk oils at a good price from Nurture Soap.
Avocado Oil: This is excellent for moisturizing your skin.
Greek Yogurt: An unusual but beneficial ingredient that adds a silky feel to the soap and smooths it out. You'll be amazed
A note about lye
Lye is the essential ingredient that acts as a catalyst in the saponification process. Essentially, lye breaks down the oils, allowing them to combine with the water in the recipe to create soap.
Without lye, the oils and water would not mix properly; they would remain as separate layers.
It's important to note that no lye remains in the finished product if the soap is made correctly. All of it reacts with the oils and fats during saponification to create soap and glycerin, leaving behind no residual lye in the finished bars.
Remember to handle lye carefully. It's a strong alkaline substance that can burn your skin and eyes. Always use proper safety equipment like gloves and goggles when working with it.
recommended tools:
Slow Cooker: Essential for heating this hot process method
Stick Blender: Needed for achieving the right consistency in your soap batter.
Digital Scale: A must for precise measurement of ingredients.
Safety Gear: Gloves, goggles, and an apron are non-negotiable for safe soap-making.
You can use the same tools for soap that you do for cooking! You wash them with dish soap, right? And then you rinse it off. It's totally fine.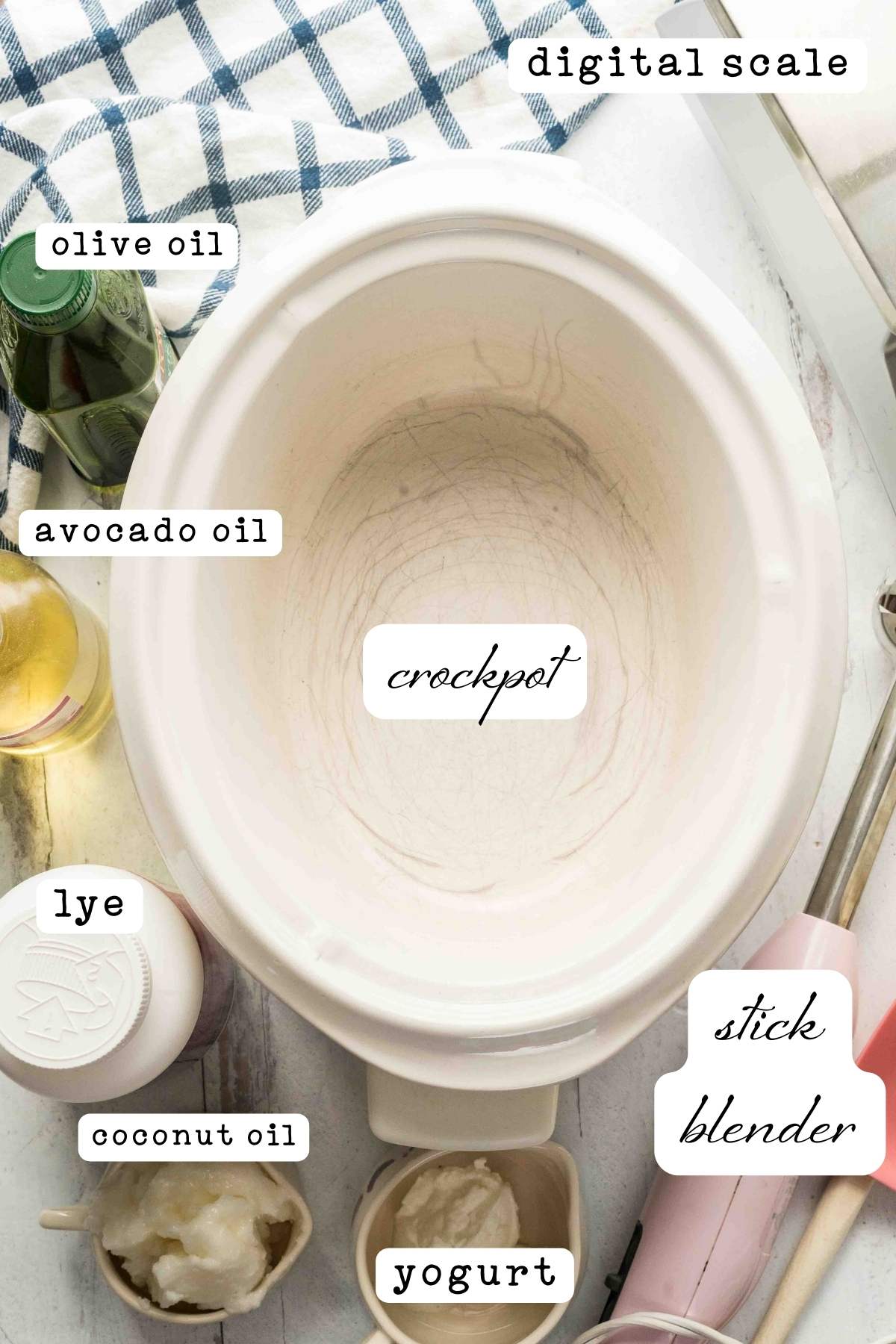 If you are a soapmaker, you'll notice that all the ingredients are the same. It's just a different process!
hot process vs. cold process
In cold process soap, the batter cures at room temperature over time.
Hot process accelerates this process by applying heat. Saponifcation happens during the "cooking process", and is done within an hour.
The soap is often slightly lumpy and harder to swirl or do other designs with. The advantage is that it's ready to use right away.
Step-by-step hot process soap
Safety First: Always wear gloves, goggles, and an apron when handling lye. Lye is a caustic substance that can cause burns.
Accurate Measuring: Make sure to measure all ingredients precisely. A digital scale is a must.
Temperature Matters: The lye water and oils need to cool to between 100-115 degrees before blending them. Blending too hot can cause the soap to overflow,.
Stick Blending: Achieving 'trace' is important. This is the point when the soap batter becomes thicker.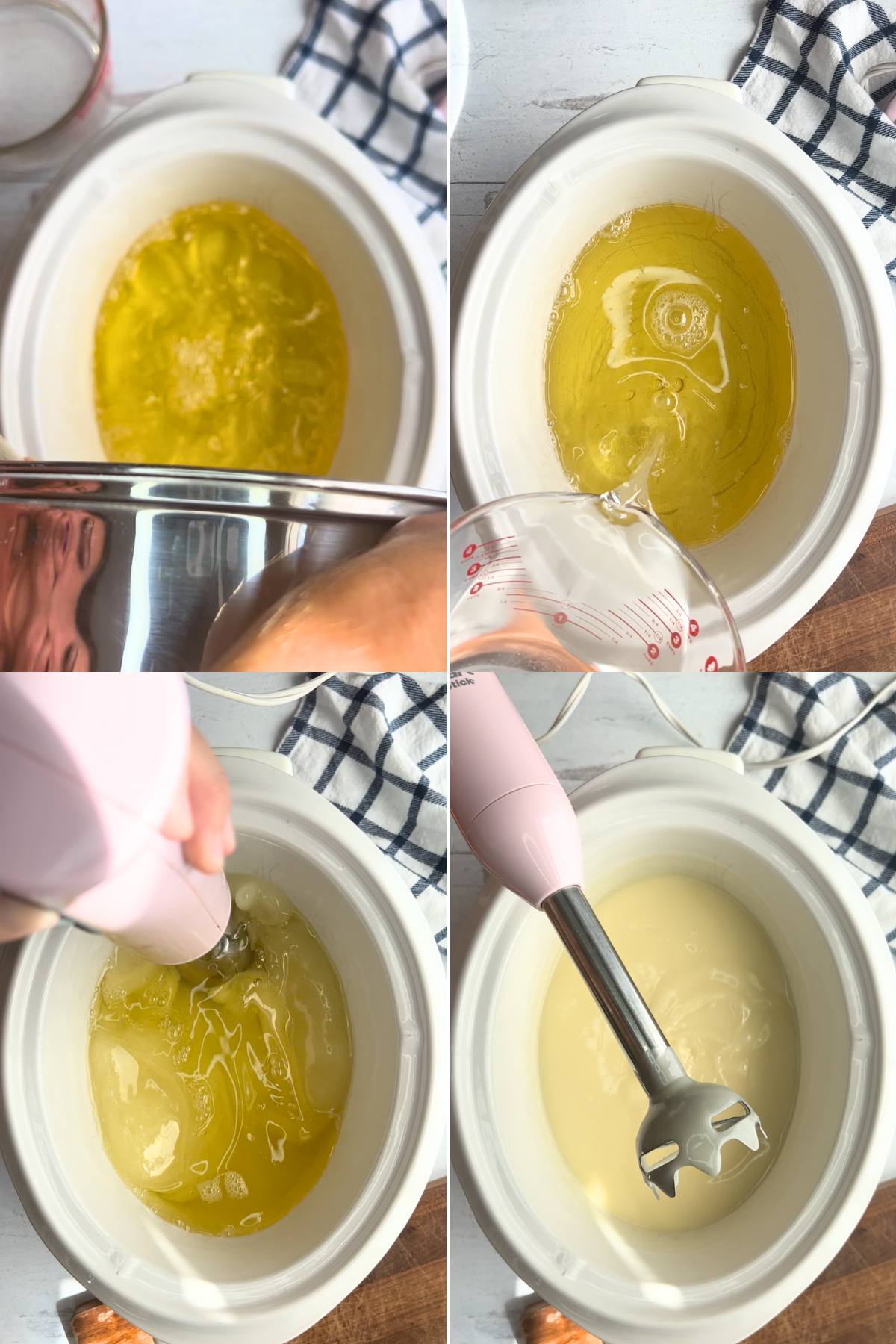 Heating the soap. The "cooking" stage is crucial for completing the saponification process in hot soap process. You'll heat the soap mixture in a slow cooker on a low setting during this stage.
As it cooks, the soap will gradually change in appearance. It often starts looking translucent at the edges, becoming thicker and forming a gel-like consistency.
The color may also change, turning brighter or more clear.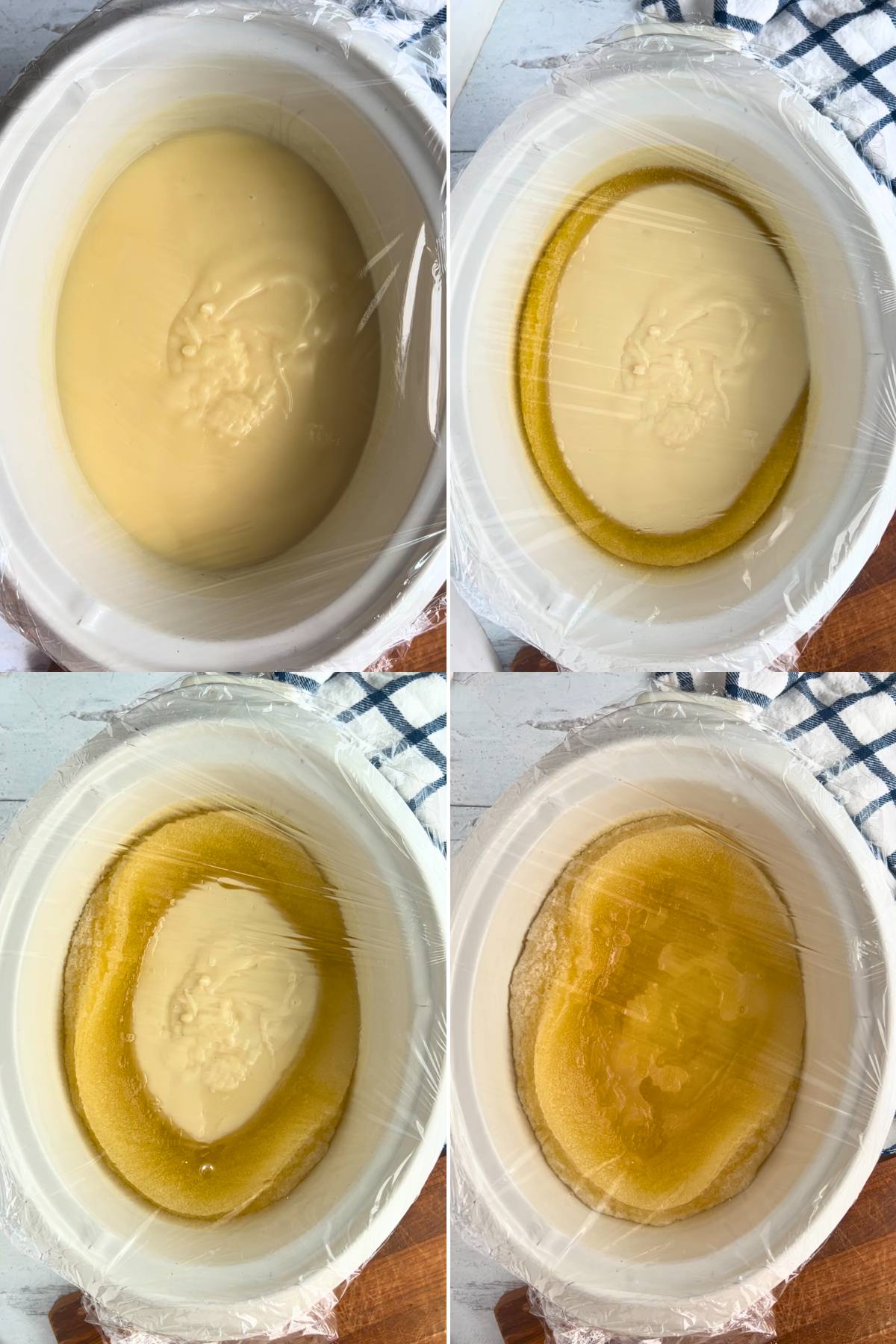 You'll know the soap is fully cooked when the entire mixture, all the way through the center, has achieved this gel-like, translucent state.
At this point, the soap is generally safe to touch and almost ready to be molded.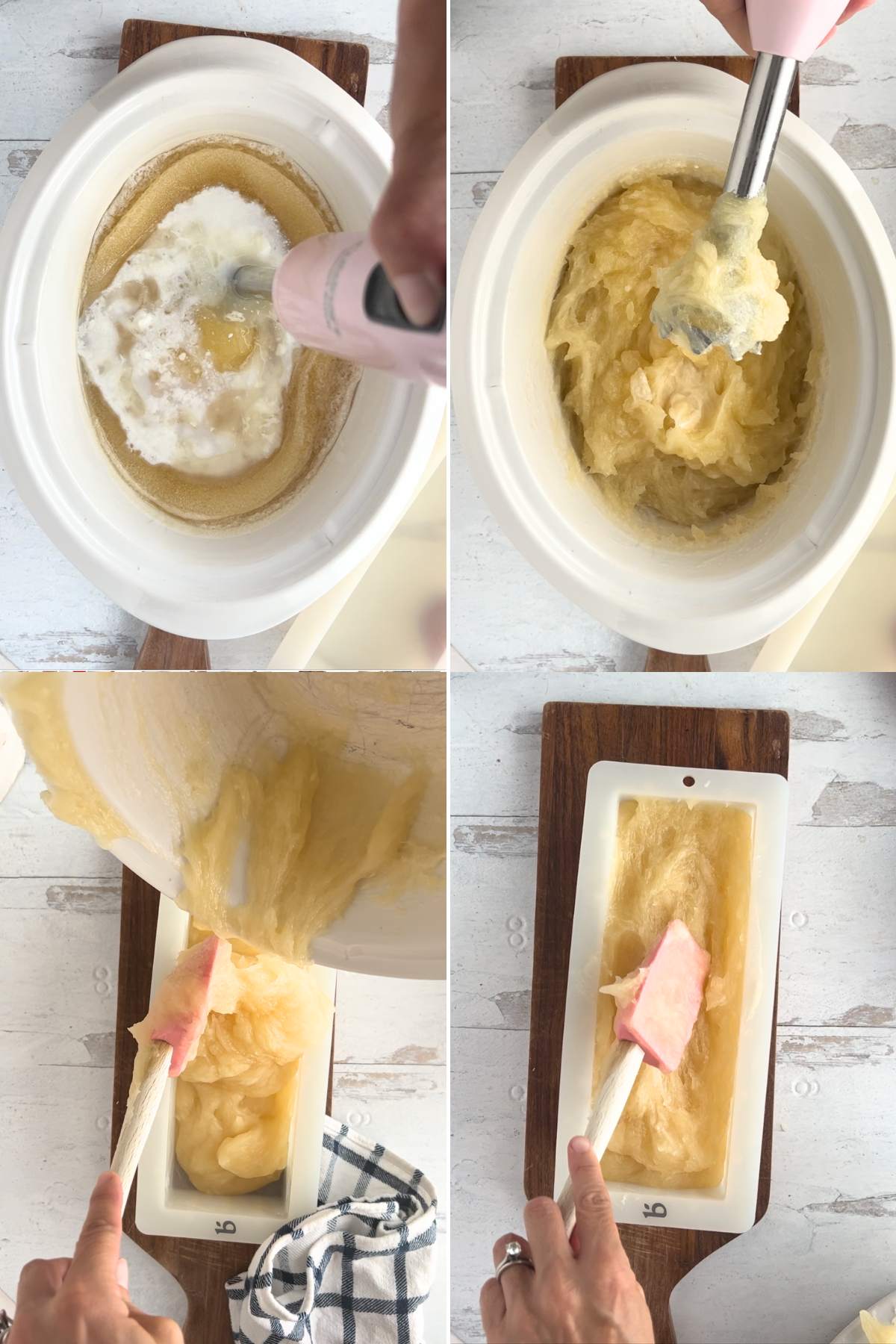 Adding yogurt and fragrance. You can scoop it into your mold right now, but I like adding a bit of thinned-out yogurt. It sounds weird but it makes the whole thing smooth out and not be so gloppy.
If you add fragrance, you would do it at this point, too.
Curing Time: Even though hot process soap is safe to use immediately, letting it cure for a week or two will make it last longer.
3- in-1 Immersion Hand blender, Powerful 1000W Stainless Steel Stick Blender, 4 Sharpe Blades with Whisk, Milk Frother Attachments Rooto 1030 1 Lb. Drain Cleaner with Lye, 3 Pack PACIFIC PPE 2 Pack Safety Glasses, Anti-fog, Scratch Resistant Clear Wraparound Lenses and No-Slip Grips, Adjustable, Lab Goggles Loaf Soap Making Molds 50oz Silicone Rectangular Mould Supplies for Handmade DIY Soap My Weigh KD-7000 Digital Kitchen and Office Scale (Black) Oatmeal Milk and Honey Fragrance Oil (60ml) for Diffusers, Soap Making, Candles, Lotion, Home Scents, Linen Spray, Bath Bombs, Slime
This soap will harden quite quickly in the mold. I typically unmold it and cut it the next morning, but you could wait up to 24 hours.
Any longer than that and it might be hard to cut.
At this point, your soap is fully cured, and you can handle it safely.
Can you use any recipe for this method?
Any soap recipe can used as a hot process recipe, with a few exceptions.
The core ingredients like oils, lye, and water will usually remain the same in both methods, but the procedure and some additional ingredients may differ.
In hot process soap making, some fragrances and colorants may behave differently due to the heat. Fragrances can evaporate, and some colors may change or fade, so it's a good idea to add these elements after the cook phase.
I wouldn't recommend a recipe with a lot of honey or sugar, as they will heat the soap even more and become very hot.
Also, the texture will be more rustic, and the soap might not be as smooth as cold process soap. Achieving intricate designs is more challenging (or even impossible) with hot process, so it's often reserved for simpler, more natural-looking bars.
more soap recipes
With this in mind, here are some recipes that would be good candidates to try with this method:
Just keep your designs simple!
This seems strange the first time you do it, but it's easy.
You'll love that you can clean up your tools immediately and use your bars faster.
Hot process soap recipe
Hot Process Soap
Print Recipe
Ready to use in just a few days, hot process soap is easy for beginners and gives you a moisturizing bar with great lather.
Click here for a FREE autumn cookbook (25+ Recipes!)
Equipment
Slow cooker

digital scale

Safety equipment

gloves, goggles, apron
Ingredients
8

ounces

water

4.26

ounces

lye

3

ounces

avocado oil

9

ounces

coconut oil

9

ounces

palm oill
Add at trace
2

tablespoons

Greek yogurt

1

ounce

water
Instructions
Mix the lye and water. Carefully add the lye to the water and stir until it is fully dissolved. The liquid will shoot up in temperature. Set aside to cool in a safe place while you proceed with the recipe. Always add the lye to the water. "Snow floats on the lake."

Melt the oil and butters. Measure the oils separately, then combine them in a large pot. Melt the over medium-low heat until all oils are fully melted. Set aside to cool.

Stick blend to trace in the slow cooker. Once the lye water and oils have both cooled to about 100-115 degrees, it's time to blend. Pour both componenets into the slow cooker and blend until trace is reached, or the soap batter slightly thickens and leaves a trail when lifting.

Heat for 45-60 minutes. Heat the soap on low in the crockpot until it changes color and becomes bright and gel-like, completely through the center.

Cool to 180 degrees. Remove the insert from the crockpot and set it on a few potholders on the counter. While it cools down, mix the yogurt with the remaining water. Measure out and add any fragrance you are using. When it has cooled enough, briefly stick blend in the watered down yogurt.

Pour into mold. Using a spatula, scrape all the soap into a loaf mold and smooth out the top. Allow to cure for 12-24 hours.

Slice into bars. Cut into bars and allow to dry for 1-2 weeks. The soap is safe to use right away, but will last longer with a week or two of curing time.
Did you make this recipe?
If you loved it, please leave a review!
!