Whether you're craving a mid-afternoon snack, a dessert after dinner, or simply something to pair with your morning tea or coffee, these jam jam cookies promise to hit the spot. Simple ingredients come together to create an old-fashioned cookie recipe that's both classic and a little different.
Easy to make and fun to let the kids press and assemble.
Want a free fall cookbook? Click here to grab a cookbook with 25+ of my best autumn recipes
Ingredients
Cookie Dough
¾

cup

unsalted butter

room temperature

1⅓

cups

brown sugar

packed

2

large eggs

1

teaspoon

vanilla

2

cups

all-purpose flour

½

teaspoon

baking soda

½

teaspoon

cream of tartar or baking powder

¾

teaspoon

salt
Assembly
granulated sugar

1

cup

raspberry, strawberry, or apricot preserves
Instructions
Prep. Preheat your oven to 350°F (175°C). Line a baking sheet with parchment paper or a silicone baking mat.

Wet ingredients. In a mixing bowl of your stand mixer, blend together the butter and Incorporate the eggs one at a time into the butter mixture, ensuring each egg is well combined before adding the next. Add the vanilla

Dry Ingredients. In another bowl, whisk together the flour, baking soda, cream of tartar, and sea salt. Slowly add the dry ingredients to the wet mixture in batches, ensuring everything is well combined.

Shape. Roll the dough into walnut-sized balls and place them on the prepared baking sheet. Gently flatten each ball using a glass dipped in sugar.

Bake. Place the cookies in the preheated oven and bake for 10-12 minutes or until they sport a soft golden hue. For a crisper finish, allow them to bake for an additional minute or two.

Assemble. Once out of the oven, while still warm, spoon a dollop of raspberry preserve onto half of the cookies. Top each with another cookie, pressing gently to form a delightful sandwich. They will set as they cool. If your kitchen is very warm, you might need to pop them in the fridge.
Notes
You can use powdered sugar for assembly as well, but we like the slight crunch of granulated.
Did you make this?
Let me know how it was! Please see below for serving ideas, storage instructions, and substitutions.
A note about what you'll need
Preserves: The heart of this cookie lies in its filling. Raspberry, strawberry, or apricot preserves can be used. Pick your favorite. I like strawberry best. 😊
Cream of Tartar: This might sound unusual, but it's a vital ingredient. It acts as a leavening agent and provides that soft texture. If you can't find it, baking powder is an excellent substitute.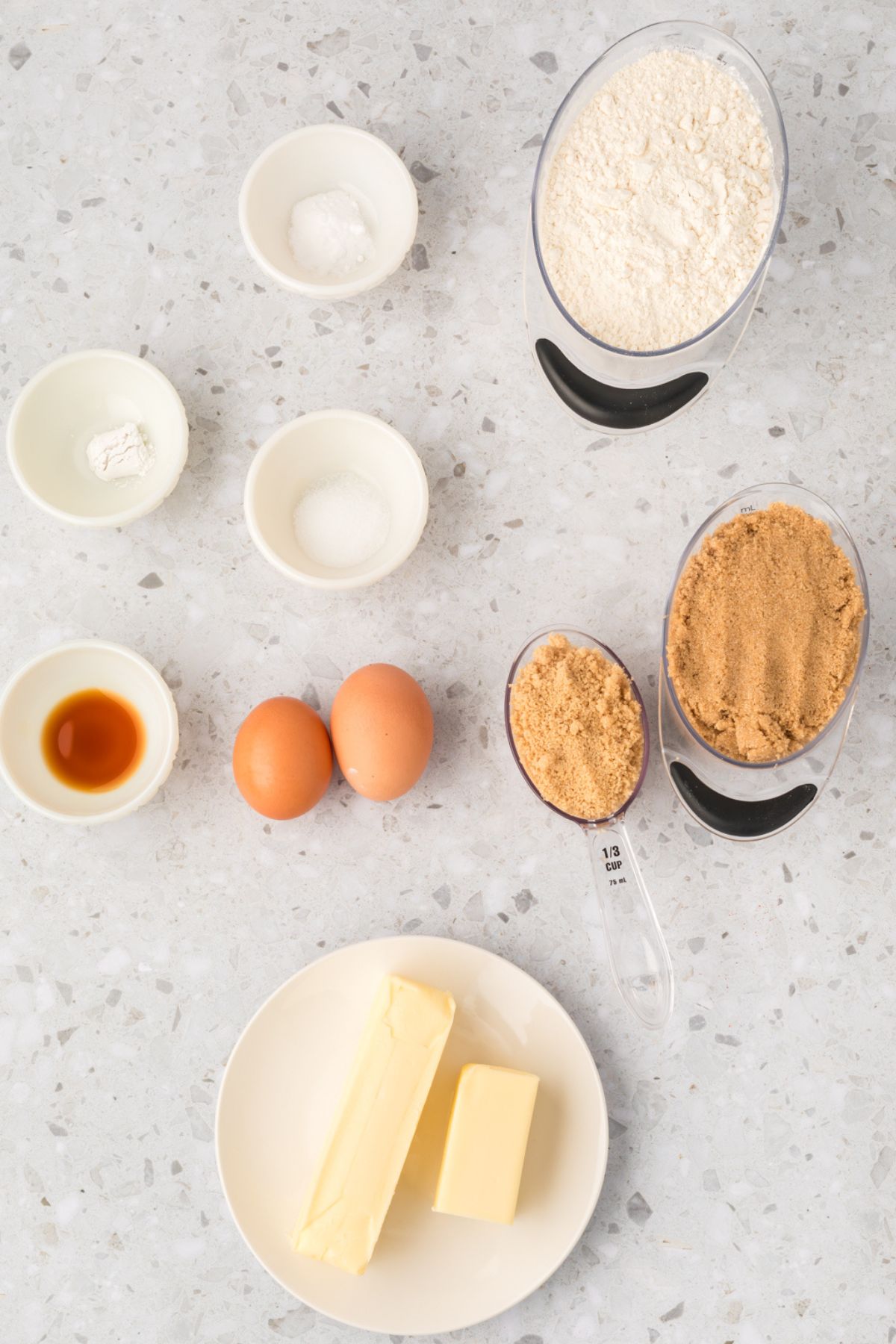 Stand Mixer or Hand Mixer: This will ensure your wet and dry ingredients are blended well and easily.
Parchment Paper or Silicone Baking Mat: Helps prevent cookies from sticking and ensures easy cleanup.
Whisk: Vital for mixing the dry ingredients to avoid any lumps.
Cookie Scoop: Helps in getting uniform cookie sizes for even baking.
Glass Jar: Useful for flattening the cookies with the added sugar coating.
RIFLE PAPER CO. Strawberry Fields Tea Towel, 28 Katbite 350Pcs 9×13 In Parchment Paper Sheets, Heavy Duty Unbleached Baking Paper, Non-stick & Oil Proof for Oven, Air Fryer, Grilling, Steaming and Cooking Bread Saebye Cookie Scoop Set, Ice Cream Scoop Set, Multiple Size Large-Medium-Small Size Disher, Professional 18/8 Stainless Steel Cupcake Scoop
Hopefully, you won't need anything special and have everything on hand already.
Tips for the best sandwich cookies
Consistency of Dough: Ensuring your butter is at room temperature is key. It helps in achieving a soft and consistent dough, making it easier to shape.
Rolling: When rolling the dough into balls, consistency is key! Aim for walnut-sized portions to ensure even baking.
Flattening Technique: Dipping the glass in sugar before using it to flatten the cookies adds a little extra sweetness and prevents the dough from sticking.
Baking: Keep an eye on the cookies while they bake. Everyone's oven varies slightly, and the key is that soft golden hue. If you're unsure, it's better to underbake slightly and allow them to set as they cool.
Assembly: Be gentle when forming the sandwich to prevent breaking the cookies. Using the preserves while the cookies are still warm helps in melding the two cookies together.
Overall, these are very easy and you should be just fine!
Storage instructions
Stored in an airtight container, these cookies should stay fresh for about 4 days.
To make dough balls ahead: Just roll the dough into balls and place them on a baking sheet to freeze individually. Once frozen, transfer them to a ziplock bag and store in the freezer. When you're ready to bake, you can bake them directly from the freezer, adding a couple of extra minutes to the baking time.
more cookies with jam
There's nothing like a nice buttery cookie paired with a fruity jam—a match made in heaven.
Heart Jam Cookies
Old Fashioned Jam Thumbprint Cookies
Italian Butter Sandwich Cookies
I hope you enjoy each of these recipes.