The allure of a classic loaf of raisin bread is undeniable. With a sweet cinnamon sugar swirl, fluffy white bread base, and plenty of juicy raisins, this is the recipe you've been looking for.
One of our favorite bread-baking projects on a chilly day, this recipe makes a delicious loaf that's perfect for breakfast or snacking.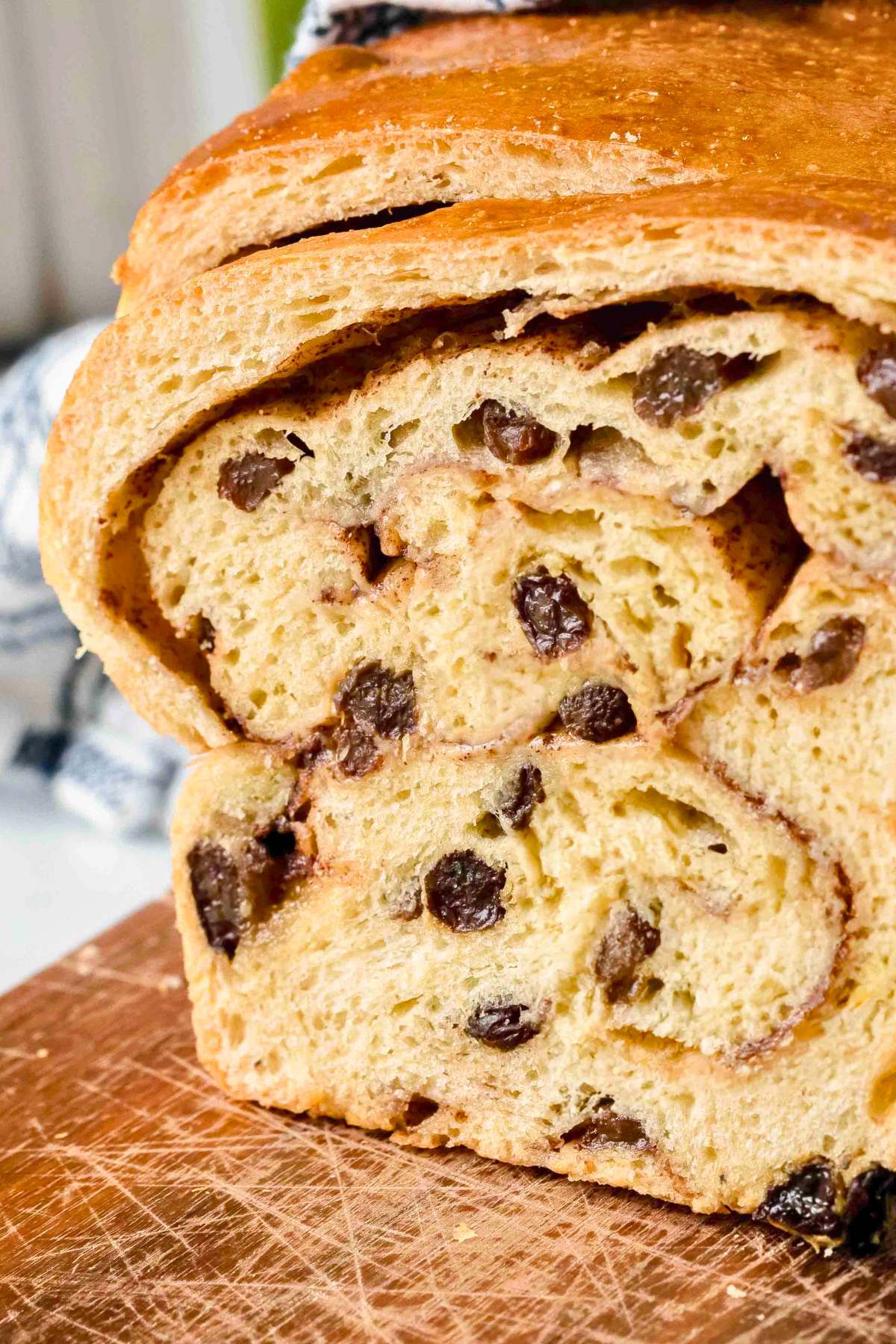 Want a free fall cookbook? Click here to grab a cookbook with 25+ of my best autumn recipes
Equipment
Stand mixer or bread machine

optional
Ingredients
For the Dough
1

cup

raisins

soaked in warm water

3

cups

all-purpose flour

¼

cup

granulated sugar

2¼

teaspoons

instant yeast

or active dry

1

teaspoon

salt

½

cup

whole milk

¼

cup

water

¼

cup

vegetable oil or melted butter

1

large egg
For the Filling
3

tablespoons

butter

melted

2

teaspoons

ground cinnamon

½

cup

brown sugar
Instructions
Make the dough. Mix all dough ingredients except the raisins and check the consistency. It should be very slightly sticky but still hold its shape. If the dough is heavy or crumbly, add water a bit at a time. If it is overly sticky or does not hold its shape, add flour a bit at a time. Knead by hand, bread machine, or stand mixer until smooth and elastic. Add raisins and briefly knead in.

First rise. Place the dough in a greased bowl, covering it with plastic wrap or a damp kitchen towel. Let it rise in a warm place for 1 to 1.5 hours, or until doubled in size. Due to the milk and sugar in the recipe, it may rise slower than what you are used to.

Fill and shape. Stretch the dough out into a rectangle approximately 9×14 inches. To make the filling, mix the melted butter, brown sugar and 2 teaspoons ground cinnamon. Spread the raisin mixture evenly over the dough. Roll the dough tightly into a log, starting from the short end. Tuck in the ends and place seam-side down in a greased 9×5-inch loaf pan.

Second rise. Cover the loaf with plastic wrap or a damp kitchen towel and let it rise in a warm place for 45 minutes to 1 hour, or until risen 1-2 inches over the top of the loaf pan. Towards the end of the rising time, preheat your oven to 350°F

Bake. Place the loaf in the preheated oven and bake for 35-40 minutes, or until golden brown and the loaf sounds hollow when tapped on the bottom. Remove from the oven and allow to cool in the pan for 10 minutes, then transfer to a wire rack to cool completely before slicing.
Notes
The tighter you roll, the more swirls you will have.
I prefer instant yeast for this recipe (and every bread recipe!) but active dry is perfectly fine. You'll just need to make sure your milk and other cold ingredients come to room temperature first, or you'll have slightly longer rise times.
Nutrition
Calories:
279
kcal
|
Carbohydrates:
48
g
|
Protein:
5
g
|
Fat:
8
g
|
Saturated Fat:
5
g
|
Polyunsaturated Fat:
0.5
g
|
Monounsaturated Fat:
2
g
|
Trans Fat:
0.3
g
|
Cholesterol:
33
mg
|
Sodium:
264
mg
|
Potassium:
191
mg
|
Fiber:
2
g
|
Sugar:
14
g
|
Vitamin A:
243
IU
|
Vitamin C:
1
mg
|
Calcium:
37
mg
|
Iron:
2
mg
Did you make this?
Let me know how it was! Please see below for serving ideas, storage instructions, and substitutions.
Even beginner bakers will be successful with this loaf! Don't worry too much about getting the perfect swirl; you'll have a delicious bread no matter what.
Important Ingredients and Tools
Raisins: These little dried fruits are the magic ingredient. You can use golden or regular. Soaking them ensures they're plump and juicy within the bread.
Instant Yeast: While you can use active dry yeast, instant yeast often offers a quicker and more consistent rise.
Tip: Try soaking the raisins in rum!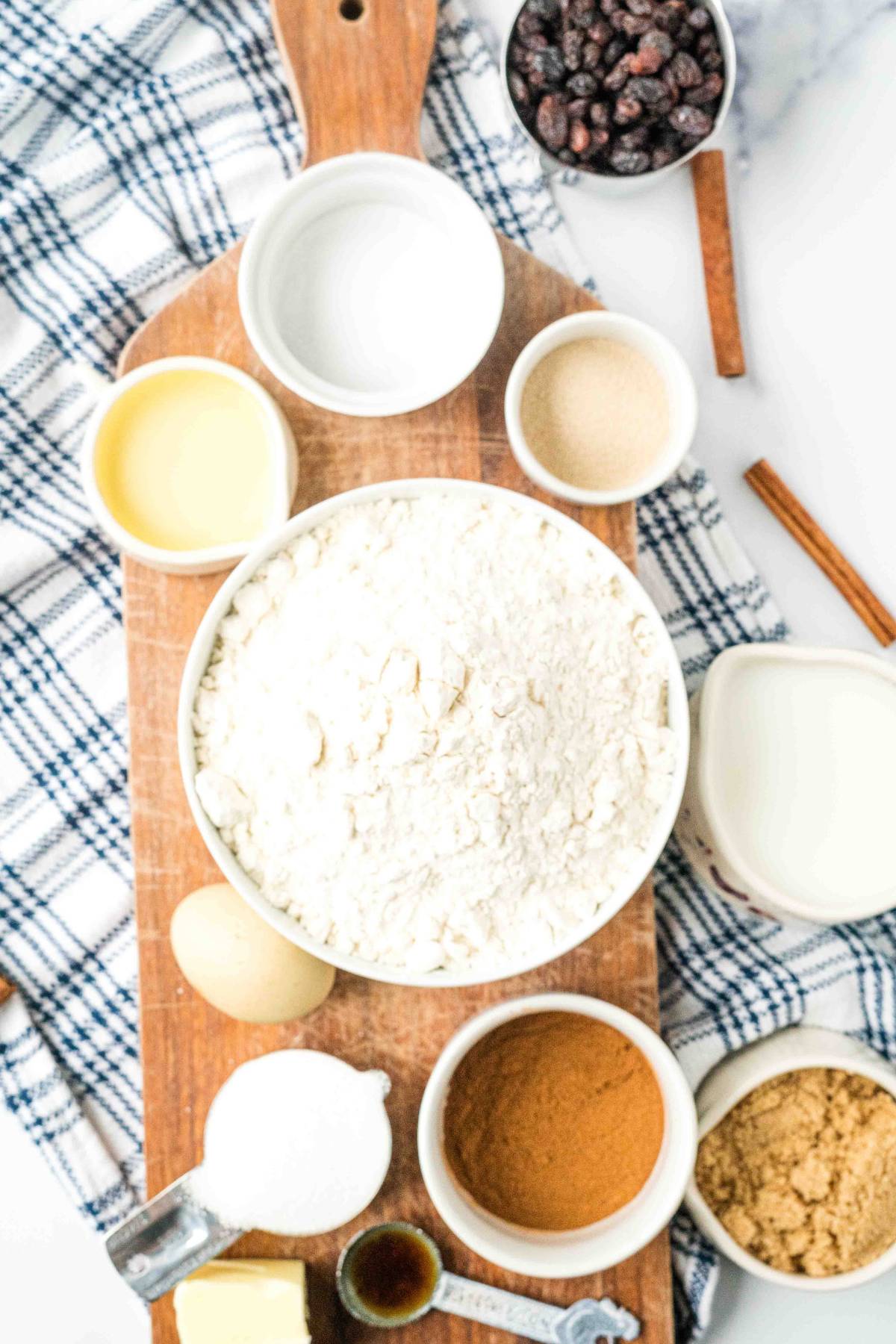 Loaf Pan: Essential for giving your bread that classic shape.
Stand Mixer or Bread Machine: While not mandatory, these make the kneading process easier and more consistent.
Mixing Bowl: For preparing and resting the dough.
Wire Rack: Crucial for cooling the bread properly post-baking, ensuring the loaf doesn't turn soggy.
Bosch Universal Plus Stand Mixer – Black 800 Watt, Black Saf Instant Yeast, 1 Pound Pouch (2-Pack) Wilton Recipe Right Medium Bread Loaf Baking Pan – 8 1/2
A stand mixer is helpful but yo can absolutely knead by hand. If you have a bread machine, let it run on the dough cycle, and all you'll have to do is shape and bake.
Tips for the Best Raisin Bread
Dough Consistency: The ideal dough should be only slightly sticky. Too dry, and you'll have a tough bread. Too wet, and it might not hold its shape. Adjust with water or flour as required.
First Rise: This bread might take a tad longer to rise than usual due to the presence of milk and sugar. Patience is key here. A good rise ensures a fluffy bread.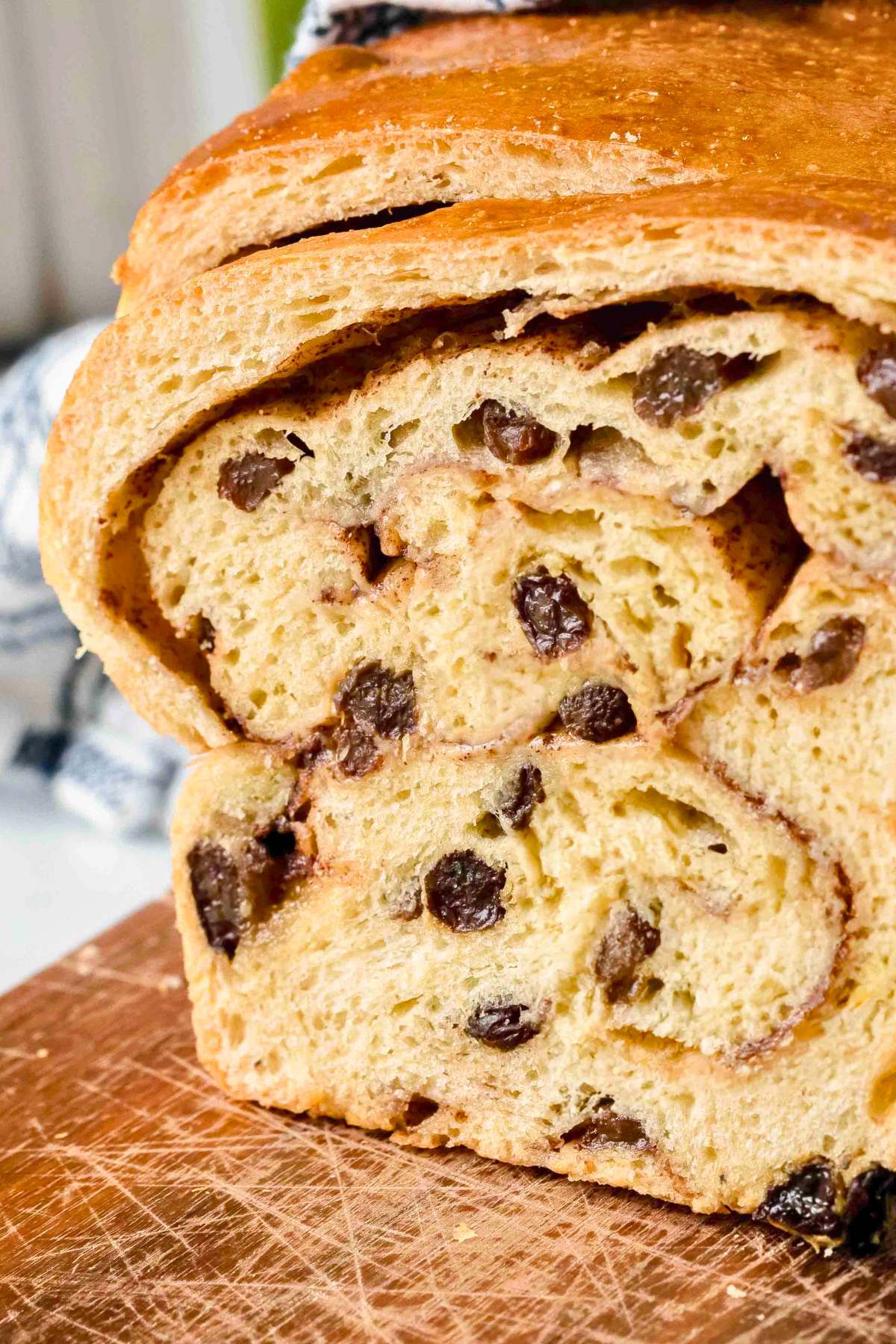 Rolling the Dough: The tighter you roll, the more cinnamon swirls you'll get in each slice. Ensure even spread of the raisin mixture for that delightful taste in every bite.
Baking Time: The golden rule is to bake until the loaf sounds hollow when tapped. This ensures it's perfectly baked inside and out.
Pristine Bamboo Bamboo Bread Slicer for Homemade Bread Loaf – 3 Thickness Size – Foldable Compact Chopping Cutting Board with Crumb Tray – Ideal for Homemade Bread, Cake, Bagels Jomeech Reusable Fabric Bowl Covers for Bread Proofing,Easy Clean-Easy Use,No Fading,Washable Covers For Kitchen Container or Food(Redstar) Temp-tations Mixing or Serving Bowl, 3 Qt with Tab Handles (NO Plastic Cover), Replacement (Old World Poinsettia)
Enjoy every slice, knowing that you've crafted it with love.
How to StoRE + Make Ahead
Room Temperature Storage:

After allowing the bread to cool completely on a wire rack, wrap it tightly in plastic wrap or place it inside a resealable plastic bag, squeezing out as much air as possible. This will help to keep it fresh. The bread should be good for up to 2-3 days stored at room temperature.
Freezing Instructions:

Raisin bread freezes quite well!
Cool the bread completely.
Wrap the entire loaf or individual slices in plastic wrap, ensuring it's tightly sealed.
Then, wrap it again in aluminum foil or place it in a freezer-safe resealable bag, removing as much air as possible.
Label with the date and store in the freezer for up to 3 months.
To use the frozen bread, thaw it at room temperature or in the refrigerator. If you've frozen individual slices, you can pop them directly into the toaster for a quick breakfast.
Making Ahead
Once you've made the dough and it has undergone its first rise, you can shape the dough into a loaf and place it in the loaf pan. Instead of proceeding with the second rise, cover it tightly with plastic wrap and refrigerate overnight.
The next day, let it come to room temperature and rise until it's 1-2 inches over the top of the pan before baking as instructed.
This method allows you to break up the process and have freshly baked bread with less effort on the day you wish to enjoy it.
More Sweet and fruity bread recipes
We love bread with mix-ins around here and bake a loaf with fruit at least once a week. Here are some of our favorites: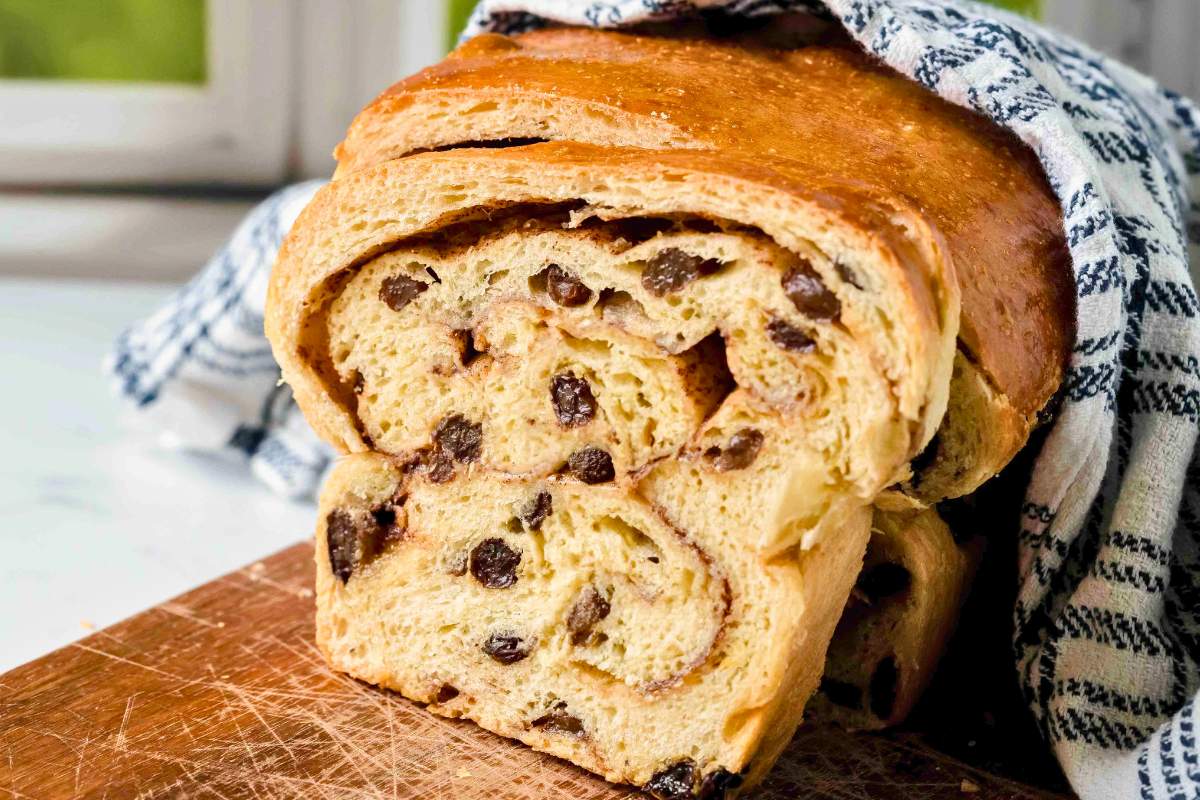 All these are delicious toasted and slathered with butter or cream cheese.