This recipe for sourdough cinnamon swirl bread produces a fluffy and sweet loaf. Perfect for toast in the morning. No yeast needed.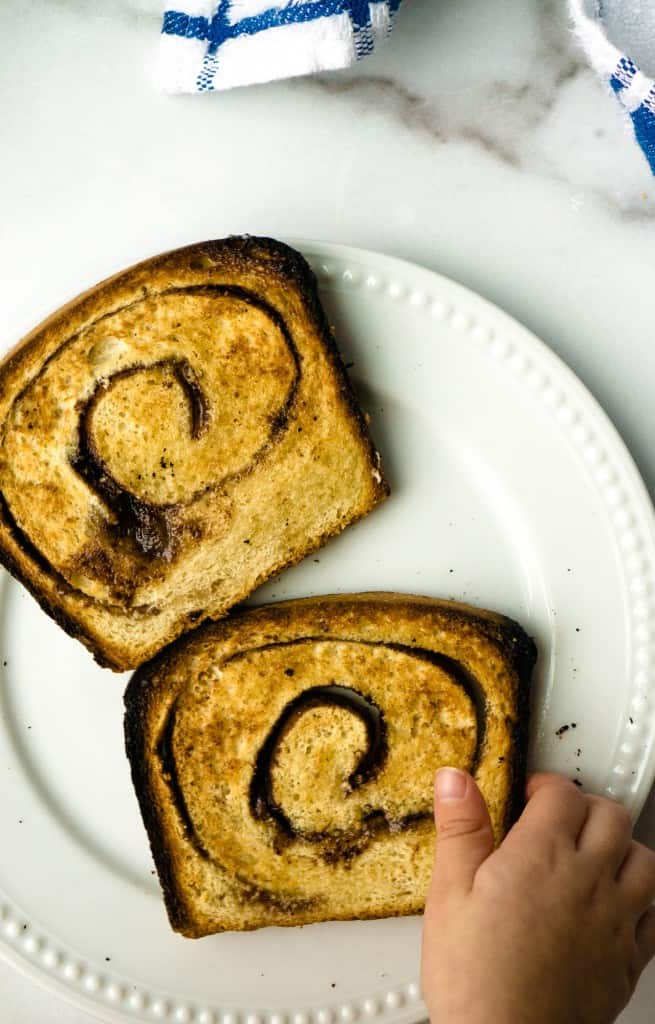 Be sure to try blueberry lemon sourdough bread for another sourdough breakfast bread!
Helpful tools and ingredients:
A basic bread machine for kneading and rising the dough. Super helpful for every home bread baker.
Cinnamon in bulk is a good buy for the serious baker.
A kitchen scale is helpful for any bread recipe, but especially a sourdough one, since starter can be difficult to measure by volume.
Step by step, in case you need a little more help:
Looking for sourdough recipes that WORK, written in a language you understand?
Sign up for my sourdough email series that takes you from making a starter to baking all kinds of sourdough recipes! You can
grab it here
When you first add all the ingredients in a mixing bowl, there is no need to overthink it. Just dump everything in, except the salt, in no particular order. You may want to measure out the salt and leave in somewhere next to the bowl so you don't forget to add it when you knead the dough.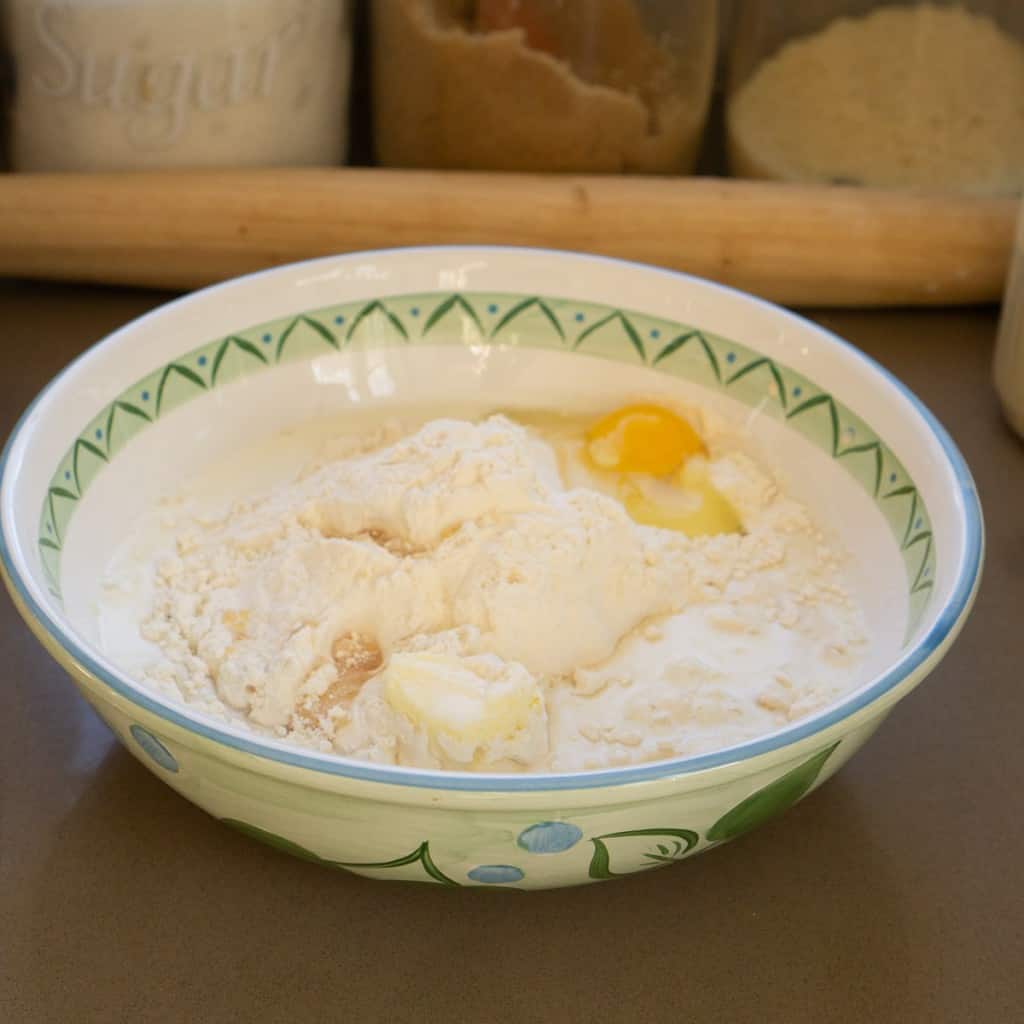 When you mix everything together at first it might seem a little lumpy and that's okay. Use your hands to press everything together into one ball.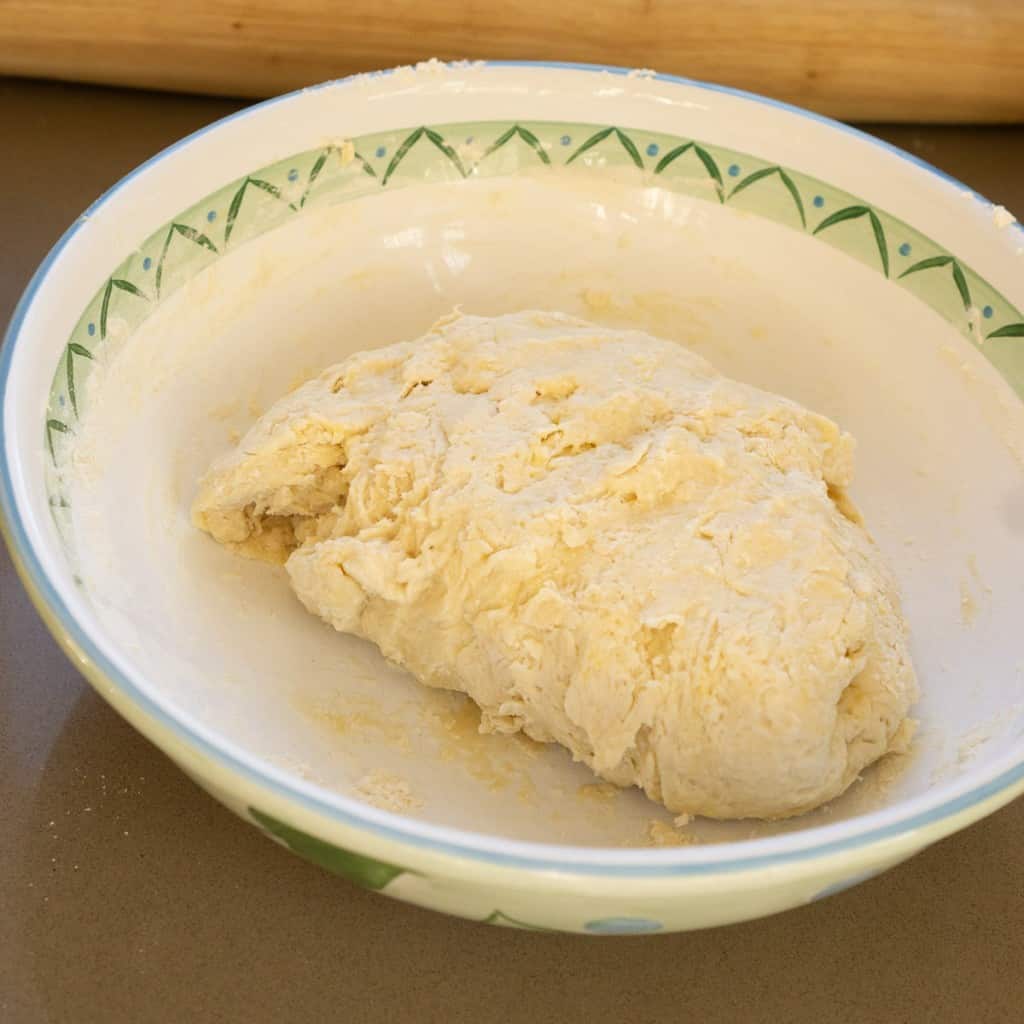 After the dough rests, covered on the counter, you need to add the salt and knead the dough. I always use my bread machine and select the dough cycle. You can use your stand mixer to knead dough as well. If the dough seems very dry and is not coming together, add a tablespoon or so more milk. If its very sticky and is sticking to the bowl or bread machine, add a tablespoon or so more flour. The dough should be smooth, stretchy, and not too sticky. You can use your stand mixer to knead dough as well.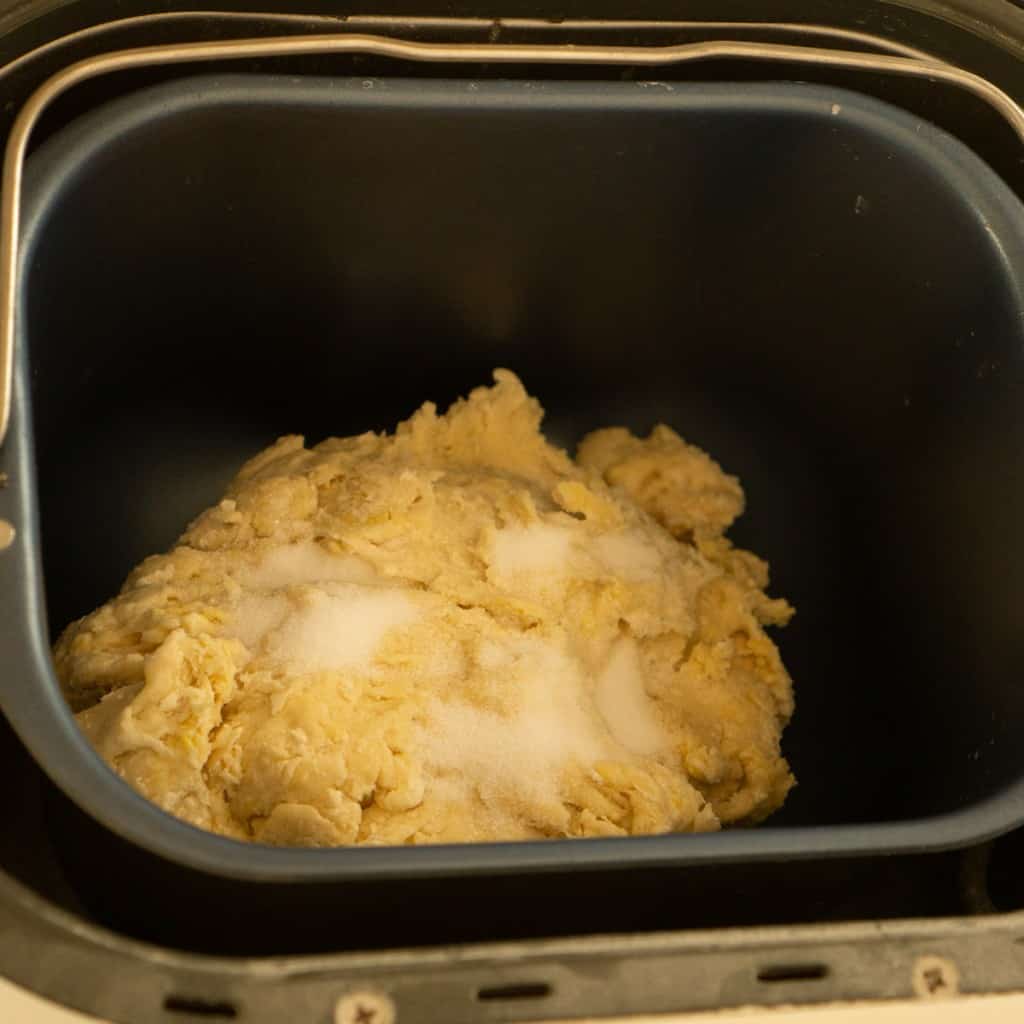 When the dough is ready, it will look soft, smooth, and stretchy. If you are using a bread machine, the machine will beep when it's done, but you will need to leave the dough in it for an additional 2-3 hours.
If you aren't using a bread machine, you'll need to transfer the dough to a clean bowl, cover it, and place it in a warm place for 3-4 hours. The best way to do this is to warm up your oven for 1-2 minutes, turn it off, and let the dough rise there.
After it has risen, turn it out onto a cutting board for the next phase.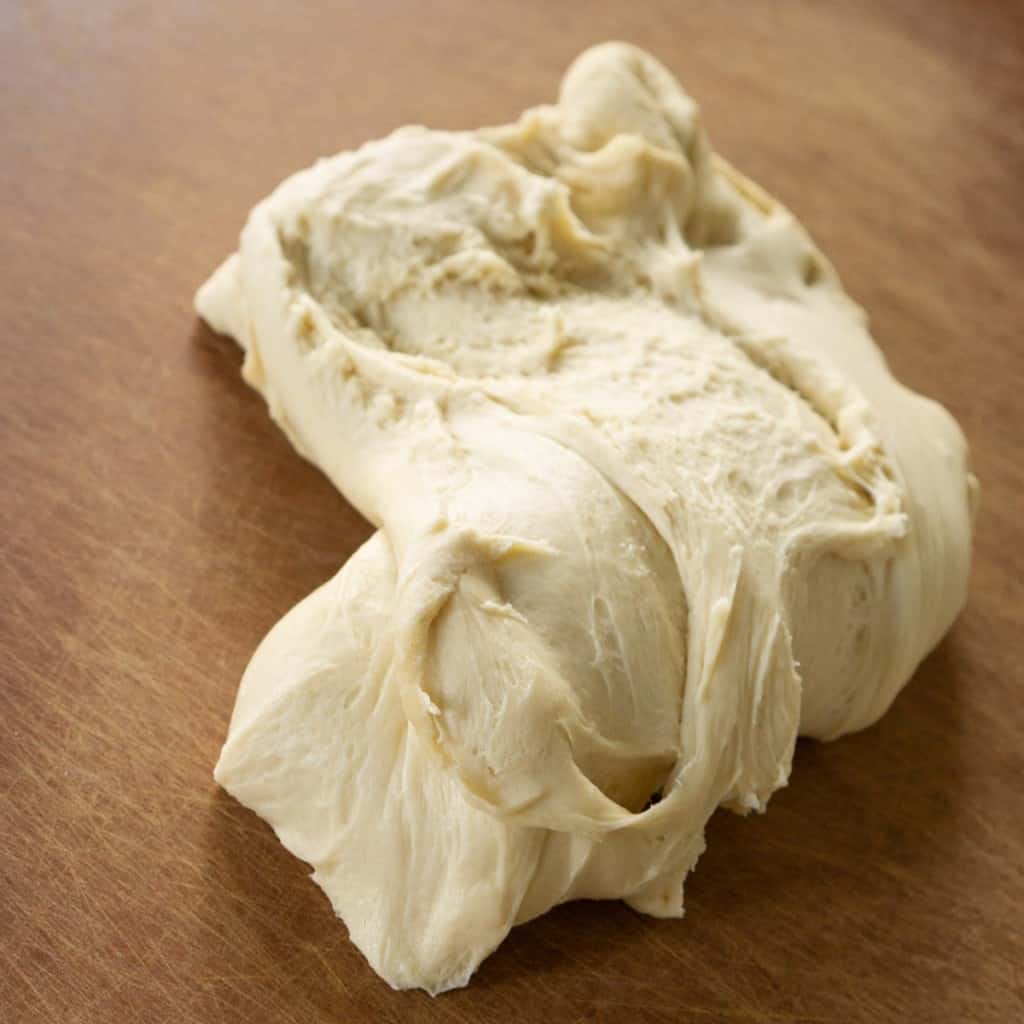 Now we need to stretch out the dough into a long rectangle. Use your loaf pan as your guide for the length of the short side of the rectangle. Then pull it out to about 15 inches long on the longer side.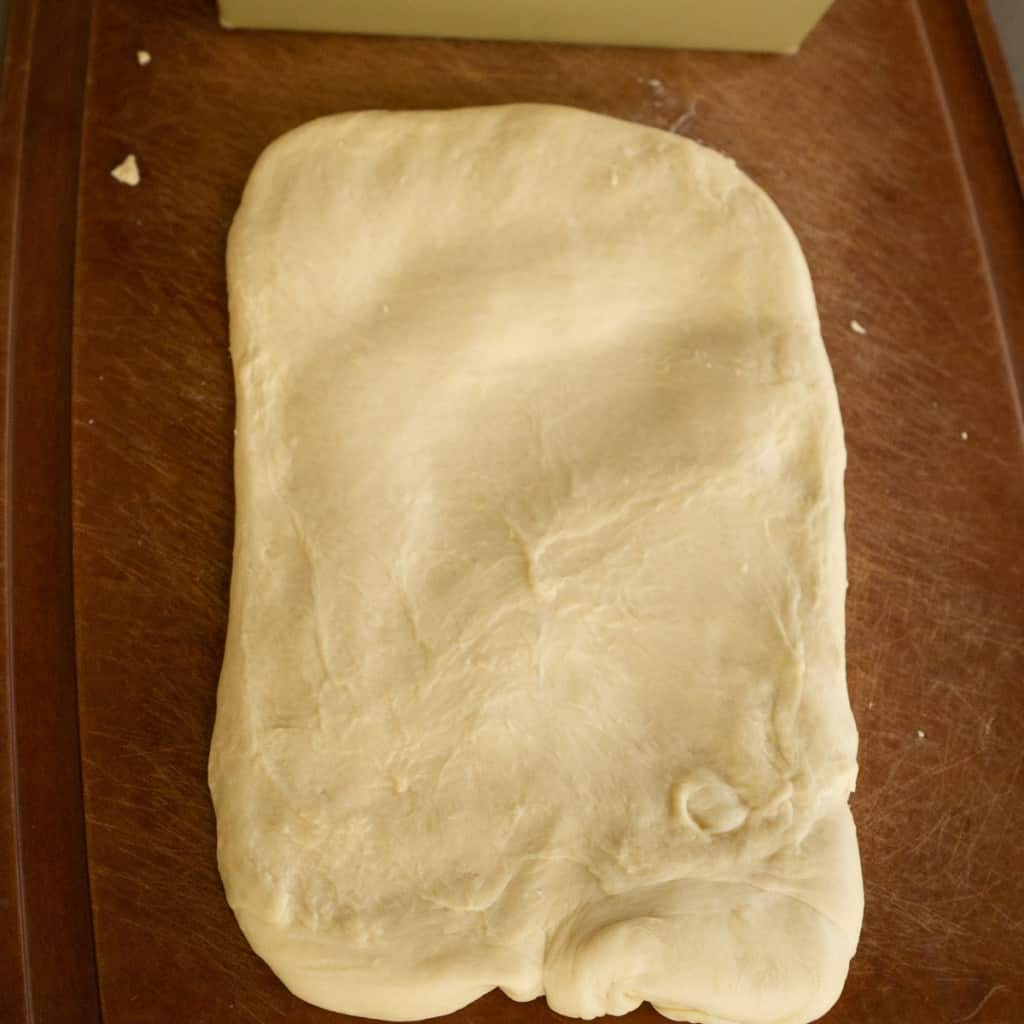 Then mix up the cinnamon sugar and cover the dough, leaving a one inch border on all sides.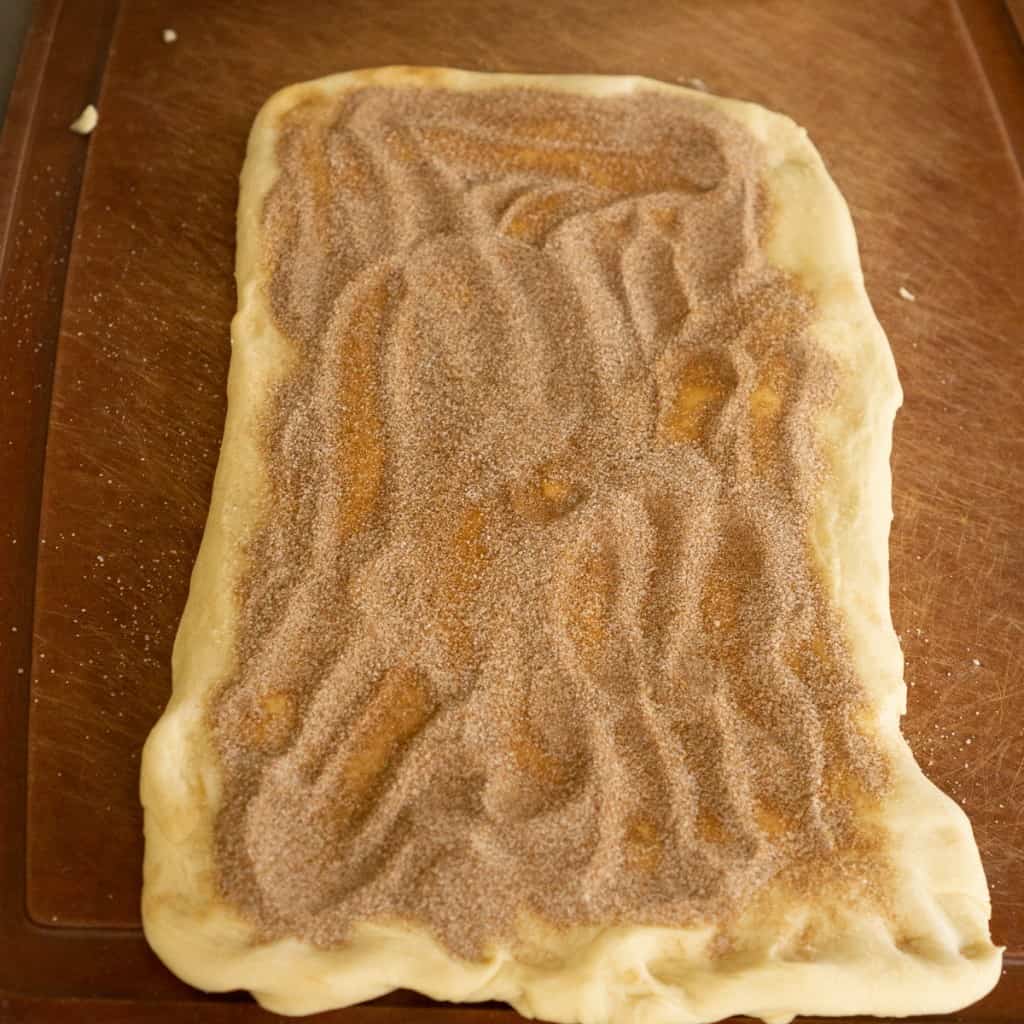 And now we roll it up, short side to short side.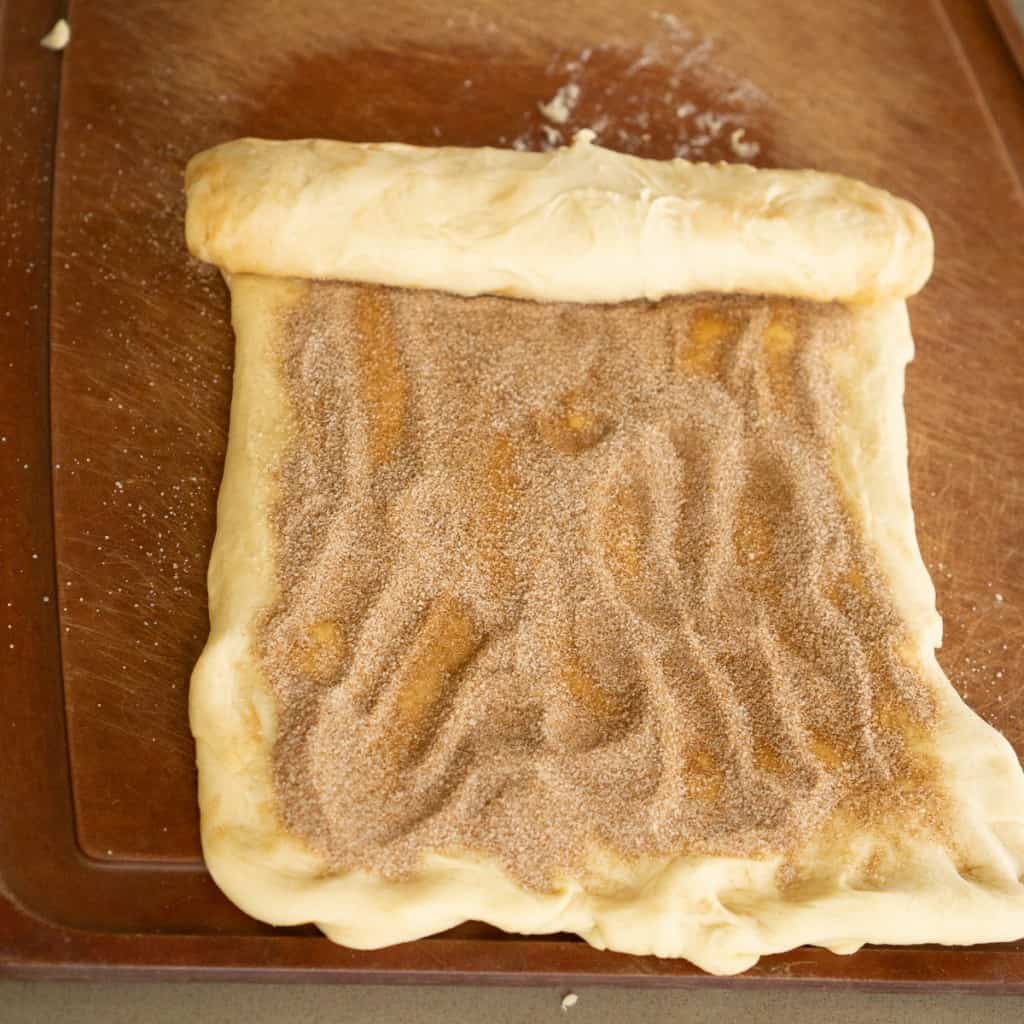 Pinch all the seams shut.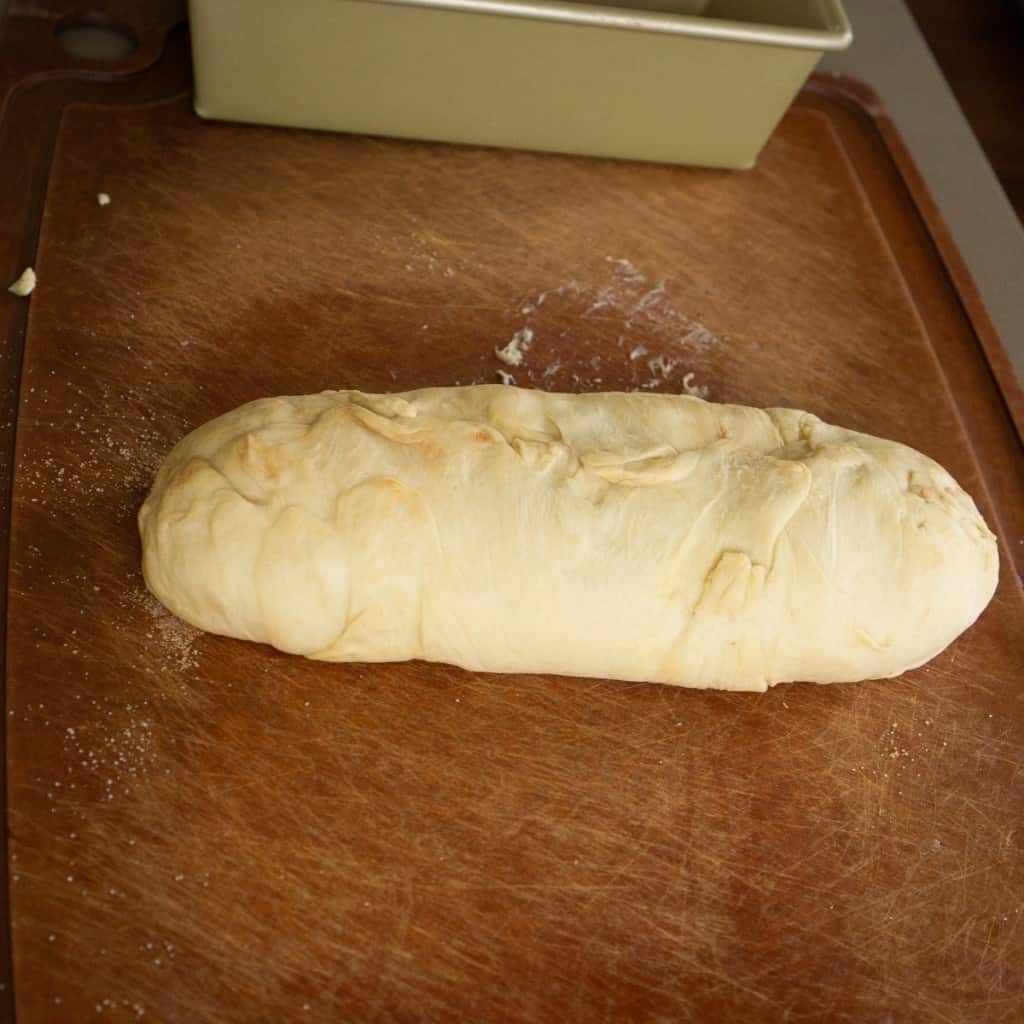 Place in the greased loaf pan, seam side side down. Cover with greased plastic wrap and allow to rise again. Mine usually take 3 hours in a slightly warmed oven, or overnight in the fridge. Keep in mind that a longer, cooler rise will yield a more sour loaf, which is not ideal for a sourdough cinnamon swirl bread.
It will start out looking small.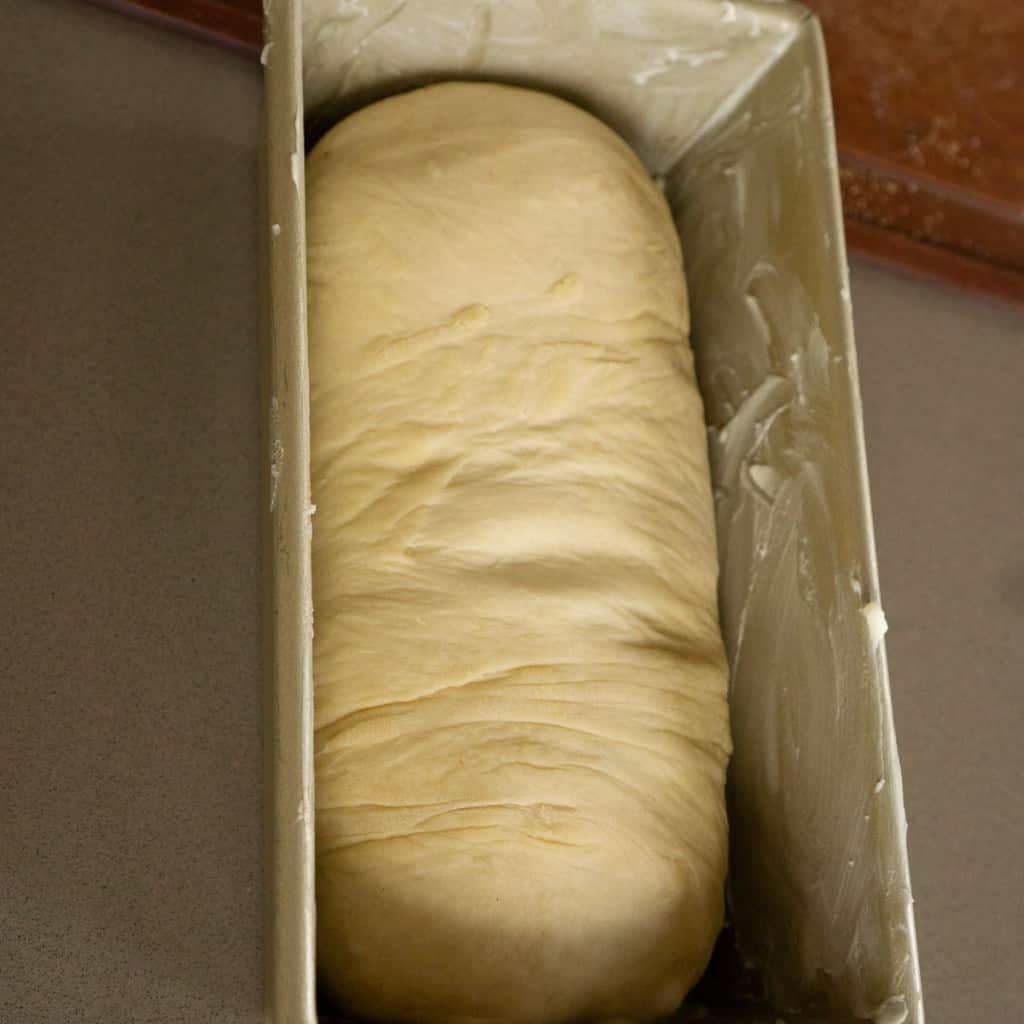 But will eventually rise to be one inch over the edge of the loaf.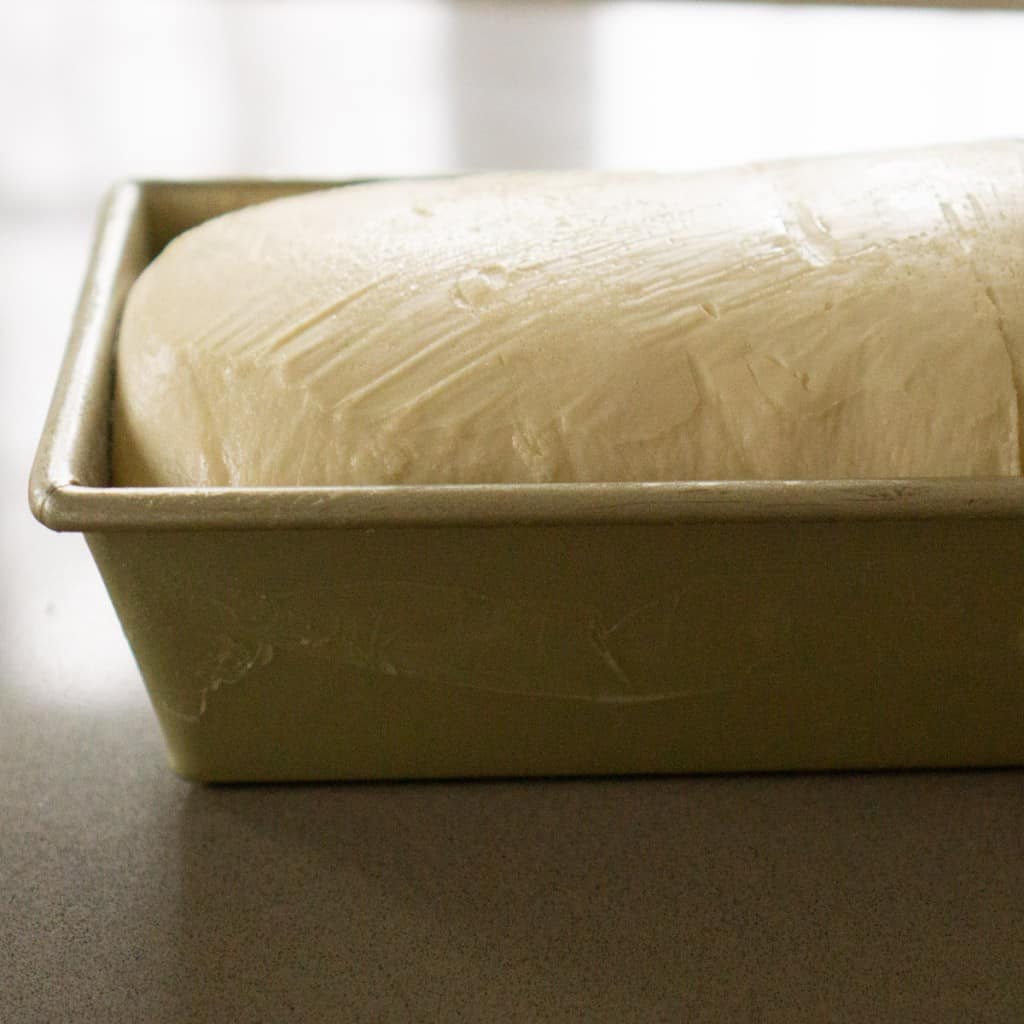 Preheat the oven to 350 with the rack in the center, and bake for 40-50 minutes. The loaf will be very golden brown and the internal temperature should be between 190 and 200. The baking time will vary depending on whether you are starting with a warmer or colder dough.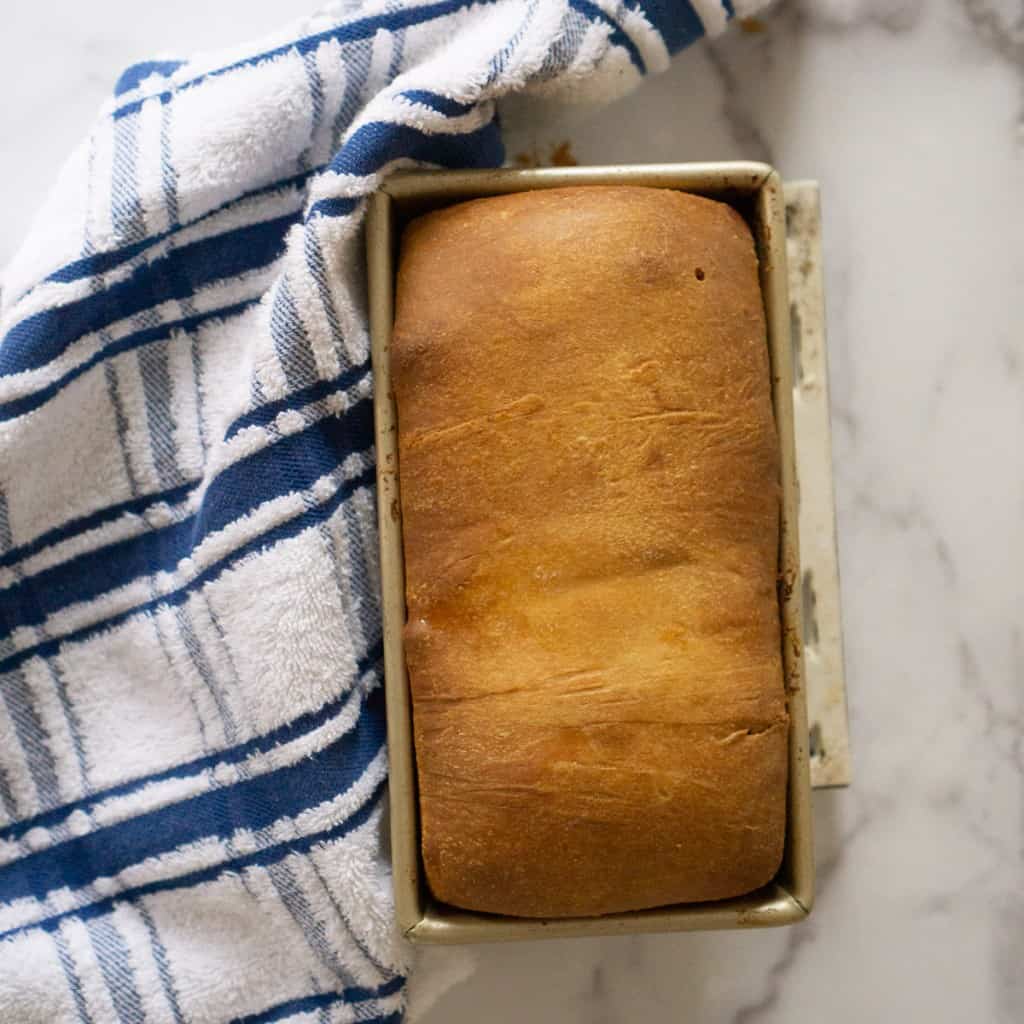 And let it cool a few hours before slicing.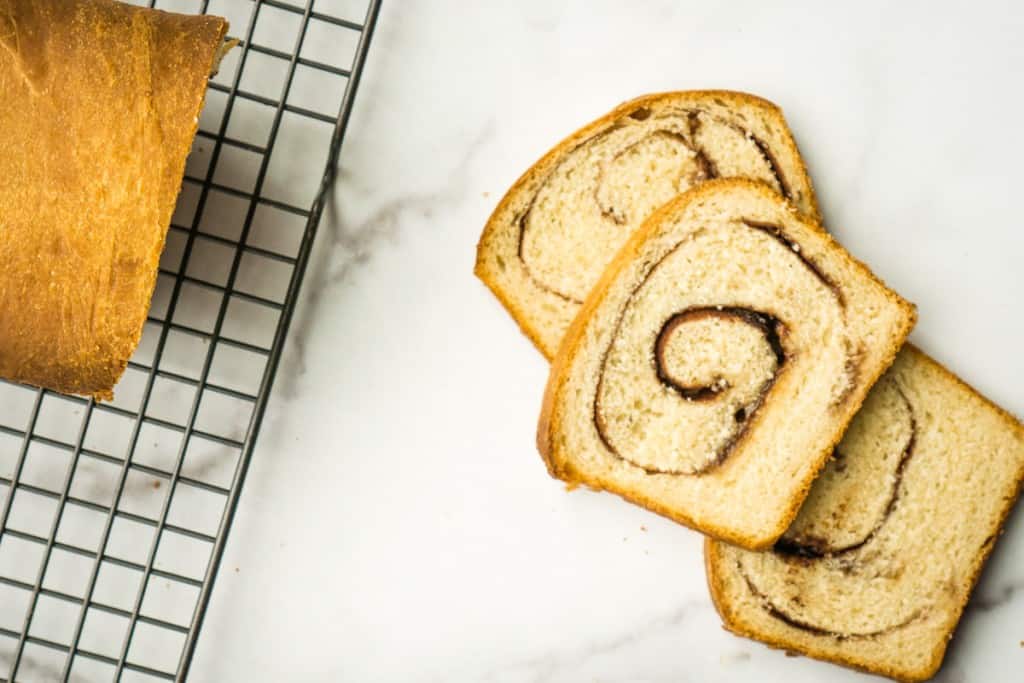 And you're done!
Do you want a fluffier, higher rising cinnamon swirl loaf?
Add 1/2 teaspoon instant yeast to the dough at the same time you add the salt. The rising times will be dramatically reduced and the texture will be fluffier.
If you have powdered milk, substitute 2 tablespoons powdered milk and 1/2 cup of water for the milk.
I hope this recipe helps you expand your sourdough baking repertoire!
Want some free Christmas printables? Click here to grab 'em
Ingredients
For the bread dough:
3/4

cup

active

fed sourdough starter (5.8 ounces/ 165 grams)

3

cups

all purpose flour

14.75 ounces/ 415 grams

2

tablespoons

honey

1.5 ounces/ 22 grams

1 1/2

teaspoons

salt

2

tablespoons

butter

softened

1/2

cup

whole milk

1

egg
For the cinnamon sugar filling:
1/4

cup

granulated sugar

1

tablespoon

cinnamon
Instructions
Mix all ingredients except the salt in a mixing bowl until they form a shaggy dough. Cover with a clean tea towel and allow to rest at room temperature for about 30 minutes.

Add the saltand knead by hand, stand mixer, or bread machine, until a smooth, soft dough forms. If the dough seems very dry and is not coming together, add a tablespoon or so more milk. If its very sticky and is sticking to the bowl or bread machine, add a tablespoon or so more flour. (If using a bread machine, select the DOUGH cycle and skip to step 4. Check the consistency of the dough. and adjust as needed before walking away.)

Place the dough in a clean, lightly oiled bowl and cover with a damp tea towel. Place in a warm place to rise for 3-4 hours, until almost doubled in size. (The time for this will vary depending on the strength of your starter and warmth of your room.)

Grease a standard loaf pan with butter. Stretch the bread dough into a long rectangle, making the short side the same length as your loaf pan. Combine the cinnamon and sugar in medium bowl and sprinkle over the rectangle of dough. Roll up like a jelly roll and pinch all sides of the loaf. Place in the loaf pan and cover with greased plastic wrap. Allow to rise in a warm place for 3 hours, until the bread rises 1-2 inches over the edge of the loaf pan. Towards the end of the rising time, preheat oven to 350 degrees with rack in the center.

Remove the plastic wrap and bake for 40-50 minutes, until the loaf is very golden brown and 200 degrees in the center. Remove from loaf pan and allow to cool completely before slicing.

Store at room temperature for up to 3 days, or freeze, tightly wrapped, up to 1 month.
Notes
If you want a very fluffy, high rising loaf, add a teaspoon of instant yeast with the salt and cut the rising times in half.
You can slice the entire loaf, freeze it, and toast the frozen slices.
Nutrition
Calories:
155
kcal
|
Carbohydrates:
29
g
|
Protein:
8
g
|
Fat:
2
g
|
Saturated Fat:
1
g
|
Cholesterol:
11
mg
|
Sodium:
233
mg
|
Potassium:
147
mg
|
Fiber:
4
g
|
Sugar:
6
g
|
Vitamin A:
27
IU
|
Calcium:
24
mg
|
Iron:
1
mg
Did you make this?
Let me know how it was! Please see below for serving ideas, storage instructions, and substitutions.