Sweet cream ice cream with bright and fruity swirls, loaded with delicious pieces of vanilla sandwich cookies. The perfect summer treat.
The ultimate summer treat for you: classic creamy ice cream with a berry swirl studded with vanilla sandwich cookies.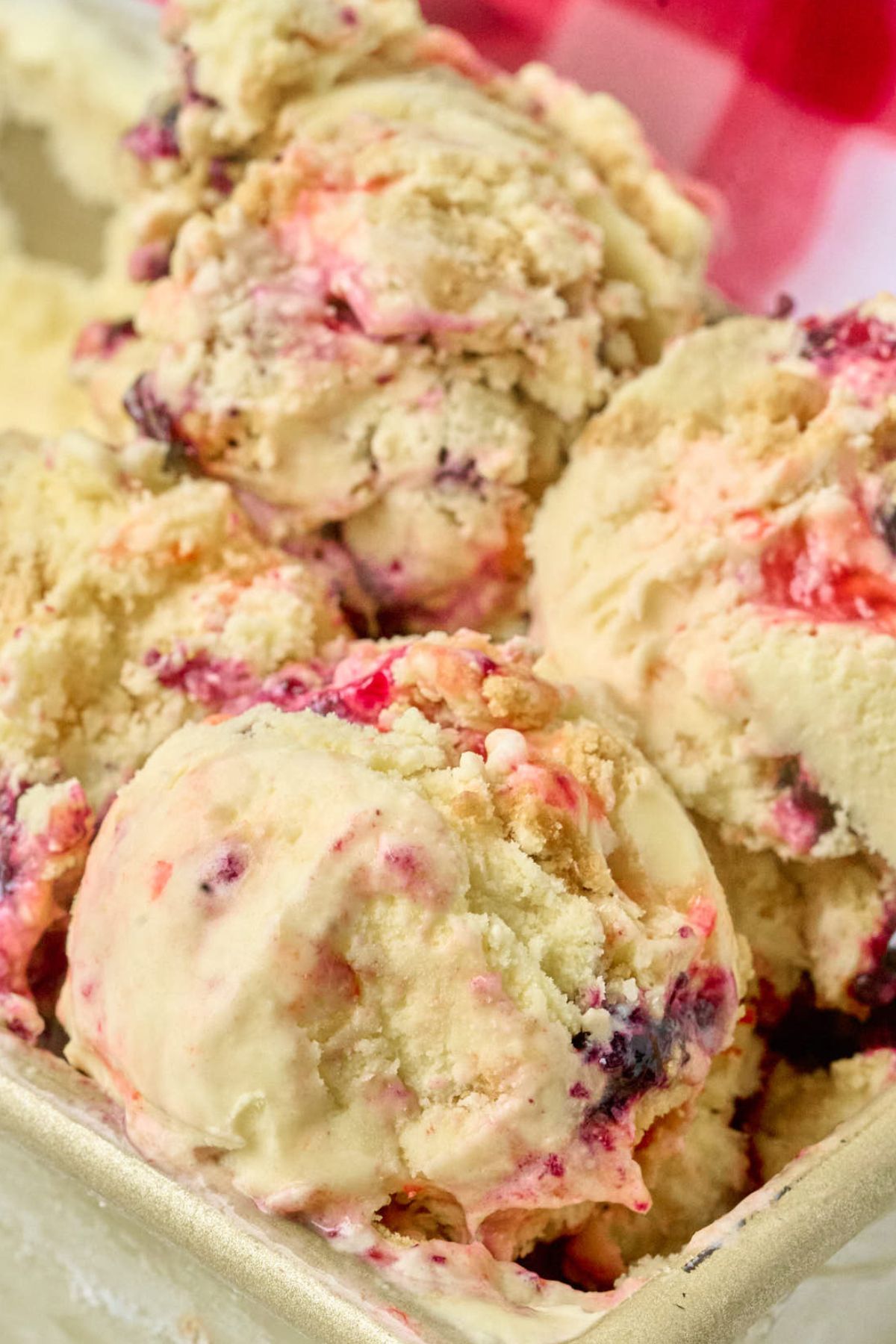 ❤️ Why you'll love this recipe
It's bursting with classic, comforting flavors, thanks to a sweet cream base and a double whammy of berry swirls.
It's fun to make. Okay maybe not the first part, but adding cookies and swirls is definitely fun.
It's incredibly festive. The red, white, and blue theme makes it the perfect dessert for your Fourth of July barbecue or any other patriotic gathering.
🧂 Ingredients
This is an overview of the ingredients. You'll find the full measurements and instructions in the printable recipe at the bottom of the page.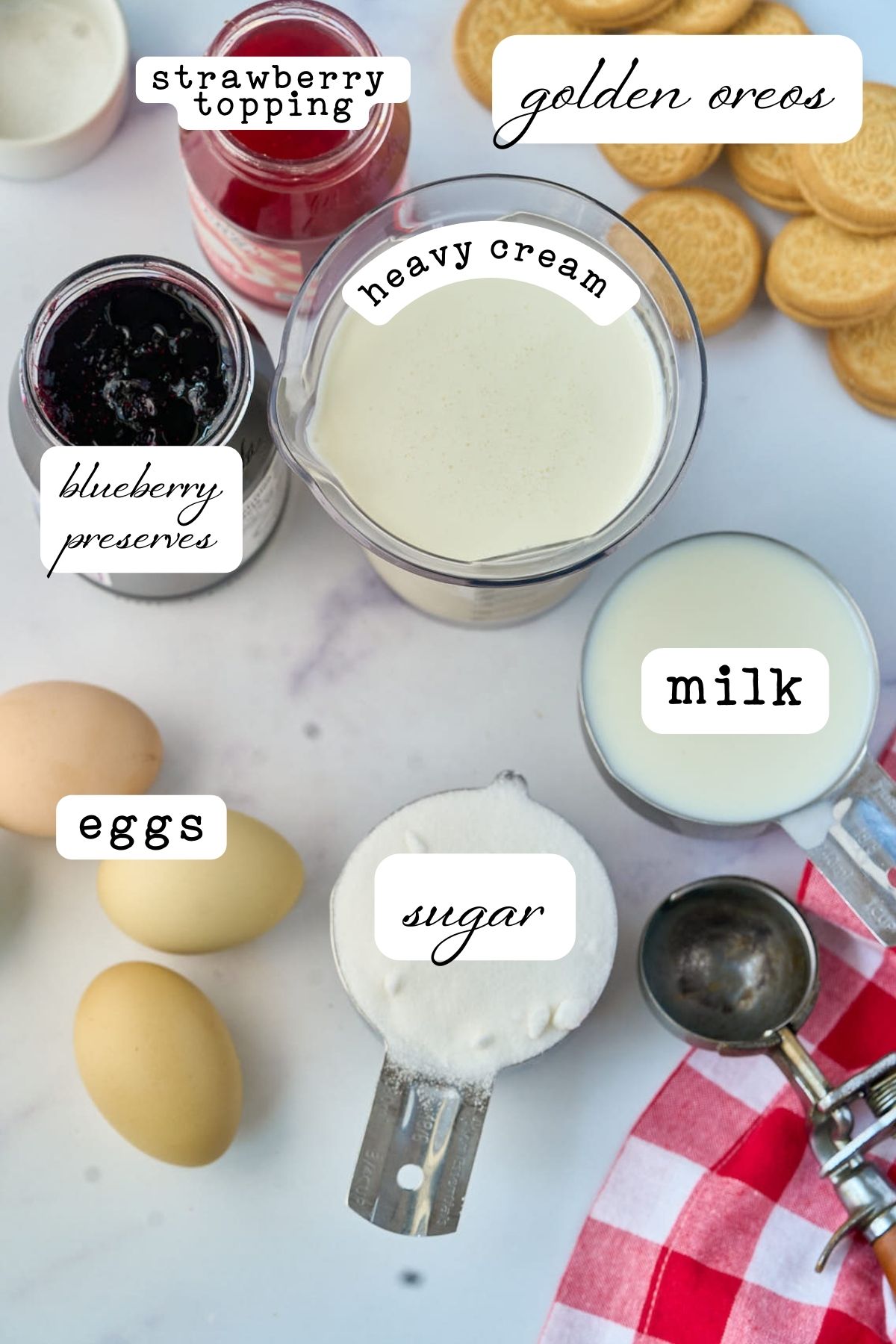 You'll need the following for this beautiful swirled ice cream:
Whole milk
Heavy cream
Granulated sugar
Egg yolks
A pinch of salt
Golden Oreos
Blueberry jam or preserves
Strawberry ice cream topping
🥣 Equipment
🍴Instructions
Step One:
Kick things off by gently warming up your milk, cream, sugar, and vanilla in a saucepan. You're looking for that sweet spot where it's steamy but not boiling.
While that's happening, grab your egg yolks and sugar. Mix them until they turn a light, sunny yellow.
Step Two: temper
Now comes the fancy part. It's called tempering, and it's not as scary as it sounds. Just gradually mix some of your warm milk into the eggs, then return everything to the saucepan. Easy, right?
Step three: cook and strain
Keep stirring your mixture over medium heat until it slightly thickens. Think rich, luscious custard. Remember, boiling is a no-go.
Strain your soon-to-be ice cream base through a cheesecloth or strainer, and then pop it into the fridge. You'll want to let it chill until it's super cold.
Step Four: churn
Now the fun part – turning your custard into ice cream. Pour your mixture into an ice cream maker and let it do its magic. Just before it's done, toss in your crushed Oreos. After it reaches a soft-serve consistency, put it into a loaf pan and freeze briefly.
Step Five: add your berry swirls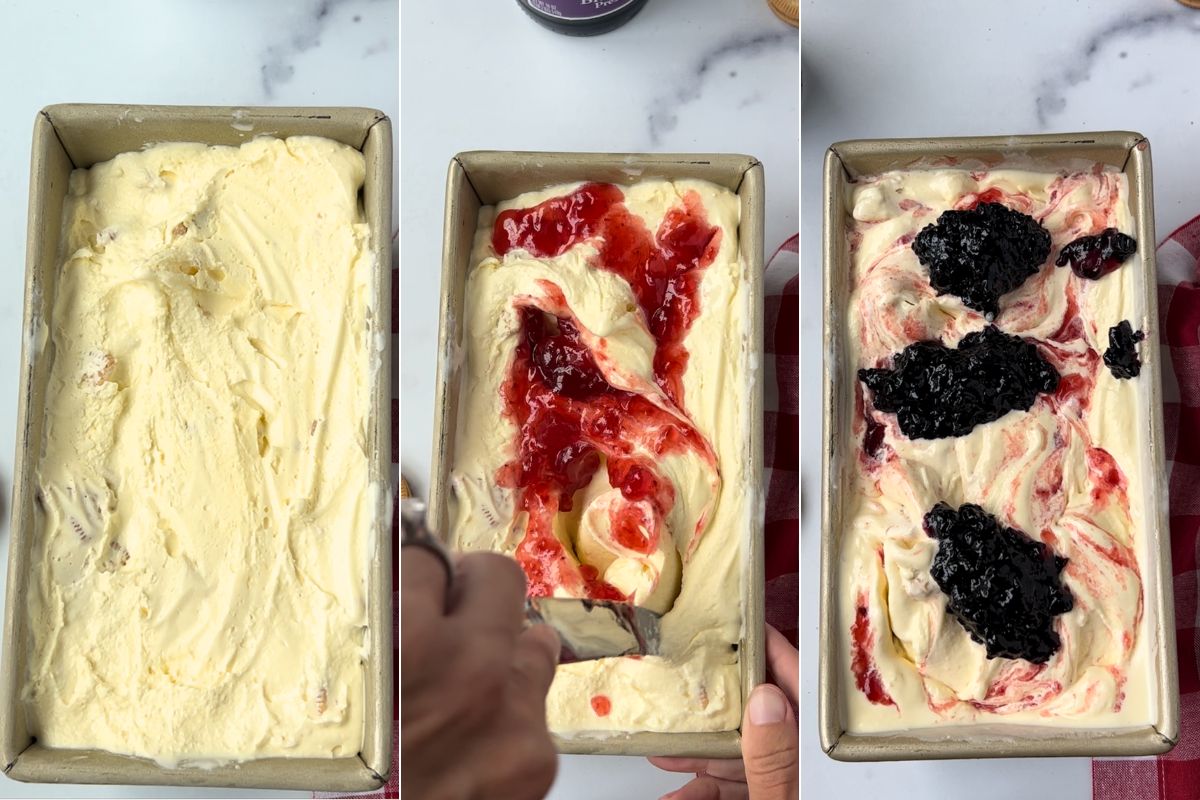 Drizzle the blueberry and strawberry toppings over the ice cream, and gently stir them in to create beautiful swirls. Then back into the freezer it goes, until it's firm and scoopable.
🥫 Storage instructions
Ice cream is best stored in an airtight container in the freezer. If you're not going to serve it immediately, place a layer of plastic wrap directly onto the ice cream surface before sealing the container. This will help prevent ice crystal formation.
🔍 FAQs
Can I use a different cookie?
Absolutely! If you're not a fan of Golden Oreos, you could swap them out for another vanilla-flavored cookie, or even try a chocolate cookie for a different flavor profile.
I don't have an ice cream maker. Can I still make this?
You sure can! The process is a bit more hands-on as you'll need to take the mixture out of the freezer every hour or so to mix it up, but it's definitely doable.
👩🏻‍🍳 Expert tips
I know you have to keep returning this to the freezer and it seems annoying. But if you add the swirls while the ice cream is super melty, you'll just have a purple mess.
Ensure your ice cream machine's bowl is fully frozen before starting. It's the key to getting the right texture.
📘 more from-scratch ice creams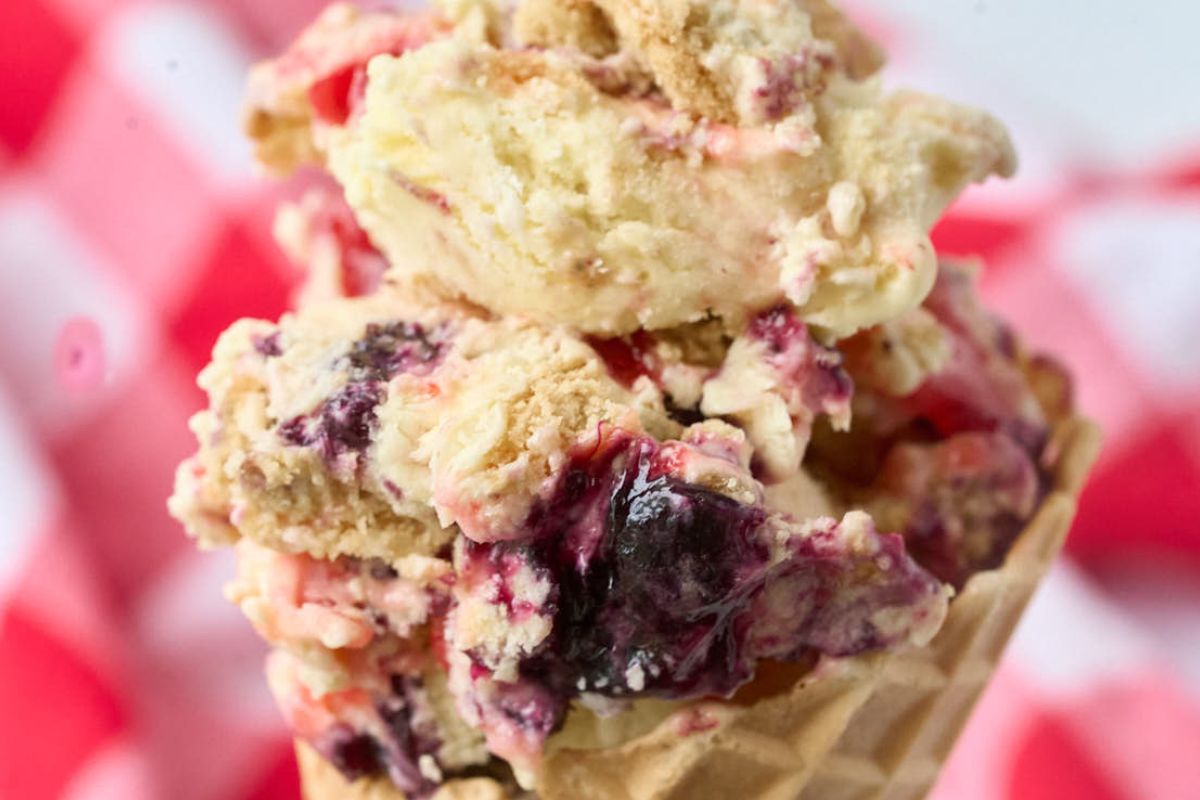 📖 Here's the recipe
Patriotic Ice Cream with Berry Swirl
Print Recipe
Sweet cream ice cream with bright and fruity swirls, loaded with delicious pieces of vanilla sandwich cookies. The perfect summer treat.
Click here for a FREE autumn cookbook (25+ Recipes!)
Ingredients
1½

cups

whole milk

1½

cups

heavy cream

¾

cup

granulated sugar

4

egg yolks

pinch

salt

15

Golden Oreos

⅓

cup

blueberry jam or preserves

⅓

cup

strawberry ice cream topping
Instructions
Heat the milk and cream. Heat the milk, cream, 1/2 cup of sugar, and vanilla bean in a saucepan over medium heat, until warm and steaming, or about 170 degrees.

Beat the eggs and remaining sugar. Meanwhile, beat the egg yolks and remaining 1/4 cup of sugar until light yellow in color and well combined. They will noticeably change color when mixed enough. (A hand mixer on low will work well.)

Temper. Temper the eggs by adding half of the warm milk mixture, a half cup at a time. Then add the egg mixture back into the saucepan with the rest of the milk and cream.

Heat. Heat the saucepan, which now contains all of the milk, cream, sugar, and eggs, over medium heat, stirring constantly, until it reaches 185 degrees. The custard is ready when it has thickened enough to coat the back of a spoon. Do not boil. Once off the heat, add a pinch of salt,.

Strain. Hold cheesecloth or a strainer over a bowl to strain the custard. Immediately place the custard into in the refrigerator to chill. Chill for 4-24 hours, until very cold.

Freeze and add Golden Oreos. Add custard to an ice cream maker and churn, following manufacturer's instructions. When it has reached the consistency of soft serve ice cream, add the Golden Oreos, slightly crushing them as you go. Scoop into loaf pan, cover with plastic wrap, and freeze about 30 minutes so you can add the swirls without it all melting together.

Add fruit swirls. Pour 1/3 cup of blueberry preserves and strawberry topping on top of the ice cream, and gently mix in using a butter knife. Cover with plastic wrap again and freeze until firm 1-2 more hours.
Notes
Feel free to substitute your favorite vanilla ice cream base!
Be sure to check your ice cream machine's instructions before beginning: many have a freezer insert that needs to be frozen at least 24 hours before churning.
Nutrition
Calories:
464
kcal
|
Carbohydrates:
58
g
|
Protein:
5
g
|
Fat:
25
g
|
Saturated Fat:
13
g
|
Polyunsaturated Fat:
3
g
|
Monounsaturated Fat:
7
g
|
Cholesterol:
153
mg
|
Sodium:
129
mg
|
Potassium:
160
mg
|
Fiber:
1
g
|
Sugar:
42
g
|
Vitamin A:
862
IU
|
Vitamin C:
3
mg
|
Calcium:
107
mg
|
Iron:
1
mg
Did you make this recipe?
If you loved it, please leave a review!