The best homemade soft and chewy caramel candies! With simple ingredients and a little patience, you'll be enjoying gourmet, buttery caramels.
A recipe for soft and chewy homemade caramels made on your stovetop.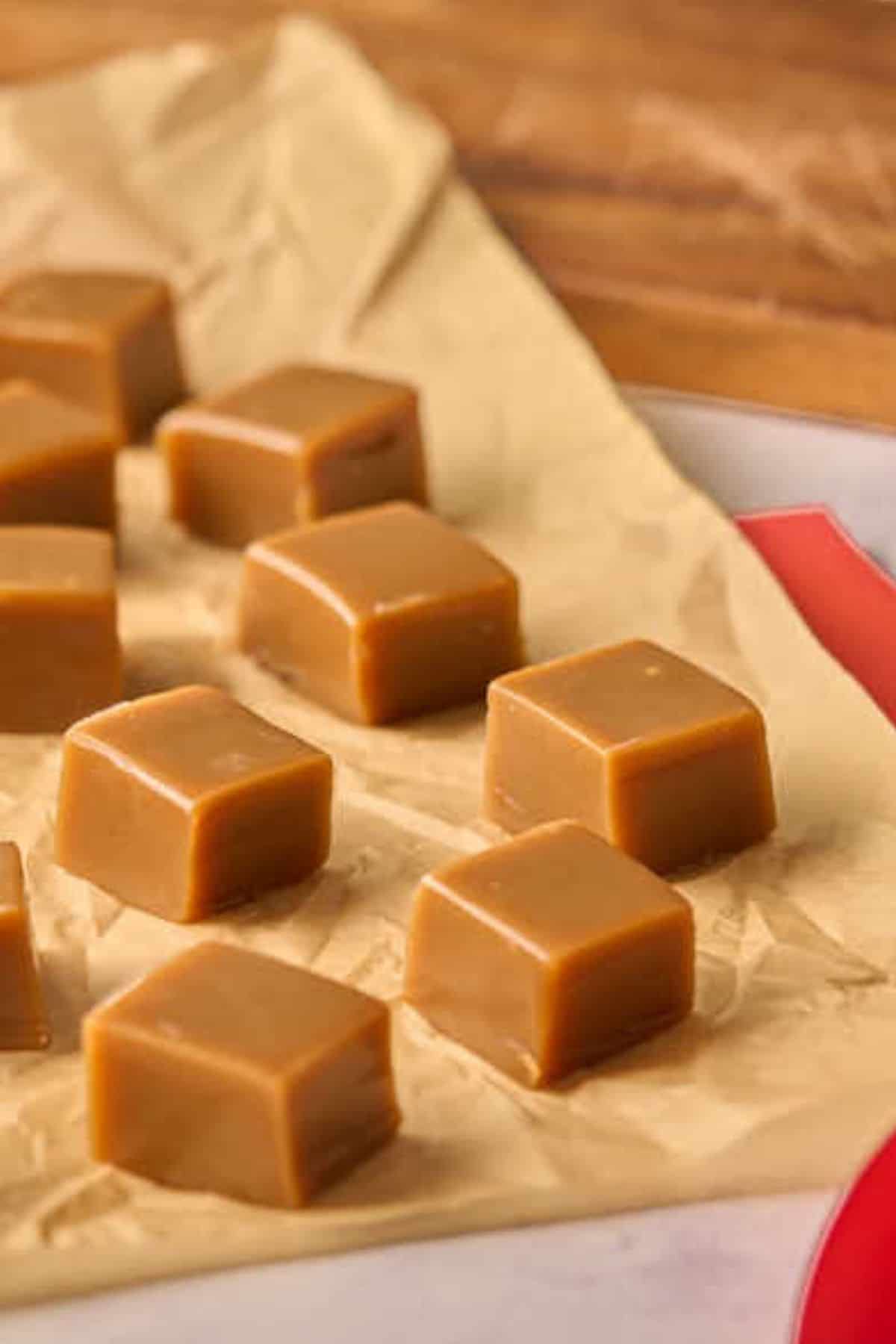 Do you love caramels? Then you're in luck! We have a recipe for the best homemade caramels that will leave your mouth watering. You can make these delicious treats at home with just a few ingredients and steps. They are perfect for parties or as gifts to friends and family, especially when paired with old-fashioned fudge.
These soft, chewy caramels are easy to make, but it does take time because of how long they need to set. But once you taste them, we promise it will be worth the wait! The caramel is sweet and buttery, with a hint of saltiness, and it's hard not to eat more than one piece at a time! So go ahead and try this recipe out today–you won't regret it!
What are caramels and why should you make them at home?
Caramels are soft, chewy candies made with sugar and butter that can be enjoyed on their own or chopped up and added to other desserts (like oatmeal caramelitas!).
Homemade caramel candies are better than store-bought ones because they're soft and chewy. And, of course, making homemade caramels is a fun activity to do with friends and family, which makes it even better.
Like most candy recipes, you'll need some patience and a candy thermometer. If you can handle those two things, this recipe is easy. You basically boil, cool, and cut. Totally worth it.
Tools and ingredients you'll need
3-quart saucepan (Yes the size is important. Too small and the mixture will boil over, too large and it will scorch. Basically it's a medium-sized pot.)
Candy thermometer (Yes you absolutely need it unless you're a candy making jedi)
Wax paper (Annoyingly, parchment paper doesn't peel off as cleanly)
9×9 or 8×8 baking pan
16 ounces brown sugar
14 ounce can sweetened condensed milk (NOT evaporated milk)
1 cup light corn syrup (for boring science reasons, adding corn syrup to the recipe gives you creamy caramels because it contains invert sugars)
1 cup butter
½ teaspoon salt
1 teaspoon vanilla extract
How long to cook caramel on the stove?
Simmering the mixture should take about 10-20 minutes over medium heat. But it will vary depending on your stove. The temperature should be in the soft ball stage, aka 235 degrees F to 24) degrees F. If you do not have a candy thermometer, soft ball stage is when a drop of caramel dropped into cold water forms a… soft ball. This is known as the ice water test or cold water test, and you can use it at any stage of candy making.
(But please use a candy thermometer and make this easier on yourself!)
You get nice chewy caramels by cooking long enough but not too long. The sugar syrup has to reach a specific temperature, and then it starts to change. At first, you'll have hot caramel sauce, then a mixture that will cool into smooth and creamy caramels, then hard candy type caramels. For this recipe, we need to get it right.
Pouring and cutting the caramels
Line a pan with parchment paper, and line it well! The hot caramel mixture is super sticky, and you don't want it to stick to the pan.
Once the caramel has reached temperature and you've added in the vanilla, quickly pour it into the prepared pan. You might need to fiddle with the paper to get everything even.
Soft caramels will take at least four hours to set up before you can cut them. Use a lightly buttered knife to cut them, or else you'll have to pull them off and get yourself sticky awkwardly.
And that's it! Now go enjoy your homemade soft and chewy caramels. If you're feeling very confident,
How do you wrap and store caramels?
Caramels keep best wrapped in waxed paper. For one-inch squares, a 3 x 4-inch rectangle works well. Place the square in the center and wrap it like a boxed gift. As with most things, the first one is weird, but the next ones are better. (To save paper, cut out 12-inch squares, then cut them into strips.)
You can try placing them on layers of waxed paper, but you risk them sticking. I know individually wrapping them is a pain, but it's worth it.
(By the way, professional candy makers use gloves when handling candies, so they don't leave fingerprints.)
Store wrapped caramels at room temperature in an airtight container, where they will remain fresh for a little more than two weeks. You can store these in the fridge if your house is warm, but let them warm up a bit on the counter before you eat them.
What should I do if my caramel is too soft?
If the caramel is soft, it indicates that you didn't cook it long enough. You can heat it back up and try again (yes, this actually DOES work), or just keep this batch as a sauce and start fresh.
What if they are too hard?
You overcooked the syrup—no big deal. You can still eat them.
Can I freeze caramel candy?
Yes! They are pretty good frozen and defrosted right on the counter.
Tips for the best homemade caramels
Make these on a dry day. Humidity does weird things to homemade candy, and this caramel recipe is no exception.
If you want soft, chewy caramels that are made at home taste better than store-bought ones, this recipe is for you. These soft and chewy caramel squares will be perfect for any occasion – whether it's putting together a Christmas treat box or handing out on Halloween.
Recipe
Soft and Chewy Homemade Caramels
Print Recipe
The best homemade soft and chewy caramel candies! With simple ingredients and a little patience, you'll be enjoying gourmet, buttery caramels.
Click here to grab a free mini-cookbook with my best seasonal recipes
Equipment
3 quart saucepan

Candy thermometer

Wax paper

9×9 or 8×8 baking pan
Ingredients
16

ounces

brown sugar

14

ounce

can sweetened condensed milk

1

cup

corn syrup

1

cup

Butter

½

teaspoon

salt

1

teaspoon

vanilla
Instructions
Line a 9 x 9 dish with parchment paper and set aside.

Place butter, corn syrup, sweetened condensed milk, and salt salt Bring the mixture to a boil, then cook, stirring frequently, until candy thermometer reads 236 degrees (soft ball stage)

Remove from heat, add vanilla, and stir until smooth and no longer bubbling, less than 1 minute. Immediately pour into your prepared dish and let it cool completely, for four hours or more.

Cut into one-inch squares using buttered knife. Wrap in wax paper and store at room temperature.
Notes
Make caramels on a low-humidity day.
Make sure to use a candy thermometer and read it at eye level.
Be careful! The sugar syrup stays VERY hot on your skin and also stays hot while it's cooling in the pan.
Enjoy your buttery sugary treat.