Irresistibly crispy and flavorful sweet potato fries. Sometimes there's only one right way to do something, and this method is it.
Want some free Christmas printables? Click here to grab 'em
Equipment
Deep fryer or Dutch oven

Paper Towels
Ingredients
3

sweet potatoes scrubbed clean and peeled

1

quart

peanut oil for frying

salt

paprika
Instructions
Prep the potatoes. Using a sharp knife or French fry cutter, cut the sweet potatoes into 1/4 square strips.

Ice bath. Place the sweet potatoes in a bowl of ice water. Place in the refrigerator and allow to chill for at least 2 hours, up to 12 hours.

The first fry. Set up deep fryer according to the manufacturer's instructions and fill it with peanut oil. Preheat the deep fryer to 325℉. Drain the water from the potatoes and pat them as dry as possible. They will be very cold, maybe even frozen. Place the potatoes in the basket. It's okay if they are crowded for the first fry. Submerge into the oil and deep fry for about 5-7 minutes until they are softened and slightly darker, but still pale. Place on a paper-towel-lined baking sheet to drain.

The second fry. Increase heat in the deep fryer to 375℉. Fry the French fries a second time, this time in smaller batches, so that they float freely in the oil. Fry for only 2-4 minutes or until they have reached the desired level of brownness and crispness. Drain on paper-towel-lined baking sheets and season immediately. Serve as soon as possible
Notes
Be careful when deep frying, especially if you are using a Dutch oven. An electric deep fryer is much safer and gives better results.
Use any seasoning you'd like!
Nutrition
Calories:
102
kcal
|
Carbohydrates:
23
g
|
Protein:
2
g
|
Fat:
1
g
|
Saturated Fat:
0.1
g
|
Polyunsaturated Fat:
0.2
g
|
Monounsaturated Fat:
0.2
g
|
Sodium:
62
mg
|
Potassium:
381
mg
|
Fiber:
3
g
|
Sugar:
5
g
|
Vitamin A:
16031
IU
|
Vitamin C:
3
mg
|
Calcium:
34
mg
|
Iron:
1
mg
Did you make this?
Let me know how it was! Please see below for serving ideas, storage instructions, and substitutions.
🧂 about the Ingredients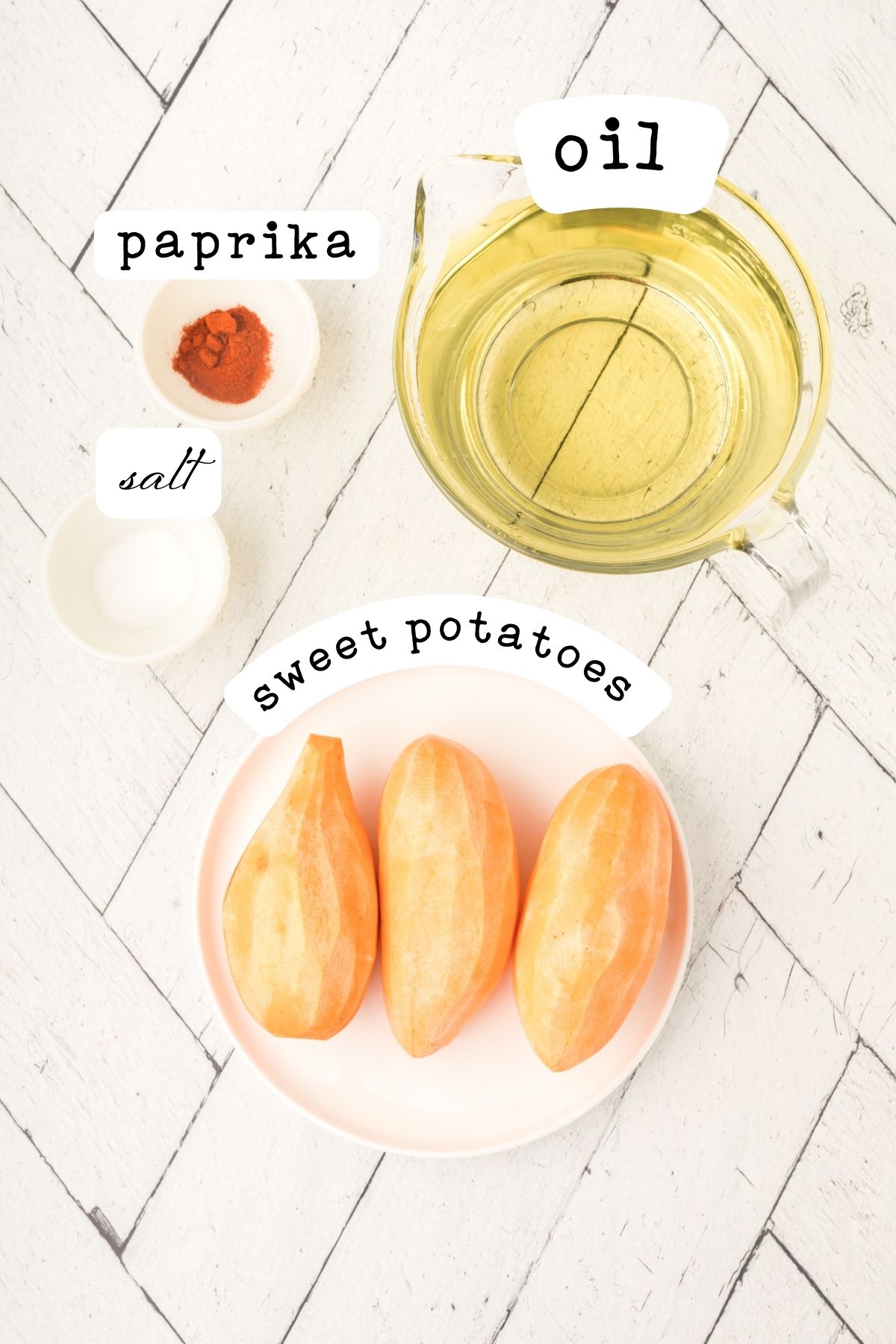 You'll need the following for this kid-friendly side dish:
sweet potatoes
peanut oil
salt
paprika
🥫 Storage instructions
Fully cooked fries will reheat pretty well in an air fryer but won't be as delicious. If you'd like to save the leftovers, here's how:
Allow the fries to cool completely: Before storing, let the sweet potato fries cool down to room temperature on a paper-towel-lined baking sheet to avoid any moisture buildup.
Refrigerate: To store the sweet potato fries in the refrigerator, place them in an airtight container or a resealable plastic bag. They will keep well in the fridge for up to 3-4 days.
Heat in a 390 degree air fryer for about 5 minutes. A convention oven will work well too.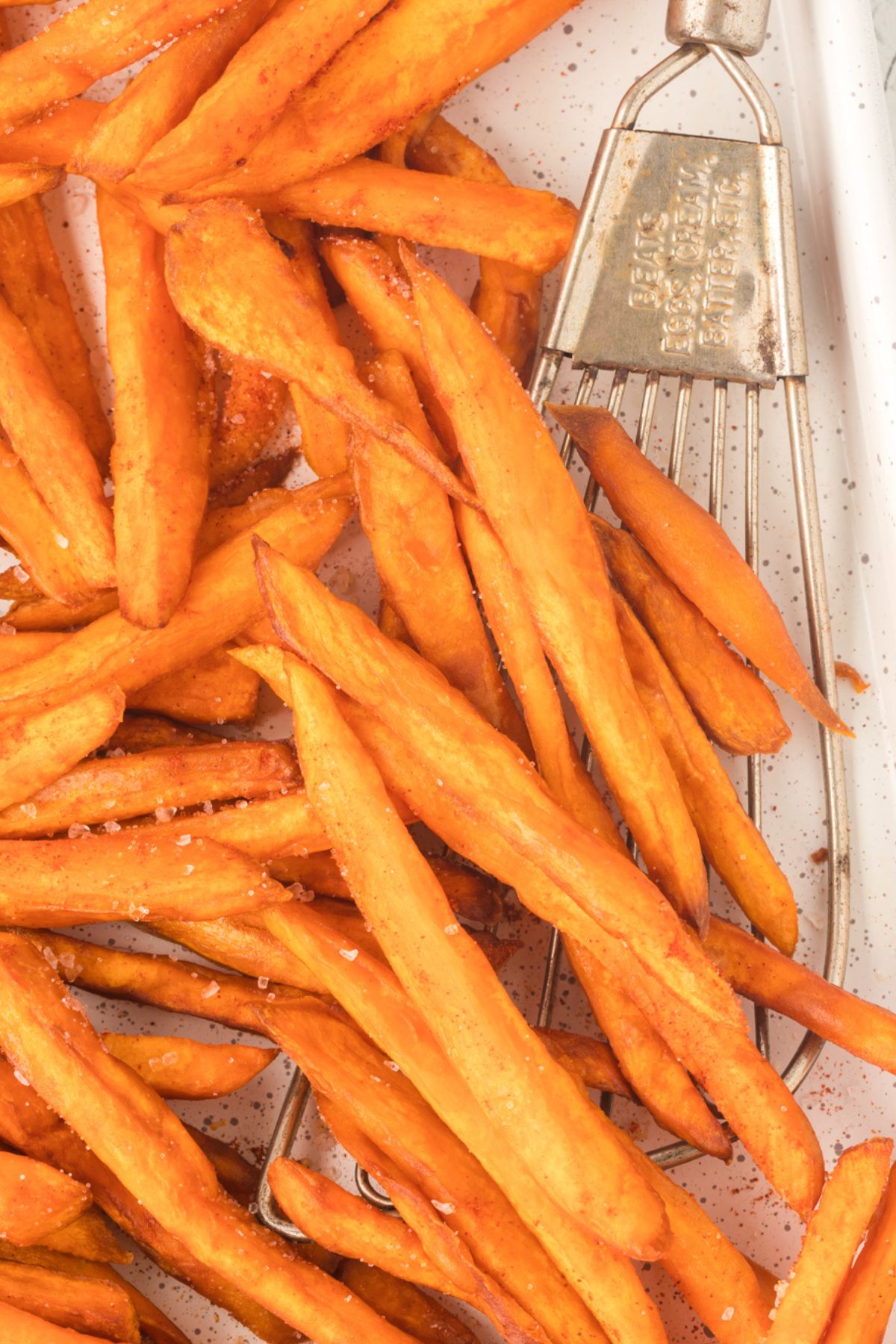 Yes, you can freeze sweet potato fries as long as they are not fully cooked. After the first fry, you can flash freeze them and finish them later.
Arrange the cooled, partially cooked. fries in a single layer on a parchment paper-lined baking sheet, ensuring they're not touching each other. Place the baking sheet in the freezer for about 2 hours or until the fries are completely frozen. Once frozen, transfer them to a resealable freezer-safe plastic bag or an airtight container. They can be stored in the freezer for up to 3 months.
To cook them, pick up the recipe at the second frying stage and fry them straight from frozen. They'll take a bit longer.
🔍 FAQs
Can I make these sweet potato fries in an air fryer?
Yes, as long as you understand there's nothing quite like deep frying. 😉 But they'll still be good. Preheat the air fryer to 375°F (190°C), lightly coat the sweet potato strips in oil, salt, and paprika, and then arrange them in the air fryer basket in a single layer without overcrowding. Cook for approximately 10-15 minutes, shaking the basket halfway through the cooking time, until the fries are crispy and golden brown. Cooking time may vary depending on the air fryer model, so adjust as needed.
Do I have to soak the sweet potatoes in ice water before frying?
Skipping this step will lead to less crispy fries. But of course you can try it and see what you think.
What is the best dipping sauce?
I like ranch or chipotle mayo. My kids prefer ketchup.
Can I use a different type of oil for frying?
Yes, you can use other oils with a high smoke point, such as canola, vegetable, or sunflower oil. Liquid shortening also works very well.
👩🏻‍🍳 Expert tips
Cut evenly sized fries: Make sure to cut the sweet potatoes into evenly sized strips to ensure consistent cooking and crispiness. Uneven sizes may result in some fries being overcooked or undercooked.
Soak in ice water: Don't skip soaking the sweet potato strips in ice water, as this helps to remove excess starch and results in crispier fries. The longer you soak the potatoes, the better the texture will be, up to 12 hours.
Dry thoroughly: After soaking and before frying, make sure to pat the sweet potatoes as dry as possible using paper towels. Excess moisture can cause the oil to splatter and prevent the fries from becoming crispy.
Monitor oil temperature: Use a deep-fry thermometer to ensure the oil is at the correct temperature during both frying stages. Proper oil temperature is crucial for achieving crispy and perfectly cooked sweet potato fries.
Fry in batches: Avoid overcrowding the deep fryer, especially during the second frying stage. Frying in smaller batches allows the sweet potato fries to cook evenly and become crispier.
Drain and season immediately: After frying, drain the sweet potato fries on paper towels to remove excess oil. Season them with salt and paprika while they're still hot to help the seasoning adhere better.
Serve hot: Sweet potato fries taste best when served immediately after cooking. Reheating can cause them to lose some of their crispiness, so enjoy them fresh out of the fryer for the best taste and texture.
Experiment with seasonings: Feel free to get creative with the seasoning by adding garlic powder, onion powder, cayenne pepper, or your favorite herbs and spices
📘 Related Recipes