Here are the best ways to decorate your farmhouse for summertime, or add farmhouse to charm to the most cookie cutter home.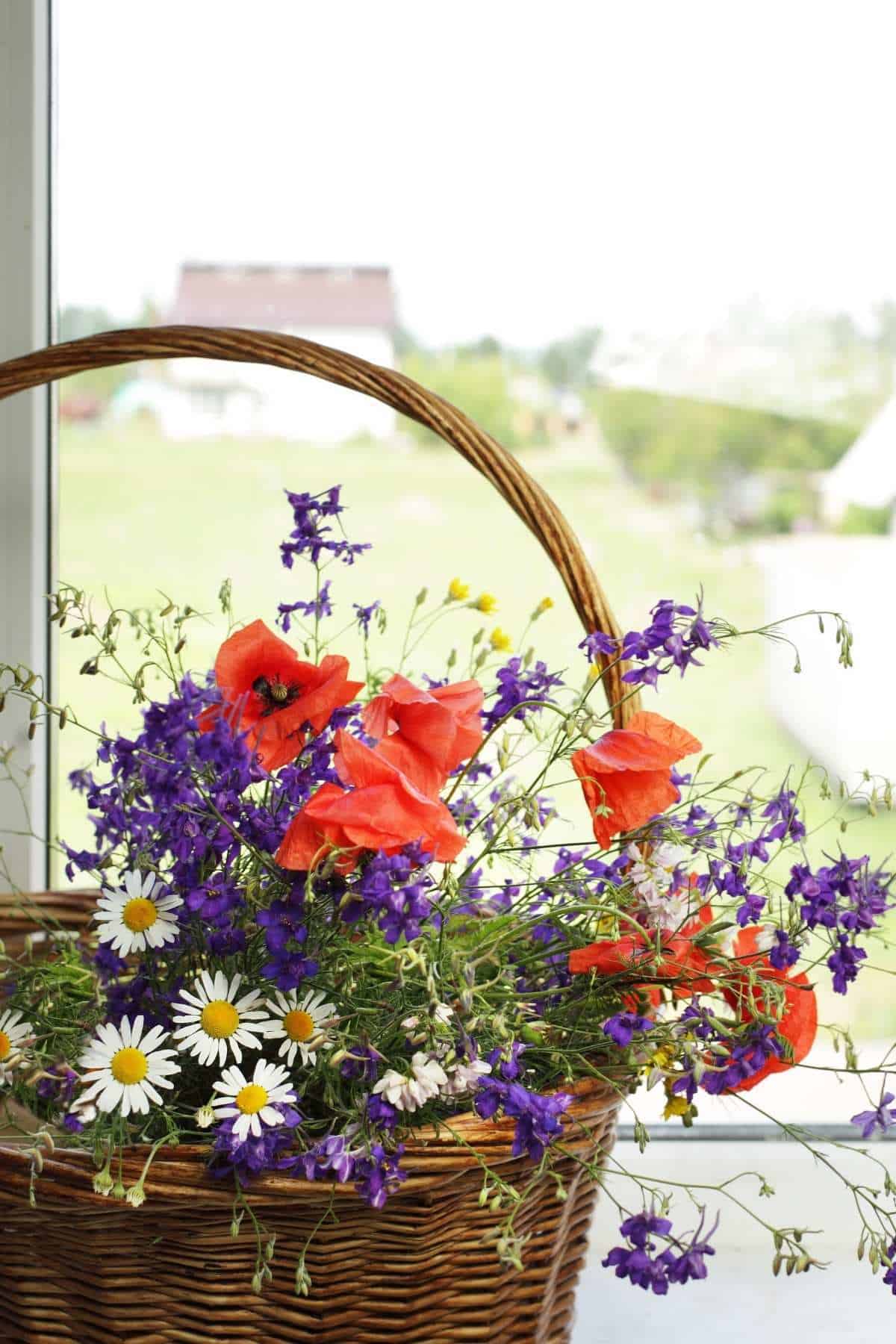 Summer days can be long and hot, so you want your home to be an oasis for you to be able to come back to after tending your garden in the sun or playing with the kids by the pool. Plus, don't forget about the cookouts and summer backyard get-togethers with friends and family.
It doesn't have to be challenging to combine farmhouse and summer decor. In fact, they are a match made in heaven.
So here are some must-have summer farmhouse decor ideas from my home to yours. I've tried to include things that anyone can incorporate into their home, no matter where you are.
1. Summer Fruit
Yes, fruit makes some of the best summer decor.
Pineapple and oranges work great, but watermelon and lemons seem to the most popular summer fruits to decorate your living room or kitchen.
Gather an old white china bowl or even a glass jar and fill it with lemons to give your counter a splash of color.
If you love watermelon as I do, a simple watermelon decorative sign for your outdoor space or dining room brings in another piece of the summer charm you are looking for when decorating your farmhouse.
2. Mason Jars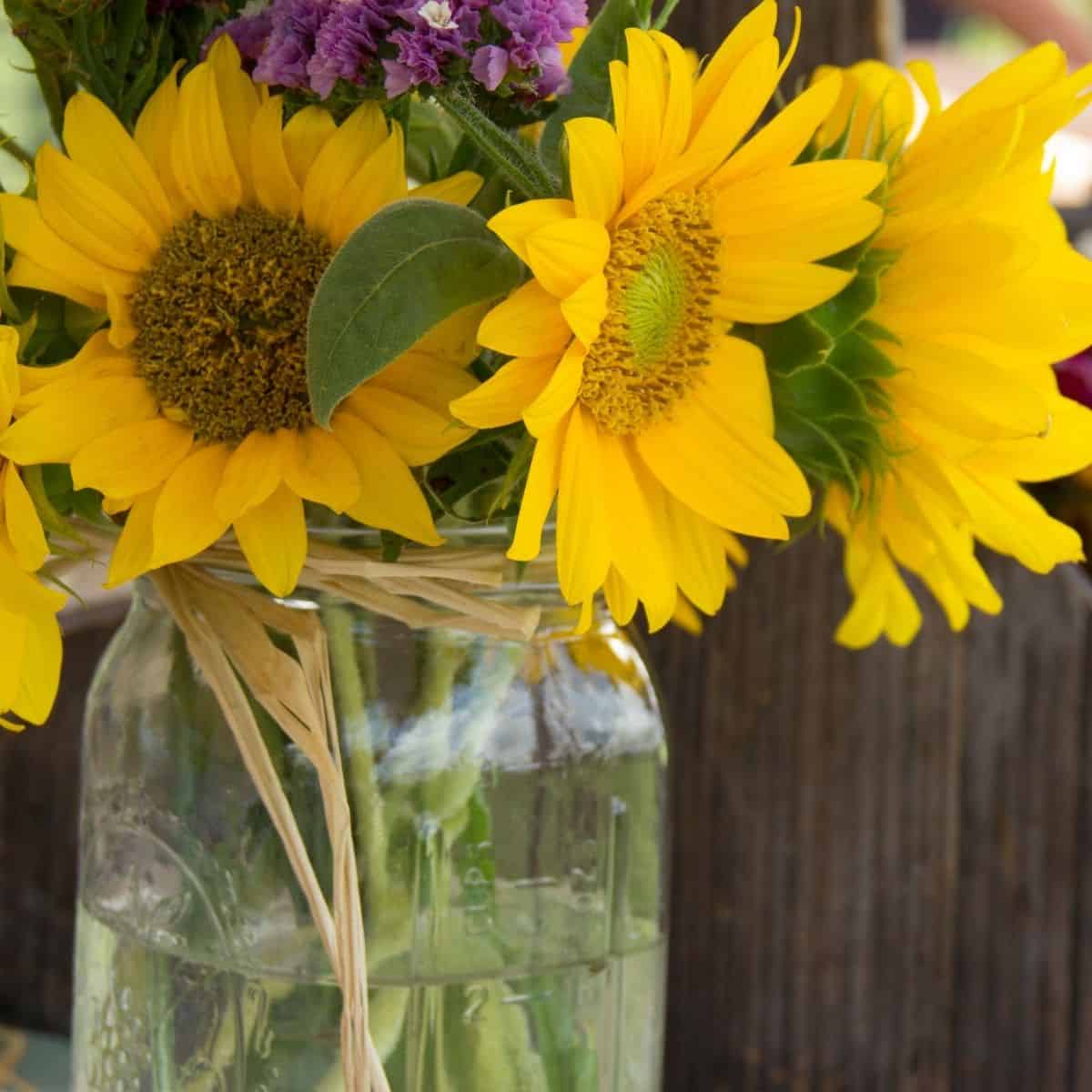 What's farmhouse decor without mason jars?
They're such a valuable tool for any farm or homestead, but they are a perfect way to add some rustic charm and save money.
Mason jars can be the perfect vase for the wildflowers you gather from your garden.
Painting your glass jars white, then distressing the paint gives it more of an aged look or milk bottle resemblance while allowing the flowers to be more eye-catching.
3. Baskets
I love to find good-quality baskets at the local thrift store. They can be so expensive otherwise.
Tobacco baskets are a great option to hang on the wall with flowers in the center. I absolutely love this decor idea with lavender or greenery.
Baskets, in general, are a great addition to your home regardless of the season. Wire, wooden, wicker, tobacco, or metal, you can't go wrong with having various baskets in your home to store books, magazines, pillows, blankets, wood, etc.
Related: the best home thrift store finds.
4. Burlap
Burlap is usually somewhere throughout a farmhouse. There are so many decor designs for burlap.
Take a wreath wire and wrap burlap along the wreath ruffling it as you cover. Or you can even stick the wire through the burlap for a simple wall piece or wreath for a more loop design.
Don't forget about a burlap and lace table runner for your dining room! Paired with a colorful seasonal bloom in the center and you have a simple summer tablescape.
5. Summer Wreaths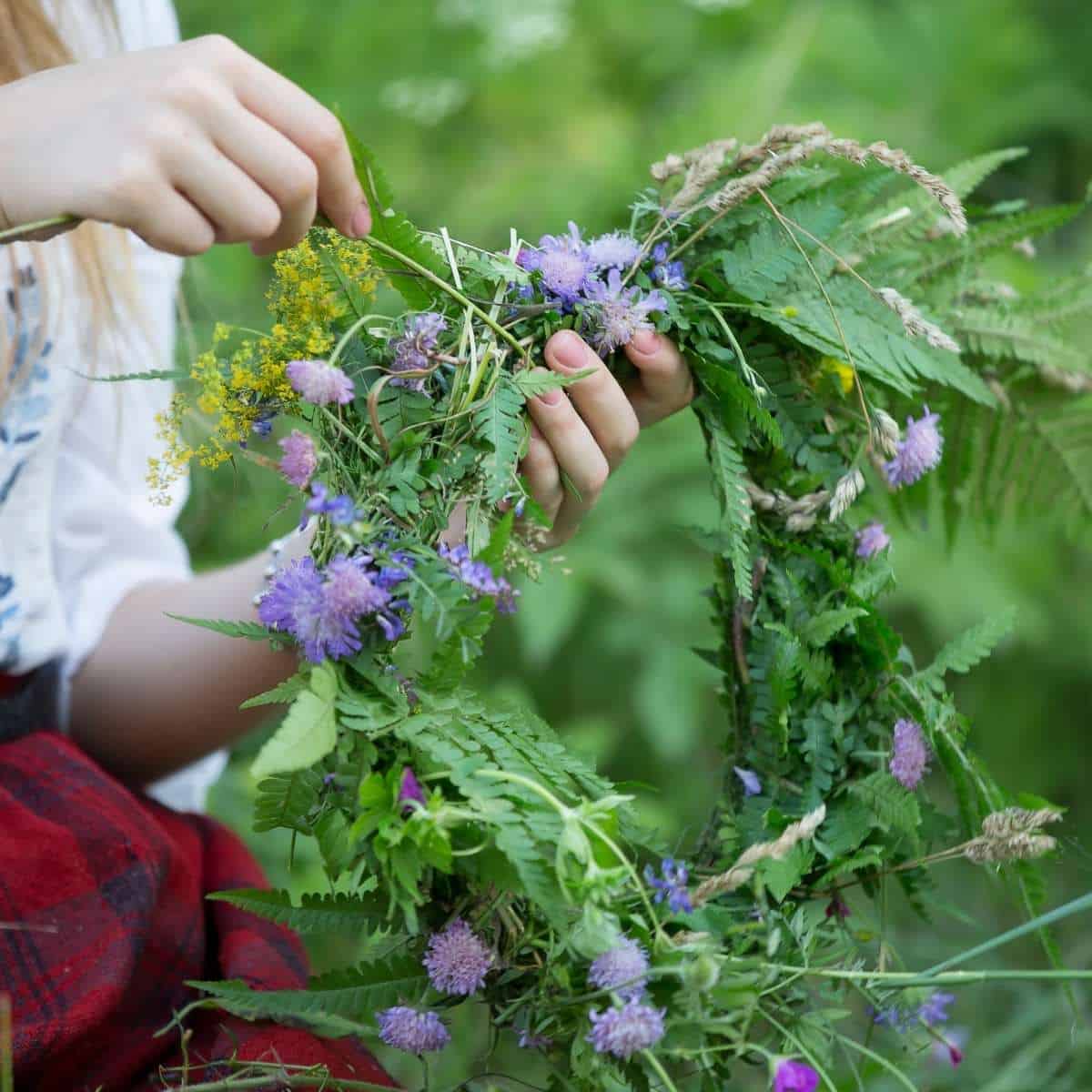 I love seeing how creative others are with their wreaths, fabric scraps, greenery, or even an old wagon wheel.
The possibilities are endless, and you can even gather a lot of the items already mentioned to create a beautiful wreath for your front door, a kitchen window, or a shelf in your farmhouse living room.
See what items you have laying around, a small watering can, cotton blossoms, soft gray felt, and burlap all together would spruce up any family room or porch with a bit of summer inspiration.
6. Fresh Herbs
The smell of fresh herbs is one of my favorites during the spring and summer.
A simple way to add some color to your foyer table is by placing freshly cut herbs and summer blossoms in an old mug at the door to welcome your guests.
It's a soft touch that gives a cozy feeling as soon as they step into your home.
Placing herbs throughout your wreaths on your mantel gives it a natural touch.
If you're going for more of a functional farmhouse feel, display the herbs you are hanging up to dry throughout your kitchen, giving more of a cottage, old-fashioned feeling.
7. American Flags
With Memorial Day in the Spring and the Fourth of July in the Summer, decorating your farmhouse with the American flag is a simple patriotic touch that you can use in a variety of ways.
Using a distressed wood pallet, you can paint a simple American flag design on the slats. Once dry, hang up or prop on your front porch or back deck for your next barbecue.
8. Throw Pillows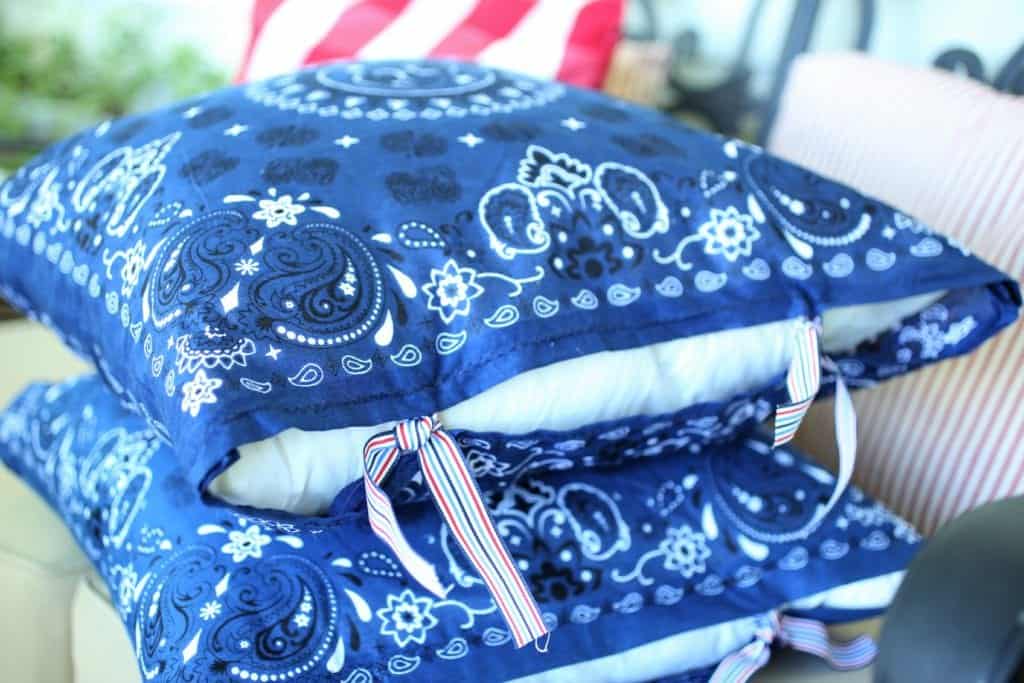 Don't forget about the decorative pillows. Placing them in baskets throughout your farmhouse, especially in outdoor seating locations, continues the same flow and summer feel from the house into the porch. (Find the tutorial for these super-easy patriotic pillows here.)
Pillows with flowers, bright colors, summer fruit, and colorful plaid is a simple way to brighten up space while making your family or guests cozy.
9. Nautical Touches
If you live near the coast, you can undoubtedly combine nautical and farmhouse decor!
Pair a glass vase, or even a blue sea glass vase, with soft white roses along with a distressed wood tray or table.
Don't forget seashells! Scatter them along the table or place them in the bottom of the vase.
Sea glass, wood, and flowers are the perfect DIY piece to combine the beach and farm living to any room in your home, whether it be a sitting room or bedroom.
10. Chicken Wire
Sounds crazy? I know.
But for a creative spin on a door wreath, just get a wooden square frame and place the chicken wire in the middle. Then line the sides of the frame with greenery and summer flowers for a farmhouse-style wreath.
Where to begin?
Now that you know some of the different elements of summer farmhouse decor. Here is how you can get started decorating your home today.
Gather what you already have.
Before you start decorating or thinking of a theme, look around your home and see what you have laying around. Gather all the things you think would be a cute touch to your home decor or could easily be repurposed.
Once you have everything laid out in a central location, have fun and think of ways to bring all of it together.
What could you put together for your dining room table? Or what can you use to spruce up your wooden bench outside?
This is a great way to save money and avoid your husband's glare when you come home with another thrift store shopping bag.
Think about your geography.
Pick flowers and other items from your garden that will be able to withstand your summer climate and are commonly found in your area.
For instance, if you live near the coast, include seashells or other beach finds.
Or if you live near the mountains, choose flowers that are known to grow in your area, perhaps wildflowers that populate the mountains around you.
This way, your summer decor won't feel fake or silly.
What should you decorate?
Start at your front door and work your way through your home. Ask yourself these two questions as you walk.
What catches your eye?
What doesn't catch your eye that should?
Pay attention to mantles, tablescapes, and popular seating areas first; then, if you still want to go the extra mile, find little nooks and crannies in the guest bedroom, hall bathroom, or any other open space that could use a special touch of summer.
How are you decorating your home for summer?