Inside: the best ways to decorate your home in winter farmhouse style to help you have a cozy winter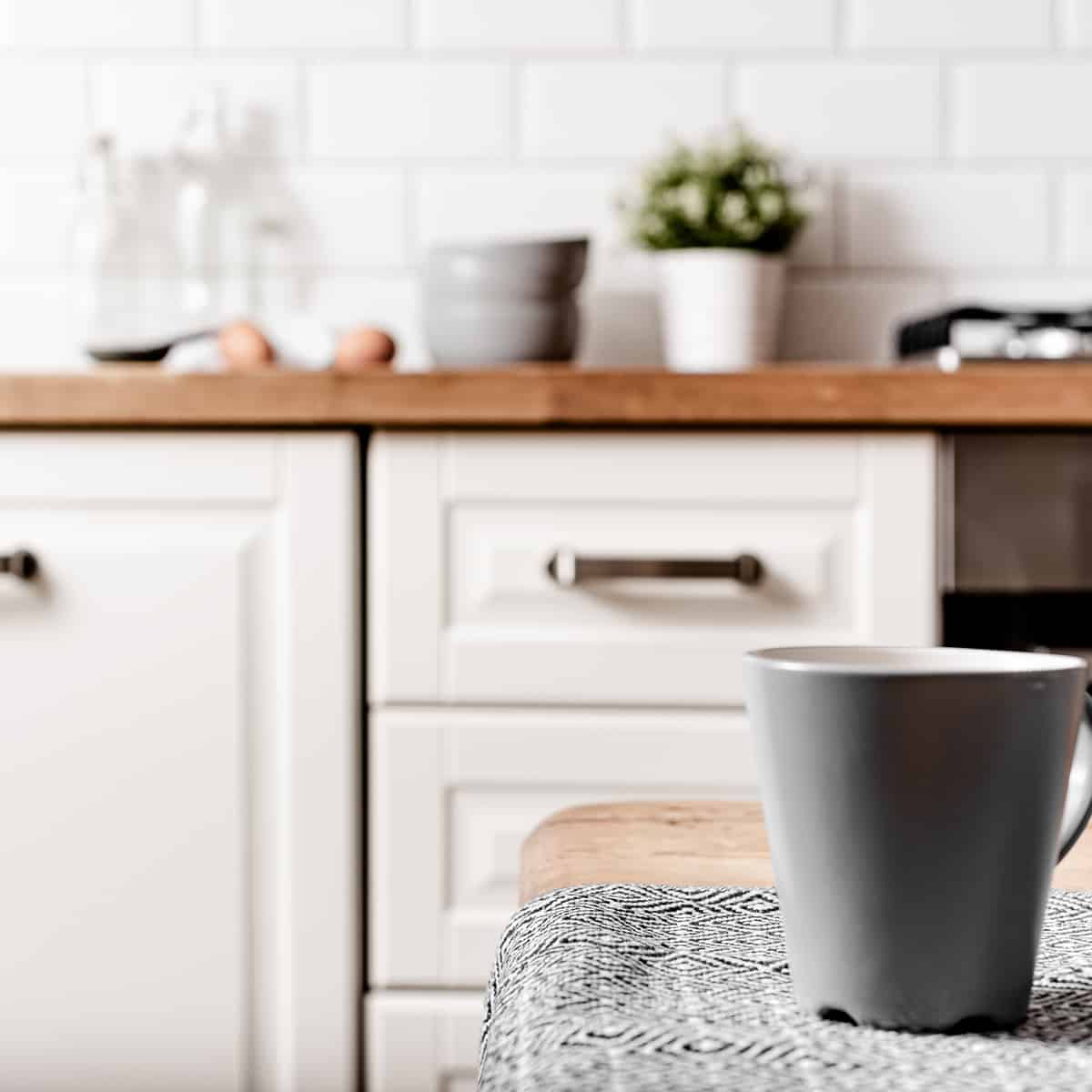 The days are short and cold and the outside feels bleak and not-so-beautiful. But this time of year you spend more time than ever at home. Yep, winter can be dark and dreary, especially after the Christmas decorations come down. You know there use be a way to use home decor to help your post-Christmas home cozy for winter.
But how can we use the farmhouse look to make sure our homes feel warm and inviting?
Admit it, winter decoration is not easy like summer when all you have to do is set a big jar of sunflowers. There's not much outside and everything that was set up for Christmas is gone. But there are a few principles to keep in mind that will help give your home that charming farmhouse look from January all the way up to spring.
Keep in mind that the most authentic farmhouse decor revolves around utility. So rather than looking for items that serve no practical purpose just for the sake of "decorating", think about how someone in a farmhouse would make their home more functional for the winter, and be inspired by that.
Winter decorating ideas by room
Want all these ideas in a handy checklist? Enter your email and I'll send it your way:
Hearth and mantle
If you have a wood burning fireplace, you're lucky. The accessories and tools used with a fireplace are one of the most natural ways to add farmhouse style. Everything from small pieces of kindling to iron fireplace tools are warm and beautiful accessories for your home. Don't believe it? Look at this inviting winter farmhouse scene:
Kitchen ideas
At the heart of every farmhouse is the kitchen. And like every other area of the home in winter, let utility be the star!
Look at how warm and cozy this kitchen is, and all that it uses for decor is a kettle and a bowl of fresh fruit. (This affordable vintage-look bowl is a great find.) If you wanted to take it to the next level, a few small potted plants, and farmhouse inspired kitchen towels would be all you need.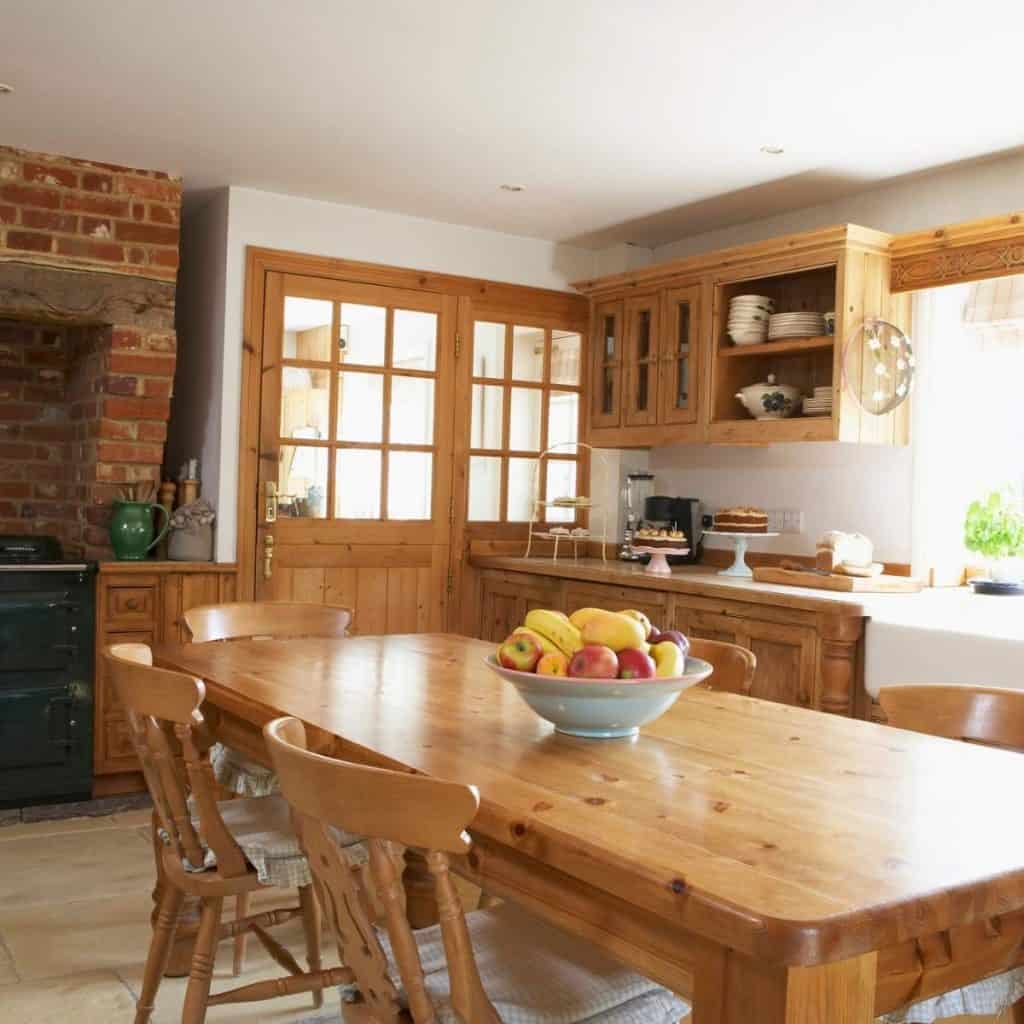 If your home has a kitchen garden (or even if it doesn't!) why not place some braids of garlic and onions in the kitchen? Or try potted herbs brought inside for winter and placed in the windowsill.
???? Shop cozy farmhouse favorites:
Winter living room decor
Your living room is the ideal place in your home for hanging wall art, and farmhouse style prints can be found just about anywhere.
If you have bookshelves in this room, you can lightly style them with candles, pinecones, greeting cards from Christmas, or anything else you'd like.
Some of your Christmas things can definitely stay longer in winter: if you have decorations that are snowflake inspired, mercury glass globes, and other subtle Christmas things can stay up through February, if you want.
Use baskets to add texture to your living room and store practical winter things like blankets, firewood, reading materials, and puzzles.
Bedrooms with the farmhouse look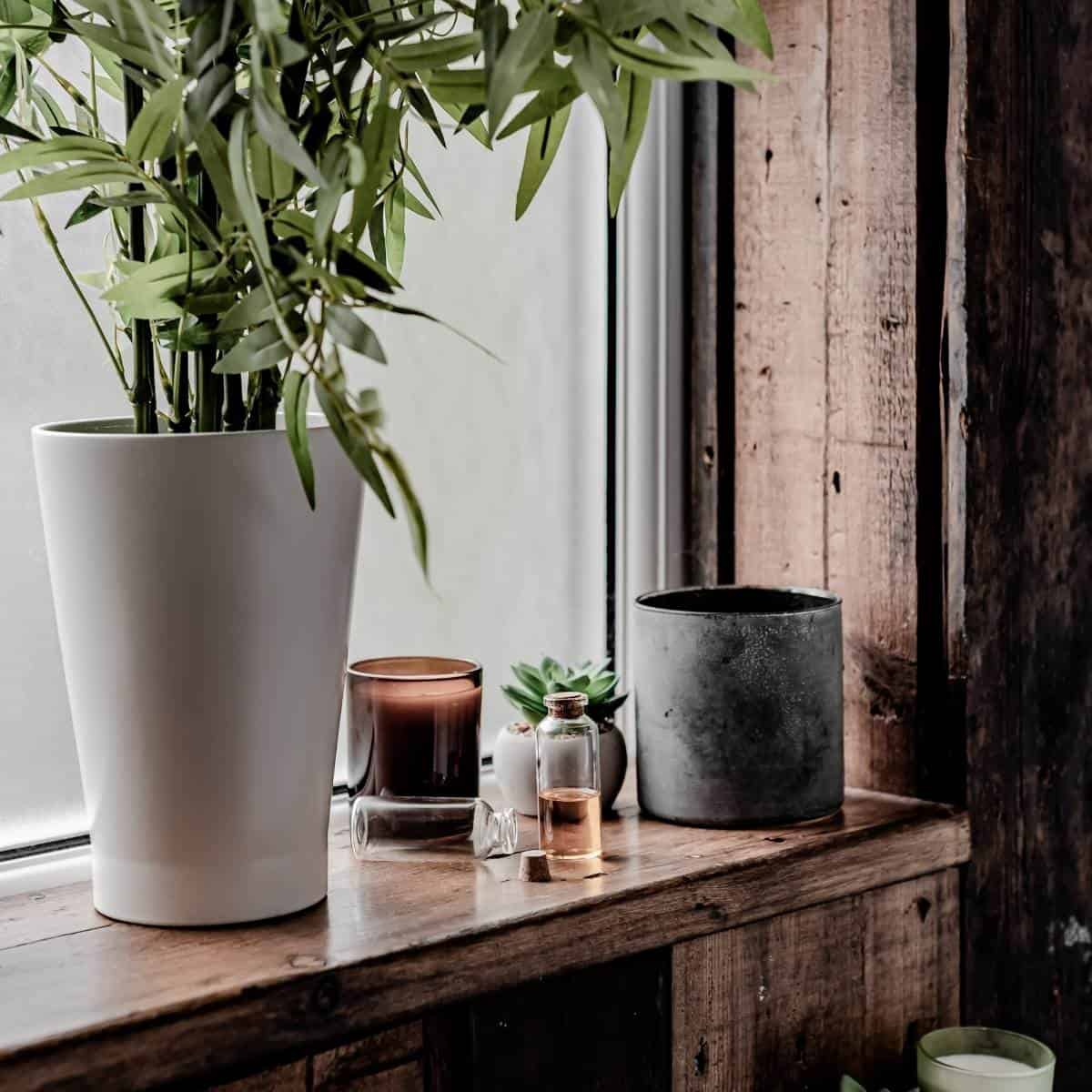 Ideas for farmhouse style bedroom decor can be the most challenging. It's so easy to just skip, but it's absolutely one of the most important rooms in your home, and in winter, you spend even more time there.
Make the extra effort to carry some of the elements of winter living room decor into your bedroom: greenery, a few more throw pillows, blankets with texture. Even adding books and slippers can help your bedroom that lived-in, farmhouse look.
Putting some greenery on your nightstand or dresser is always a good idea on a dreary winter day to help you way up and see something cheerful.
Use these core elements for farmhouse style
Fire and candles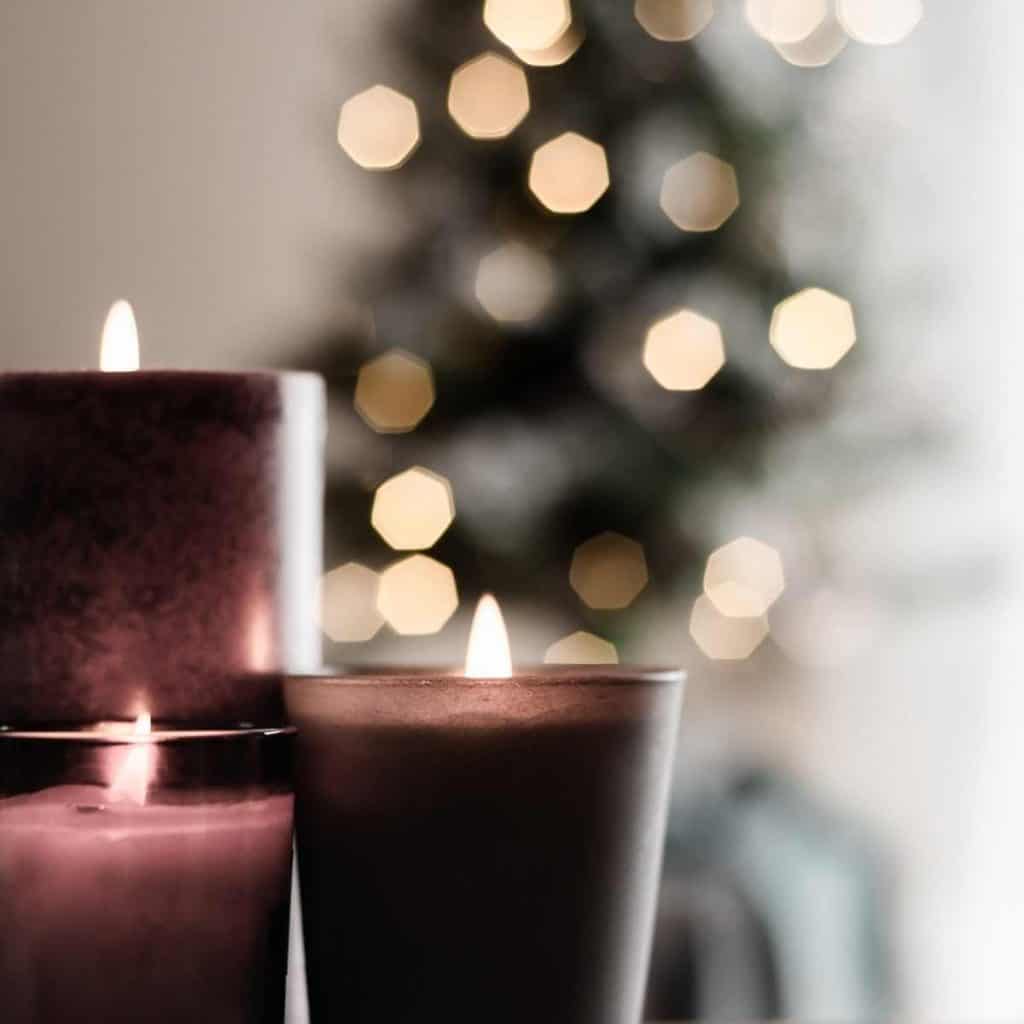 If you don't have a working fireplace , you can still add coziness to your winter decor with candles. You can either place a large candelabra-like grouping of candles inside a non working fireplace, or just place them strategically around the house. You can also purchase an electric fireplace, like this one, which actually look very cozy. There's nothing like a little bit of glow to add warmth to your home decor during the winter.
Twinkling white lights leftover from the holidays help add a little sparkle to your home as well. If you don't overdo it, there's no reason not to let them stay.
Making practical things into home decor
We've already discussed how utility can add beauty in the kitchen. But there are so many other ways to turn practical items into winter farmhouse decorating inspiration.
If you have handmade mittens and hats, put them on a wooden wall hanger where they can be enjoyed as decoration. If your home has a bench near the entryway, put a few cozy pillows there and tuck the family's boots nearby.
Greenery and fruits
Greenery, whether real or faux, adds a certain element of farmhouse style. Especially popular right now are ficus trees and eucalyptus branches, which are readily available at any home decor store. More than adding color, they also clean the stuffy winter air. Plants are one of the best additions to your home in winter.
If you don't want to go that route, don't be afraid to simply go outside and clip what's available. A few springs of holly and boxwood placed in a mason jar of water help to add natural life and color to your winter decorations. Don't forget the simple beauty of pine cones, too. Place them on your mantle or in a basket in the living room.
If you like lemons, oranges, or apples, they all make great choices for winter farmhouse decorating, whether tied to a wreath, arranged on a windowsill, or simply placed in a bowl.
Warmth and texture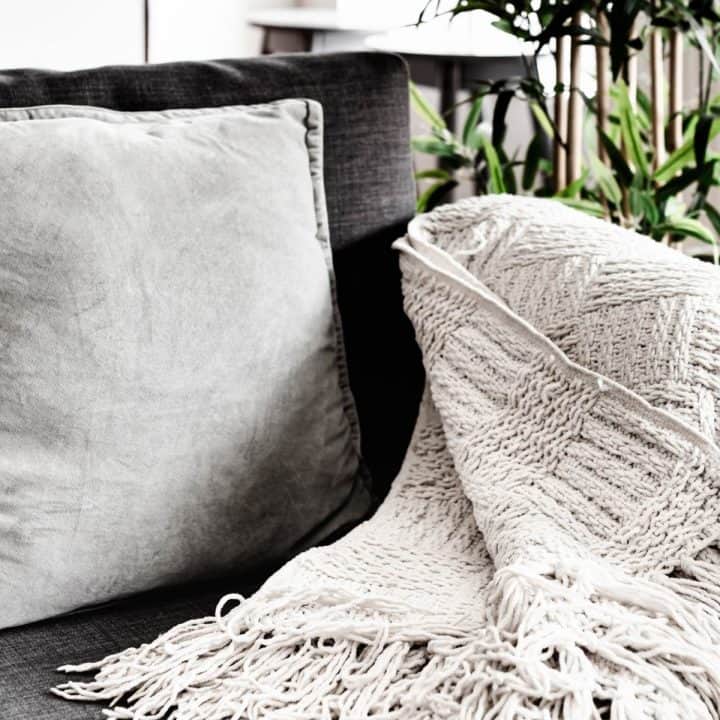 Blankets, pillows, mittens, boots, and just about anything with a hand-knit texture will add winter coziness to your home. You can put them just about anywhere! I have quite literally seen mittens hanging as decor on a powder room wall and I didn't hate it.
Anything patterned will also give the appearance of texture, which is one reason why quilts, rag rugs, and buffalo check are so appealing in winter, and popular farmhouse home items in general.
Don't fight the seasons
Of course, farmhouse style is about more than slapping lemons and buffalo check on everything. It's about living seasonally and learning to embrace winter wonders as they come. There is more to this season than Christmas, and let's start enjoying that rather than wishing it away.
Looking for more farmhouse style ideas?
Enter your email address for the winter farmhouse decorating checklist here:
Enjoy your winter,