A perfect summer dessert: raspberries and blackberries and mixed with sugar and lemon juice before being baked for the perfect sweet-tart combination.
Raspberries and blackberries are the perfect summer fruit. And to make the perfect summer berry pie, you just need a few more ingredients to help them shine. You can use frozen berries to make this any time of year, but it will always taste like summer.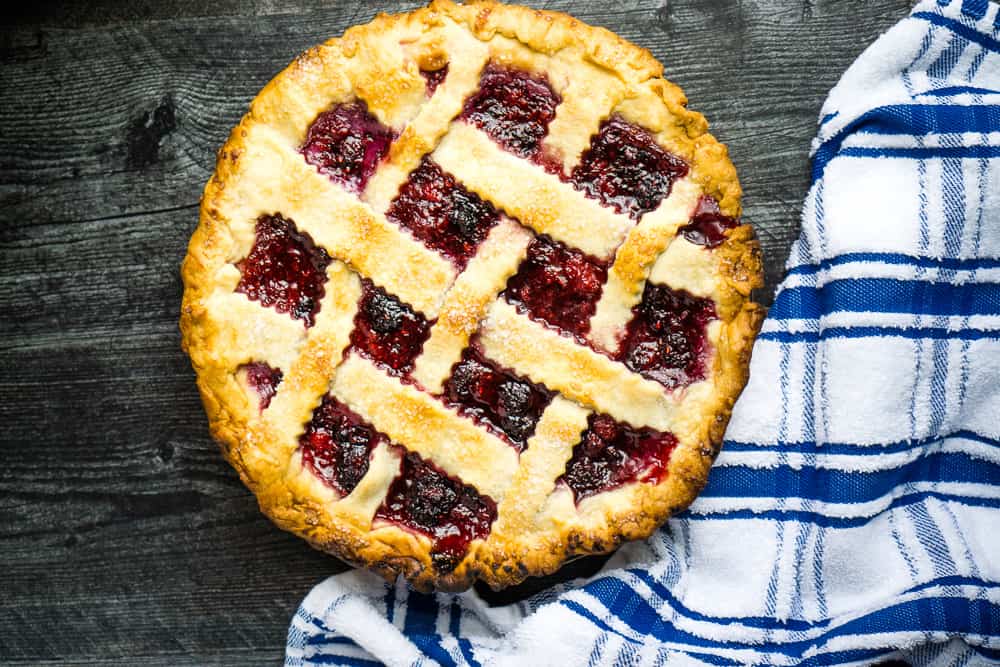 A few years ago we planted an apple orchard and a berry patch with rows of blackberries and raspberries. We have little to no luck with the apples, but we are lucky enough to harvest quarts of fresh berries every summer. There is always a period of overlap between them in June, and again in September. And when that happens, we make this homemade pie.
❤️ Why you'll love this recipe
Not too sweet. This is one of my husband's favorite dessert recipes since it is not super sweet. (His other most requested are key lime pie and plum cobbler, which both have a little tartness to them.)
Best for sweet tooths. If you like super sweet pies, you will want to increase the sugar in this recipe. I start with the amount of 1 cup as a minimum, but once you've added that, be sure to taste the filling. The natural sweetness of the berries will vary, as will your personal taste. If it doesn't seem sweet enough, add another quarter cup or even half a cup of sugar. If you like things a little tart, then one cup will probably be plenty for you.
Juicy treat. Even though berries and delicious and perfect for pies and cobblers, they are very juicy. So this is something we have to try to correct to avoid a mess when we cut into the pie. There are two things that help with this: cornstarch and cooling time. By mixing cornstarch into a little lemon juice and then stirring it into the berry mixture, the liquid in the berries will start to thicken up. This process continues as the pie cools and sets. You will need to cool the pie in the fridge for at least 4 hours, but overnight is best.


🧂 Ingredients
This is an overview of the ingredients. You'll find the full measurements and instructions in the printable recipe at the bottom of the page.
You'll need the following for this blackberry-raspberry pie:
🥣 Equipment
This article contains affiliate links, meaning that if you make a purchase after clicking on one, I may earn a commission at no extra cost to you. As an Amazon Associate, I earn from qualifying purchases.
pie plate
sauce pan
cooling rack
🍴Instructions
Step One: make the crust
This recipe calls for a classic double pastry crust. I like to use a recipe with a healthy amount of sugar in the dough. My favorites are Ina Garten's pie crust and the sweet pie crust recipe in this cookbook. But any classic recipe with flour, butter or shortening, salt, and sugar will work well. If you aren't comfortable with making your own pie crust, a store-bought one is fine.
Either a lattice top or plain double crust will work. Make sure you cut adequate slits in the top crust because you want all the steam out of the filling while the pie bakes.
There are some berry pie recipes that use a graham cracker crust, but I don't think it would hold up well with the juicy berries. Stick with a pastry crust.
Step Two: Prepare a pie plate with pie crust
To get ready, prepare your pie pan with the pie crust and preheat the oven to 400 degrees. You may want to place the pie plate on a foil-lined baking sheet to catch any drips and keep your oven clean.
Step three: combine berries and sugar
The first step is to place 7 cups of berries in a large saucepan. You can do half of each type of berry or an uneven mix. It depends on what you have and what you prefer. Mix in 1 cup of sugar, and then heat the berries and sugar over medium heat for 5 minutes. The berries will start to release their juices.
While this is happening, mix together 2.5 tablespoons of lemon juice and 2 tablespoons of cornstarch. Mix this into the berry and sugar mixture and give it a gentle stir. Let it simmer for 1 minute, then remove the pan from the heat.
Step Four: bake and let it cool
Bake for 40-45 minutes, until the filling, is bubbling and the crust is golden brown. But halfway through, check to see if the crust is browning too quickly. If it is, shield it with some aluminum foil. (Or get a pie shield if you bake a lot.)
And it is very, VERY important to let this cool completely, AT LEAST four hours, as we have already discussed. That's a good thing! Make it the day before a special dinner and the next day, it's already done.
🥫 Storage instructions
The best way to store blackberry-raspberry pie is to wrap it up with plastic wrap and place it in a ziplock bag before storing it in the refrigerator for 3-4 days..
🔍 FAQs
Can I use frozen berries for this recipe?
Yes, you can still use frozen berries and they will taste the same.
Is black raspberry the same as blackberry?
No. Even though they look very similar, black raspberries and blackberries are two completely different fruits. To tell them apart, look for the telltale hole in the bottom. Black raspberries have a hollow core, while blackberries are solid
👩🏻‍🍳 Expert tips
Coarse sugar that will hold its shape in the oven gives the crust a yummy sweetness and crunch
A pie shield is handy to keep the crust from over-browning
If you want pretty lattice strips, you'll need a pastry wheel to cut the crust.
📘 Related Recipes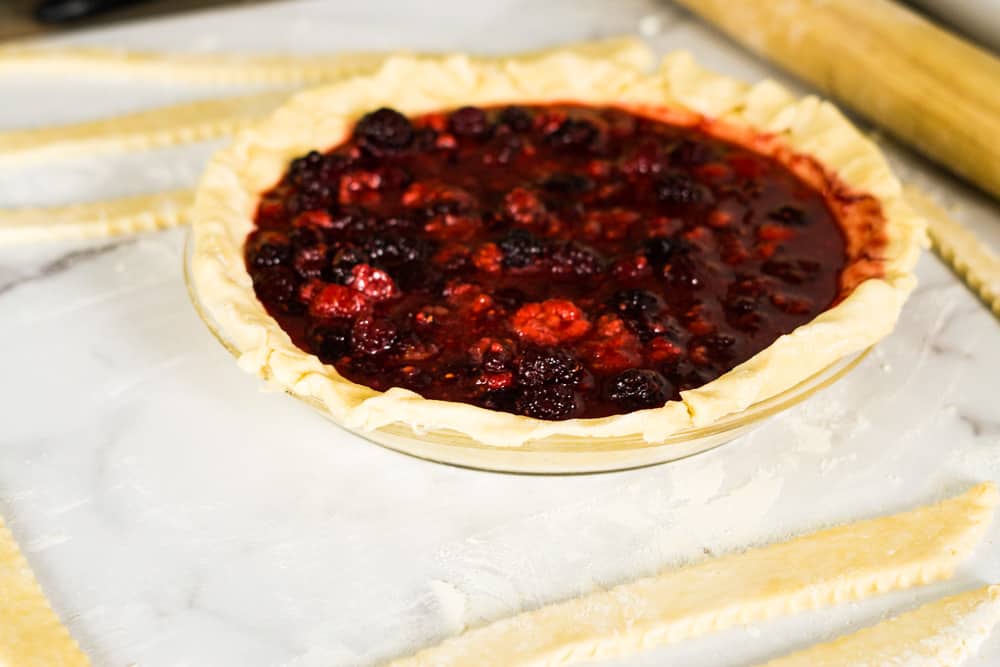 📖 Here's the recipe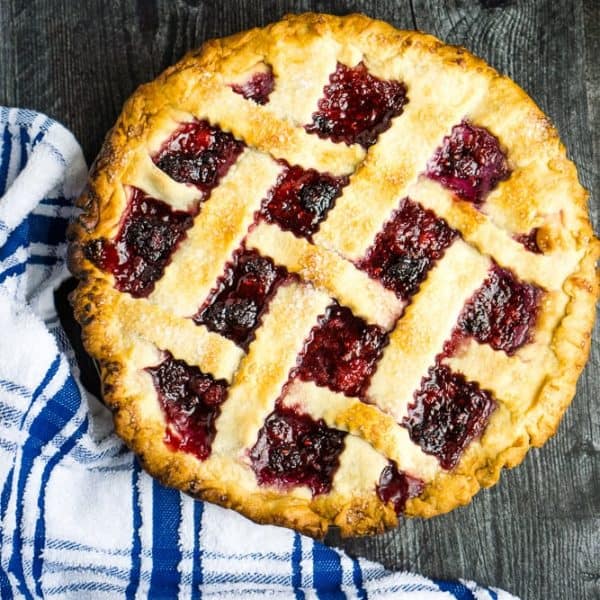 Blackberry Raspberry Pie
Print Recipe
A perfect summer dessert: raspberries and blackberries and mixed with sugar and lemon juice before being baked for the perfect sweet-tart combination.
Click here to grab a free seasonal e-cookbook!
Ingredients
2

prepared pie crusts

1 top, 1 bottom

3 ½

cups

blackberries

3 ½

cups

raspberries

1

cup

sugar

more according to taste

2 ½

tablespoons

lemon juice

2

tablespoons

cornstarch
For topping the crust
1

tablespoon

milk

2

tablespoons

coarse sugar
Instructions
Prepare a pie plate with a pie crust. Place on a foil lined baking sheet. Preheat oven to 400 degrees.

Combine the berries and sugar in a large saucepan. Cook over medium heat until berries release their juices, about 5 minutes. Taste the filling and add more sugar if desired. While the filling is heating, mix the cornstarch and lemon juice in a small bowl. Add it to the berry mixture and heat for 2-3 minutes more.

Pour filling into prepared pie dish and top with second crust. Brush with milk and sprinkle with sugar.

Bake at for 40-45 minutes, until pie is golden brown and filling is bubbling. If edges are overbrowning, cover them with a foil guard halfway through the baking time.

Allow pie to cool to room temperature on cooling rack, then cover and refrigerator for 4-24 hours. Serve cold or room temperature.
Notes
Frozen berries work very well for this. Vanilla ice cream is the perfect complement.
Nutrition
Calories:
355
kcal
|
Carbohydrates:
60
g
|
Protein:
4
g
|
Fat:
12
g
|
Saturated Fat:
4
g
|
Cholesterol:
1
mg
|
Sodium:
176
mg
|
Potassium:
227
mg
|
Fiber:
8
g
|
Sugar:
31
g
|
Vitamin A:
152
IU
|
Vitamin C:
29
mg
|
Calcium:
42
mg
|
Iron:
2
mg
Did you make this recipe?
If you loved it, please leave a review!