A creamy and rich homemade vanilla ice cream with swirls of caramel and homemade candied pecans
Candied pecans, fresh churned vanilla ice cream, and a ribbon of creamy caramel. This homemade caramel pecan ice cream is worth the wait.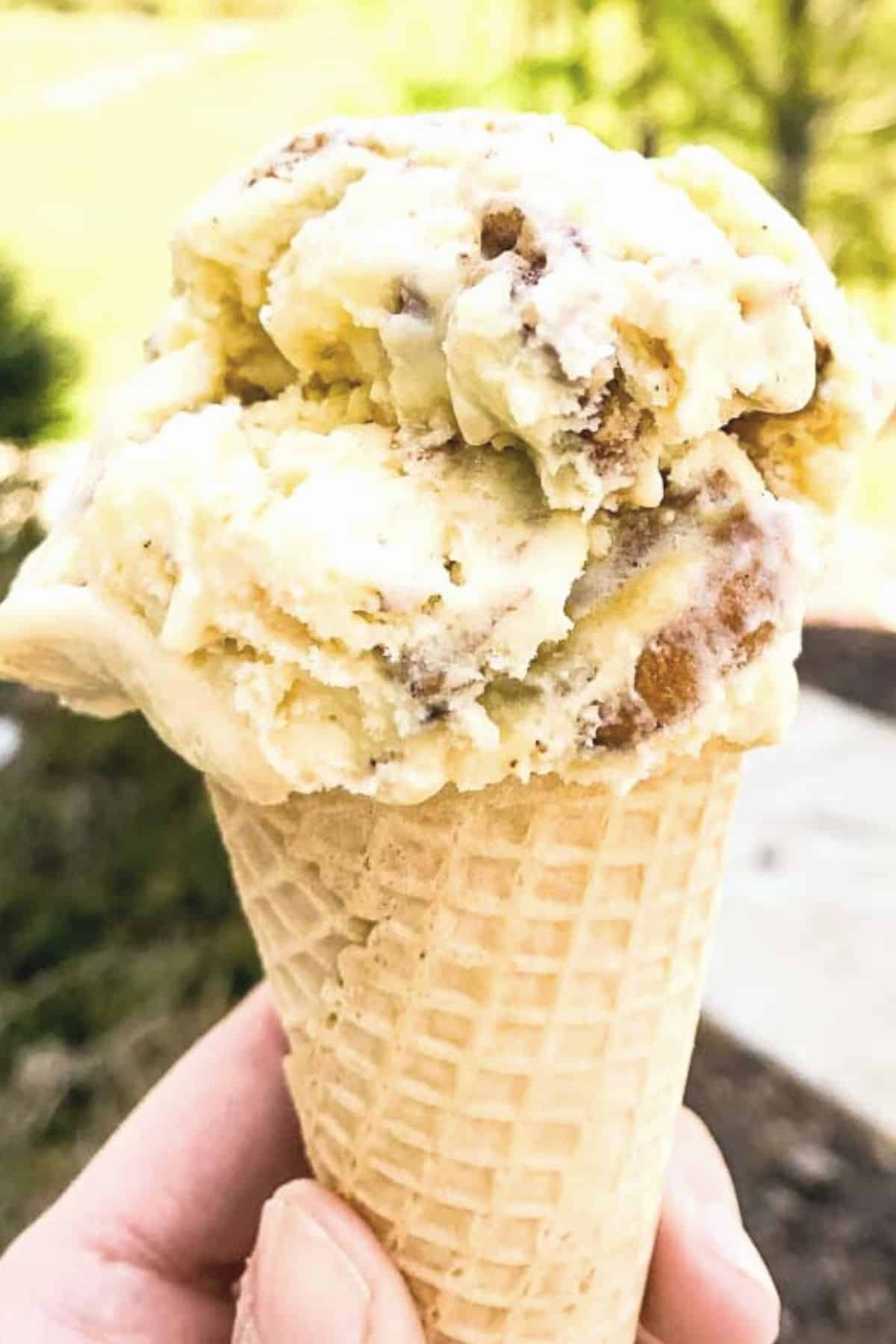 There's lame homemade ice cream, and then there's real homemade ice cream. There's eggs, a custard to cook, straining, cooling time, and yes, churning. The good news? Electric ice cream makers are affordable and do a great job.
And there might be a lot of steps in this recipe, but most of it is just waiting for things to cool. Once you get the hang of making cream at home, you won't be able to stop with just candied pecans and a nice caramel swirl. You'll be making cookies and cream ice cream, peppermint ice cream, and more.
But this recipe, with the salty sweet pecans and delicious caramel, will always be one of your favorites. Let's begin.
What you'll need
For the Candied Pecans
2 tablespoons butter
2 cups pecan halves
1/2 cup brown sugar
1/2 teaspoon cinnamon
1/2 teaspoon salt
1/4 cup water
1 teaspoon vanilla
For the Ice Cream
1 1/2 cups whole milk
1 1/2 cups heavy cream
3/4 cup granulated sugar
2 teaspoons vanilla s
4 egg yolks
pinch salt
For Swirling
1/2 cup prepared caramel sauce
You'll also need a thermometer and an ice cream maker (this model is basic, foolproof, and works great!)
step by step caramel pecan ice cream
Making the candied pecans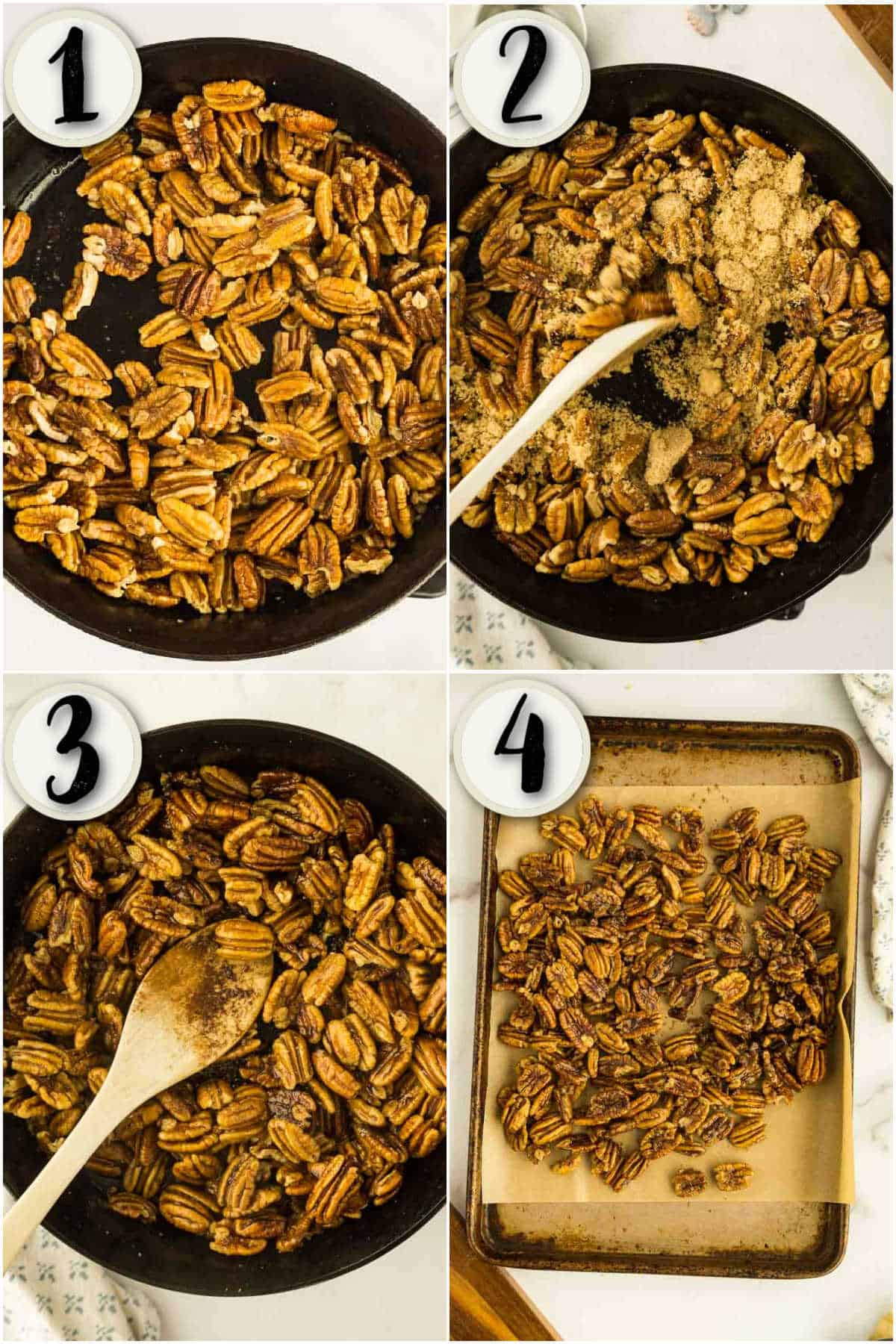 First of all, if you want to use store-bought candied pecans, don't let me stop you! They will work just fine! But I've never been able to find any I like, and making them at home with this method is easy.
You won't get a hard candied shell, more of a cinnamon-caramel coating. They're still delicious, and perfect for making ice cream with.
Preheat your oven to 350. These pecans start on the stovetop and finish in the oven.
First you toast them in a skillet with the melted butter, stirring over medium heat until they just begin to brown. Add the brown sugar and stir as it melts. Then add the salt, vanilla, and water. The water will bubble and turn the sugar into a sticky caramel coating.
Pour the nuts onto a parchment lined baking sheet and bake for 5-7 minutes. Let them cool right on the baking sheet. Snack on a few, if you'd like.
Make the vanilla ice cream
There are so many pictures in this part that it might feel a bit overwhelming. It's not! It seems like a weird process when you first do it, but it's not hard.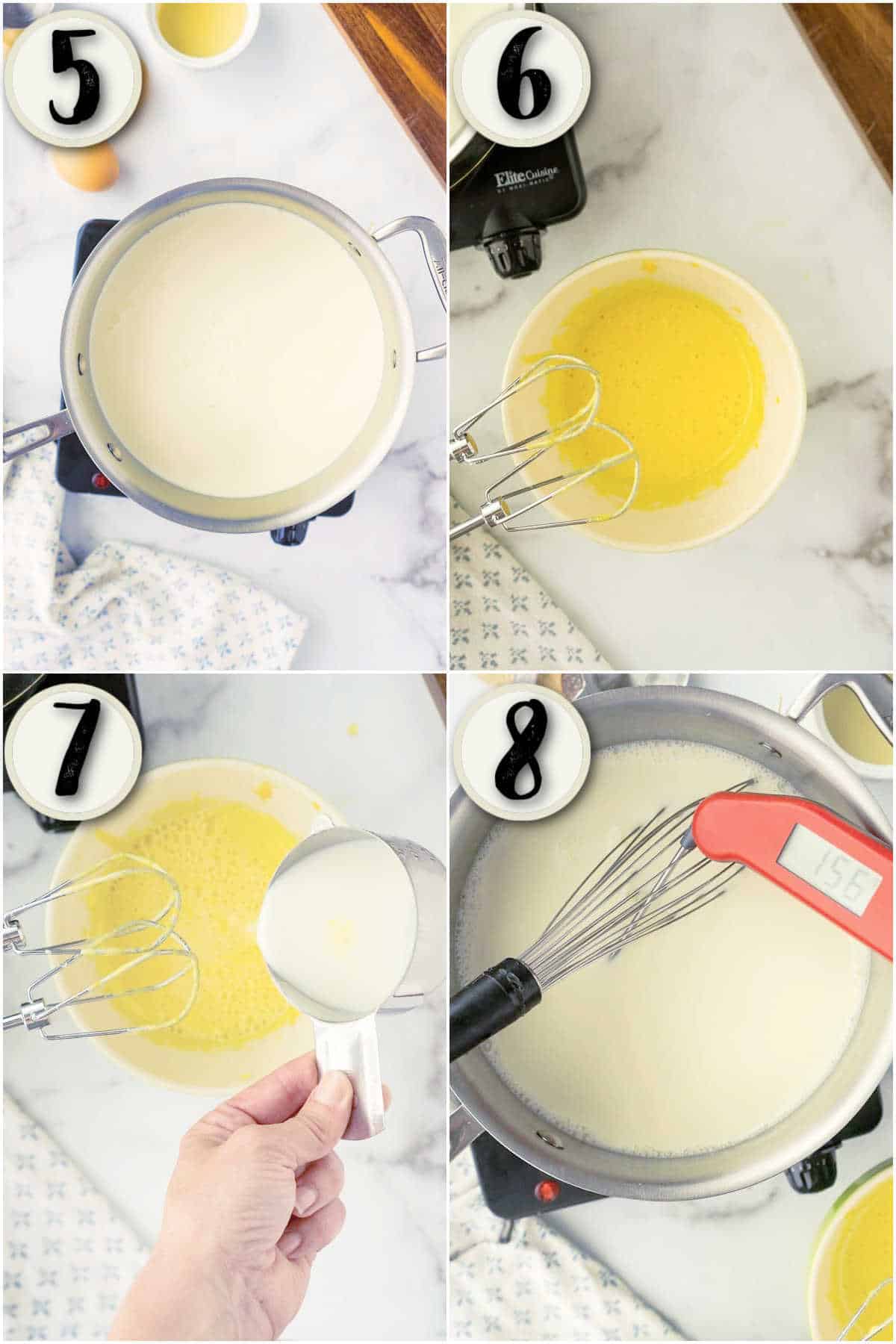 So our first step in making the custard is to heat the milk, cream, and 1/2 cup of the sugar, in a saucepan over medium heat. We want it to be steaming and 170 degrees.
Now, while this is happening, we are going to beat the egg yolks with the remaining 1/4 cup of sugar. A hand mixer is ideal, but a whisk will work in a pinch. The egg yolk should increase in volume and become lighter.
Now we have two components. But we can't just go pouring the egg yolk into the hot milk; it will scramble the eggs. We have to slowly heat the the eggs by adding the warm milk mixture, one half cup at a time, into the bowl with the eggs. Not all of the milk, but about half of it.
Finishing and straining the ice cream custard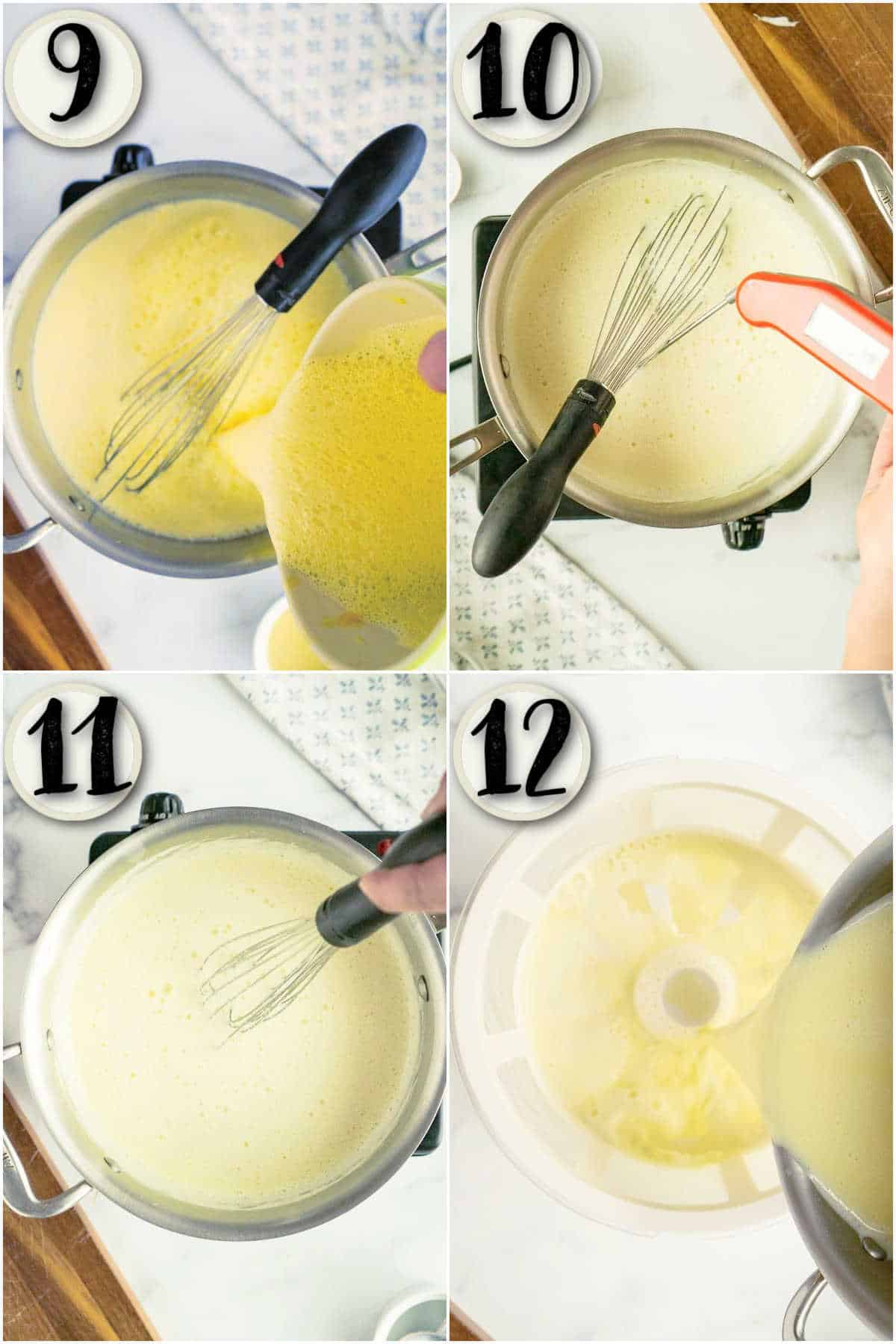 Once that's done, we can. safely dump the eggs into the saucepan. And now the whole thing gets heated up to 185 degrees. Keep stirring while you do this and don't let the mixture boil.
Remove it from the heat, stir in the salt and vanilla.
Now we strain it! Yes this is a necessary step. I use my Greek yogurt strainer so I can dump it easily, but simply pouring it over a metal mesh strainer will work perfectly fine.
Pop that little guy in the fridge for a long time. Overnight is best. Don't forget to put your ice cream insert in the freezer so its ready to go.
Churning and mix-ins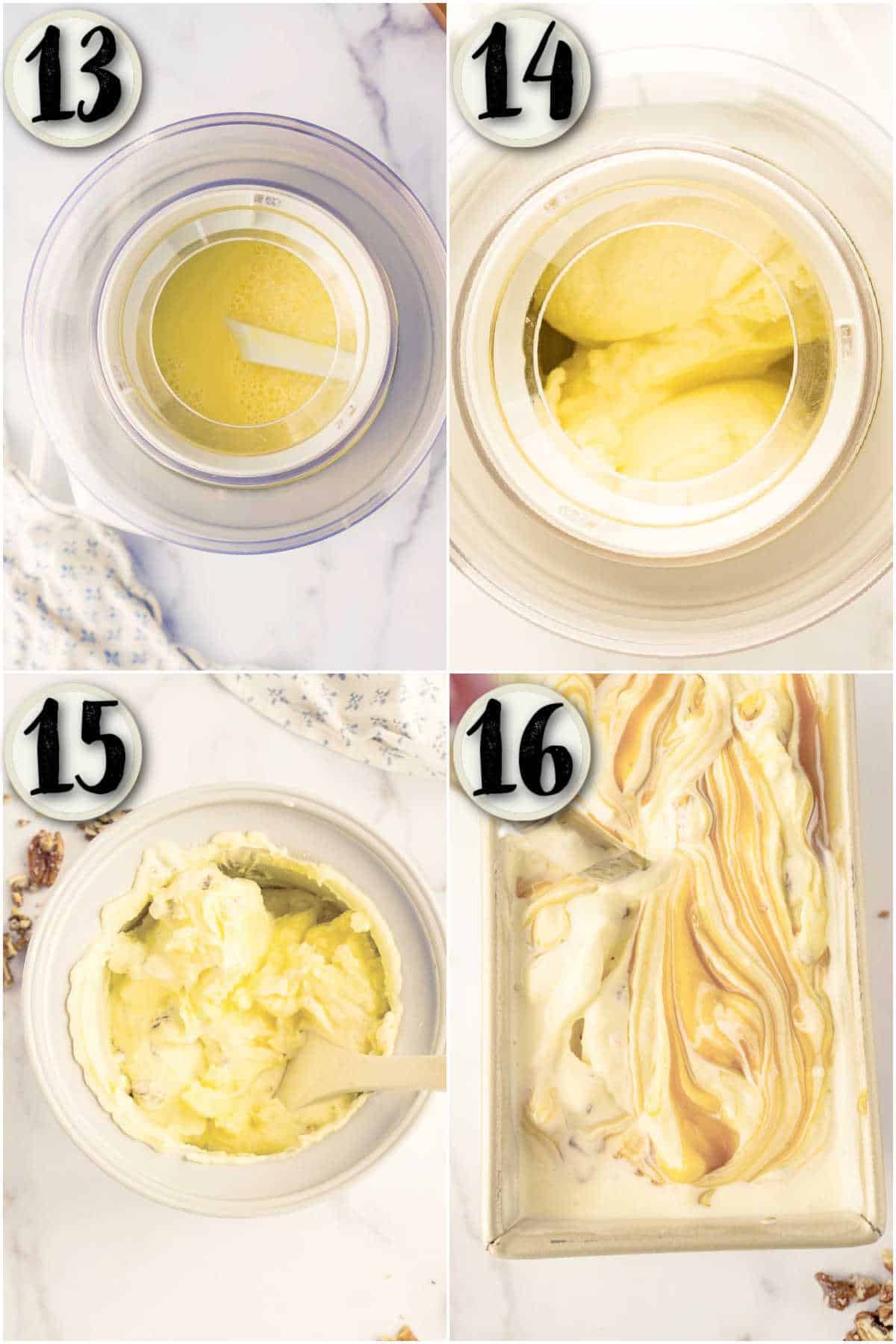 Now for the fun part! Pour the custard into the cream maker, following the manufacturer's instructions. Churn until it has the consistency of soft serve, then add in the candied pecans either to the machine or mixing by hand.
Scoop everything into a loaf pan or whatever container you'd like. Let it firm up in the freezer for an hour or so, then remove it, and pour the caramel on top, swirling throughout.
Pop it back into the freezer until firm, scoop and serve!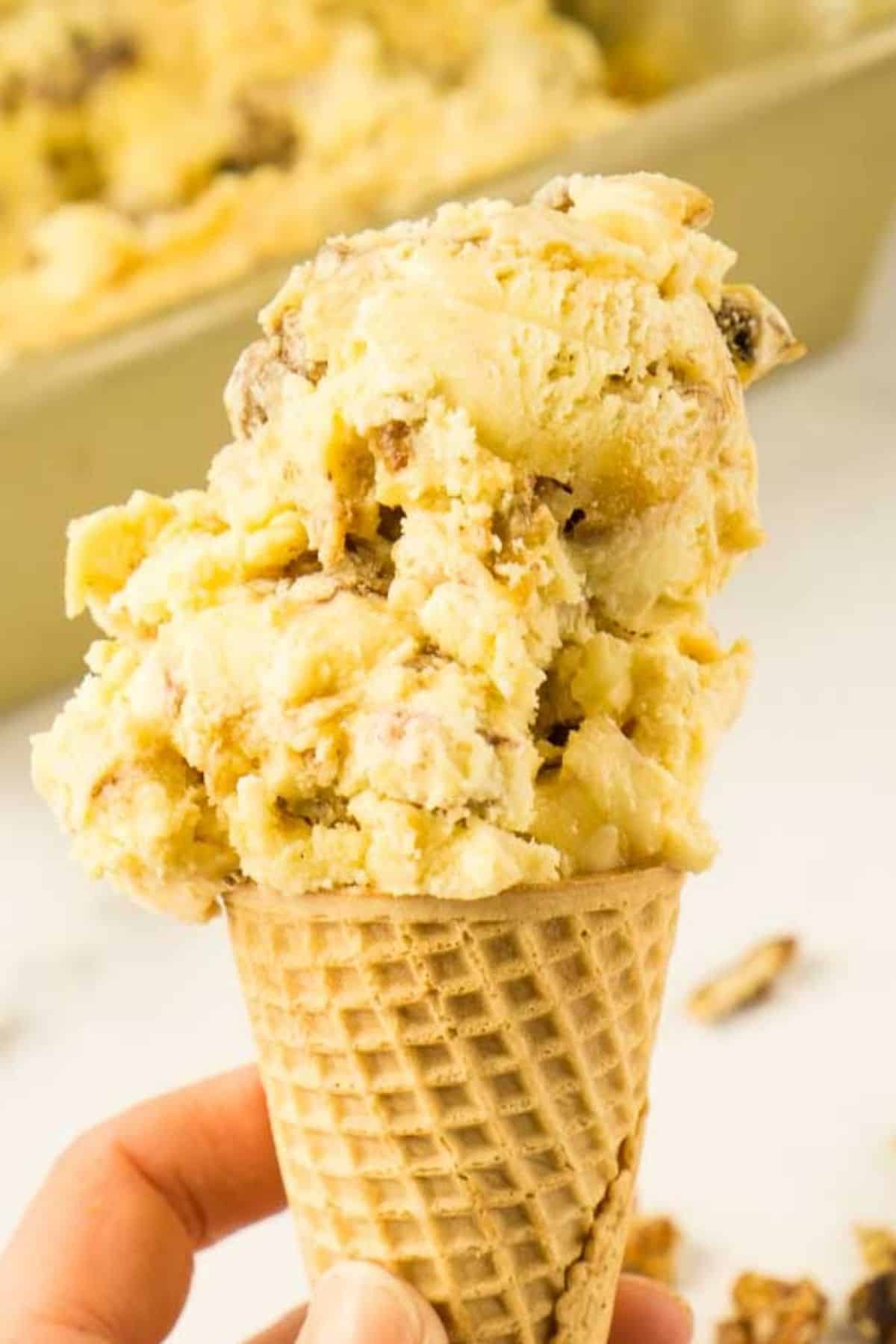 Homemade Caramel Pecan Ice Cream
Print Recipe
A creamy and rich homemade vanilla ice cream with swirls of caramel and homemade candied pecans
Click here to grab a free seasonal e-cookbook!
Ingredients
For the Candied Pecans
2

tablespoons

butter

2

cups

pecan halves

1/2

cup

brown sugar

1/2

teaspoon

cinnamon

1/2

teaspoon

salt

1/4

cup

water

1

teaspoon

vanilla
For the Ice Cream
1 1/2

cups

whole milk

1 1/2

cups

heavy cream

3/4

cup

granulated sugar

2

teaspoons

vanilla

s

4

egg yolks

pinch

salt
For Swirling
1/2

cup

prepared caramel sauce
Instructions
Make the Candied Pecans
Preheat oven to 350. Prepare baking sheet by lining with parchment paper.

Melt the butter in a large skillet over medium heat. Add the pecans and stir about 2 minutes, until lightly toasted. Add the brown sugar and stir until melted.

Add the water, salt and vanilla and stir until water evaporates and pecans are coated in a thick, sticky coating.

Pour pecans out on to parchment lined baking sheet and bake for 6-7 minutes, until crisp. Allow to cool while you make the custard. Smash into smaller pieces before adding, if desired.
Make the Vanilla Custard
Heat the milk, cream, and 1/2 cup of sugar, in a saucepan over medium heat, until warm and steaming, or about 170 degrees.

Meanwhile, whisk the egg yolks and remaining 1/4 cup of sugar until light yellow in color and well combined.  (A hand mixer on low will work well.)

Temper the eggs by adding half of the warm milk mixture, a half cup at a time.  Then add the egg mixture back into the saucepan with the rest of the milk and cream.

 Heat the saucepan, which now contains all of the milk, cream, sugar, and eggs, over medium heat, stirring constantly, until it reaches 185 degrees.  Do not boil.  Once off the heat, add a pinch of salt, and the vanilla extract, if using.

Strain the custard using cheesecloth or a stainer, then immediately place in the refrigerator to chill. . Chill for 4-24 hours, until very cold.

Freeze ice cream according to manufacturer's instructions.  When it has reached the consistency of soft serve ice cream, add the candied pecans into the machine. When throughly blended, scoop into loaf pan, cover with plastic wrap, and freeze at least 1 hour.

Remove vanilla ice cream from freezer and pour caramel sauce on top.  Gently stir with butter knife until swirls are throughout.  Place back in freezer to firm for at least 3 hours.    Will keep well in freezer up to 1 week.
Notes
You can make the pecans on Day 1 or Day 2 of this process.  
Don't rush any part of homemade ice cream!  It won't set up properly.
Nutrition
Calories:
343
kcal
|
Carbohydrates:
36
g
|
Protein:
4
g
|
Fat:
21
g
|
Saturated Fat:
12
g
|
Cholesterol:
164
mg
|
Sodium:
195
mg
|
Potassium:
130
mg
|
Fiber:
1
g
|
Sugar:
35
g
|
Vitamin A:
866
IU
|
Vitamin C:
1
mg
|
Calcium:
110
mg
|
Iron:
1
mg
Enjoy your ice cream!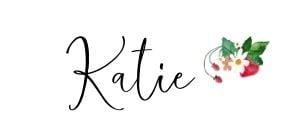 By