Soft and thick chocolate chip cookies that are soft and almost cake-like.  Perfect for after school or to tuck in a lunch box.
A delicious recipe for those of you who love soft, thick chocolate chip cookies that are almost cake-like. My oldest daughters favorite recipe.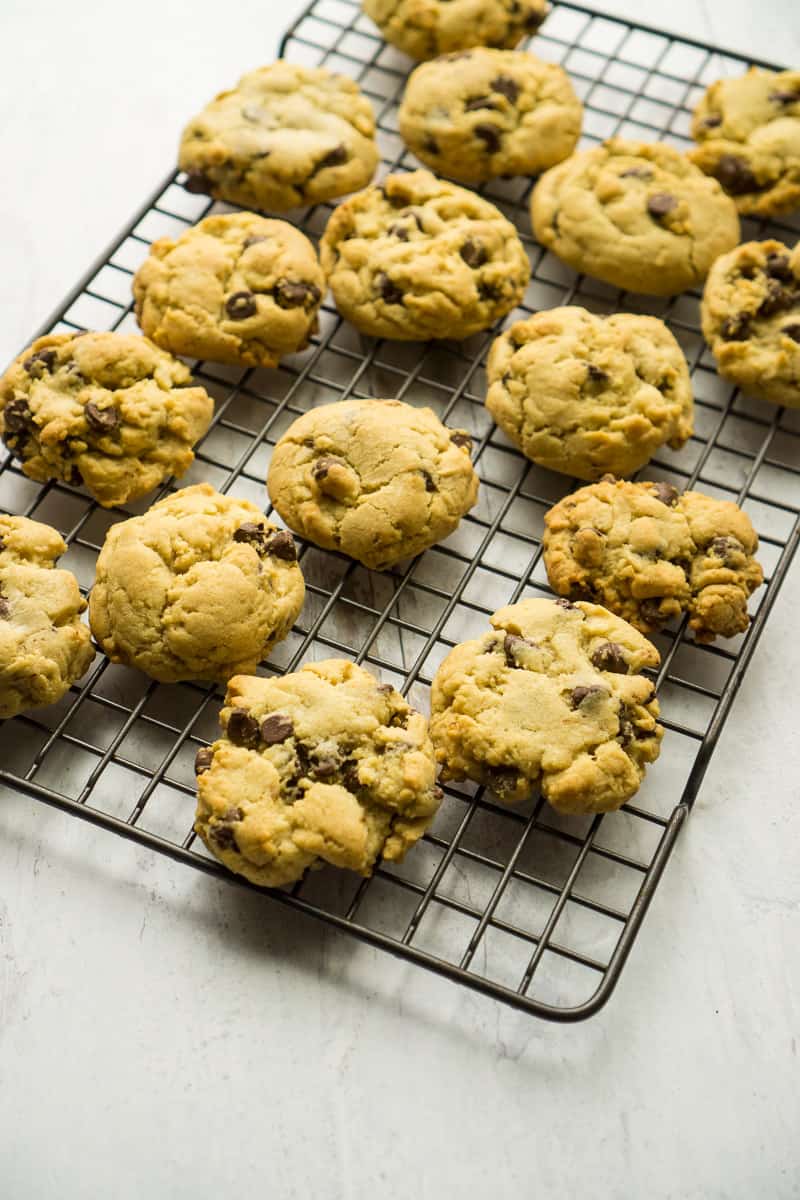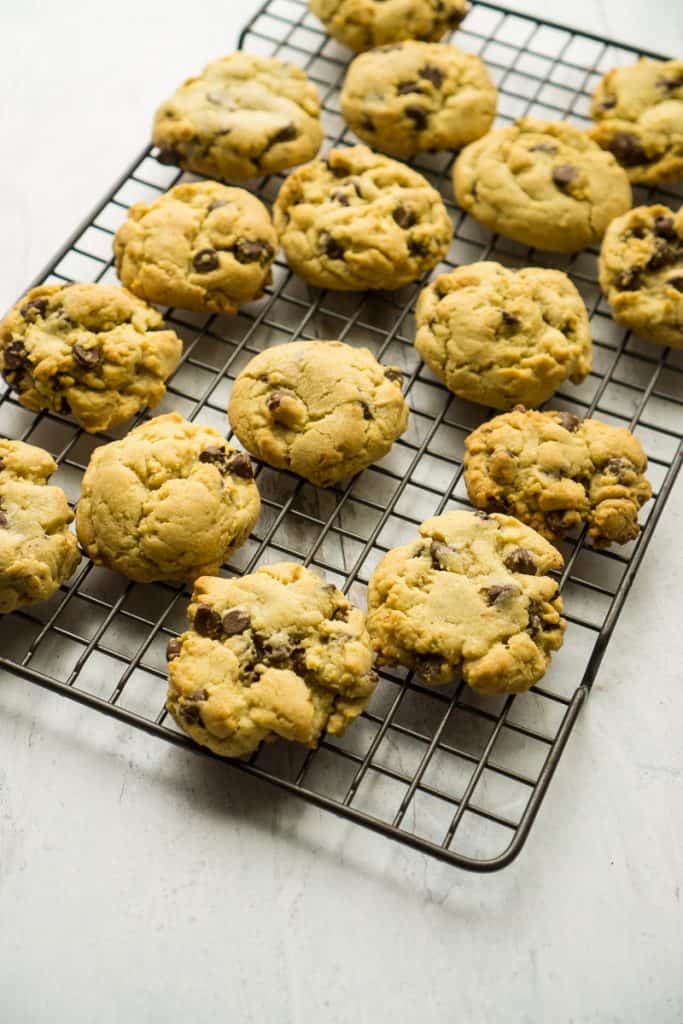 For every person on this earth, there is a different chocolate chip cookie recipe. Some people, the correct ones, like them thinner, buttery, with crispy edges. But some people, like my children like them soft, thick, and more toothsome.
If you are one of those people, then this recipe is for you: extra soft, buttery, thick, and delicious.
Drop cookie essentials:
Parchment paper makes the idea of baking so much more pleasant. No need to scrub any pans! You can even re-use the parchment, if you wish.
A cookie scoop is one of my favorite kitchen gadgets. Make sure you look for one with a turning gear, not a spring. When there is no spring to break, they last longer. You can find them at King Arthur Flour.
Don't go fancy with the chocolate chips when you are baking for kids. Good old semi-sweet morsels are the right choice here.
???? Frugal baking tip
Aldi's chocolate chips are the BEST! I like them better than the name brand ones! Their brown sugar is also excellent.
Step by step cookie making:
This is just your basic cookie technique that pretty much all cookie recipes will follow!
This won't take long, so go ahead and preheat the oven to 350. I always bake two racks at a time, but arrange your racks however you like.
We start by creaming the butter. Make sure it is softened and at room temperature.
Add both of the sugars keep beating it until it's fluffy, as least 3 minutes more. Don't be tempted to rush this step.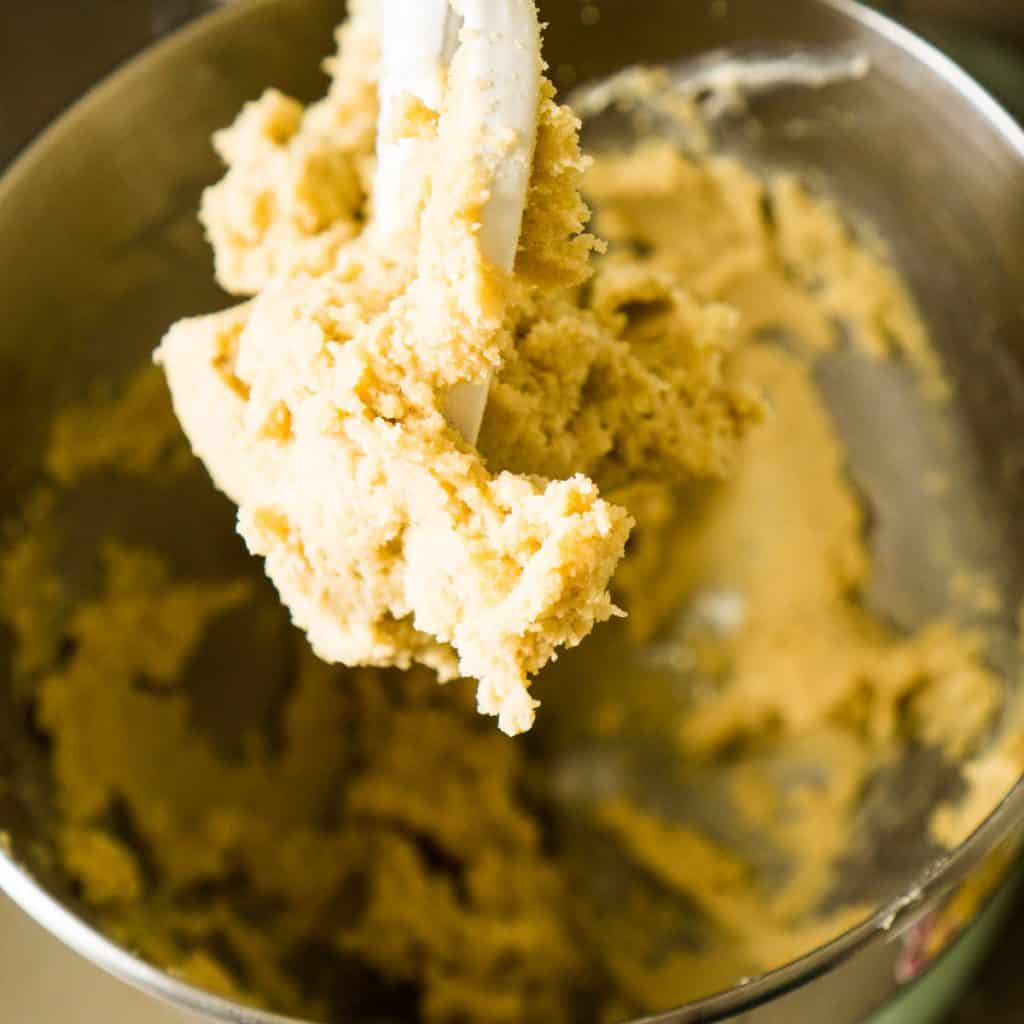 After you've added both sugars, add the eggs one by one. Beat them into the butter mixture until just combined, then add the vanilla.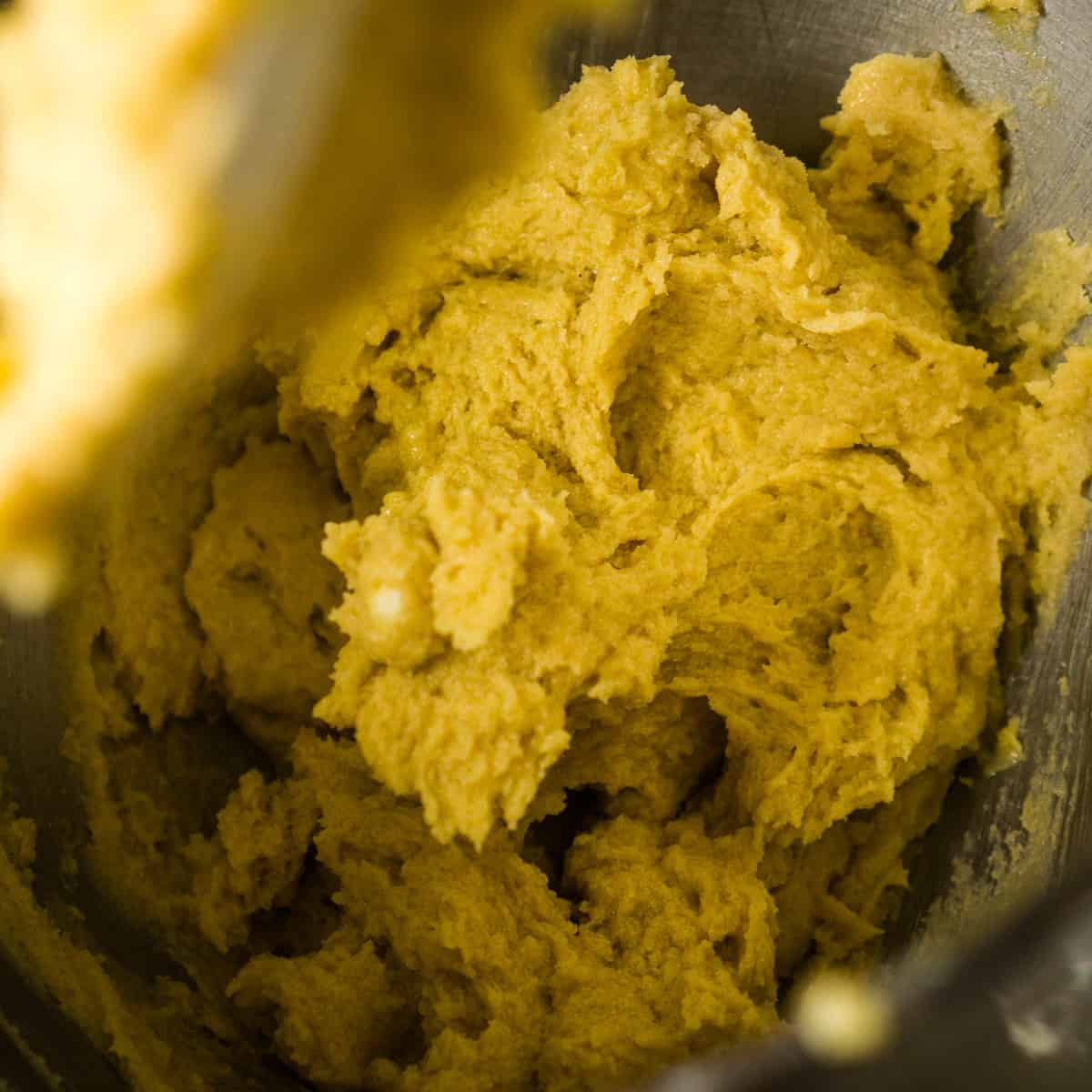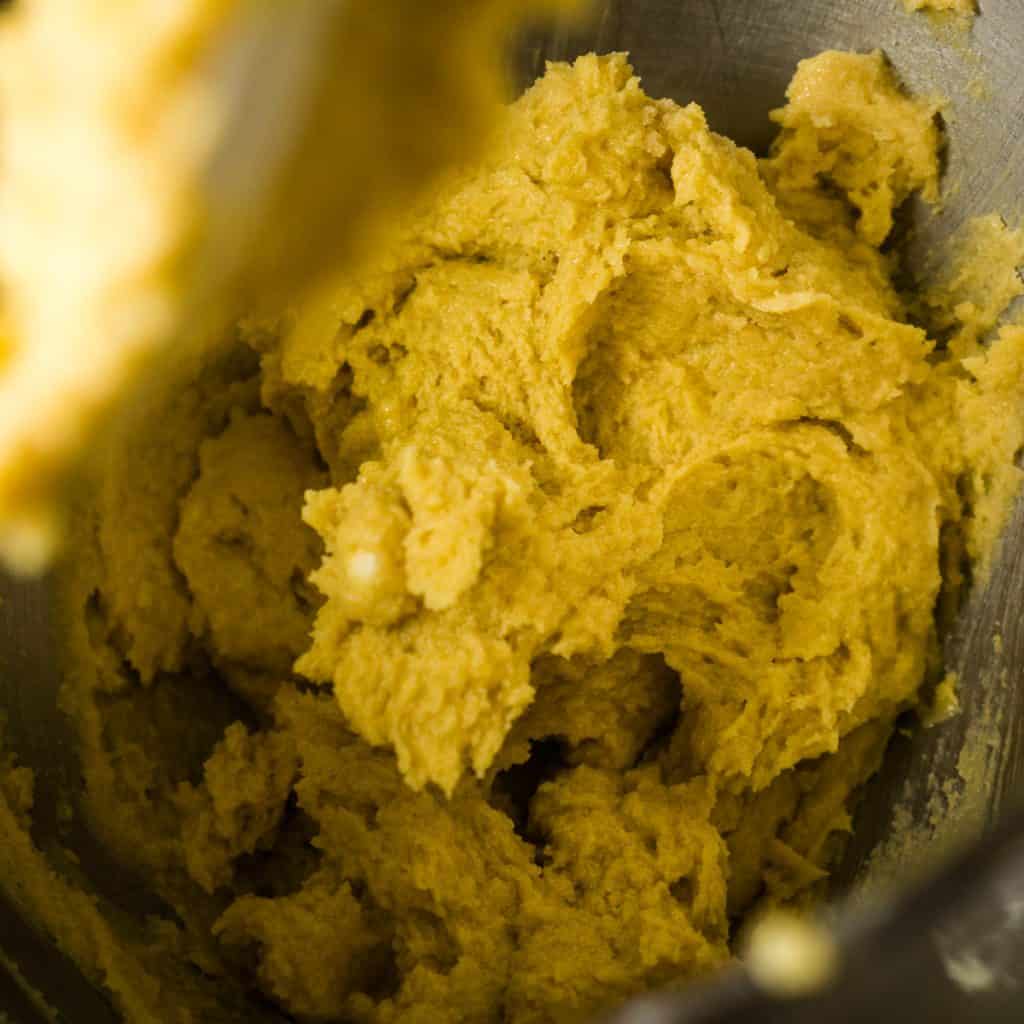 Mix the dry ingredients (flour, baking soda, baking powder, and salt in a separate mixing bowl and then add them to the butter mixture, 1 cup at a time, mixing on low. The dough will be moist and should hold its shape. If it doesn't come together, you can add a teaspoon of water and mix very gently until it does.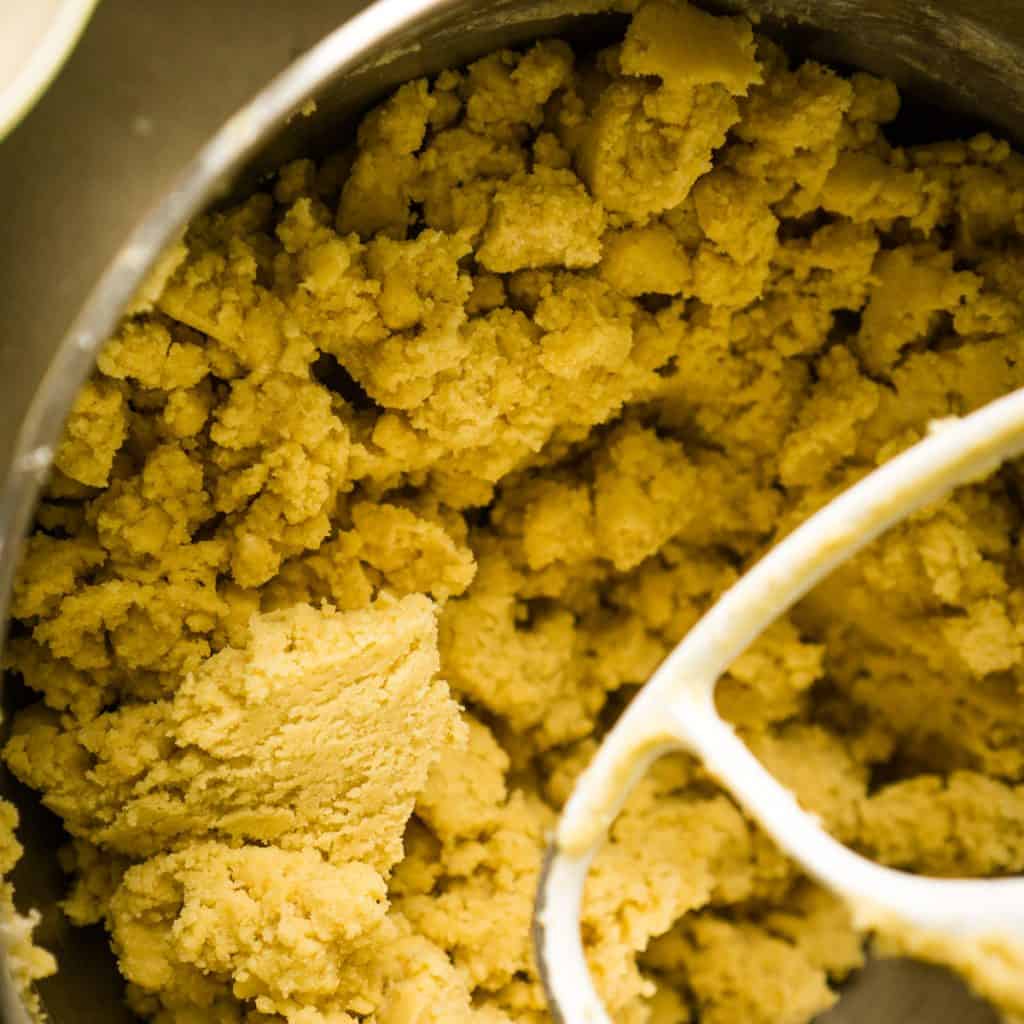 When it comes time to add the chocolate chips (and nuts, if you are using them), stir very gently. Either slow your mixer down to its lowest setting, or just stir by hand.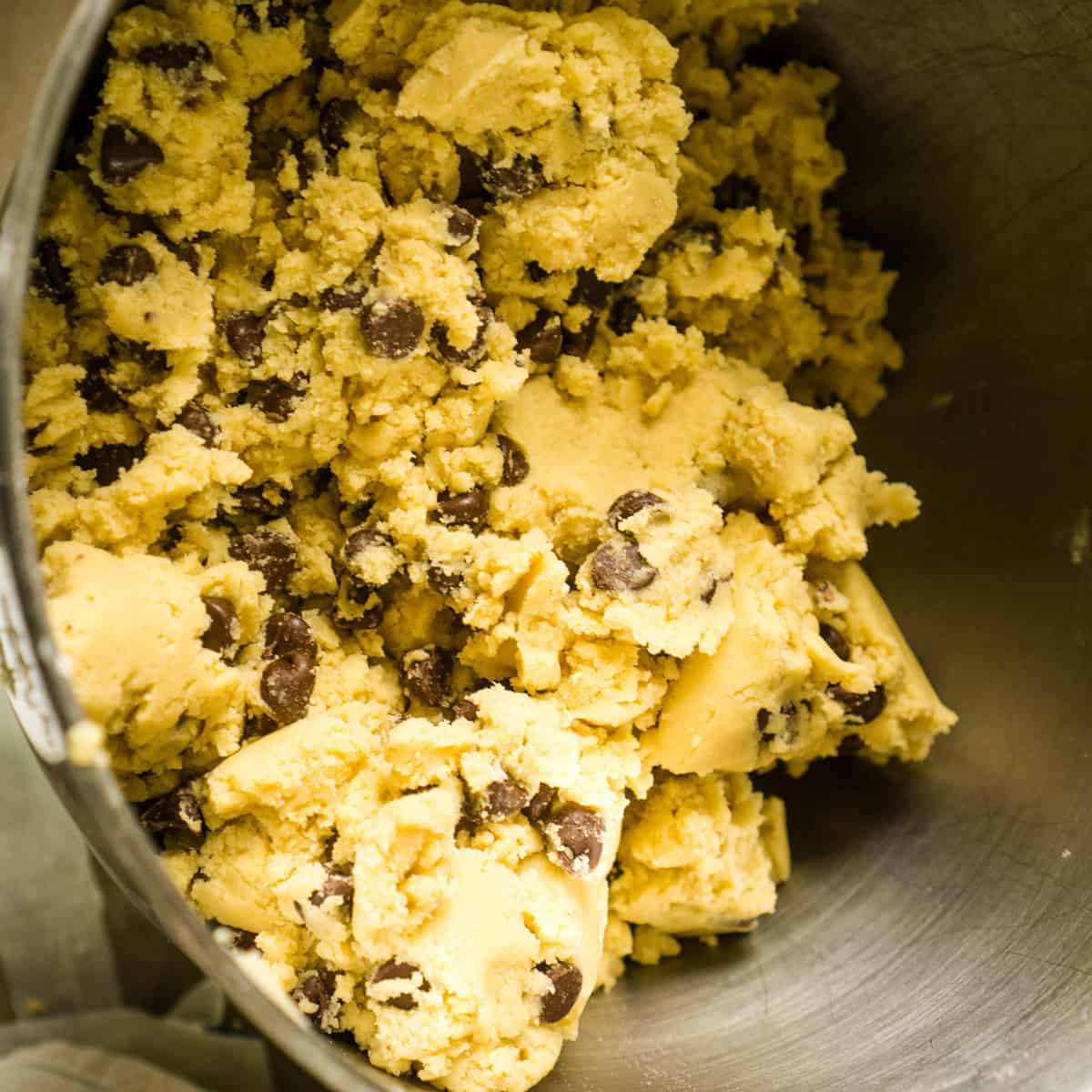 And now it comes time to scoop. I scoop these out into two-tablespoon sized portions, because the whole point is for them to be thick and soft. Don't press them down, they will flatten slightly as they bake.
I can usually fit about ten per baking sheet.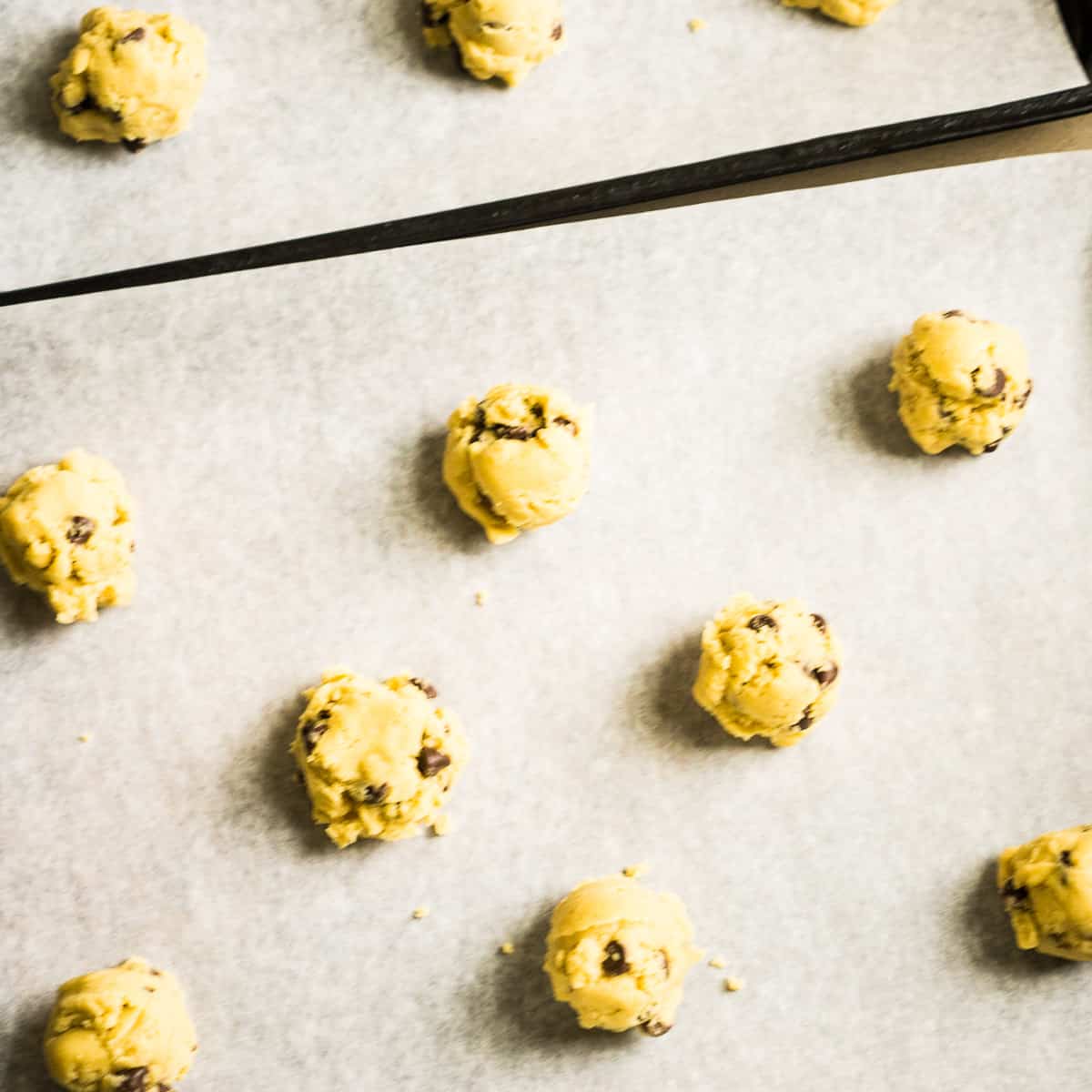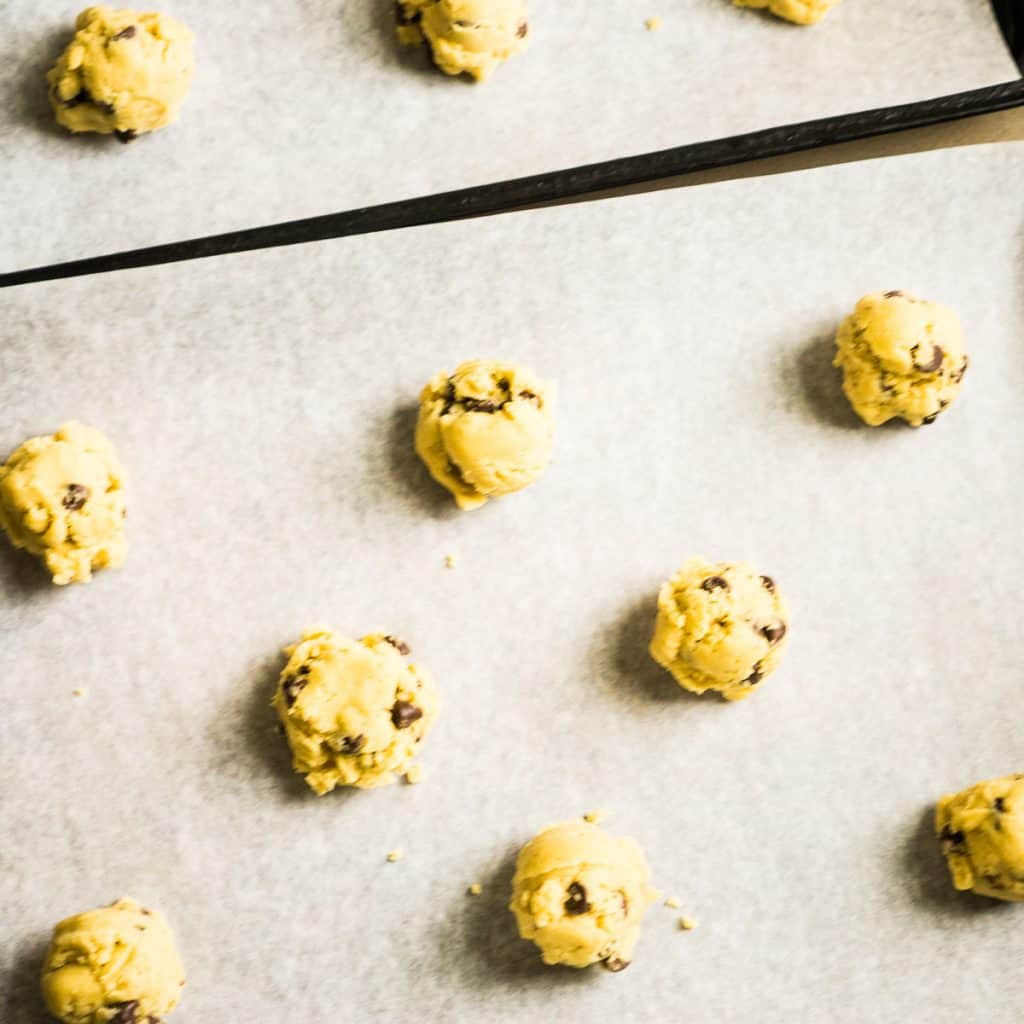 Bake for 12-14 minutes, switching your baking sheets halfway through, until the edges are slightly golden brown. Let them cool, and serve them to your happy little ones with a big glass of milk.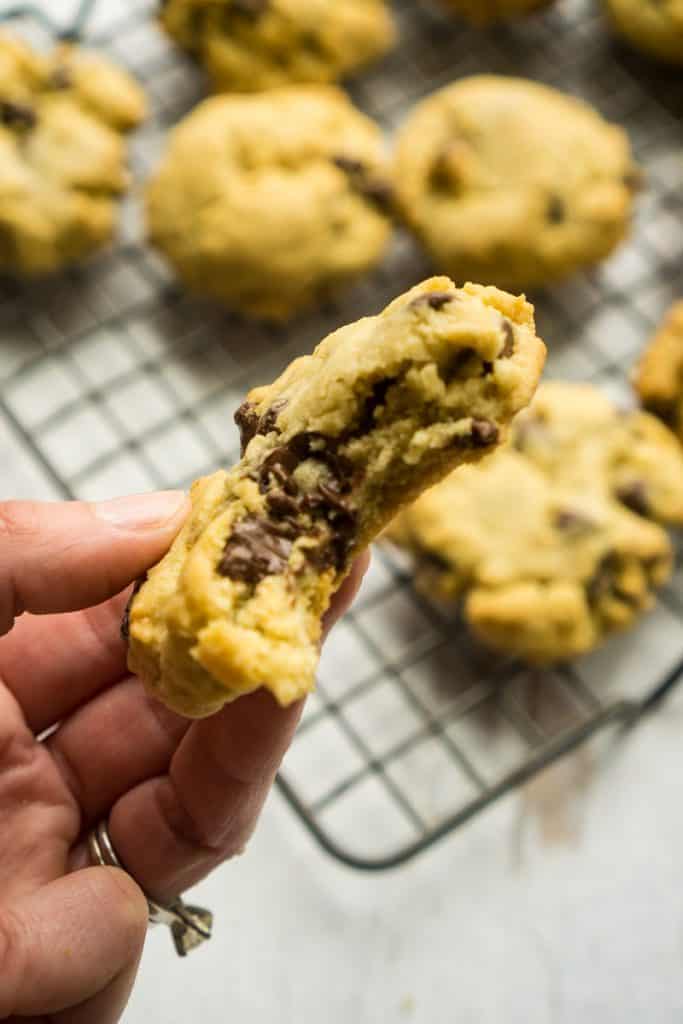 Here's the recipe!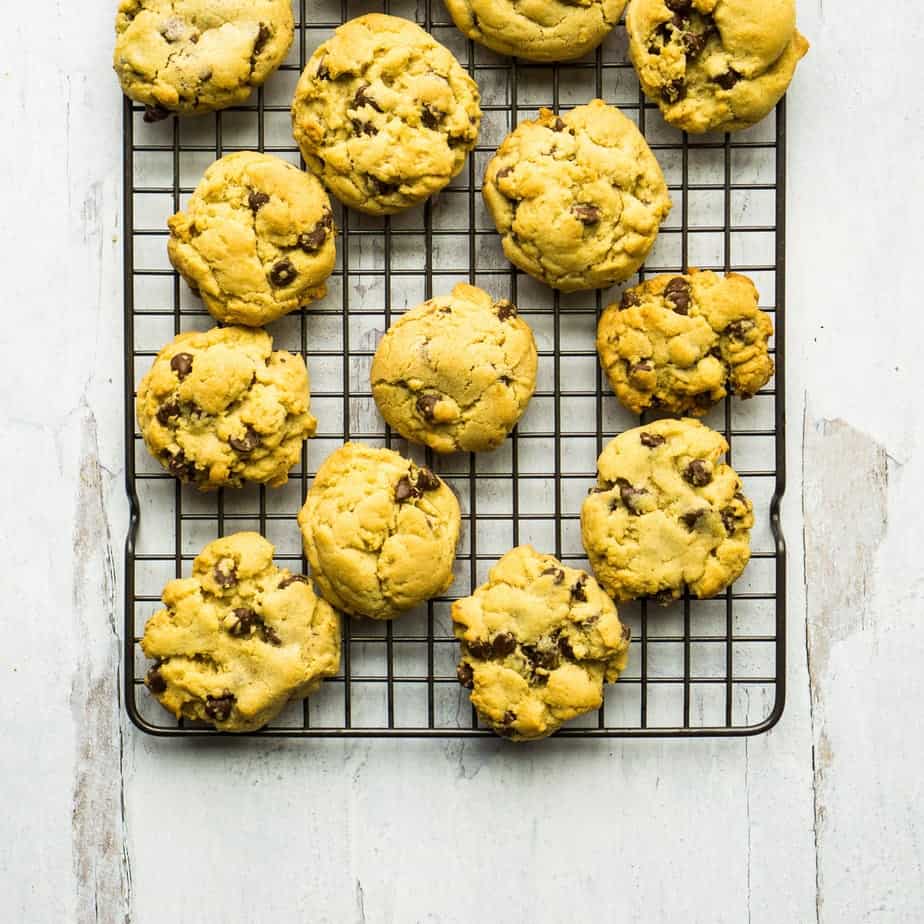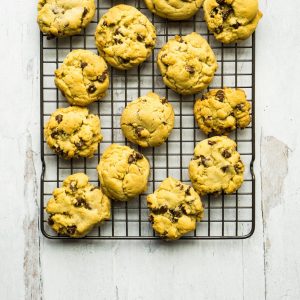 Maddie's Soft and Thick Chocolate Chip Cookies
Print Recipe
Soft and thick chocolate chip cookies that are soft and almost cake-like. Perfect for after school or to tuck in a lunch box.
Click here to grab a free mini-cookbook with my best seasonal recipes
Ingredients
1

cup

salted butter

softened (2 sticks)

3/4

cup

white granulated sugar

1 1/4

cups

packed brown sugar

2

large eggs

room temperature

1

teaspoon

vanilla extract

3 3/4

cups

all purpose flour

2

teaspoons

baking soda

1 1/4

teaspoons

baking powder

1/2

teaspoon

salt

2

cups

semisweet chocolate chips
Instructions
Preheat the oven to 350 degrees with two racks. Line two baking sheets with parchment paper or spray with non-stick cooking spray.

Cream the butter for 2 minutes until fluffy. Add the sugars and beat for 3-4 minutes more until light and fluffy, scraping down the sides as needed.

Add the eggs, one at a time, beating well after each addition. Add the vanilla and mix in well.

Mix the flour, baking soda, baking powder, and salt in a separate large mixing bowl. Add to the butter and sugar mixture 1 cup at a time, mixing slowly until just combined. Scrape down the sides of the bowl if necessary. The dough should be moist and hold together. If it is not, add a teaspoon or so of water. Add the chocolate chips and mix on the mixer's lowest setting or mix in by hand.

Scoop onto the prepared baking sheets in two tablespoon size. There is no need to flatten the dough, it will spread out somewhat as it bakes. You will be able to fit 10 cookies per baking sheet.

Bake for 12-14 minutes, until the edges are golden brown, switching the baking sheets halfway through. Allow to cool on a wire rack. Store at room temperature for up to 1 week or freeze up to 1 month.
Notes
Try adding 3/4 cup walnut or pecan pieces in with the chocolate chips
To freeze, drop dough balls onto a baking sheet, freeze for 1 hour until frozen solid, then drop into a freezer bag and store for 1 month in freezer. Bake directly from frozen, adding 1-2 minutes onto baking time.
Servings:
3
.5 dozen cookies
Want more drop cookies?
Happy baking!