Looking for the perfect Christmas crockpot recipes to make your holiday celebrations delicious and easy?
As the holiday season approaches, we all want impressive and beautiful. that bring warmth and joy to our tables. But the hustle and bustle can often leave us overwhelmed.
Enter the magic of the crockpot: a tool that provides all your dishes with minimal fuss.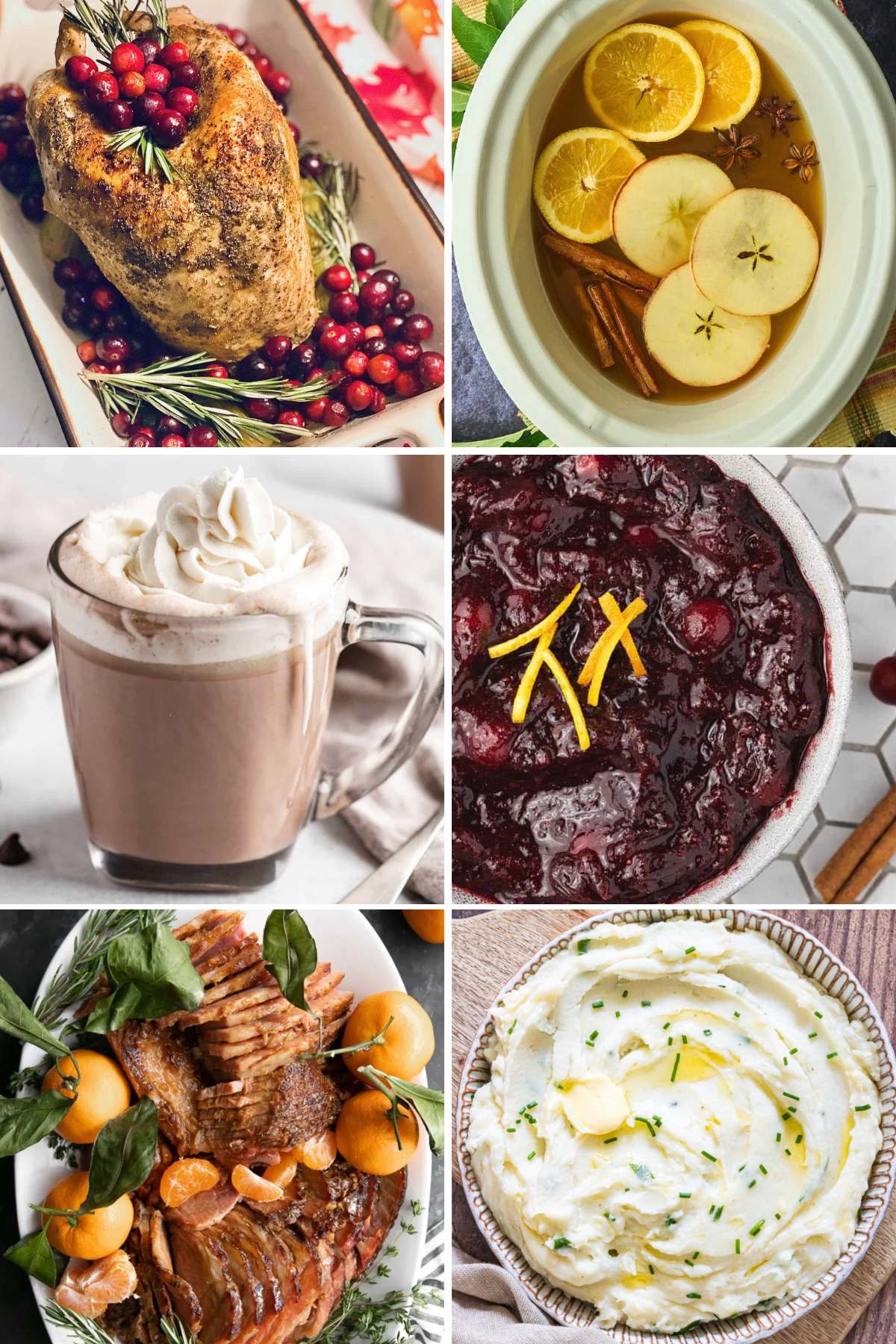 I hope you love this curated list of delightful recipes specially picked for your slow cooker this Christmas. They are all recipes I use and love… the best of the best.
Let your slow cooker do the heavy lifting this season!
Royalcraft Dual Slow Cooker, 3 in 1 Buffet Servers, Dips Crock Pot, Food Warmers for Parties, 2×1.25 Quarts Removable Oval Ceramic Pots Easy to Clean, 2-Year Guarantee Pfaltzgraff Winterberry Oval Vegetable Bowl, 1.5 quart, Assorted Crock Pot Slow Cooker Liners, 24 Liners (6 packs of 4 count)
Holiday Slow Cooker Tips and IDeas
Start Early: Begin your holiday dinner planning a few weeks in advance. This allows ample time to source ingredients, especially those that might be seasonal or in high demand.
Prep Ingredients the Night Befor Cut vegetables, measure out spices, and prep meats the evening prior. This streamlines the cooking process on the big day.
Use Liners for Easy Cleanup: Consider using slow cooker liners to make post-dinner cleanup a breeze.
Layer Ingredients Properly: Typically, root vegetables take longer to cook, so place them at the bottom of the cooker, closer to the heat.
Avoid Overcrowding:Ensure the slow cooker is not filled beyond three-quarters of its capacity to allow for even cooking.
Monitor Cooking Times: While the beauty of the crockpot is the set-and-forget nature, it's essential to know the ideal cooking times for dishes to avoid overcooking.
Use the 'Warm' Setting: After your dish has finished cooking, use the 'warm' setting to keep it at the perfect temperature without overcooking.
Maximize Space with Stackable Inserts: If preparing multiple dishes, consider stackable inserts which allow you to cook more than one item in the slow cooker at a time.
Plan for Dishes Outside the CrockpotWhile the slow cooker is invaluable, remember that some dishes might be better prepared using other methods. Plan your menu so that oven or stovetop dishes don't overlap with crockpot cooking times.
Garnish Before Serving: Slow-cooked dishes can sometimes look a bit muted. Freshen up the appearance and flavor with fresh herbs or a sprinkle of cheese right before serving.
Consider Multiple Slow Cookers: If you're an avid holiday host and find yourself often running out of space, it might be worth investing in a second (or third) crockpot, especially if they're of varying sizes.
Why would I want to use a crockpot for my Christmas meals?
Using a crockpot can save you time and effort. Once the ingredients are in, you can let the dish cook slowly without the need for constant attention, freeing you up to enjoy the festivities or prepare other parts of the meal.
How far in advance can I start my crockpot meal for Christmas?
It depends on the recipe. Some dishes, like mulled wine or apple cider, can be started just a few hours before serving. Heavier dishes like prime rib roast might need 6-8 hours. Always check the specific recipe for guidance
Is it safe to leave my crockpot on while attending Christmas church services or while I'm out?
Modern crockpots are designed to be safe for extended use. However, for peace of mind and safety, it's always a good idea to ensure the area around the crockpot is clear, and there's no risk of it being knocked over. If you're out for an extended period, it might be worth investing in a crockpot with a timer function.
More Christmas Recipe Ideas: