Super soft and super fluffy, these Hawaiian rolls will be your favorite way to make a sandwich from now on.
I know you want to ask if you really need the pineapple juice and the potato flakes. You do. You do. If you don't have them, just make some normal rolls.
For this bread recipe, they're a must.
Want some free Christmas printables? Click here to grab 'em
Ingredients
¼

cup

instant potato flakes

¾

cup

milk

½

cup

pineapple juice

2

tablespoons

vegetable oil

3

tablespoons

sugar

1

teaspoons

salt

3

cups

all-purpose flour

2½

teaspoons

instant yeast

1

egg

for brushing the top off the loaf
Instructions
Knead. Combine all ingredients in bread machine, stand mixer, or large bowl. Mix for a few minutes and check to make sure that dough is not too dry or too wet. It should be soft and smooth but still clear the sides of the bowl. Knead for at least 10 minutes until the dough is smooth and elastic. (If using bread machine, simply select the "dough" cycle and skip to step 4).

First rise. Shape dough into a ball and place in a clean, lightly oiled bowl. Cover with greased plastic wrap or damp tea towel and allow to rise in a warm place until doubled.

Shape. Remove dough from bowl and place on counter or cutting board. Divide into 16 equal pieces (it is easiest to divide in half, then quarters, etc.) and shape into rolls. Do not smash the top down, but pull from the bottom.

Second rise. Cover the rolls with greased plastic wrap and place in a warm place to rise for 45 minutes. The rolls should nearly double in size. Towards the end of the rising time, preheat the oven to 375℉ degrees with a rack in the center.

Bake. Bake for 20-25 minutes, until the rolls are very golden brown and internal temperature is 195-200 degrees. Allow to cool on a wire rack. Serve warm or room temperature.
Notes
Keep an eye on the rolls as they rise; they will rise much faster than a sandwich loaf.
Nutrition
Calories:
204
kcal
|
Carbohydrates:
36
g
|
Protein:
6
g
|
Fat:
4
g
|
Saturated Fat:
1
g
|
Polyunsaturated Fat:
1
g
|
Monounsaturated Fat:
2
g
|
Trans Fat:
0.002
g
|
Cholesterol:
19
mg
|
Sodium:
393
mg
|
Potassium:
135
mg
|
Fiber:
2
g
|
Sugar:
5
g
|
Vitamin A:
154
IU
|
Vitamin C:
2
mg
|
Calcium:
35
mg
|
Iron:
2
mg
Did you make this?
Let me know how it was! Please see below for serving ideas, storage instructions, and substitutions.
The key ingredients + supplies for this bread
Instant Potato Flakes: This ingredient helps give the rolls a soft and fluffy texture.
Pineapple Juice: The essence of Hawaii! It lends a unique sweet flavor that differentiates these rolls from any other.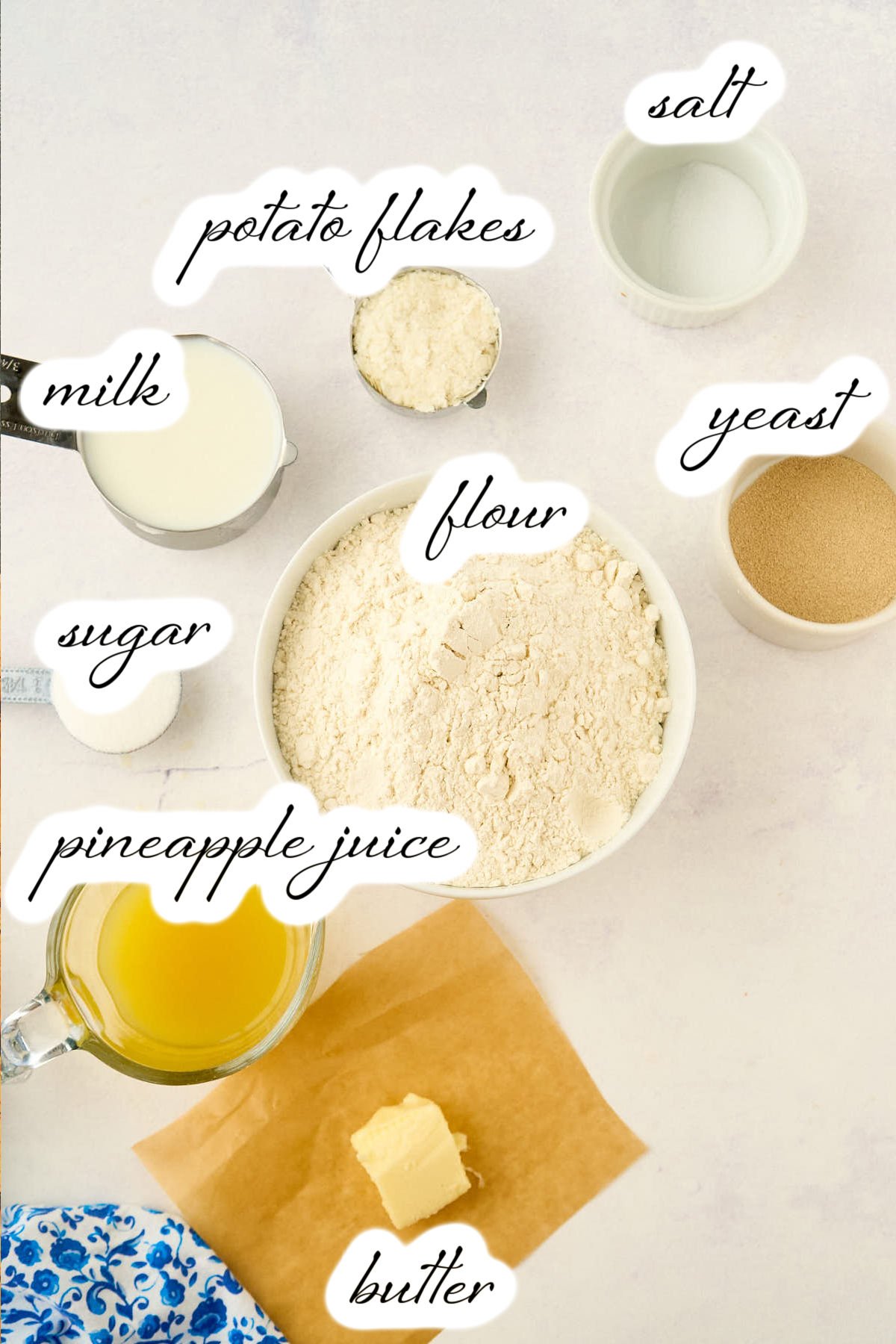 Stand Mixer or Bread Machine: For consistent kneading which is crucial for the texture of the rolls.
Thermometer: To check the internal temperature of the rolls, ensuring they're baked to perfection.
Wire Rack: Allows the rolls to cool evenly without becoming soggy at the bottom.
Dough Scraper: Helps in dividing and shaping the dough with precision.
Lightweight Tea Towel or Plastic Wrap: For covering the dough during the rising process, ensuring it doesn't dry out
OXO Good Grips Natural Pastry Brush | Natural Boar Bristles | Non-slip Grip | Dishwasher Safe | Ideal for Butter, Oil, and Baking DOWAN Mixing Bowls, Ceramic Mixing Bowls for Kitchen, Colorful Vibrant Nesting Bowls for Cooking, Baking, Prepping, Serving, Salad, Housewarming Gift, Microwave Dishwasher Safe, 3.7/2/1 Qt, Set of 3 Bosch Universal Plus Stand Mixer – Black 800 Watt, Black
If you have a heavy-duty mixer like the Bosch, you can easily double this recipe.
tips for successful bread
Rising Time: Hawaiian rolls rise faster than a typical sandwich loaf. So, be watchful during the rising phase. Overproofing can cause the rolls to deflate when baking.
Shaping the Rolls: While shaping, resist the urge to press down on the top. Instead, pull from the bottom to ensure the rolls retain their fluffy texture.
Temperature Check: Checking the internal temperature can be handy. Egg wash often makes things look brown before they are cooked inside. It should be around 195-200 degrees.
This is an easy dough to work with!
More soft rolls you'll ❤️
There's nothing like pulling a fluffy roll off a baking sheet. There are so many more you can make!
Enjoy!