A recipe you'll turn to again and again, this versatile sandwich loaf relies on a blend of white and whole wheat flour to create a perfectly light and soft honey wheat bread.
The perfect bread recipe for picky people 😊.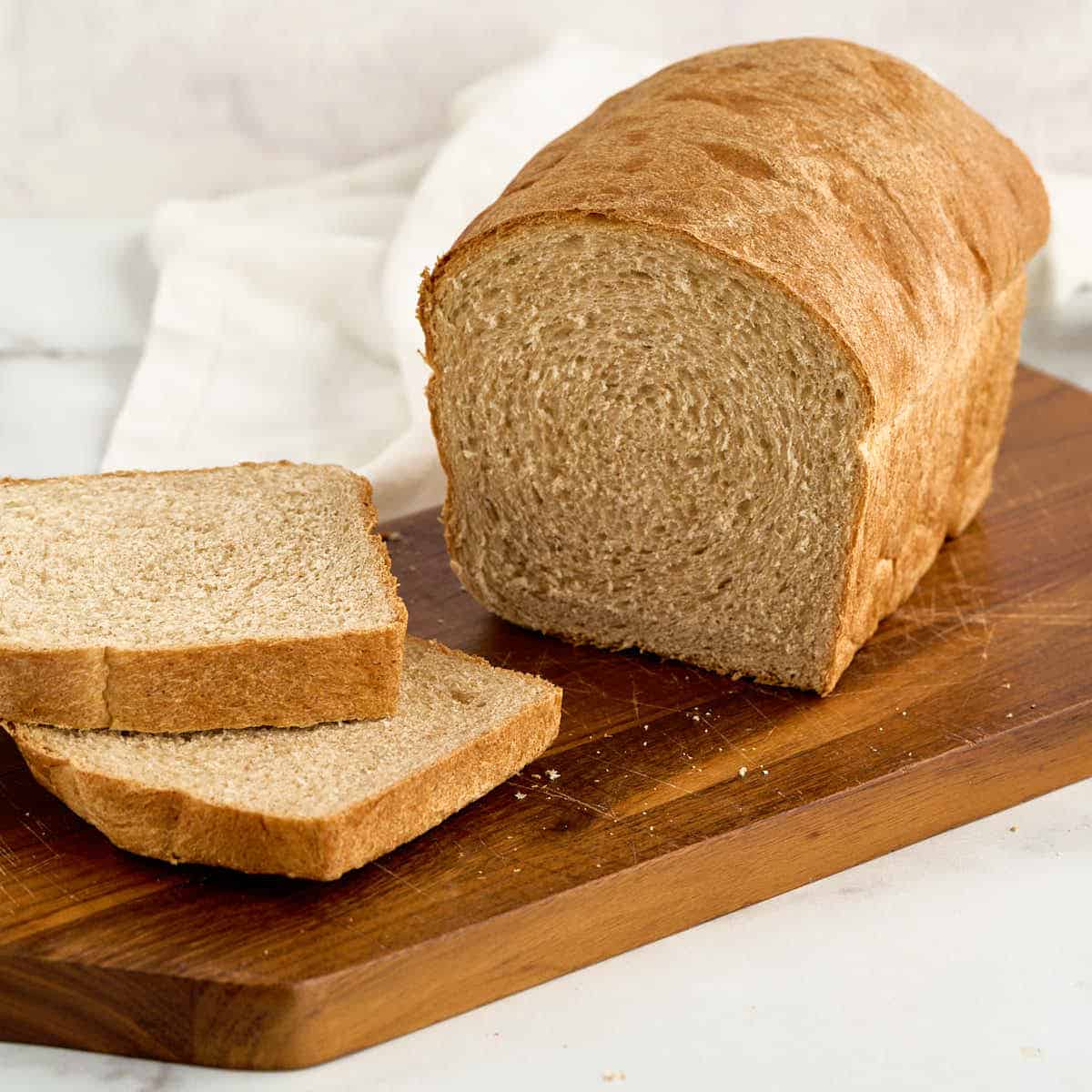 This bread combines the best of both worlds: light and fluffy white flour with hearty and flavorful flour. Honey makes any recipe feel just a bit more wholesome. We start baking this every fall when it's time to head back to school. It's perfect for a homemade sandwich.
Save
Saved!
Pin Recipe
Print Recipe
Rate Recipe
Want a free fall cookbook? Click here to grab a cookbook with 25+ of my best autumn recipes
Ingredients
1 ¾

cup

all-purpose flour

1

cup whole wheat flour

1

cup

lukewarm water

2

tablespoons

softened butter

2

tablespoons

honey

1 ¼

teaspoons

salt

2

teaspoons

instant or active dry yeast
Instructions
Mix the ingredients. Add all ingredients to the bowl of an electric stand mixer or a large mixing bowl. Combine until a dough forms that holds together and does not stick to the sides or bottom of the bowl. As the butter melts and is worked into the dough during kneading, it will make the dough more hydrated, so hold off on adding any more water now, even if it seems a bit dry.

Knead the dough. Knead for ten to fifteen minutes until it is smooth, soft, and reaches the windowpane stage (meaning that when the dough is stretched, a translucent area appears). If the dough is still dry after a minute or two of kneading, sprinkle on the water a teaspoon at a time. Different brands of whole wheat flour can absorb moisture differently, so you may need to adjust a little.

The first rise. Shape the dough gently into a ball and place it into a clean, lightly oiled bowl. Cover with a clean, damp tea towel and place into a warm place to rise. Let the dough rise for 60 minutes until it is puffy and has doubled in size.

Shape into a loaf. Spray the loaf pan with nonstick cooking spray. Gently stretch the dough into a rectangle. Use your loaf pan as your guide and make the short side of the rectangle the same length as the longer side of the loaf pan. The rectangle will be about 9 x 18 inches. Tuck in the corners and top of the dough. Think of the saying "shoulders in, head down." Keep rolling into a log. Tuck the ends under. Pinch the seams closed and place the loaf, seam side down, into a lightly oiled loaf pan.

Second rise. Cover with heavily greased plastic wrap and place in a warm place to rise again until the dough rises to one inch above the top of the loaf pan. The bread will rise very slightly as it bakes, so make sure you are happy with the height of the bread before you bake it. Towards the end of the rising time, preheat your oven to 350 degrees.

Bake. Bake at 350 for 45-50 minutes, until the loaf sounds hollow when tapped. If you have an instant-read thermometer, check the temperature. Whole wheat loaves can be difficult to eyeball since they are darker, to begin with. The finished bread should be between 195-200 degrees. Remove the bread from the loaf pan and allow it to cool fully on a wire rack
Notes
Having trouble? Read my best bread tips for help.
This bread freezes very well! Fully cool, slice, and put in a bread bag to pop out individual slices for toasting.
Want to increase the whole wheat flour? You can! Just substitute more of the all-purpose flour for whole wheat. The result won't be quite as light.
Nutrition
Calories:
70
kcal
|
Carbohydrates:
13
g
|
Protein:
1
g
|
Fat:
2
g
|
Saturated Fat:
1
g
|
Polyunsaturated Fat:
1
g
|
Monounsaturated Fat:
1
g
|
Sodium:
199
mg
|
Potassium:
17
mg
|
Fiber:
1
g
|
Sugar:
2
g
|
Vitamin A:
63
IU
|
Vitamin C:
1
mg
|
Calcium:
3
mg
|
Iron:
1
mg
Did you make this?
Let me know how it was! Please see below for serving ideas, storage instructions, and substitutions.
❤️ Why you'll love this recipe
Homemade bread is superior. Homemade is a beautiful thing to make with your family. Kids love making it, and with this recipe, they'll love eating it too. If they're old enough to help with the kneading-which is messy but fun-they'll leave feeling like they've accomplished something special. The best part is that homemade bread tastes better than any other kind of store-bought sandwich or toast–it has an incredibly fresh flavor and texture that can't be beaten. Here are some tips on making your own soft honey wheat sandwich bread at home.
🧂 Ingredients
This is an overview of the ingredients. You'll find the full measurements and instructions in the printable recipe at the bottom of the page.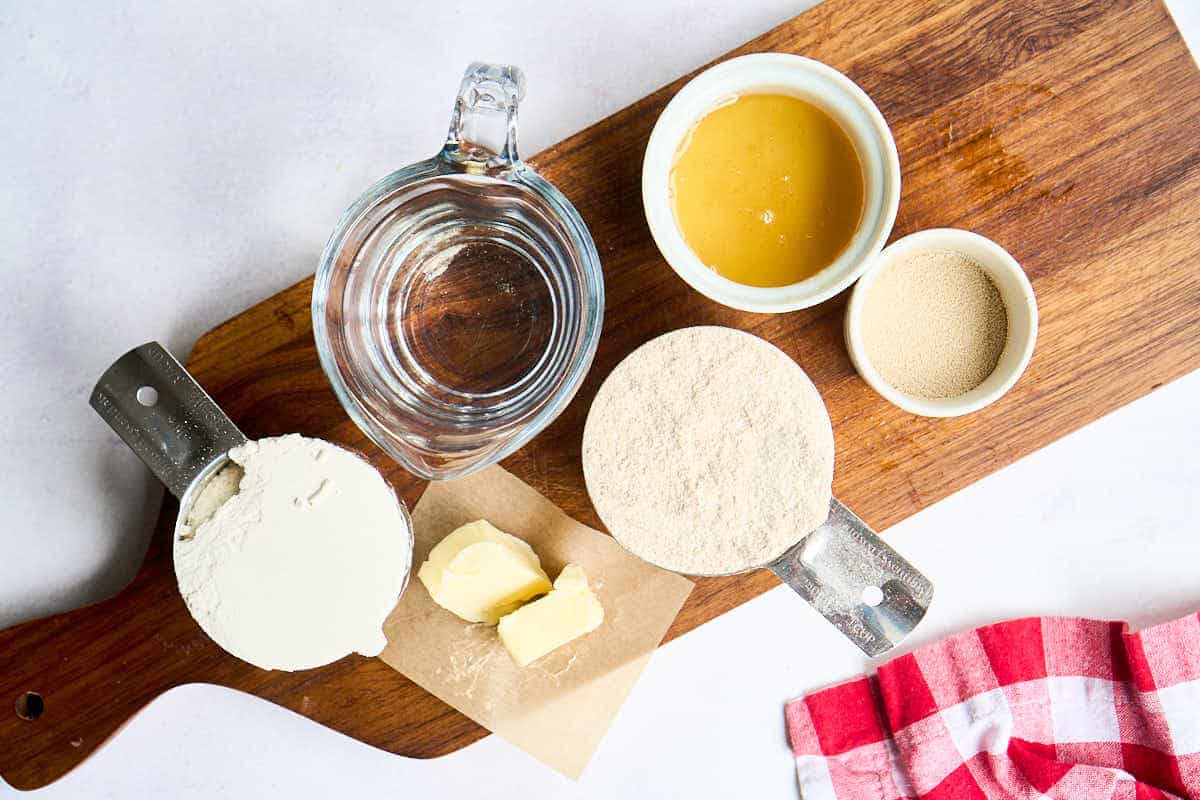 You'll need the following for this honey wheat bread:
all-purpose flour
whole wheat flour
lukewarm water
softened butter
honey
salt
loaf pan
medium-sized bowl
🍴Instructions
Step One: knead the dough
Knead the dough with both hands by pushing it away from you, then folding it back towards you. Do this repeatedly for about 8-10 minutes or until the dough is elastic and smooth and no longer sticks to your hands. You will notice the dough change from rough to smooth as you knead.
Step Two: shape your loaf

Shape the dough into a loaf by lightly stretching it in a 9 x 18-inch rectangle shape. Fold the corners of the dough together and roll it back up like a log with seams on one side, then put it seam-side down into an oiled loaf pan.
Step three: bake
When it's done baking, the top of the loaf will be golden brown and firm. If you tap on the side, there should be a "thud" sound, like the loaf is hollow inside.
Of course, this advice is not an exact science. For the best results, get an instant-read thermometer and start checking the internal temperature of the bread after 30 minutes of baking. It's done when it's 195-200 degrees in the center.
If you're used to baking with only white flour, the darker color of this bread can be tricky to gauge.
🥫 Storage instructions
If you're not going to eat the honey wheat bread within a day or two of baking it, you'll want to store it in the fridge. Place the bread in a zip-top bag and press out as much air as possible before sealing. The bread will keep in the fridge for up to a week.
🔍 FAQs
Can I make this bread with gluten-free flour?
Unfortunately, this recipe does not work well with gluten-free flour.
Can I make this bread with olive oil instead of butter?
Yes, you can substitute olive oil for the butter in this recipe.
Can I add other ingredients to the recipe?
Yes, you can add other ingredients to the recipe, such as nuts or dried fruit.
👩🏻‍🍳 Expert tips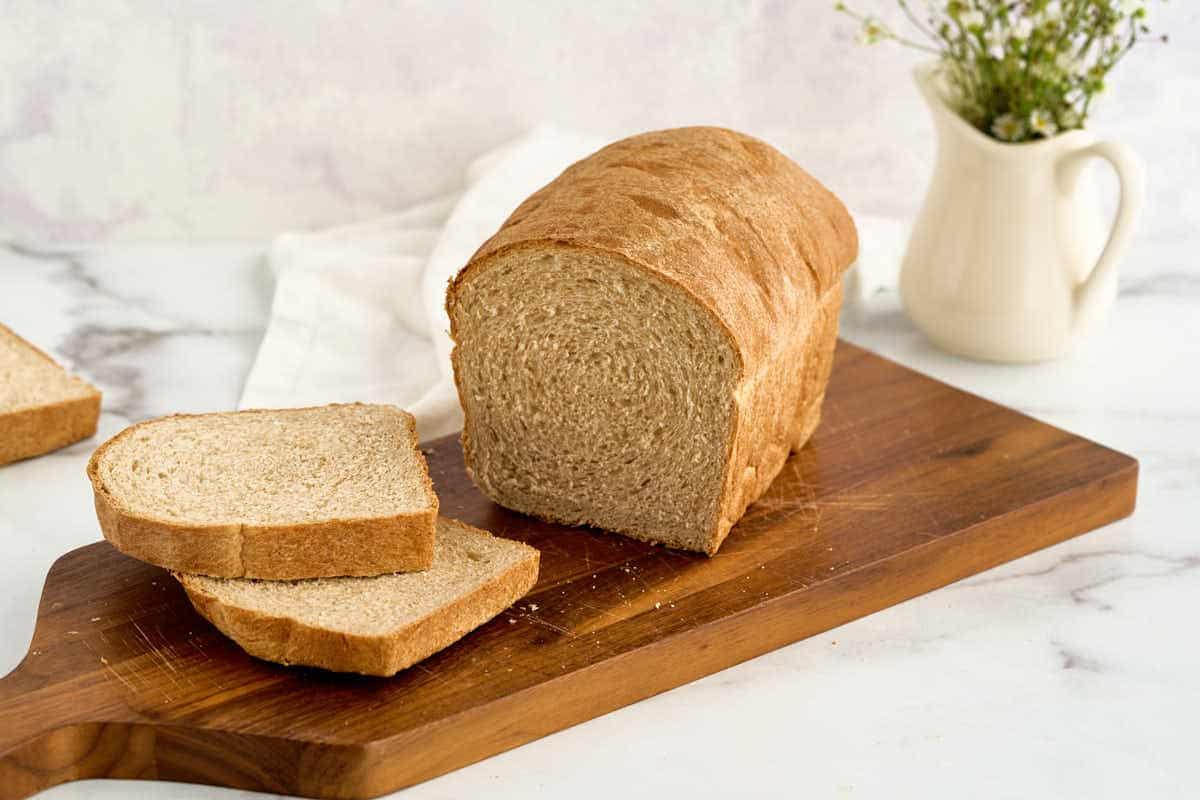 Before you mix up your dough, make sure your ingredients are at room temperature. Hard butter will have a tough time kneading into the dough.
Your rise times will be longer if it's cold or if your house is a little chilly. You can also turn on the oven for about 5 minutes at 350 degrees. Turn it off, and you'll have a nice cozy place for your dough to rise.
Don't cover your rising loaf with a tea towel; you don't want it to stick. Greased plastic wrap is best.
📘 Related Recipes
Grab your pretty recipe printable
Click here or on the image below to get this pretty, vintage-inspired recipe to tuck in your recipe binder. It's a free, instant download.