Moist, sweet, giant muffins loaded with blueberries and topped with the best cinnamon streusel topping ever.
Who wouldn't want to start their day with these giant, tender blueberry muffins, bursting with juicy berries and topped with an irresistible cinnamon streusel that's got just the right amount of crunch?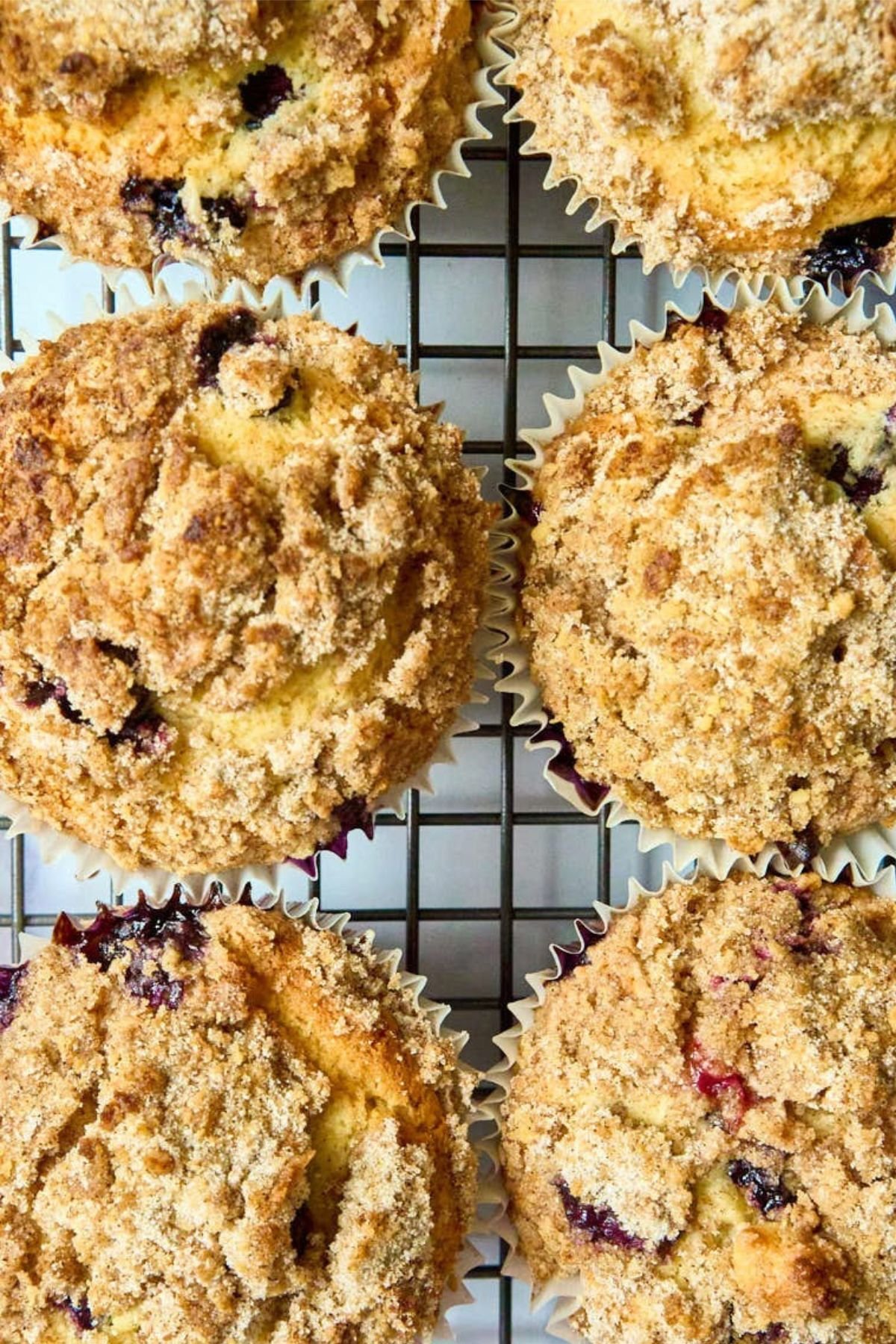 ❤️ Why you'll love this recipe
Super delicious. These muffins are packed with the sweet, tangy punch of blueberries, perfectly balanced by a heavenly dusting of cinnamon sugar crumb topping. It's a taste sensation that your taste buds won't forget in a hurry.
Easy Peasy: You don't need to be a whizz in the kitchen to nail this recipe. With straightforward stepsand everyday ingredients, you'll be churning out bakery-worthy muffins before you know it.
Moist and Tender: Thanks to the oil in the batter, these muffins turn out super moist and tender every single time. Say goodbye to dry, crumbly muffins!
🧂 Ingredients
This is an overview of the ingredients. You'll find the full measurements and instructions in the printable recipe at the bottom of the page.
You'll need the following for this morning treat:
For the Muffin Batter:
Vegetable oil
Milk
Egg
All-purpose flour
White sugar
Baking powder
Salt
Blueberries
For the Streusel Topping:
All-purpose flour
Butter (cubed)
White sugar
Cinnamon
🍴Instructions
Step One: make the batter
Start off by preheating your oven to 400 degrees. This will give it enough time to get hot while you're mixing up your ingredients. And don't forget to position the rack in the center for even baking. Grab your muffin tin and line 'em up with those cute cupcake liners you've got stashed away.
Time to make your muffin batter. Get two bowls. In the first one, combine your wet ingredients – that's your vegetable oil, milk, and egg. Give it a nice whisk until it's all blended together. In the second bowl, it's time for your dry ingredients – flour, sugar, salt, and baking powder. Now, pour the wet mixture into the dry one and stir gently until it's just combined. You don't want to overmix it, or your muffins might turn out tough. Now for the star of the show – fold in those plump, juicy blueberries.
Step Two: make the topping
Cube up the butter and toss it in a medium mixing bowl with your flour. Now, grab two knives or a pastry blender, and cut that butter into the flour until it looks like tiny peas. Stir in your sugar and cinnamon, and voila! Your mouthwateringly good streusel topping is ready.
Step three: assemble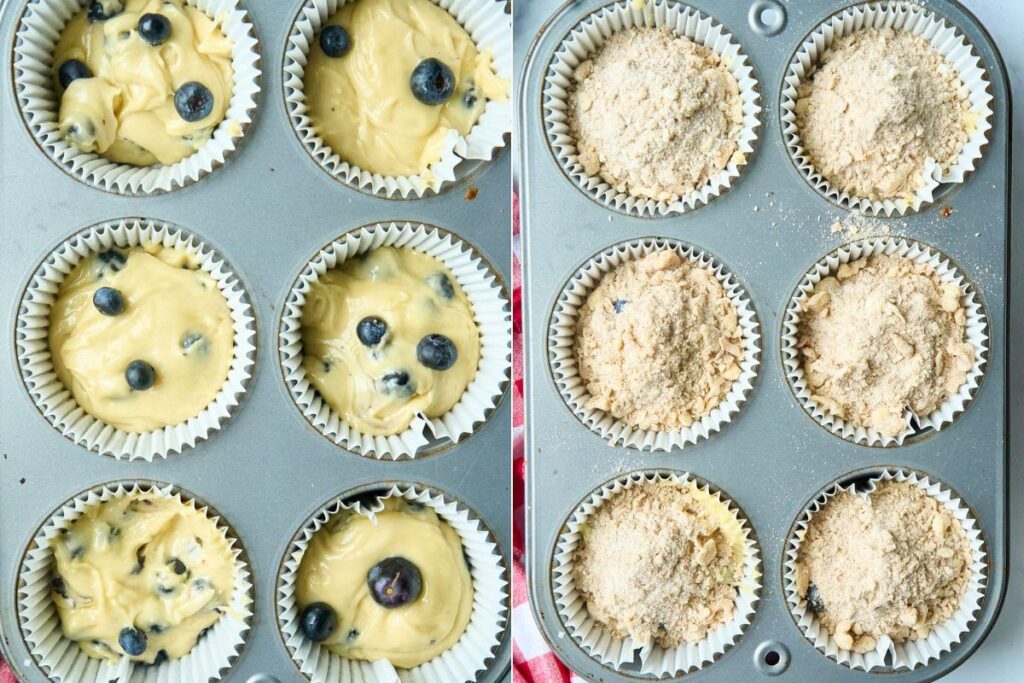 Take a scoop of your batter and fill each muffin tin. You're aiming for about 2/3 full to give them room to rise. Now, sprinkle that awesome streusel topping equally over each muffin.
Step Four: bake!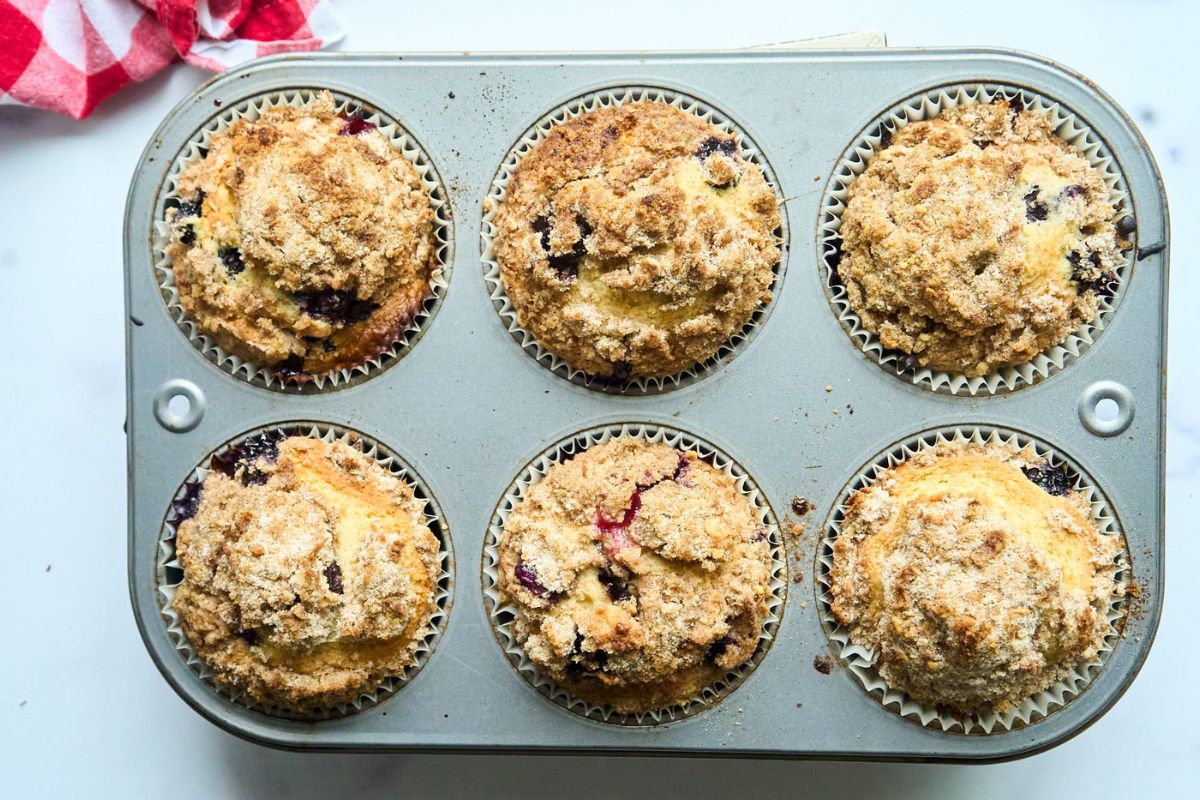 Bake for about 25-30 minutes.You'll know they're done when a toothpick inserted into the center comes out clean or with just a few crumbs clinging on. Once they're done, take them out of the oven and transfer them to a wire rack to cool down a bit.
🥫 Storage instructions
Now, if by some miracle you haven't gobbled up all these yummy muffins right away, here's how you can store them:
Counter Storage: Once your muffins have cooled down completely, you can store them at room temperature. Just pop them into an airtight container or a Ziploc bag. They should keep for about 1-2 days. You might want to poke a few small holes in the bag. This lets out the excess moisture and keeps the topping from getting soggy.
Freezer Friends: Blueberry muffins freeze really well! Once they're cool, wrap each muffin individually in plastic wrap, then put all of them in a freezer bag or airtight container. They can last for up to 3 months in the freezer. When you're ready to enjoy one, take it out and let it thaw at room temperature, or defrost it in the microwave.
🔍 FAQs
Can I use frozen blueberries instead of fresh?
Absolutely! Frozen blueberries work just as well. No need to thaw them either – just toss them in frozen to avoid a blue batter situation.
My muffins always come out tough. What am I doing wrong?
You're probably overmixing the batter. It's tempting to get rid of all the lumps, but a light hand is key here. Mix just until the wet and dry ingredients are combined, and you'll be golden!
I'm not a fan of cinnamon. Can I leave it out?
Of course! The cinnamon adds a nice warmth to the topping, but if it's not your thing, feel free to leave it out. Your muffins will still be delicious, promise!
👩🏻‍🍳 Expert tips
Don't Overmix: This one's a biggie. When you're combining your wet and dry ingredients, mix just until they're combined. Overmixing can lead to tough muffins, and nobody wants that!
Fresh or Frozen: Both fresh and frozen blueberries work in this recipe, so use what you have on hand. If you're using frozen, toss them into the batter frozen to avoid turning your batter blue.
Room Temperature Ingredients: Try to have your wet ingredients (like the egg and milk) at room temperature before you start. This helps them combine more evenly with the dry ingredients.
Check for Doneness: All ovens are different, so start checking your muffins a little before the suggested time. A toothpick inserted in the center should come out clean or with just a few crumbs.
Cooling Time: Let your muffins cool in the pan for about 5 minutes, then move them to a wire rack to finish cooling. This will prevent them from becoming soggy.
📘 Related Recipes
🍽 Serve it with
Fruit Salad: A vibrant fruit salad is a great way to balance out the sweetness of the muffins. Mix up your favorite fruits, maybe even toss in a bit of fresh mint for a zingy touch.
Scrambled Eggs: Fluffy scrambled eggs make a hearty and protein-packed companion to these muffins.
Coffee or Tea: A hot cup of coffee or tea is a must for a cozy morning treat. Maybe even a latte or a chai if you're feeling fancy.
Cheese and Cold Cuts: If you're going for a more brunch-y vibe, a selection of cheeses and cold cuts can complement the muffins beautifully.
📖 Here's the recipe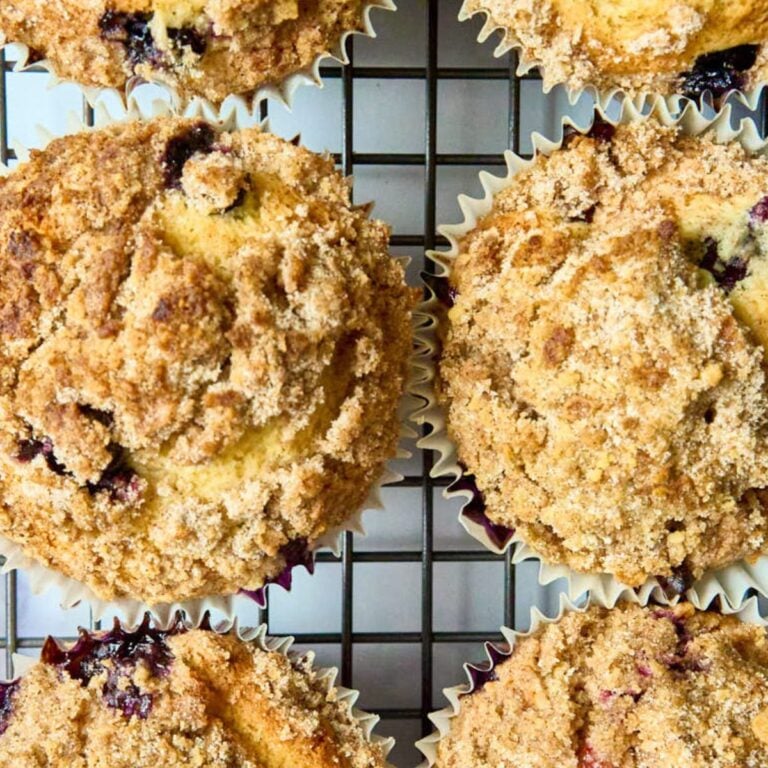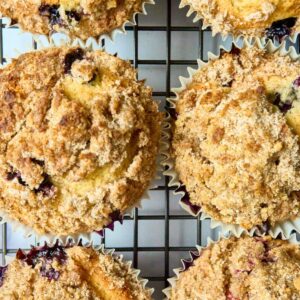 Jumbo Blueberry Muffins (Cinnamon Sugar Crumb Topping)
Print Recipe
Moist, sweet, giant muffins loaded with blueberries and topped with the best cinnamon streusel topping ever.
Click here to grab a free seasonal e-cookbook!
Ingredients
Muffin Batter
⅓

cup

vegetable oil

⅓

cup

milk

1

egg

1½

cups

all purpose flour

¾

cup

white sugar

2

teaspoons

baking powder

½

teaspoon

salt

1½-2

cups

blueberries
Streusel Topping
⅓

cup

all-purpose flour

¼

cup

butter cubed

½

cup

white sugar

1½

teaspoons

cinnamon
Instructions
Prep. Preheat the oven to 400 degrees with the rack in the center. Line a muffin tin with cupcake liners.

Make batter. Combine the wet ingredients (melted butter, egg, and milk in one bowl. In a separate bowl, combine the dry ingredients (flour, sugar, salt, baking powder). Gently mix them together, stirring until just combined. Fold in the blueberries.

Make streusel topping. Cut the butter into the flour in a medium mixing bowl, using two knives or a pastry blender, until it resembles small peas. Stir in the sugar and cinnamon.

Assemble. Scoop the batter into the prepared muffin tins. Equally distribute the topping on top of the muffin batter.

Bake. Bake for 25-30 minutes (20-25 minutes for regular-sized muffins). Remove from oven when a toothpick served into the center comes out clean or with a few crumbs. Remove to a wire rack to cool. Serve warm or at room temperature.
Notes
You can use melted butter instead of oil, but I find oil easier to work with and yields a moister muffin.
You can also make these into 1 dozen regular-sized muffins. You won't need to alter the batter or topping in any way, but reduce the baking time to about 20 minutes.
Nutrition
Calories:
408
kcal
|
Carbohydrates:
77
g
|
Protein:
6
g
|
Fat:
9
g
|
Saturated Fat:
5
g
|
Polyunsaturated Fat:
1
g
|
Monounsaturated Fat:
2
g
|
Trans Fat:
0.3
g
|
Cholesterol:
49
mg
|
Sodium:
272
mg
|
Potassium:
105
mg
|
Fiber:
2
g
|
Sugar:
46
g
|
Vitamin A:
319
IU
|
Vitamin C:
4
mg
|
Calcium:
37
mg
|
Iron:
2
mg
Did you make this recipe?
If you loved it, please leave a review!