An easy melt and pour soap recipe with an invigorating twist: loofah in the center helps exfoliate your skin and a citrusy fragrance leaves you ready to seize the day.
This homemade loofah soap is an easy way to get into soapmaking. All you need to do is melt and pour! The finished bar is exfoliating and refreshing. Feel free to add your favorite colors and fragrances to make it your own.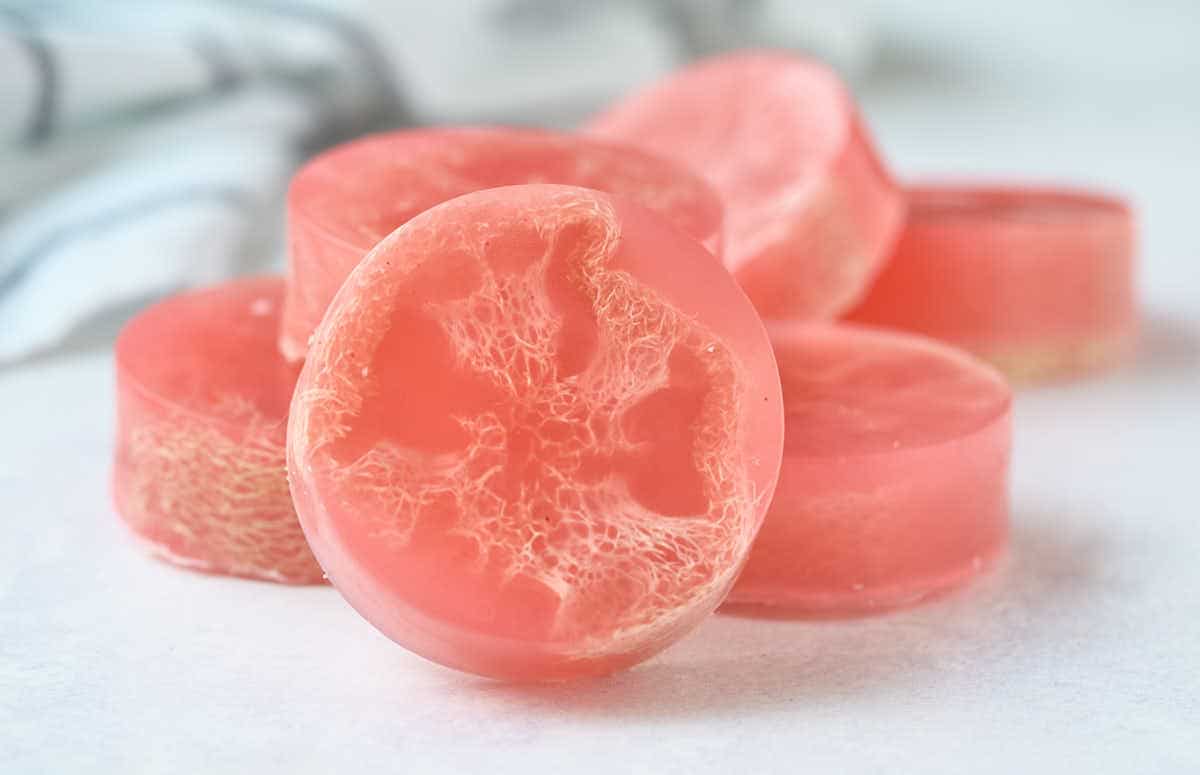 Why you'll love this recipe
If you aren't quite ready for cold-process soap making, melt and pour is a great option. You can all the fun of mixing and customizing a recipe, but this type of soapmaking is lye-free and easy.
You can find a great overview of melt and pour soapmaking as well as using pre-made soaps, in this article.
This loofah soap recipe has an exfoliating loofah sponge in the middle, which makes it perfect for travel since there's no need to pack a washcloth or scrub brush. If you're looking for something extra refreshing in the morning, this soap is perfect.
Pink colorant and a bright citrusy fragrance help make it even more cheerful.
Choosing Ingredients:
Customizing your loofah soap
Of course, you can pick any fragrance and color you like! I loved the bright, fresh combination of pink and a grapefruit fragrance. But a sweet or floral fragrance would be great with this recipe as well.
If you don't want to add any color, the soap will still be pretty with just the clear melt and pour base.
Tips for Success:
Melt and pour soap needs to cool at last 4 hours before being removed from the mold. After it is hardened, it doesn't need to cure the way cold process soap does, but it will last longer if you wait a week before using it.
Sometimes the loofah slices will be larger than your soap mold. You can cut them down to fit easily, either by cutting them in half or trimming them into a smaller circle.
Be sure not to overheat the soap when you are melting it! Heat it in bursts, stirring in between. If the soap gets too hot it will become hard and rubbery and you won't even be able to mix things in.
If you make soap regularly, you'll want a separate spatula and measuring cups. At the very least, be sure to soak the tools you used in a solution of vinegar and water to remove any lingering fragrance.
More lye-free bath and body projects
Recipe
Easy Loofah Soap Recipe
Print Recipe
An easy melt and pour soap recipe with an invigorating twist: loofah in the center helps exfoliate your skin and a citrusy fragrance leaves you ready to seize the day.
Click here to grab a free Christmas cookie and candy ebook + holiday planner printables!
Equipment
Microwave safe mixing bowl or large measuring cup

Spatula

Individual cavity soap mold (round is best)
Ingredients
2

pounds

clear melt and pour soap base

8-12

loofah slices

2

tablespoons

fragrance oil

such as grapefruit

1/2

teaspoon

colorant

1

teaspoon

rubbing alcohol

(if using powdered colorant)
Instructions
Prepare the mold and loofah slices. Place the loofah pieces into each cavity of the soap mold, cutting into smaller pieces if necessary. It's best to do this before preparing the soap so that it doesn't begin to cool as you get everything ready.

Cut the soap base into chunks. Using a sharp knive, chop up. the melt and pour base. This is just to make the melting process faster, so there's no need to be precise.

Melt the soap base. Place the soap pieces into a microwave safe container such as a large Pyrex measuring cup. Microwave in 30 second intervals until it is completely melted. (The soap will be very hot.)

Add the color and fragrance. If you are using powdered colorant such as mica, mix it into the rubbing alcohol to help it disperse better. (If using liquid color, just add directly to the melted soap.). Mix in the fragrance and stir well with a spatula.

Pour the batter into the molds. Pour the soap batter over the loofah sponges. If they stick out a bit on one side, that's okay. You can use a toothpick to hold down the loofah as you pour if you want it fully covered.

Allow to harden at least 4 hours. Let the soap cool for 4-8 hours, then remove from the molds.
Notes
For this soap, I used a pink mica from Nurture Soap and Energy Fragrance from Brambleberry.
The loofah will seem very rough at first but will quickly soften after the first use.
I hope you enjoy this easy, beginner-friendly soap recipe!