The perfect weekend breakfast, these sourdough chocolate chip waffles combine a delightful crispy exterior and a fluffy interior with lots of chocolate chips and all your favorite toppings.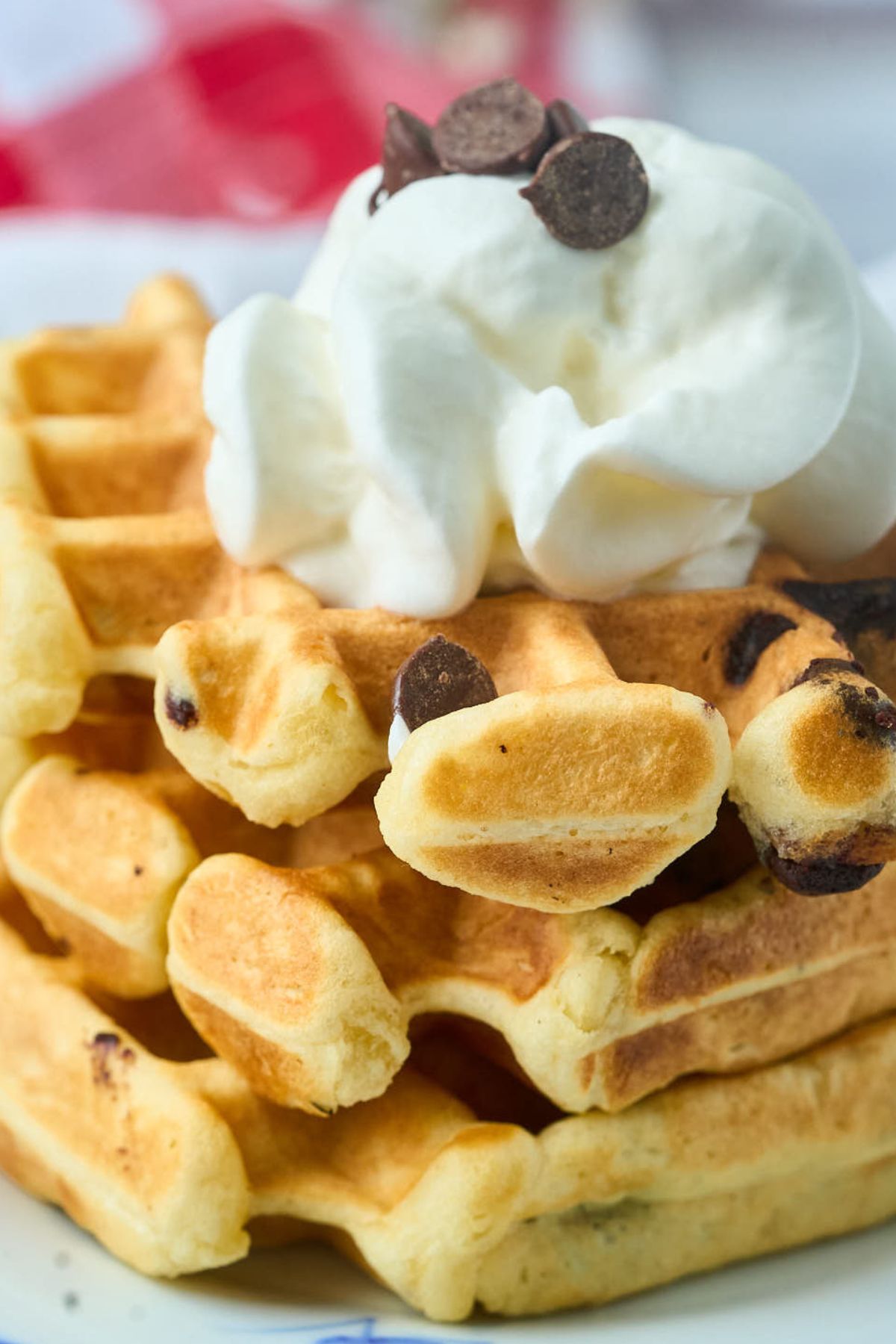 ❤️ Why you'll love this recipe
Super delicious: The combination of sourdough and chocolate chips creates a perfect balance of tangy and sweet flavors, making these waffles a hit for all ages. (And no, there is no sour taste.)
Easy to make: Just mix and pour.
Customizable toppings: These waffles can be served with a variety of toppings, like syrup, butter, whipped cream, or fruit, allowing everyone to enjoy their waffles just the way they like them.
Freezer-friendly: Make a big batch of these waffles, and you'll have a quick and tasty breakfast option ready to go in the toaster any time you need it.
🧂 Ingredients
This is an overview of the ingredients. You'll find the full measurements and instructions in the printable recipe at the bottom of the page.
You'll need the following for this sourdough discard recipe:
all-purpose flour
granulated sugar
baking powder
salt
milk
eggs
melted butter
sourdough starter (discard or unfed)
chocolate chips or more
🥣 Equipment
waffle iron
large mixing bowl
🍴Instructions
Step One: wet and dry ingredients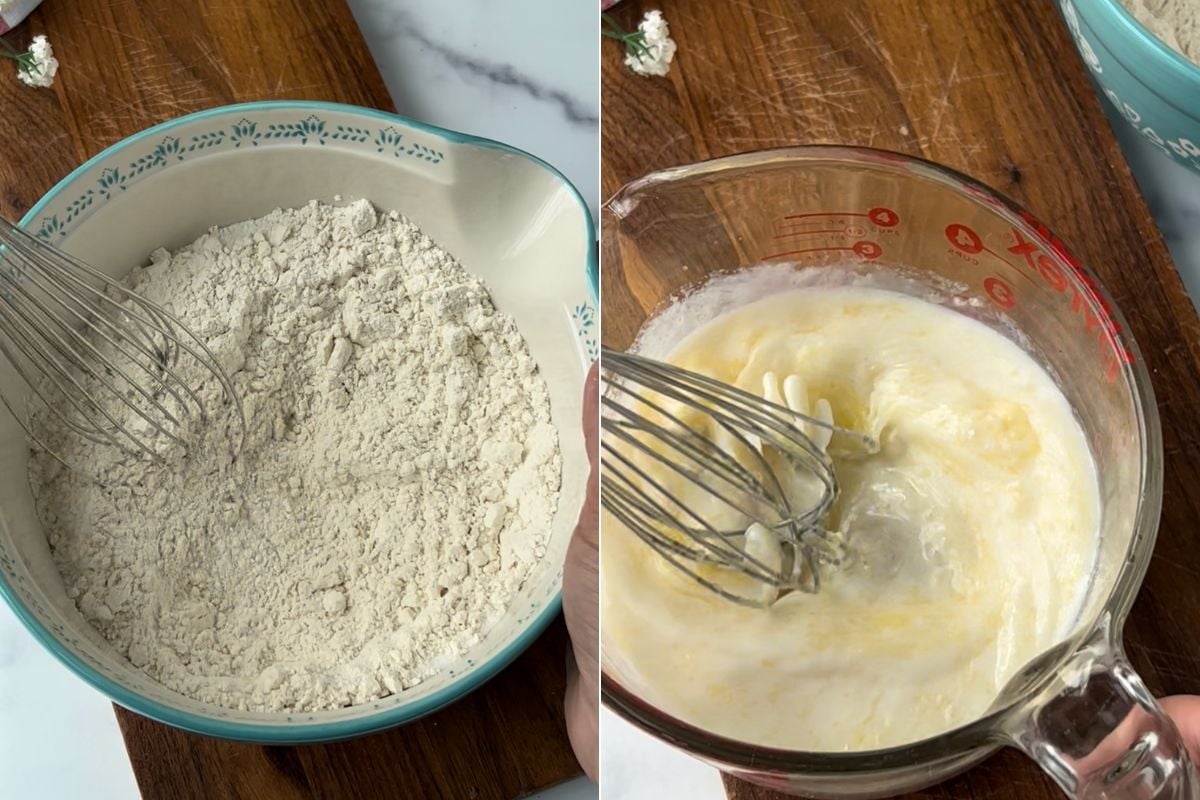 Plug in your waffle iron and preheat it according to the manufacturer's instructions. Make sure it's hot and ready for the batter by the time you're done mixing the ingredients. Lightly spray the waffle iron with non-stick cooking spray to ensure easy waffle removal.
In a large mixing bowl, add 2 cups of all-purpose flour, 2 tablespoons of sugar, 2 teaspoons of baking powder, and ¼ teaspoon of salt. Stir the dry ingredients until thoroughly combined, ensuring an even distribution of the leavening agents.
In a separate, medium-sized bowl, whisk together 2 eggs, ½ cup of sourdough starter, ⅓ cup of melted butter, and ¼ cup of milk.
Step Two: finish the batter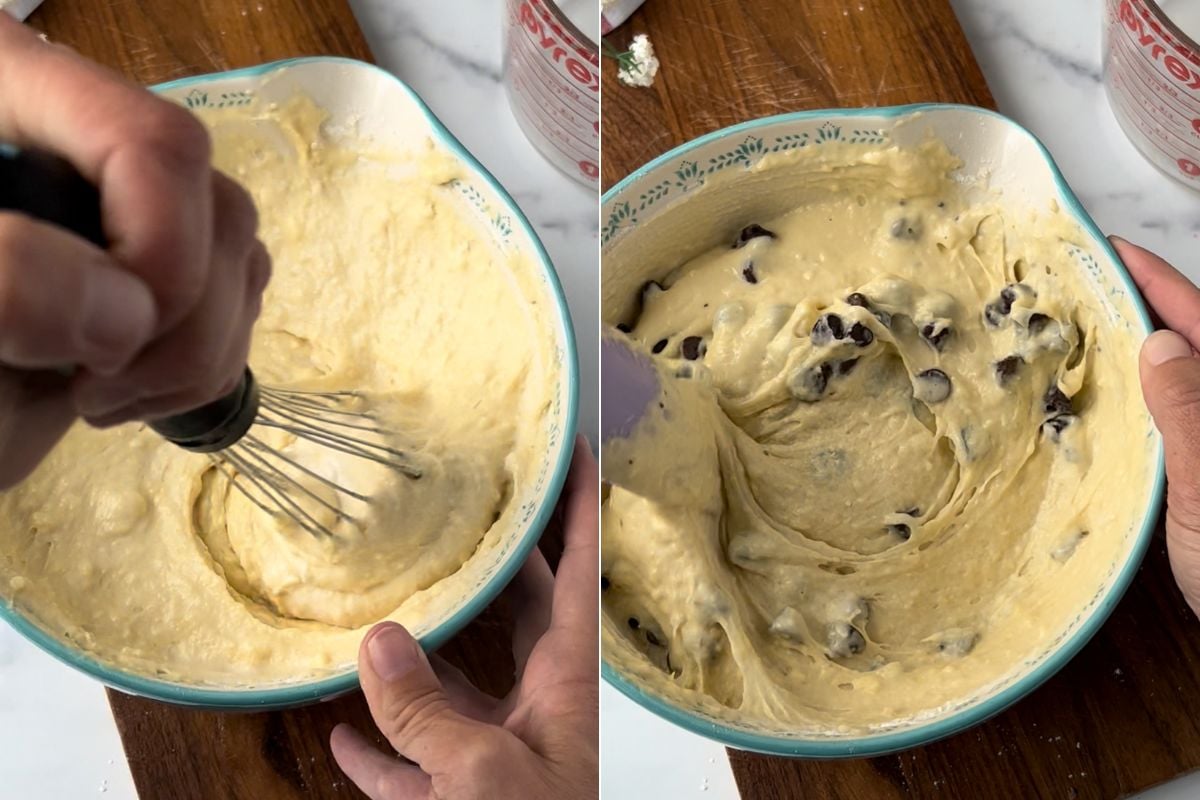 Pour the wet ingredient mixture into the dry ingredient mixture. Gently stir the two together until just combined. Overmixing can lead to tough waffles.
There will be some lumps, and that's fine! You just don't want any dry spots.
Add chocolate chips: Fold in 1 cup of chocolate chips (or more if desired, up to 2 cups) to the batter, distributing them evenly throughout.
Step three: cook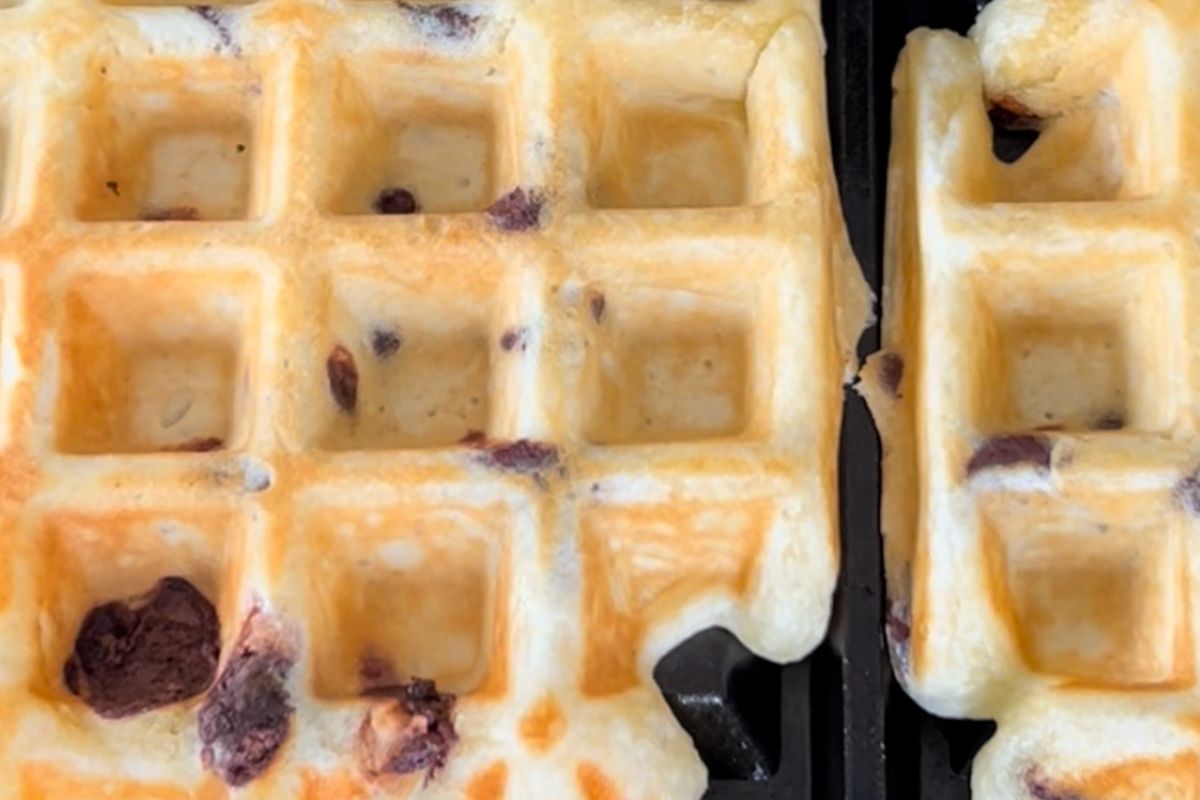 Using a ladle or measuring cup, scoop about a half cup of batter (adjust based on the size of your waffle iron) onto the hot waffle iron. Close the lid and cook the waffle until it's golden brown, following your waffle iron's suggested cooking time.
Step Four: top and serve
Carefully remove the cooked waffle from the waffle iron using a fork or tongs, and transfer it to a cooling rack. Repeat the process with the remaining batter. If you'd like to keep the waffles warm while you cook the rest, place them in a 200°F oven on a heat-resistant plate. Serve with your choice of syrup, butter, whipped cream, or fruit.
🥫 Storage instructions
If you have any leftover waffles, let them cool completely before placing them in a freezer bag. Label the bag with the date and contents, then freeze. When you're ready to enjoy them, reheat in a toaster for a quick and delicious breakfast
🔍 FAQs
Do I use discard or fed starter?
The "point" of this recipe is to help you use discard starter, so discard is perfectly fine, straight from the fridge. But if you want to make them and your starter is currently fed and bubbly, that's fine too!
Will they be sour?
Nope! They'll taste just like normal waffles, promise. Slightly tangy, like a buttermilk recipe. No one will guess your secret.
Can I do blueberries instead?
But of course. Also delicious. I prefer fresh over frozen to avoid a streaky mess.
👩🏻‍🍳 Expert tips
Preheat the waffle iron properly: Allow enough time for the waffle iron to preheat fully. The waffle iron should be hot before pouring in the batter.
Don't overmix the batter: When combining the wet and dry ingredients, mix gently until just combined. Overmixing can lead to tough, chewy waffles. A few lumps are okay and will disappear during the cooking process.
Adjust batter consistency if needed: If your batter seems too thick or too thin, you can adjust its consistency by adding a little more milk (for a thinner batter) or a little more flour (for a thicker batter).
Be patient when cooking waffles: Resist the temptation to open the waffle iron too early, as this can cause the waffles to break or not cook evenly. Wait until the waffle iron indicates that it's done or until steam is no longer coming out of the iron.
Use a cooling rack: Placing cooked waffles directly on a plate may cause them to become soggy due to trapped steam. Instead, place them on a cooling rack to allow steam to escape and maintain their crispiness.
📘 Related Recipes
🍽 Serve it with
Fresh fruit
Bacon
Plenty of coffee 😊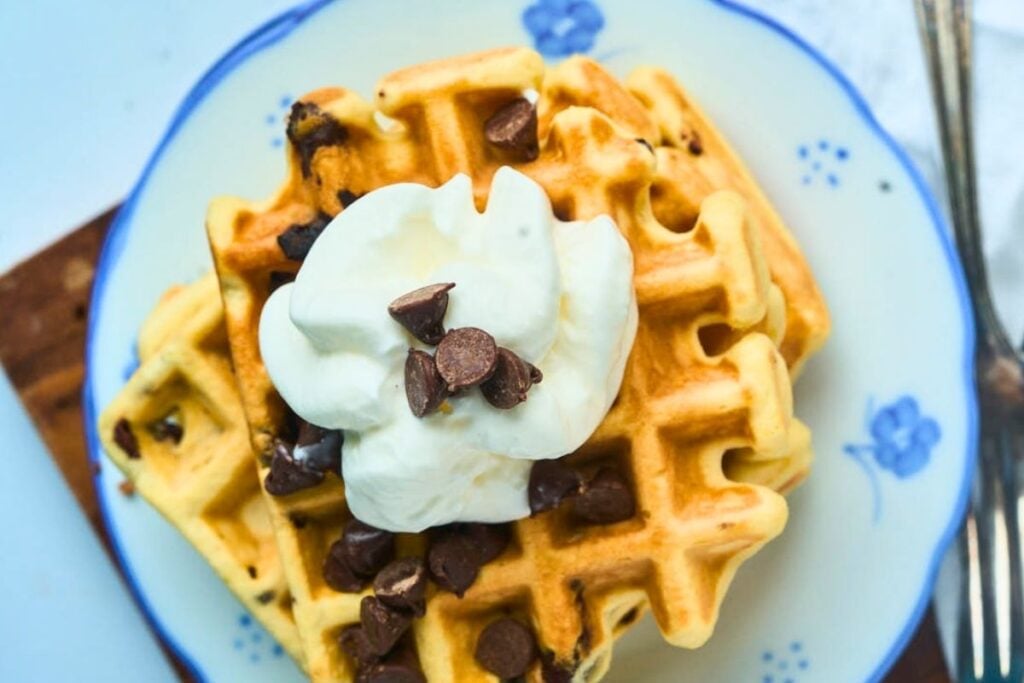 📖 Here's the recipe
Want a free fall cookbook? Click here to grab a cookbook with 25+ of my best autumn recipes
Ingredients
2

cups

all-purpose flour

2

tablespoons

sugar

2

teaspoons

baking powder

¼

teaspoon

salt

¼

cups

milk

2

eggs

⅓

cup

melted butter

½

cup

sourdough starter

1

cup

chocolate chips

or more
Instructions
Preheat waffle iron and spray with non-stick cooking spray.

Combine all dry ingredients (flour, sugar, salt, and baking powder) in a large mixing bowl and stir until thoroughly combined. In a separate, medium bowl, combine the wet ingredients (eggs, sourdough starter, melted butter, and milk. Pour the wet ingredients into the dry and gently stir until just combined. The batter will still have some lumps, but there should be no dry spots. Add chocolate chips and gently mix in.

Scoop the batter into the hot waffle iron, about a half cup at a time, depending on the size of your iron. Cook until golden brown.

Remove waffles to a cooling rack while you cook the remaining waffles. Keep warm in a 200-degree oven if desired. Serve with syrup and butter or with whipped cream and fruit.
Notes
Fully cooked waffles freeze very well. Make sure they have completely cooled, then place in a freezer bag and simply reheat in the toaster.
Nutrition
Calories:
341
kcal
|
Carbohydrates:
45
g
|
Protein:
5
g
|
Fat:
16
g
|
Saturated Fat:
6
g
|
Polyunsaturated Fat:
2
g
|
Monounsaturated Fat:
4
g
|
Trans Fat:
0.004
g
|
Cholesterol:
42
mg
|
Sodium:
287
mg
|
Potassium:
129
mg
|
Fiber:
1
g
|
Sugar:
16
g
|
Vitamin A:
410
IU
|
Vitamin C:
0.02
mg
|
Calcium:
98
mg
|
Iron:
2
mg
Did you make this?
Let me know how it was! Please see below for serving ideas, storage instructions, and substitutions.