An easy recipe for blueberry lemon sourdough bread, a perfect blend of sweet and tart. You'll love this loaf at breakfast or anytime.
Want some free Christmas printables? Click here to grab 'em
Ingredients
3

cups

bread flour 450 grams/ 15.85 ounces

1⅓

cups

lukewarm water 300 grams/ 10.6 ounces

¾

cup

sourdough starter bubbly

and well fed

3

tablespoons

white sugar

1

teaspoon

salt

1¼

cup

blueberries

fresh is easiest (see note)

1

tablespoon

lemon zest
Instructions
Mix and autolyze. Combine the flour, water, sugar, and starter in a large bowl and stir. Use your hands to incorporate any dry bits. Cover with a clean, damp tea towel and allow to rest at room temperature for 30 minutes.

Add salt and fruits. After the rest period, add the salt, blueberries, and lemon zest and knead for a minute or two until everything is thoroughly mixed in.

First rise. Cover with damp towel and allow to rise in a warm place for three hours, reshaping the dough into a ball once per hour.

Second rise. Heavily dust a banneton with rice flour. When it is time to shape the dough the third time, place the loaf into the banneton and cover with plastic wrap. Allow to proof overnight in the fridge.

Prep for baking. In morning, preheat oven to 450 with rack in the center with the Dutch Oven inside. Remove dough from fridge and turn it out onto a sheet or parchment paper, trying to have it land in the center. Slash the top with a lame or very sharp knife. Carefully remove the hot Dutch Oven and place the parchment and bread inside. Place the lid back on.

Bake. Bake for a total of 55 minutes: 25 minutes covered, 25 minutes uncovered, and then remove from the Dutch Oven and bake directly on the rack for 5 minutes to brown the crust. Bread should be 200-210 internally when it is done. Remove from Dutch Oven and remove parchment paper. Allow to cool on a wire rack 3 to 4 hours before slicing. Will keep at room temperature, tightly wrapped, for a few days
Notes
Some readers have reported frozen berries causing their dough to become wet and streaked with blue. The finished loaf still turns out well, but using fresh berries helps to avoid this problem.
The shelf life of this bread is shortened due to the moisture in the fresh blueberries. To avoid any risk of molding, store at room temperate for one day and freeze after that. Try slicing the whole loaf so you can toast individual pieces from the freezer.
To freeze, allow to cool completely, wrap well, and freeze up to 1 month.
Be sure to try blueberry muffins made with sourdough discard.
Nutrition
Calories:
148
kcal
|
Carbohydrates:
31
g
|
Protein:
4
g
|
Fat:
1
g
|
Saturated Fat:
1
g
|
Sodium:
195
mg
|
Potassium:
44
mg
|
Fiber:
1
g
|
Sugar:
5
g
|
Vitamin A:
9
IU
|
Vitamin C:
2
mg
|
Calcium:
6
mg
|
Iron:
1
mg
Did you make this?
Let me know how it was! Please see below for serving ideas, storage instructions, and substitutions.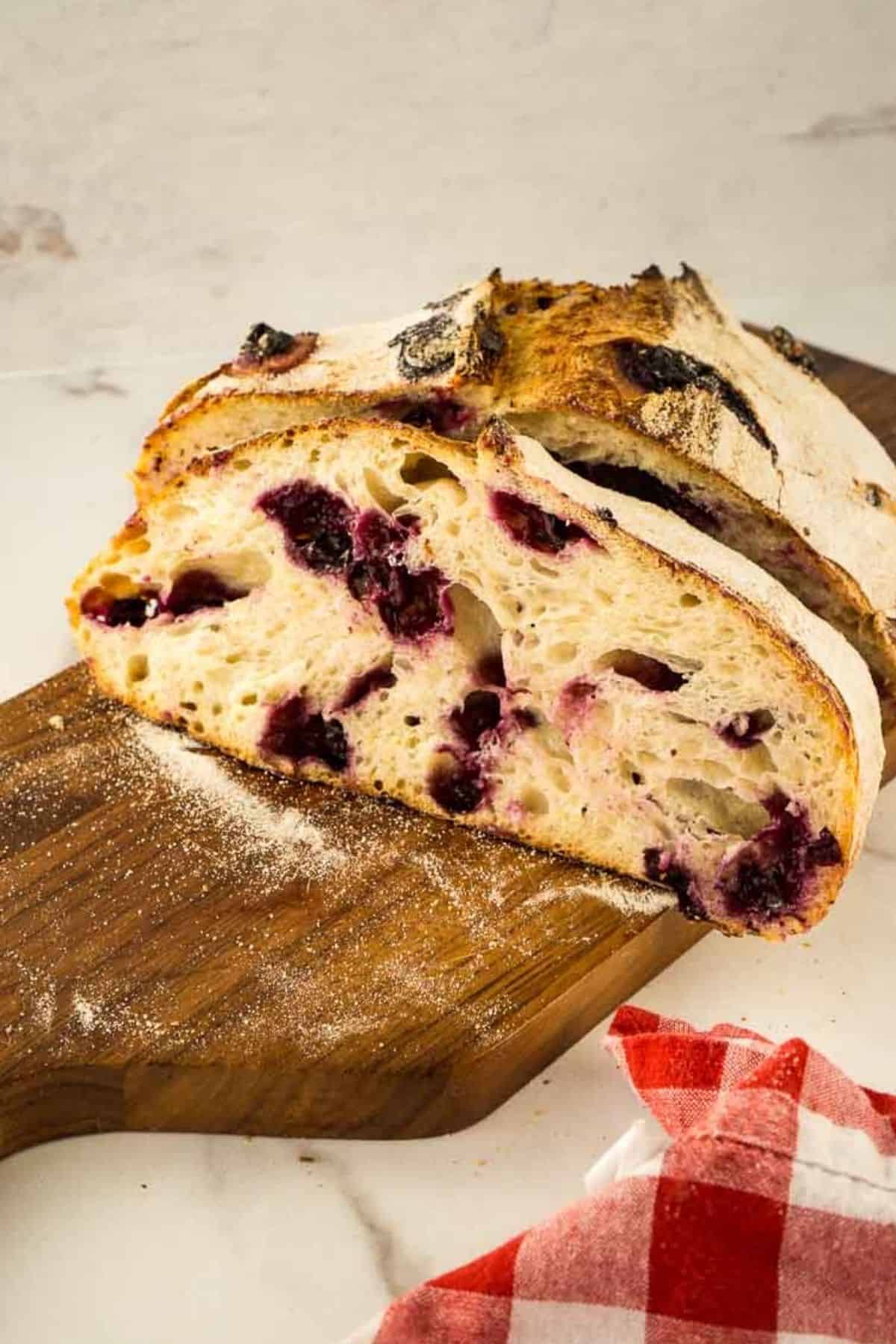 Ingredients
3 cups bread flour 450 grams/ 15.85 ounces
1 1/3 cups lukewarm water 300 grams/ 10.6 ounces
¾ cup sourdough starter bubbly, and well fed
3 tablespoons white sugar
1 teaspoon salt
1¼ cup blueberries, fresh is easiest work with
1 tablespoon lemon zest
Step by step sourdough
Making the dough
There's no need to be intimated by this recipe (or any other!). It is relatively low-hydration, which makes it easy to work with.
Ready to get started?
Begin by mixing the flour, water, and sourdough starter into a large bowl. Just use a wooden spoon or your hands. This step is called autolyse and helps to hydrate the flour. Cover the bowl with a damp tea towel and let it rest for about thirty minutes on the counter.
Next, we are going to add the remaining ingredients: the salt, lemon zest, and blueberries. As we add them it, we will knead the dough, just a bit, to make sure everything is incorporated. You might find it easiest to add everything a bit at at a time. When you're done, stretch the dough out a little and make sure there are no pockets of salt or lemon zest.
(Some of the blueberries might try to escape. That's okay! They'll get incorporated at the next step. Just do your best.)
Now return the dough to a lightly oiled bowl (you can just quickly wash out the one you're using), and cover with a damp tea towel or greased plastic wrap. Put it in a warm place (about 80 degrees) to start the next stage: bulk fermentation.
Bulk fermentation with stretch and fold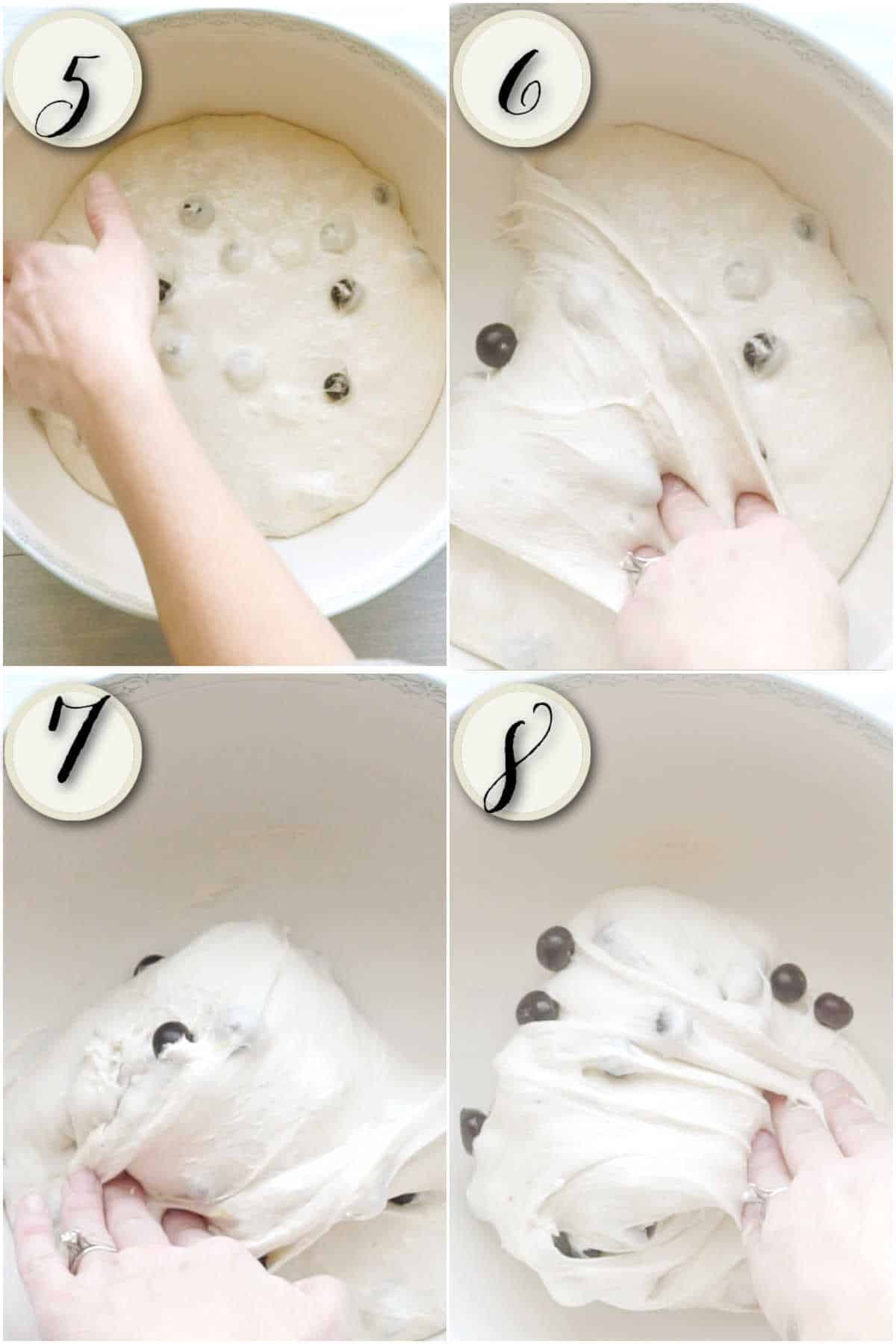 Sounds a bit scary, but it couldn't be easier! Basically the dough is going to rise for three hours. But it's not just going to sit there. We are going to reshape it every hour back into a little ball. This helps give the dough some nice structure so we have a beautifully shaped loaf at the end, not a pancake.
When you remove the tea towel after one hour, your dough will be a blob. And you will just pull it back up into a ball and put back in it's warm cozy place to keep rising.
When you come back an hour later, it will be a blob again. But with each shaping it will firm up a little bit.
When the three hours have ended, shape the dough one last time and plop it into a banneton that's been dusted with rice flour to prevent sticking.
We are onto the next phase: the final proof.
Final proof and bake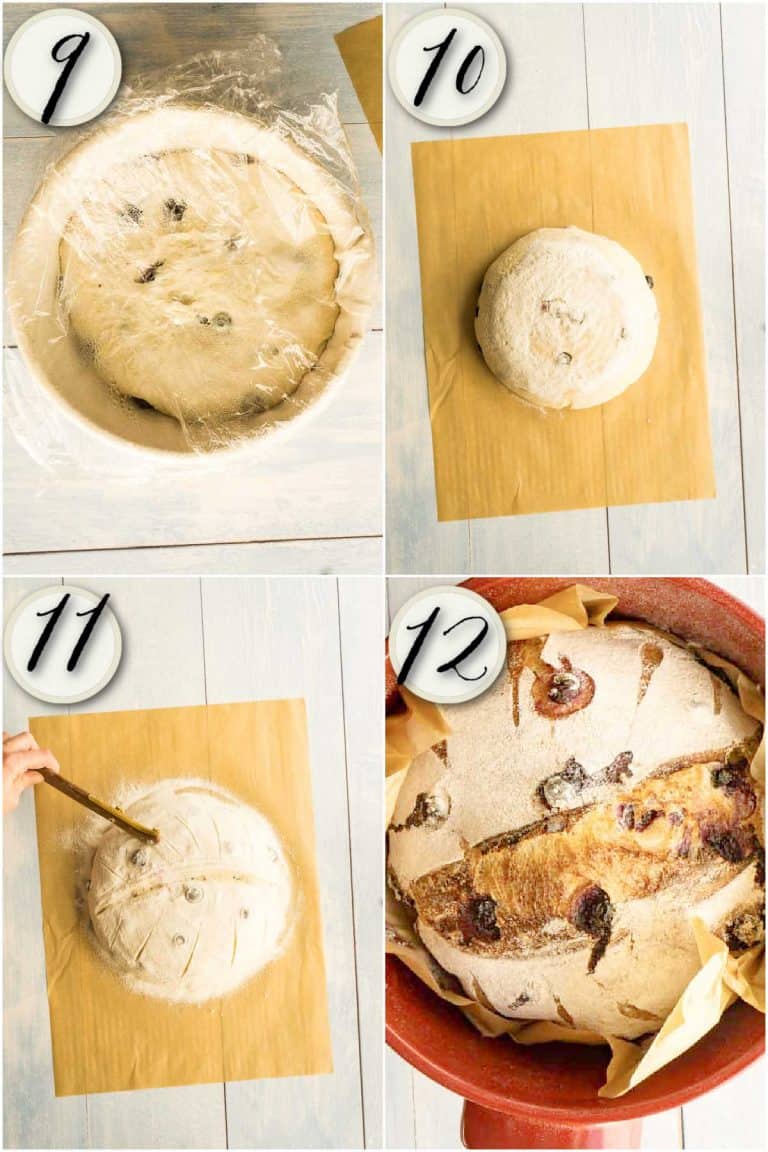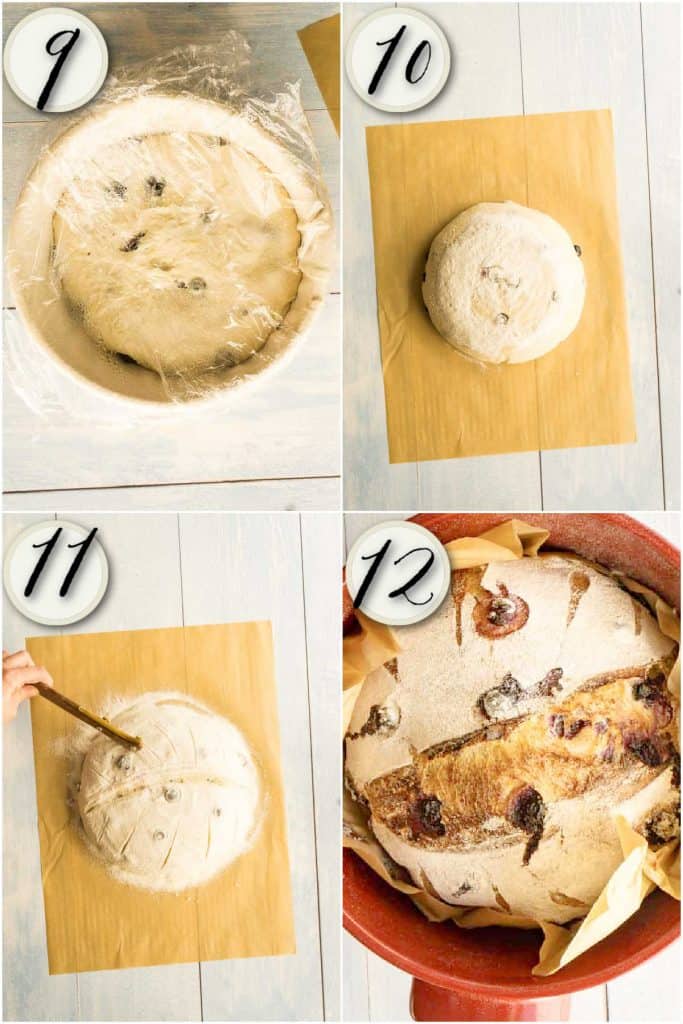 The second proof will be 8 to 12 hours, so overnight is best. Cover the dough tightly with plastic wrap so it doesn't dry out in the fridge, and pop it in.
In the morning, preheat the oven with the empty Dutch oven inside.
(If you don't like preheating the Dutch oven, you don't have to! It just makes for better oven spring.)
Flip the proofing basket upside down onto a piece of parchment paper so your blueberry lemon sourdough loaf is right side up. Slash it deeply.
Once the oven has come up to temperature, carefully remove the Dutch oven and carefully place the parchment and the dough inside. (Use oven mitts!)
Place the lid back on and return the whole bundle to the oven to bake. Keeping the lid on helps create steam which will make the bread rise higher as it bakes. Remove after twenty minutes or so, when you are happy with the bread's shape.
Let it bake about 20-25 more minutes with the lid off, until the crust is browned.
Cooling
This is an important part! I know tearing into a piece of warm blueberry lemon sourdough bread fresh the oven sounds like a great thing, but it's not!
It is key to let your bread cool for at least 2-3 hours before you slice it. If you cut into it before that, you'll have a gummy texture.
My favorite way to eat it is toasted with butter. It's delicious as a breakfast just like that!