The crispest and most delicious refrigerator pickles with garlic, dill, and a hint of spice. This recipe makes a small batch and is ready in just a few minutes. No canning required.
Ah, homemade pickles. Everyone loves them, except when they don't. They can be too soft, too salty, lacking flavor, or soggy. But this pickle recipe is the one you want.
Super crisp, packed with flavor, and easy as can be. This is one of the few occasions where the easy way to make something is also the best way to do it. The best homemade pickles are refrigerator pickles because a cold cucumber stays crisp. Even though they aren't processed, they will keep in the fridge at least a couple months.
We prefer to make small batch refrigerator dill pickles, but if you want to double the recipe, that will work perfectly fine!
Ingredients You'll Need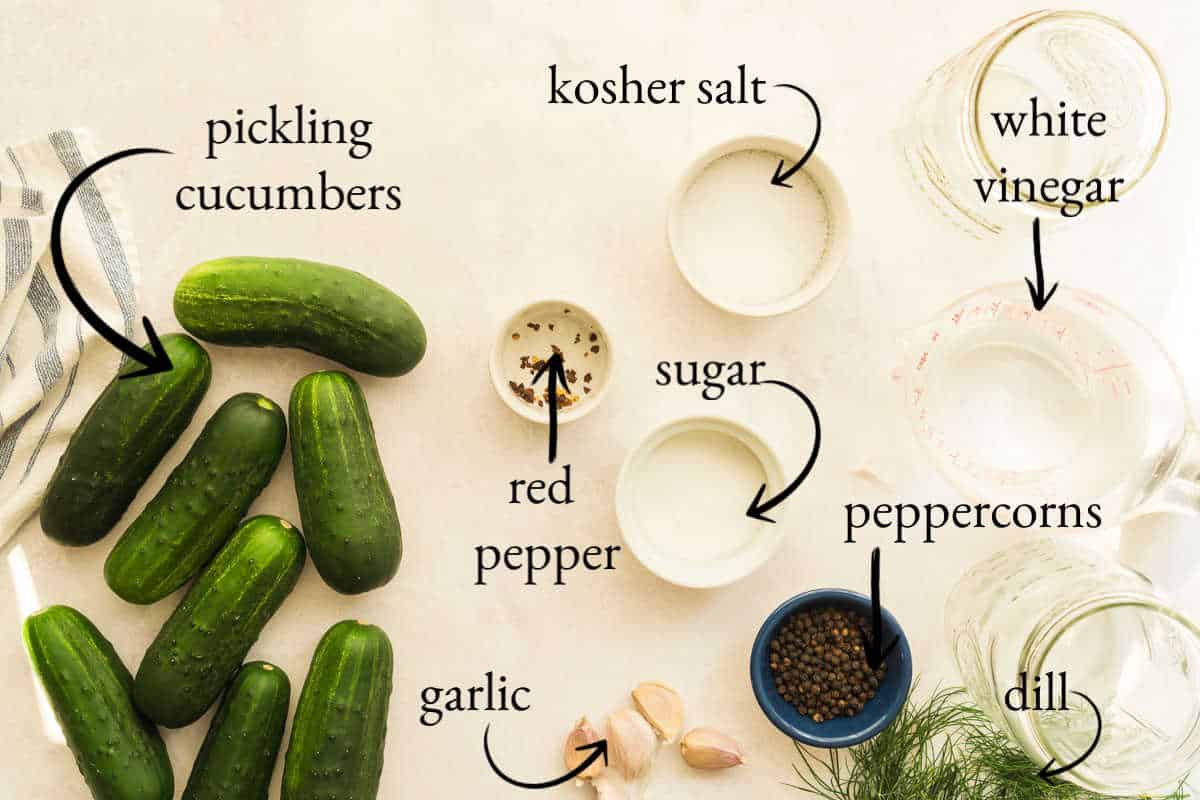 1 ½ cups white vinegar
3 tablespoons kosher salt
2 tablespoons sugar
2 cups cold water
2 pounds cucumbers (pickling cucumber are best)
2 tablespoons whole peppercorns
6 cloves garlic
1 pinch red pepper flakes
16 sprigs fresh dill
Make sure you also have very clean jars!
Let's make some pickles together!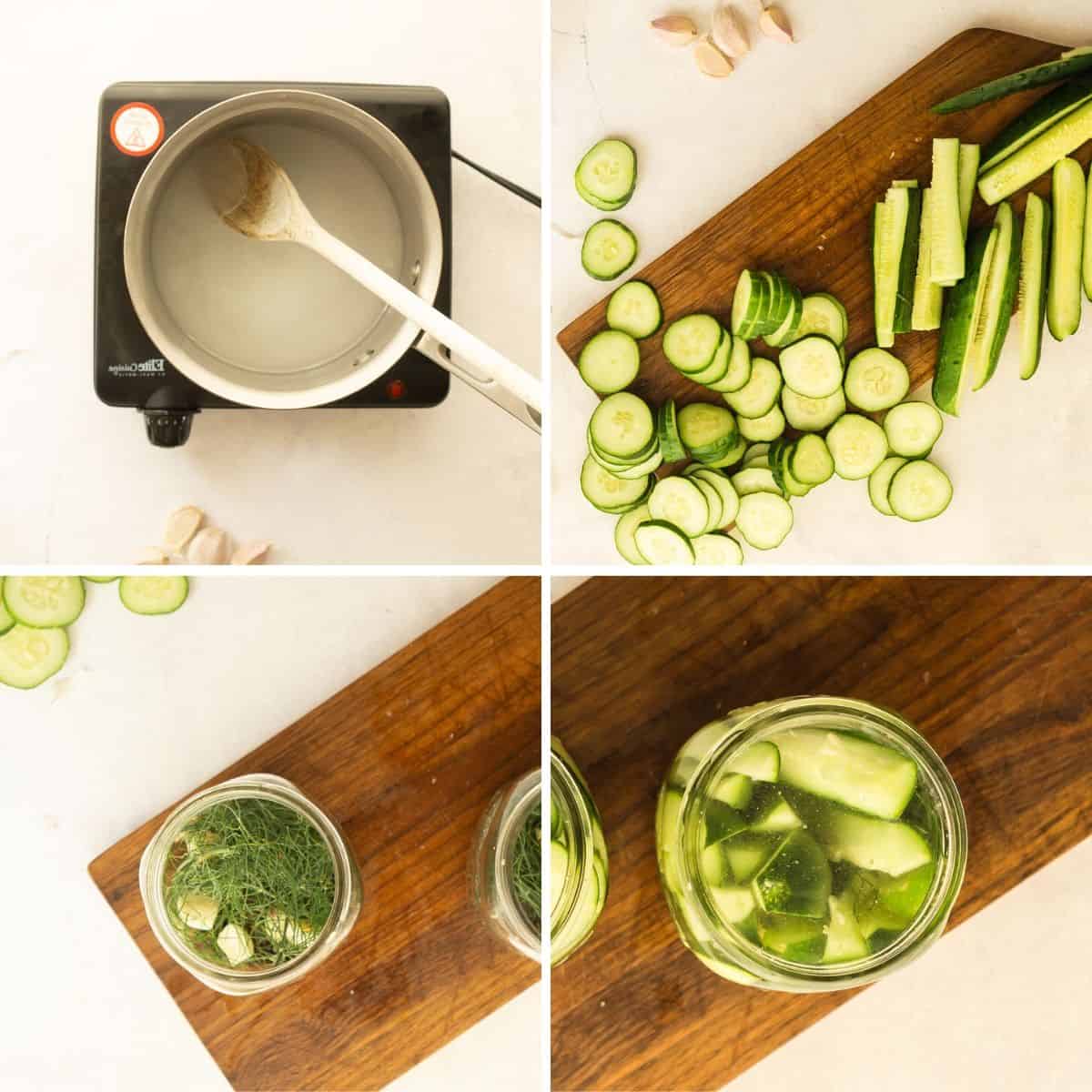 The first step is to make the brine. You can do this a day ahead of time, if you like. It's important to get the brine made up so it can start chilling. That way it will be nice and cold when you pour it over the cucumbers, and the cucumbers will stay crisp.
Heat up the vinegar, sugar, and salt in a small saucepan and stir, just until the salt and sugar dissolve. Then pour everything into a bowl or jar and add the cold water. Stir and pop the brine back in the fridge to get extra cold.
While the brine is chilling, prepare the picking cucumbers and the spices. This recipe will work with any size and shape pickle you would like: halves, spears, round slices for burgers, or oval slices for sandwiches.
Place the sliced cucumbers into the jars, as tightly as you can. Keep in mind that if you don't have enough cucumbers in the jars, your brine won't go all the way up to the top. So get them in there!
Place the garlic cloves, dill, red pepper, and peppercorns in the jars. They can go underneath the cucumbers as well, either way is fine.
Check the brine to make its cold and fill the jars with it. Place the lids back on and pop the pickle jars back into the fridge. They'll need a day or two to develop their flavor.
Enjoy!
Refrigerator pickle FAQs
What's the difference between pickling cucumbers and regular cucumbers?
Mostly the shape. Pickling cucumbers are blockier rather than long and skinny. This helps them fit in jars better. They can be eaten as regular cucumbers too, if they are picked young
Why not can these to make them shelf stable?
Well, you can. But don't! They won't be crisp and its way more trouble than its worth! You'll need to follow
safe canning practices
, if you decide too.
Can I alter this recipe?
Sure! Since you aren't canning this, you can change the spices and flavorings however you'd like. Just leave the brine recipe the same. I've added fresh jalapeño slices, Italian seasoning, and left out the dill. They've all been good!
More simple summertime preserving:
Print the recipe here
Small Batch Refrigerator Dill Pickles
Print Recipe
The crispest and most delicious refrigerator pickles with garlic, dill, and a hint of spice. This recipe makes a small batch and is ready in just a few minutes. No canning required.
Click here for a FREE autumn cookbook (25+ Recipes!)
Ingredients
1 ½

cups

white vinegar

3

tablespoons

kosher salt

2

tablespoons

sugar

2

cups

cold water

2

pounds

cucumbers

pickling cucumber are best

2

tablespoons

whole peppercorns

6

cloves

garlic

1

pinch

red pepper flakes

16

sprigs

fresh dill
Instructions
Prepare the Brine
Heat the vinegar, kosher dalt, and sugar in a small saucepan. Bring to a boil over high heat and stir to dissolve the salt and sugar. Remove from the heat, add the water and stir. Cover the brine and place in the refrigerator until cool.
Prepare the Jars
While the brine is chilling, prepare the cucumbers by slicing into rounds, spears, or halves. Smash the garlic cloves in half but do not mince or chop.

Place the fresh dill and the peppercorns into two clean quart jars. Pack the fresh cucumbers inside as tightly as you can. Pour the brine on top.

Cover the jars and place in the refrigerator. Allow them to chill at least a day before eating so that the flavor can develop. Will keep in the fridge 2 months.
Notes
This recipe is easily adaptable by adding different spices to the jars. Try 1/4 teaspoon of mustard seed in each jar, or extra garlic or red pepper.
The freshest cucumbers make the crispest pickles. Try making the brine, placing it in the fridge, then heading to the garden or farmer's market.
Nutrition
Calories:
29
kcal
|
Carbohydrates:
5
g
|
Protein:
1
g
|
Fat:
1
g
|
Saturated Fat:
1
g
|
Sodium:
1747
mg
|
Potassium:
131
mg
|
Fiber:
1
g
|
Sugar:
3
g
|
Vitamin A:
84
IU
|
Vitamin C:
3
mg
|
Calcium:
24
mg
|
Iron:
1
mg
Did you make this recipe?
If you loved it, please leave a review!