Can you feel that chill in the air? It's telling you to wrap yourself in chunky knits, whip up Grandma's famous apple pie and decorate with foraged flowers and vintage finds.
Fall is here, and it's time to embrace Grandmacore. Let's get cozy this season.
👒 fall fashion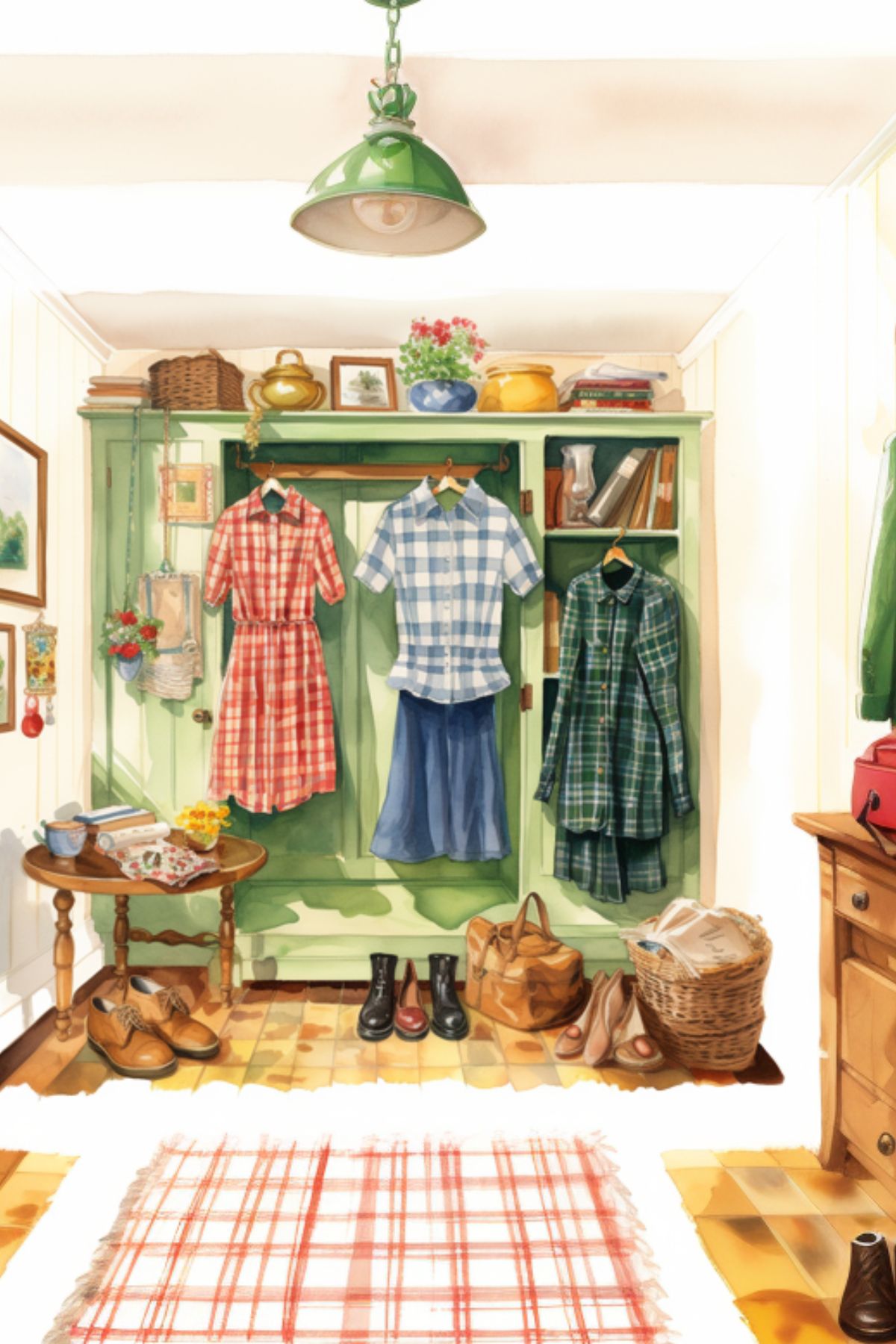 patterns and colors
Fall fashion with a grandmacore touch takes you back to simpler times and cozy moments. Think of countryside beauty with floral patterns that remind us of wildflowers and roses. Fall is all about staying warm, and what's better than woolen tights and scarves in classic plaid? They give you that feeling of fresh country mornings.
pieces to choose
Cardigans and house dresses are the heart of this style. They're not just comfy, but they also have a timeless elegance. Lightweight cardigans come in deep colors like mauve or bright ones like pastels, and they're great to wear over shirts. Shirtdresses with collars have that old-school charm, especially if they have pretty patterns. And colors like mustard and burgundy? They take you straight to the warmth of a 70s kitchen.
accessories
Of course, fashion isn't just about clothes. Accessories add that special touch. Loafers and plaid items give that smart look, while embroidery feels homey and nostalgic. And when it comes to carrying things, satchels are perfect, especially for crafty stuff like knitting. Pearls, embroidered handkerchiefs, and straw hats for those apple-picking trips are a must. Let's not forget big, cozy sweaters in natural colors to keep warm. And for those autumn walks? Wicker baskets are both stylish and useful for collecting fall goodies.
🥧 fall cooking
Autumn is the coziest season and the perfect time for baking and cooking projects. Spend a few hours getting your kitchen clean and organized so it's an enjoyable space to be in, and then start one of these projects:
Here are some fun grandmacore ideas:
Spend a crisp Saturday baking pies overflowing with just-picked apples, and pears.
Make homemade bread and biscuits
Preserve the harvest's bounty through canning, drying, or pickling fruits and vegetables to stock the pantry for winter.
Cook classic hearty dishes like pot roast braised all day or casseroles piled high and bubbling.
fall recipes from grandma's kitchen:
🍂 autumn fun
Fall is a season to embrace the cozy charm of Grandmacore.
outdoor and social fun
One of the best things to do is go on a hay ride. Sitting on soft hay, while the tractor pulls you around the farm, feels like a special autumn treat.
Apple picking is another fun activity. Visiting an apple farm lets you pick and choose the juiciest apples right from the tree. It's great for spending time with family and friends and, later on, making apple pies or cider.
As the nights get cooler, stargazing becomes a calming way to end the day. Lying on a blanket and looking up at the stars, you can spot constellations and enjoy the quiet of the night.
For those who love the warmth of a fire, hosting bonfires is perfect. Gathering around a fire, sharing stories, and maybe even roasting marshmallows make for great memories.
Lastly, hosting tea parties is a lovely indoor activity. Setting up a table with hot tea, cookies, and little sandwiches lets everyone chat, relax, and enjoy the simple pleasures of fall.
Most of these are fun for the entire family, in case you're just channelling grandma and aren't one yet. 😊
quiet alone time
If you aren't social and the above ideas don't appeal to you, don't forget about cozy indoor activities to help you savor the season.
Reading Nook: Create a cozy corner with blankets and dive into old novels or family memoirs.
Board Games: Dust off classic board games and gather the family for a nostalgic game night.
Candle Making: Craft homemade candles using scents like cinnamon, apple, or vanilla.
Photo Album Dive: Go through old family photo albums, reminiscing and sharing stories.
Jigsaw Puzzles: Assemble puzzles with autumn landscapes or vintage scenes.
Write Letters: Use classic stationery to pen letters to friends or family, perhaps even trying your hand at calligraphy.
Listen to Old Records: Spend an evening playing vintage records, dancing, or simply listening.
🌻 fall home decor
Think natural elements, cozy fabrics, and warm colors. If it's cozy and feels old-fashioned, it works!
the grandmacore aesthetic basics for fall
A popular choice for this style is using vintage floral patterns. These can be found on wallpapers, tablecloths, or even curtains. The old-timey flower designs bring warmth and charm to any room.
Another great way to bring fall inside is by displaying fall flowers. Putting vases of golden sunflowers, red chrysanthemums, or even branches with colorful leaves on tables and shelves can make a home feel more autumn-like.
Family photos are a big part of the grandmacore style. Framing and hanging up old pictures of grandparents, parents, or even great-grandparents can remind everyone of family stories and history.
It's also nice to bring in natural elements. This could mean having bowls of pinecones, dried fruits, or even stones on display. They give a touch of nature to the indoors.
And to make everything extra cozy, adding soft pillows and blankets is a must. Whether they're on couches or beds, these comfy items make every space feel warm and inviting. Just imagine curling up with a thick blanket on a chilly fall evening!
decor ideas to do now
Repurposed Fabric Runners: Use old floral dresses or skirts to make table runners, adding a vintage touch to dining areas.
Dried Herb Hangings: Bundle up aromatic fall herbs like sage, rosemary, and thyme. Hang them in the kitchen or dining room for both decor and a delightful scent.
Handmade Ceramic Vases: Place them around the home, each filled with different fall blooms.
Candle Collections: Group together candles of varying heights on a tray, perhaps with vintage designs or in warm autumnal colors.
Crocheted Coasters: Craft or buy coasters in fall shades for a touch of handcrafted warmth on tables.
Antique Frame Displays: Find antique frames at thrift stores and fill them with pressed fall leaves or flowers.
Woven Wall Hangings: Feature hand-woven pieces with autumn colors and textures on walls.
Heirloom Recipe Cards: Display old family recipe cards in the kitchen or dining area. They'll evoke feelings of nostalgia and warmth.
Lace Window Drapes: Hang delicate lace fabrics on windows, allowing the golden fall light to filter through beautifully.
Vintage Tin Containers: Fill them with seasonal items like pinecones, acorns, or even potpourri with fall scents.
Embroidered Pillow Covers: Use or buy pillow covers featuring autumn motifs or scenes.
Wooden Lanterns: Place them around living spaces and insert candles for a rustic, warm glow in the evenings.
🧵 hobbies
Quilting
Imagine being wrapped in a quilt on a cold night, feeling all the love and effort stitched into it. Many of our grandmas loved to quilt, making it a special way to remember family moments.
Even if making an actual quilt seems hard, you can start with simple pieces like quilted pillowcases or placemats. There's nothing more fun than picking out the perfect fall fabrics and making your own creations.
Warm Grandma Sweaters
Knitting, at its heart, is the epitome of coziness. Picture this: you're nestled in a comfy armchair, a soft glow from the fireplace dances across the room, and in your hands are knitting needles, methodically creating a piece destined to warm someone.
If you're inspired to embark on this cozy journey, getting started is simple! All it takes is a pair of knitting needles, a skein of yarn, and a beginner's pattern. With countless tutorials available online and local knitting groups welcoming new enthusiasts, stepping into the world of knitting is both accessible and deeply rewarding.
floral handicrafts
Not into sewing or knitting? No problem
Fall grandmacore hobbies embrace the season's natural beauty,.
Pressing flowers is a simple joy, where vibrant petals and leaves are transformed into timeless keepsakes, preserving the essence of autumn.
Arranging flowers lets us play with colors and textures, creating bouquets that evoke the warmth of harvest festivals and crisp morning walks.
And making fall wreaths is a celebration in itself. Using twigs, dried fruits, and autumn leaves, these handcrafted circles are fun to make and fun to display.
So, this fall, cozy up on the couch with plaid blankets and abundantly stuffed pillows. Keep fresh-cut wildflowers flowers in vases on tables and windowsills to brighten your space. Spend time immersed in crafts like knitting or baking comforting treats with loved ones. Stay present by finding joy in the basic pleasures – a warm cup of tea, the smell of cinnamon and apples, an uplifting chat with a dear friend.