Super soft and delicious sour cream cookies inspired by a vintage recipe. An easy, old fashioned Christmas cookie.
Why you'll love this recipe!
These were my favorite cookies that my mom made when I was a child, and for some reason they fell off the cookie rotation for at least ten years. I asked for the recipe after I got married, and for some reason it could not be recovered. We tried a few recipes that weren't quite right. And then, miraculously, it resurfaced, as a scanned document lurking somewhere.
It's a recipe from McCall's magazine from the 80's that I've changed just a tiny bit. (It called for sifted flour, which is not necessary at all, and I added a glaze.). Perhaps not not fancy, or beautiful, but I promise these cookies will win you over with their softness and deliciousness.
They don't taste like sour cream, but they definitely taste different from a normal sugar cookie. They are less sweet and have a melt in your mouth texture. So easy to make, there is no reason not to give them a try!
???? Ingredients for sour cream cookies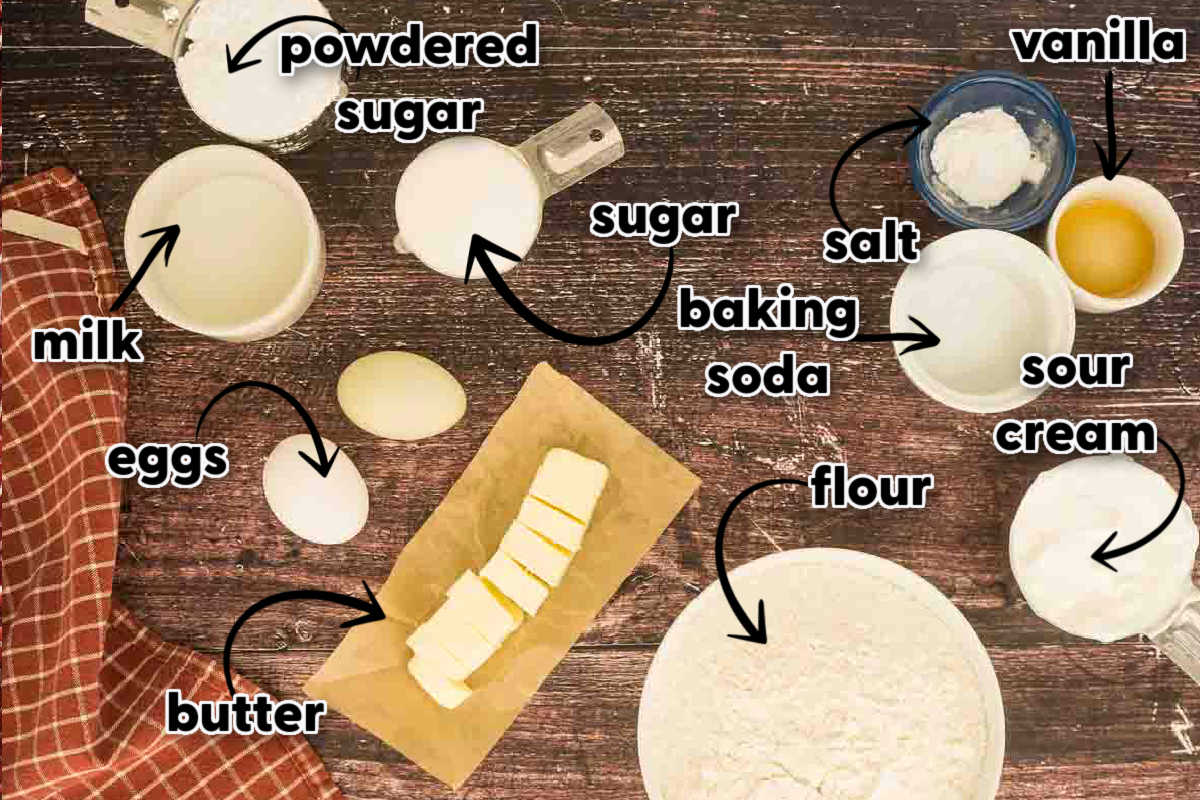 For the cookies
3 cups all purpose flour
1 teaspoon baking powder
1/2 teaspoon baking soda
1/2 teaspoon salt
1 cup butter salted
1 1/2 cups granulated sugar
2 eggs
1 cup sour cream room temperature
1 teaspoon vanilla
For the glaze
1 tablespoon milk
1 cup powdered sugar
dash vanilla
colored sprinkles or sparkling sugar optional
Step by step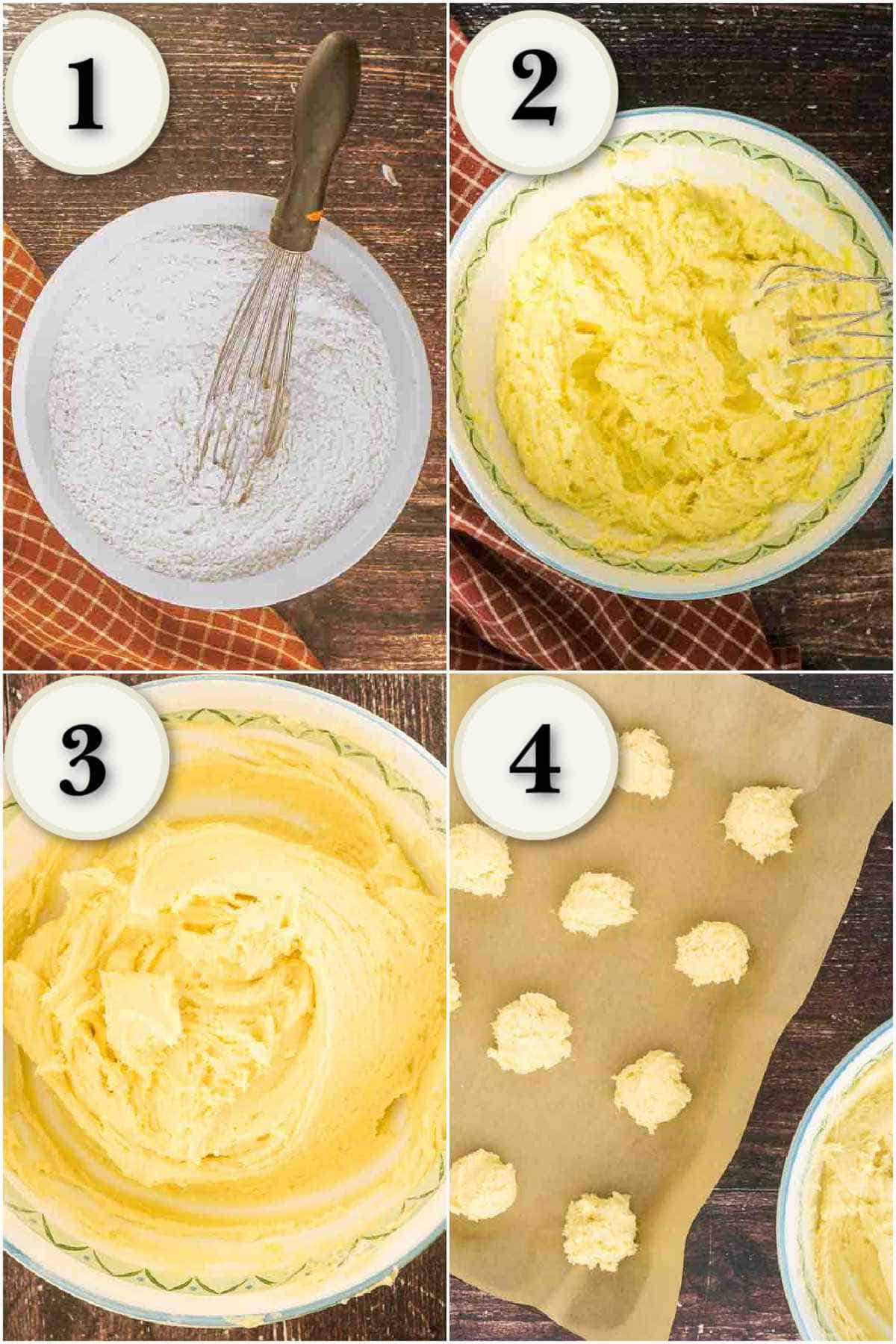 1. We begin by simply whisking together all the dry ingredients (flour, sugar, baking soda, baking powder, and salt in a large mixing bowl. Set aside the dry ingredients.
2. Next, it's time to beat the butter, sugar, and egg until they are light and fluffy. This takes about 3-5 minutes with an electric mixer on medium speed, so if you have a stand mixer than you can use, that would be very handy.
3. Now we will add the sour cream and the vanilla to the butter mixture and mix on low for about a minute.
Once that is thoroughly incorporated, add the flour mixture in, a cup at a time. The dough will be very soft, almost like a thick cake batter . Tightly cover it with plastic wrap, and chill dough for at least an hour to make it easier to work with.
4. When the hour is up, it's time to get ready to bake. This recipe makes about 30 cookies and you can usually fit them on two baking sheets. Line baking sheets with parchment paper and scoop out the cookie dough in heaping tablespoons. The dough is so soft that a spoon works better than a cookie scoop. Space them about two inches apart and bake at 350 for 10-12 minutes, or until the edges and bottom are light golden brown.
5. Allow the cookies to cool completely before you make the glaze.
6. Mix the milk, powered sugar, and vanilla together to form a thick icing.
7.You'll want to do a test cookie to make sure its the right consistency. The glaze should settle into a smooth coating but not drip off the sides too much.
8. Before the glaze dries, add sprinkles if you're using any.
Need old fashioned Christmas cookies?
Of course you do! Here are more of our favorites: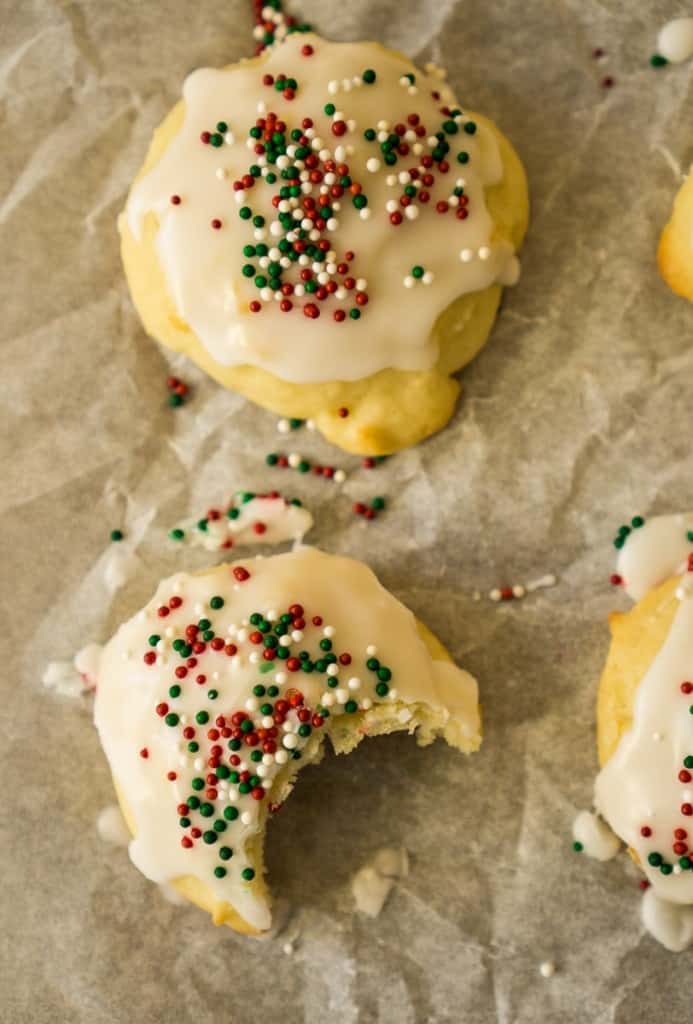 ???? Print the recipe here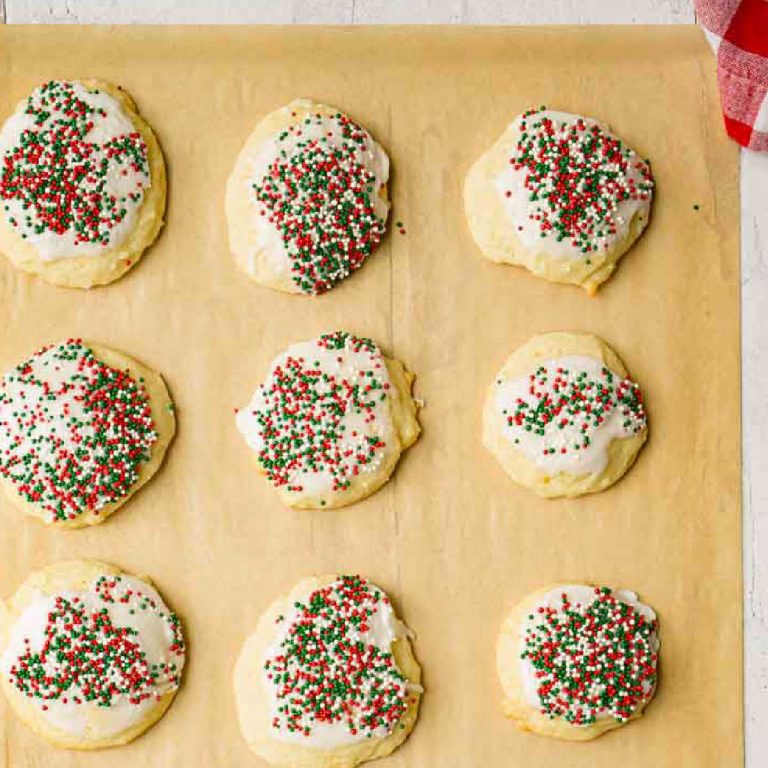 Old Fashioned Sour Cream Cookies
Print Recipe
Soft and cake-like cookies made with sour cream and topped with a simple glaze.
Click here to grab a free seasonal e-cookbook!
Ingredients
For the cookies:
3

cups

all purpose flour

1

teaspoon

baking powder

½

teaspoon

baking soda

½

teaspoon

salt

1

cup

butter

salted

1 ½

cups

granulated sugar

2

eggs

1

cup

sour cream

room temperature

1

teaspoon

vanilla
For the glaze
1

tablespoon

milk

1

cup

powdered sugar

dash vanilla

colored sprinkles or sparkling sugar

optional
Instructions
Combine the flour, baking powder, baking soda, and salt in a large mixing bowl, set aside

Beat butter, sugar, and egg with an electric mixer on medium-high speed until fluffy, about 3-5 minutes.

Add the sour cream and vanilla and blend on medium-low until combined.  Mix in the flour mixture, I cup at a time, until just combined.  Dough will be very soft.  Cover and refrigerate the dough 1 hour.

Preheat oven to 375.  Prepare baking sheet with parchment paper or cooking spray.  Drop cookie dough by rounded tablespoons 2 inches apart.

Bake 10-12 minutes until edges are golden brown.  If baking two sheets at a time, rotate halfway through the baking time.

After cookies have cooled completely, mix the glaze by combining all ingredients.  Dip cookies in the glaze and sprinkle with sugar or sprinkles.  Let dry and store at room temperature until serving.
Notes
Instead of the glaze, try sprinkling with cinnamon sugar before baking.
To make ahead bake and cool the cookies, then defrost at room temperature before glazing.  Iced cookies do not freeze well.
Can also be baked on convection bake at 350.
Nutrition
Calories:
124
kcal
|
Carbohydrates:
24
g
|
Protein:
2
g
|
Fat:
2
g
|
Saturated Fat:
1
g
|
Cholesterol:
16
mg
|
Sodium:
90
mg
|
Potassium:
39
mg
|
Fiber:
1
g
|
Sugar:
15
g
|
Vitamin A:
77
IU
|
Vitamin C:
1
mg
|
Calcium:
30
mg
|
Iron:
1
mg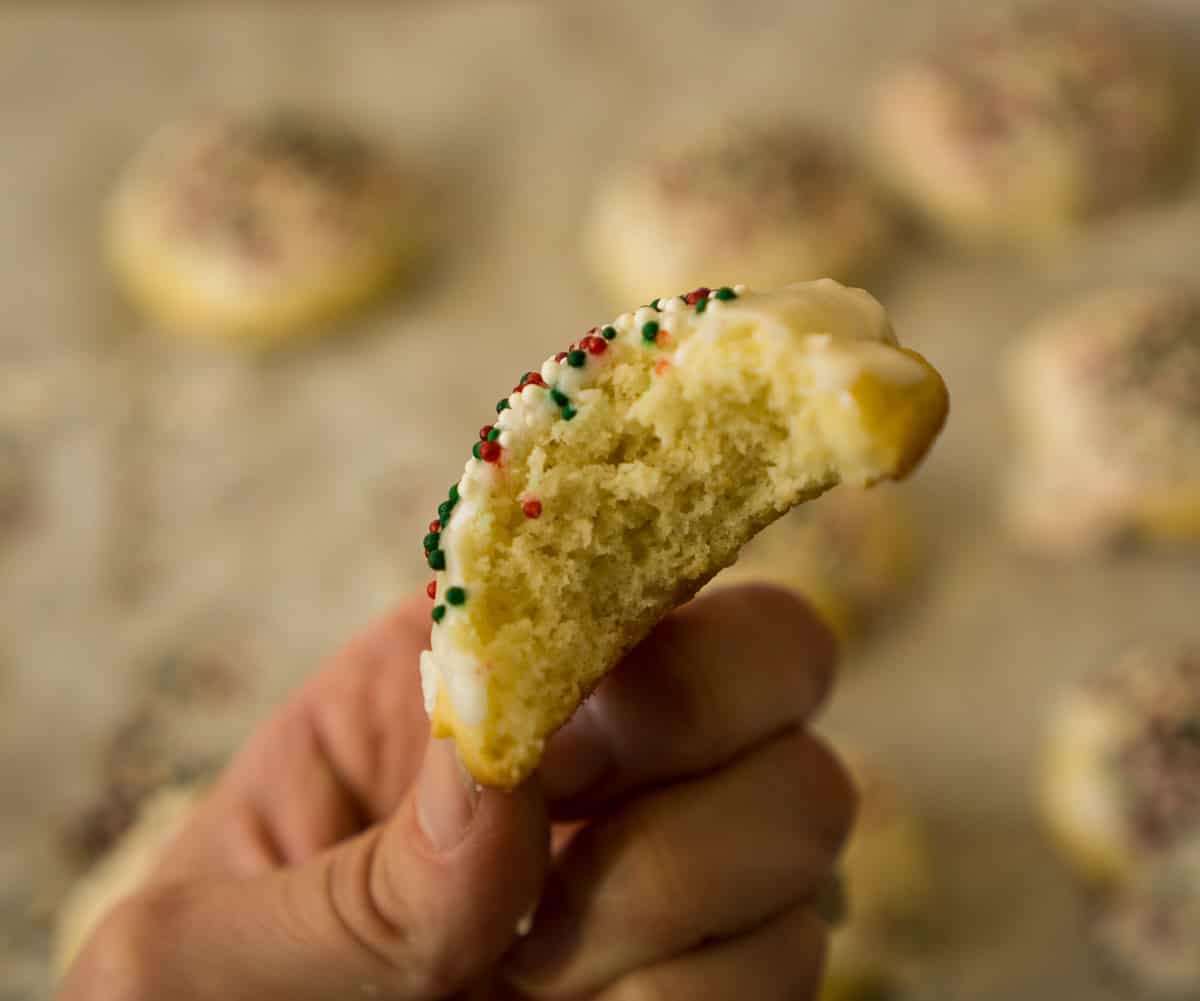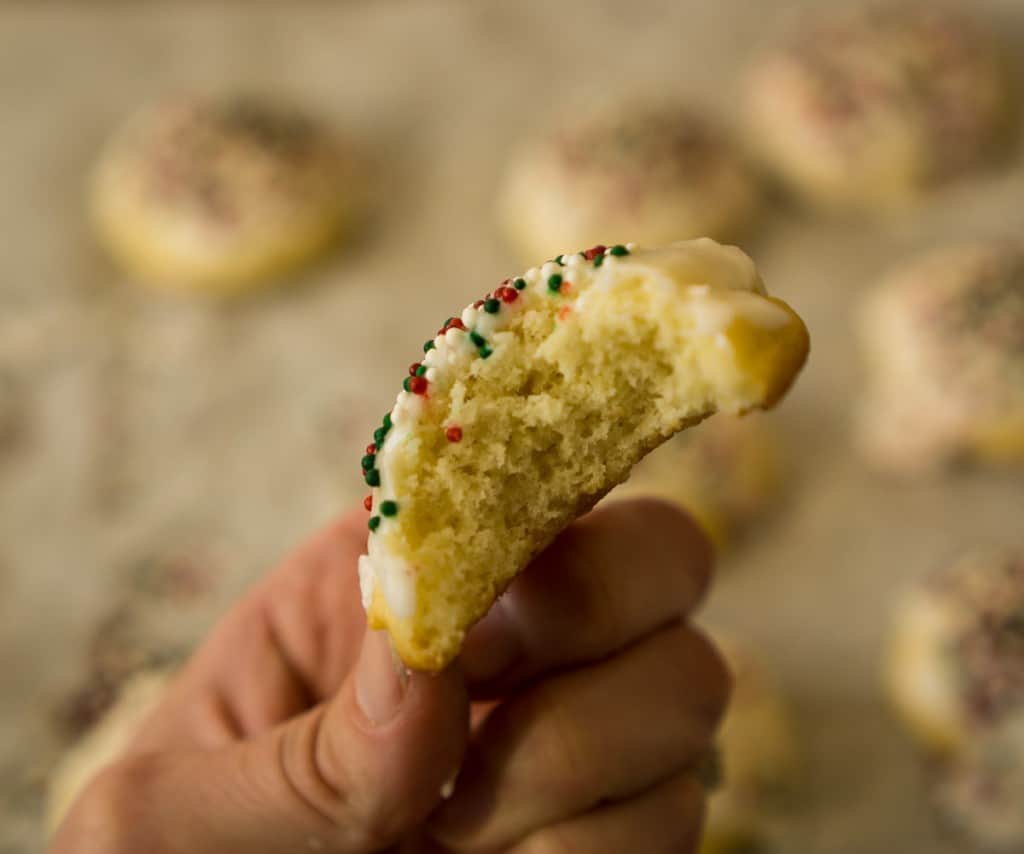 Hope you love them as we do!