A recipe for soft and golden brown sourdough burger buns, made with sourdough starter. The perfect companion for any sandwich.
???? In case you have never baked with sourdough before and need to know more, check out the beginners guide to baking with sourdough.
Ingredients for sourdough burger buns: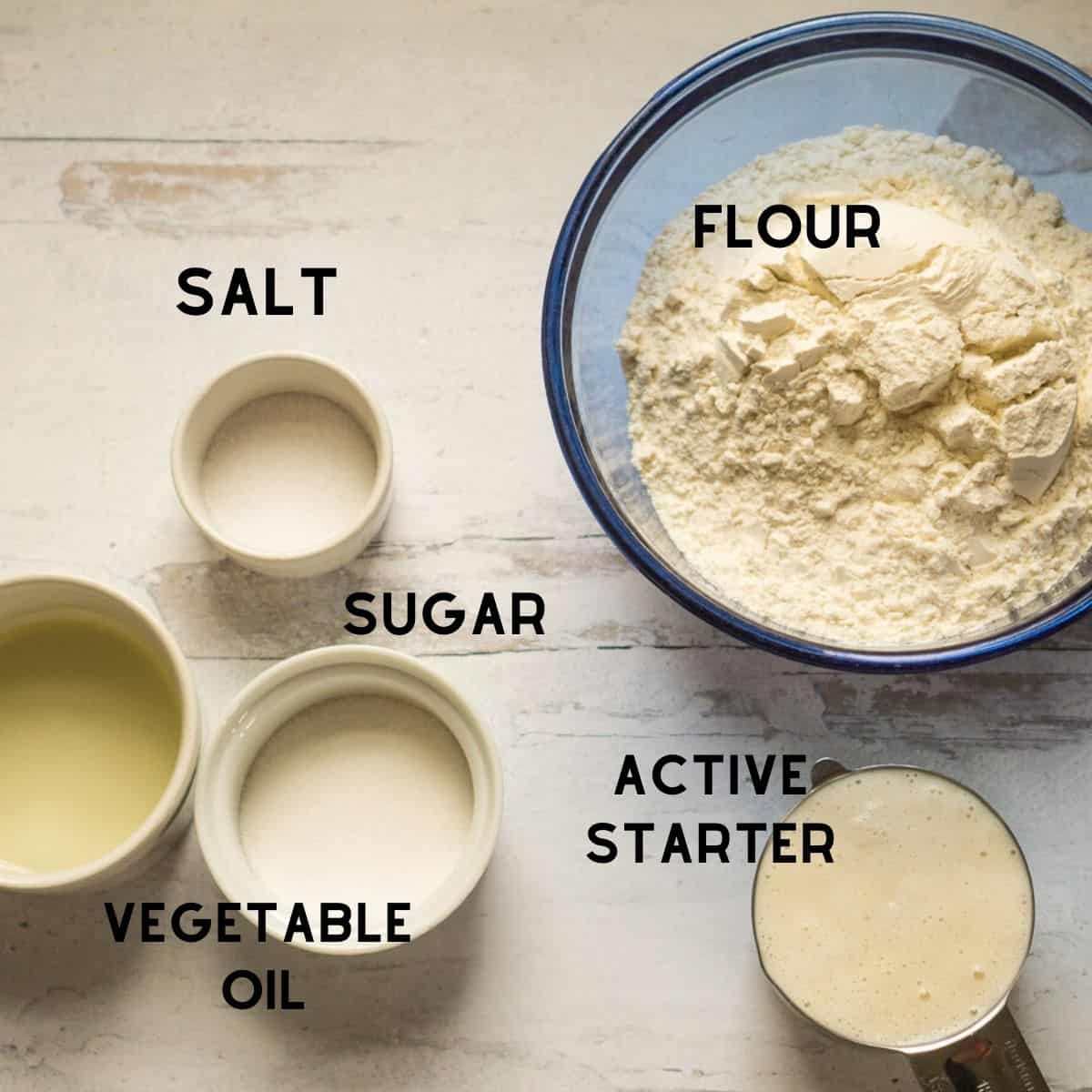 3/4 cup active sourdough starter
3 cups all purpose flour
1/2 cup water
2 tablespoons sugar
2 tablespoons vegetable oil
2 teaspoons salt
beaten egg and sesame seeds for topping the buns (look for sesame seeds in bulk for the best price!)
Helpful tools:
Let's make them together
Mixing and kneading the dough
We begin, like many recipes, with an autolyse phase. Don't be scared. It just means we're mixing up all the ingredients, except the salt, and giving them a little rest. Cover with a tea towel and let the bowl rest on the counter for about 30 minutes.
When the rest is over, add the salt and knead the dough. You'll want to knead for about 5-10 minutes if kneading with a stand mixer or about 15-20 minutes if kneading by hand. If you're using a bread machine, simply choose the dough cycle.
As the dough kneads, make sure it is clearing the sides of the bowl. It is a relatively dry dough and should not feel too sticky. But it should still be smooth and elastic, not dry, stiff, or lumpy. Add more flour or water as needed, a teaspoon or so at a time.
When the dough is smooth, place in a clean, lightly oiled bowl and put the bowl in a slightly warm place to rise. I like to use a warmed up but turned off oven. This step will take about 3-4 hours. If you are using the bread machine, let it complete the dough cycle but leave it a few hours more to finish rising.
Shaping the dough into buns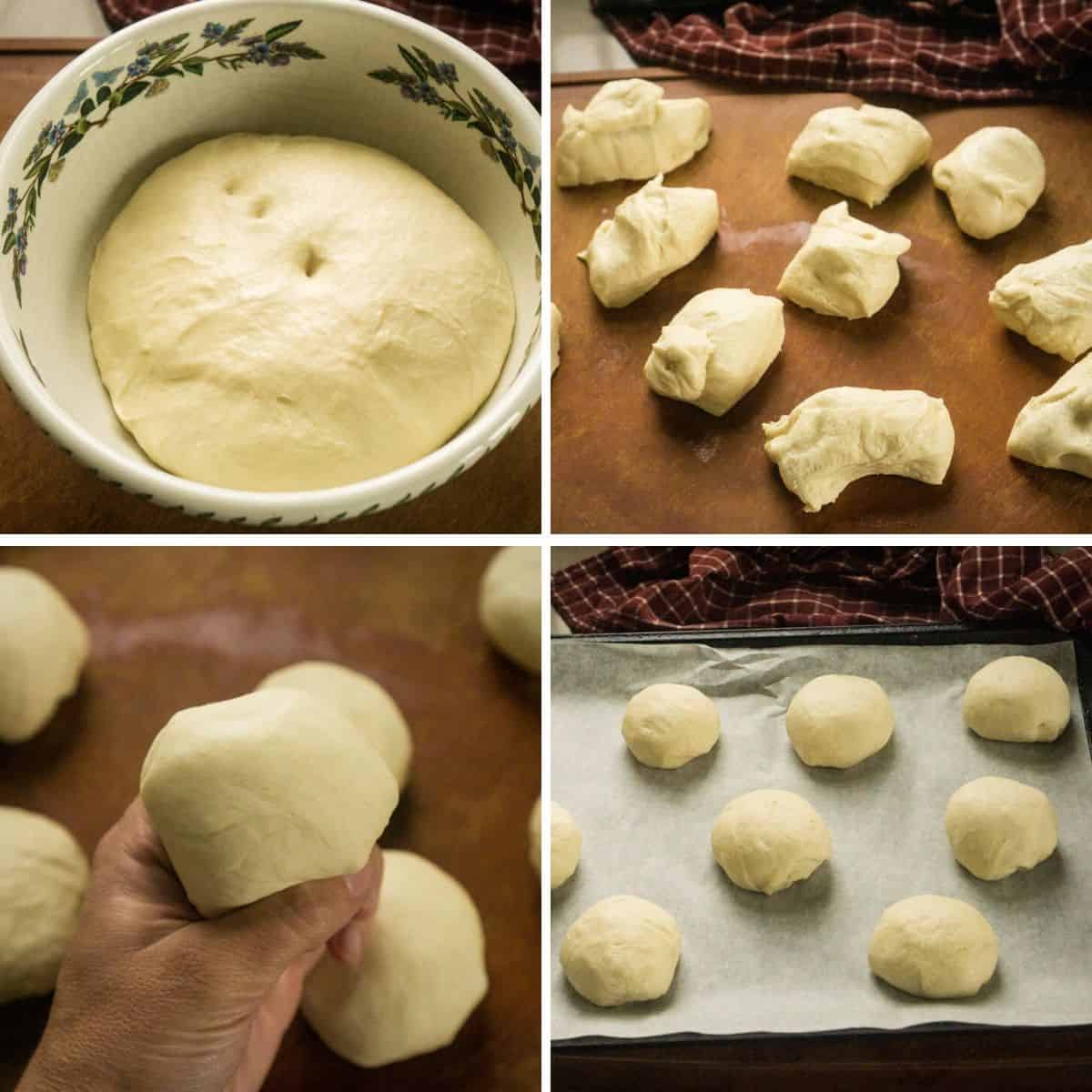 The dough is ready when it is very puffy. It may be double in bulk, or maybe not quite. To see if it is ready, poke it with your finger. Ideally, the indent of your finger with fill in halfway. If it doesn't fill in, let it rise a little longer.
Turn the dough out onto a cutting board and divide it. For full size burgers, you will want to divide the dough into eight pieces. For smaller burgers or sliders, go for ten, twelve, or even more pieces.
Shape them into a bun shape by pulling the bottoms of the buns to smooth out the top. Place them on a parchment lined baking sheet. Cover with heavily greased plastic wrap and place back into a warm place for another 3-4 hours. You can also place them in the fridge to rise overnight. (If they don't rise much in the fridge, set them out at room temperature for an hour or so in the morning until they do.)
Topping and baking the buns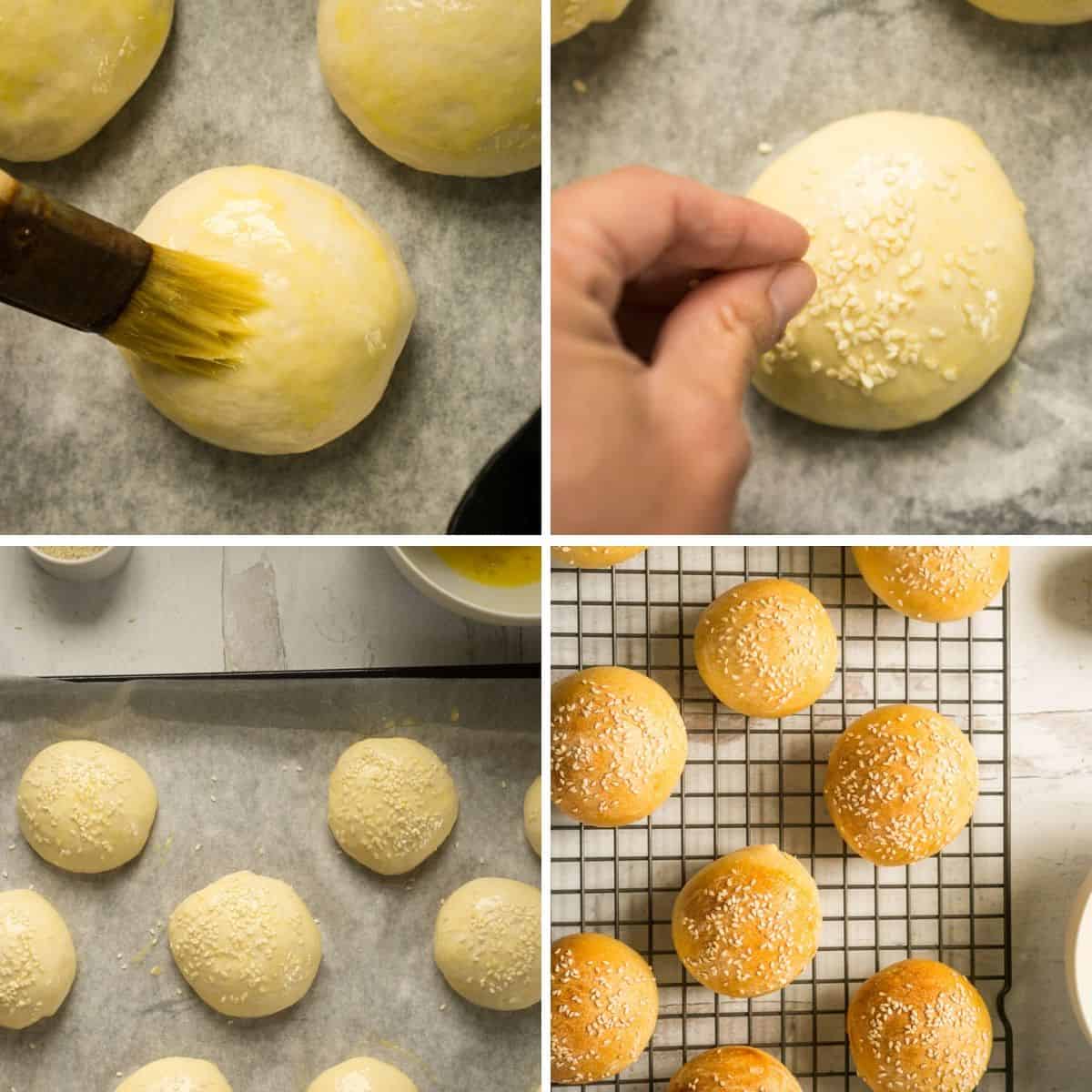 We're almost done! As you come to the end of the rising time, preheat your oven to 400 degrees with the rack in center. If you want to add steam to the process for a higher rise and fluffier texture, place a spare, rimmed metal baking sheet on a lower oven rack.
Brush the buns with the beaten egg, taking care not to squish them down Spinkle with sesame seeds.
Now we bake! If you're using steam, pour 1 cup of water onto the spare baking sheet. Place the buns in the oven. Larger burger buns will bake around 18 minutes, smaller ones about 15. (If you add steam, you'll need to leave them a few minutes more.
Let them cool completely before using.
???? Here's the recipe!
Want some free Christmas printables? Click here to grab 'em
Ingredients
3/4

cup

active sourdough starter

3

cups

all purpose flour

1/2

cup

water

2

tablespoons

sugar

2

tablespoons

vegetable oil

2

teaspoons

salt
for topping the dough:
1

egg

beaten

2

tablespoons

sesame seeds
Instructions
In a large bowl, combine all the ingredients except the salt. Cover and let rest 3o minutes at room temperature.

Add the salt and knead for 5-7 minutes, until a soft, smooth dough is formed. The dough can be kneaded by hand, stand mixer, or bread machine on the dough cycle. If the dough is sticking too much to the bowl, add flour a teaspoon at a time. It the dough seems dry or stiff, add water a teaspoon at a time. You want the dough to be smooth, elastic, and just slightly sticky. Place into a clean, lightly oiled bowl and allow to rise in a warm place for 3-4 hours, until very puffy. (It may not quite double in bulk.)

Divide into 10 pieces (or 15 for slider-sized buns), shape into balls, and place on parchment lined baking sheet. Cover with heavily greased plastic wrap and allow to rise in a warm place for 3-4 hours, or overnight in the refrigerator, until puffy. Preheat oven to 400 degrees with the rack in the center.

Brush the buns with beaten egg and sprinkle with sesame seeds. Bake about 18 minutes for larger buns, 15 minutes for smaller, until golden brown. (For a higher rise, place an empty, rimmed backing sheet in the oven while it is preheating, and pour in 1 cup of water to create steam when you place the buns inside.)

Remove burger buns to a cooling rack. Allow to cool completely before using for burgers. Best when served the same day they are made.
Notes
These buns freeze very well. Allow to cool completely before freezing, and defrost in the microwave.
Try topping them with poppy seeds or everything bagel seasoning for a twist.
Nutrition
Calories:
185
kcal
|
Carbohydrates:
31
g
|
Protein:
5
g
|
Fat:
4
g
|
Saturated Fat:
3
g
|
Cholesterol:
16
mg
|
Sodium:
473
mg
|
Potassium:
54
mg
|
Fiber:
1
g
|
Sugar:
3
g
|
Vitamin A:
24
IU
|
Calcium:
24
mg
|
Iron:
2
mg
Did you make this?
Let me know how it was! Please see below for serving ideas, storage instructions, and substitutions.
Ready for another project?