4×4 gardens are popular with new gardeners because they are easy to set up, work in small spaces, and you can reach the center of them easily. The only problem? People tend to jam too many veggie plants inside, wanting a little bit of everything.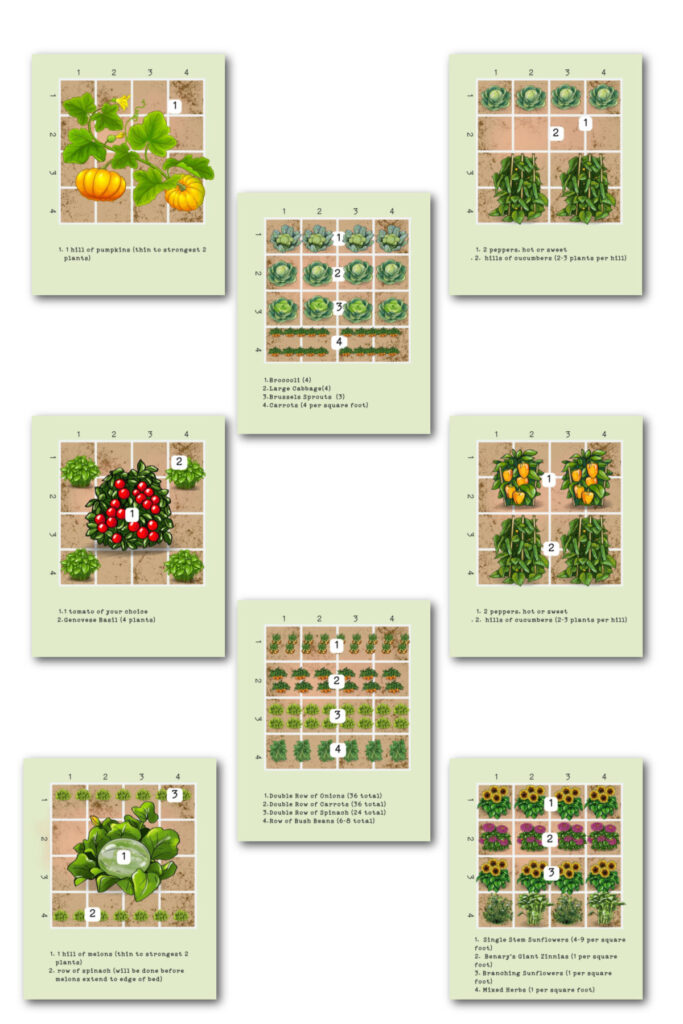 Here are a few sample plans that will be much, much more successful:
💡 Remember: The biggest rule of a 4×4 garden is don't overcrowd it. Your plants will do better and yield more with more room.
Plan 1: tomatoes and basil
Everyone gets excited about growing tomatoes in the summer, and basil is the perfect companion.
You might be disappointed. to only have one, but it will thrive, give you a great harvest, and do much better than crowding two into your bed.
Four basil plants will be enough for fresh eating and making pesto.
Plan 2: The early spring plan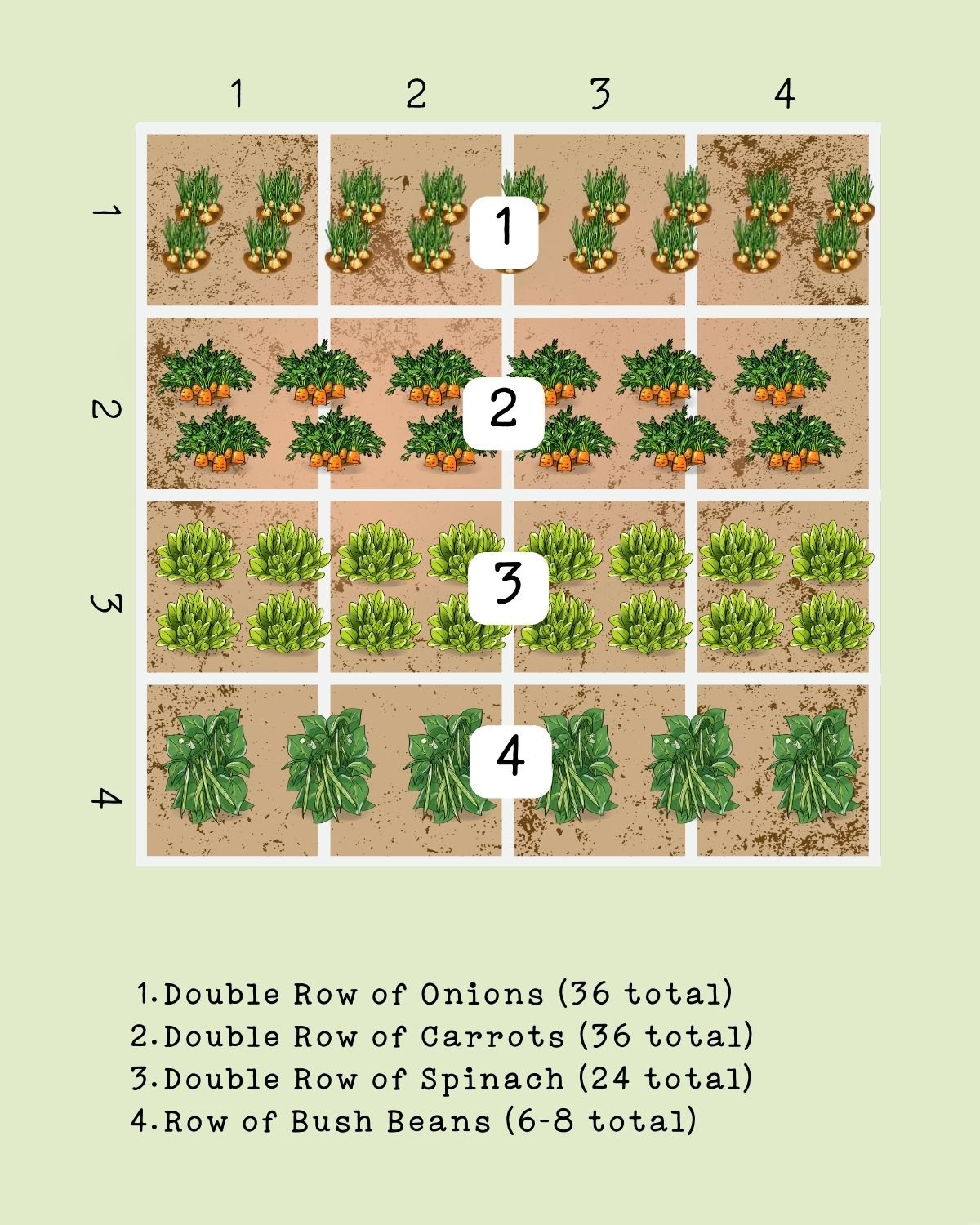 This little plan isn't as glamorous as some of the others, but it's super practical and holds a lot. Small row crops allow you to fit many more plants.
Onions, carrots, and spinach will all be harvested by July and allow you to plant a second quick crop in their place. A great use of space, and the perfect choice for a second bed if you have room for two.
Plan 3: The big guy
Pumpkins take up a lot of room, can be quite difficult to grow (hello, squash bugs), but are super, super fun.
Here's the thing: a 4×4 bed isn't that big, and if you want a big plant like this, it's the only thing you have room for.
Hedge your bets by planting a few seeds and eliminating all plants but the two strongest. This gives you the best chance for success.
Plan 4: midsummer bounty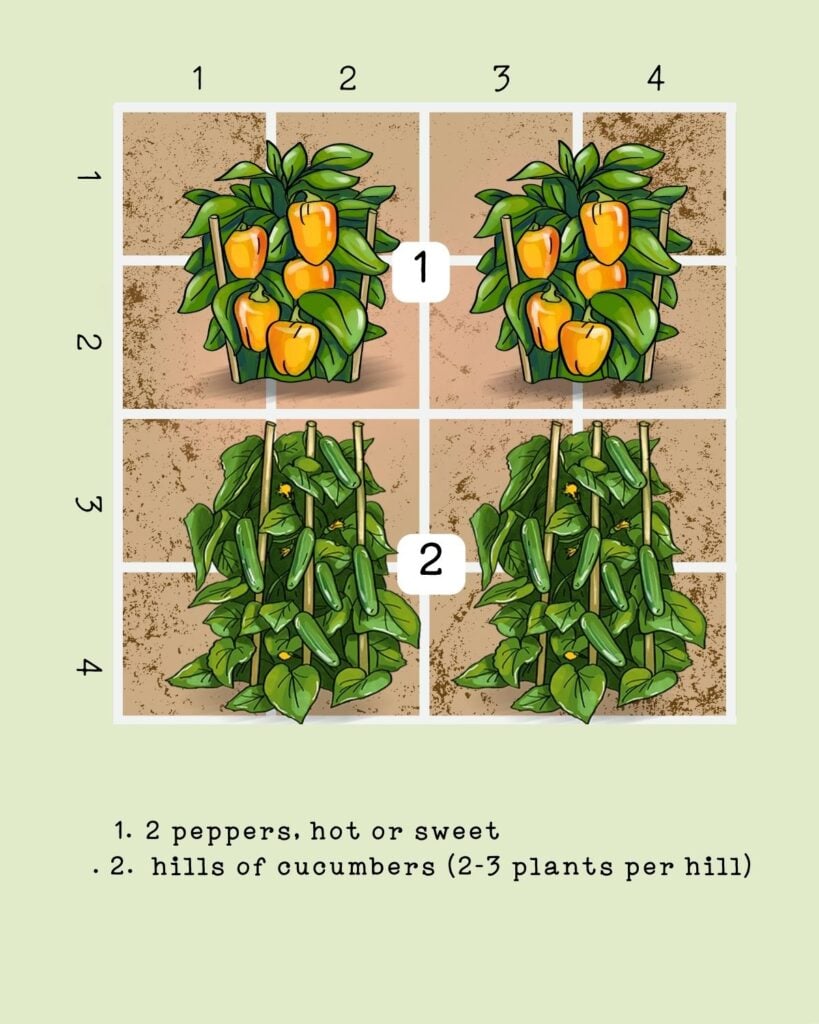 If you want to fill your harvest basket with beautiful big veggies, you'll love this plan.
Two cucumber plants are enough for fresh eating and refrigerator pickles. Bell peppers are easy to grow and versatile in the kitchen, but hot peppers are even easier and you can preserve them.
If you choose hot peppers, you can fit three in there just fine.
Plan 5: herbs and flowers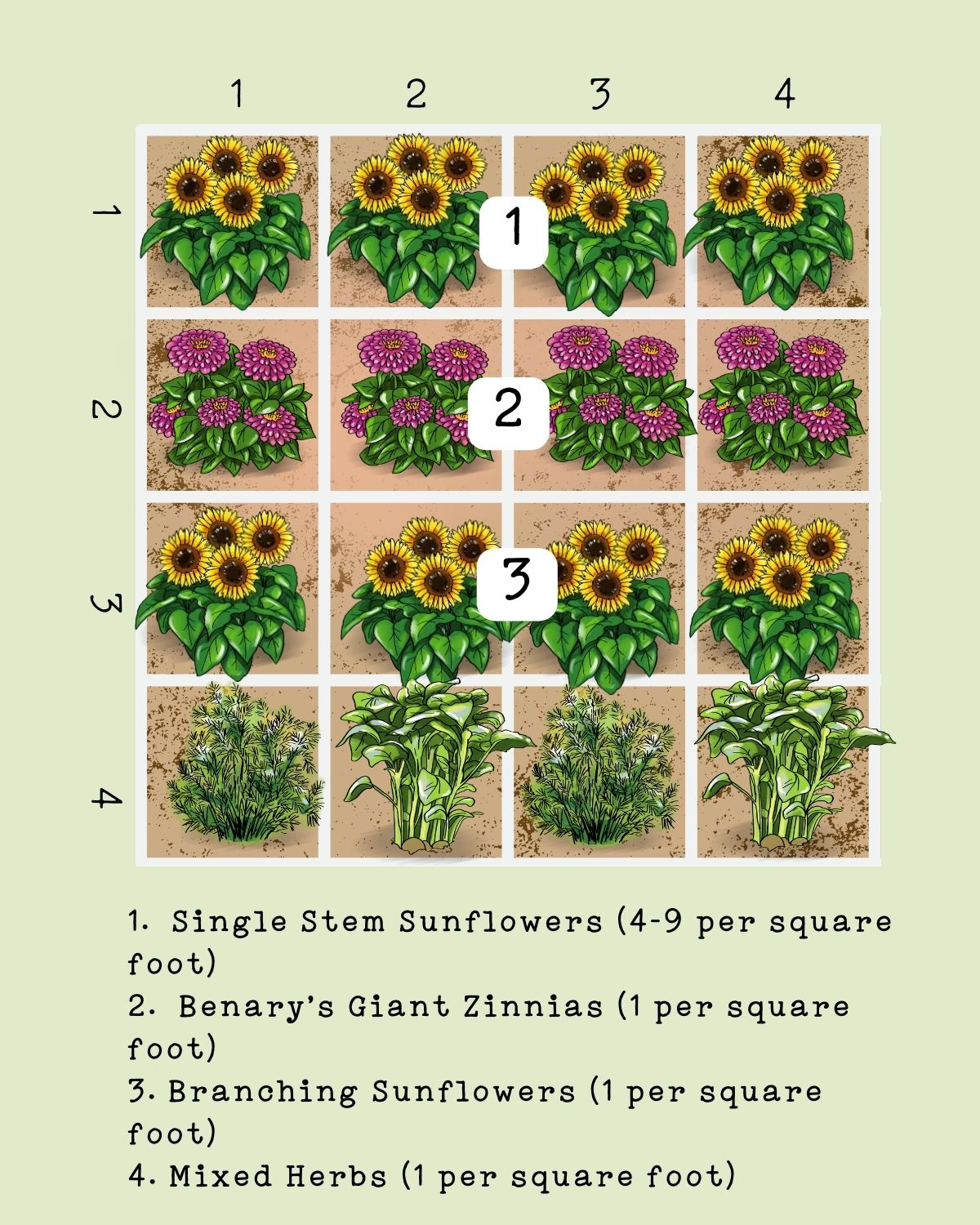 I love this plan for beginners because everything in here grows easily, it looks beautiful out your window, and kids will adore it.
There is absolutely nothing wrong with giving up garden space for fun things like flowers. They help attract pollinators to your yard and keep you happy.
Plan 6: big and little friends
Never forget about small plants that are quick to mature and can be totally pulled when they're done.
You can make borders with onions or spinach and get. rid of them before your large plant needs their space.
Plan 7: the fall and winter garden
Yes, each of these large brassicas (cabbage, brussels sprouts, and broccoli) needs a full square foot. They do beautifully in cooler weather, too!
Printable plans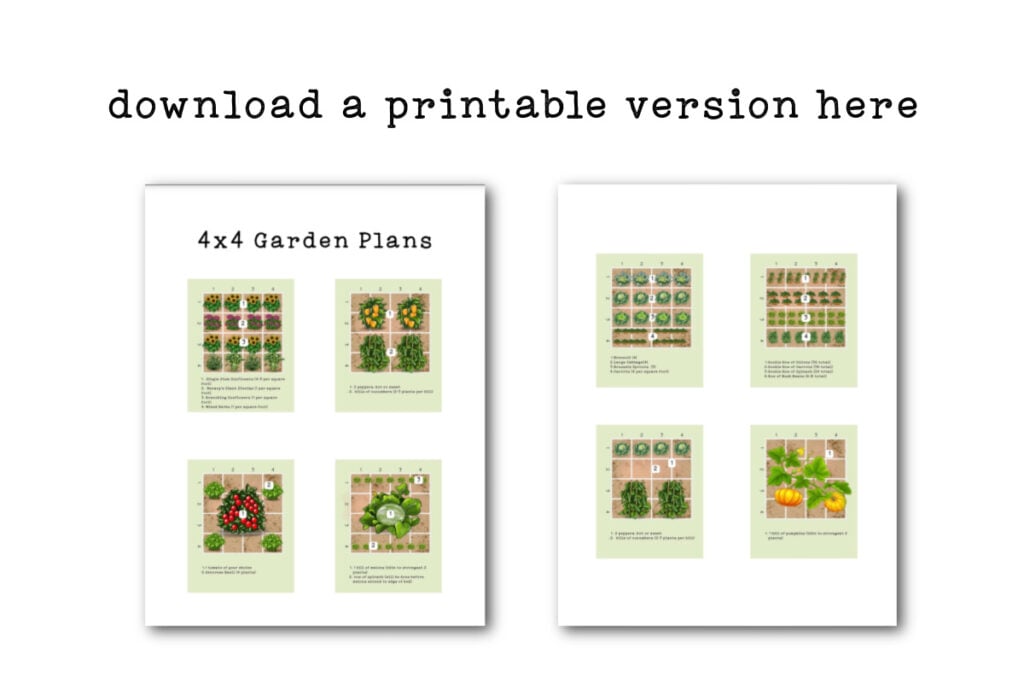 Tips for laying out a square garden
Plant tall things to the north of shorter things. Otherwise, your shorter plants will always be in the shade.
Do not try to cram in more stuff. This is the most common rookie gardener mistake, and it basically guarantees that nothing will do well.
In case you're wondering
How can I customize a garden plan?
Easy. Just substitute plants on the plan for similar-sized plants you like better
What if I want to grow more than this?
If you add too much, none of your plants will thrive and you'll harvest less than you would have if you'd just given them plenty of space.
🌽 More on garden planning and choosing your veggies