Simple canned beans made delicious with bacon and barbecue sauce, then baked in a cast iron skillet. Your new favorite baked beans.
An easy recipe for baked beans in a cast iron skillet: one dish, lots of flavor.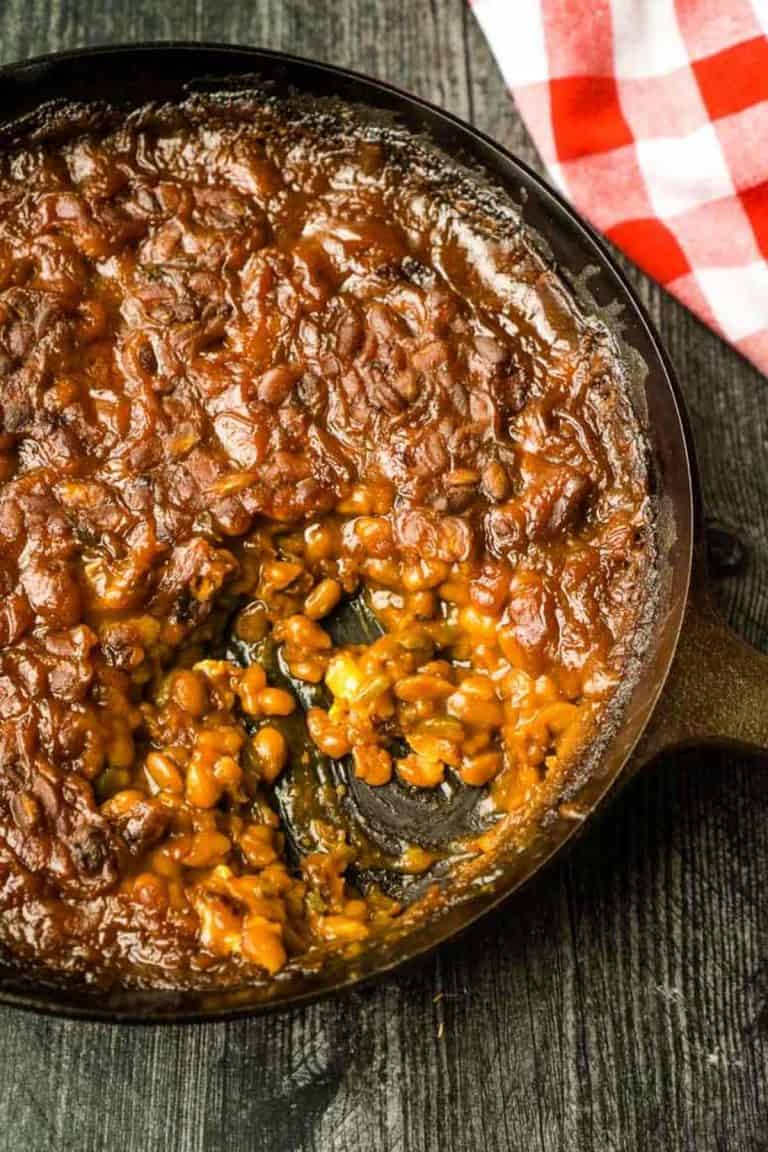 You want baked beans that feel a little more special that opening a can. And yet…soaking beans and cooking them all day feels like a bit much for a simple side dish.
No worries, these cast iron skillet baked beans are the perfect combination of easy and delicious. They are canned beans made special with everyday ingredients and just a few minutes of hands-on time. (If you love the idea of homestyle side dishes in a skillet, you'll love cast iron mac and cheese too!)
Let's begin!
Ingredients
4 slices bacon diced
1 small onion finely diced
4 tablespoons green pepper finely diced
2 large cans pork and beans (23.8 ounces each)
1/3 cup barbecue sauce
¼ cup brown sugar
2 tablespoon apple cider vinegar
1 tablespoons Dijon mustard
Step by step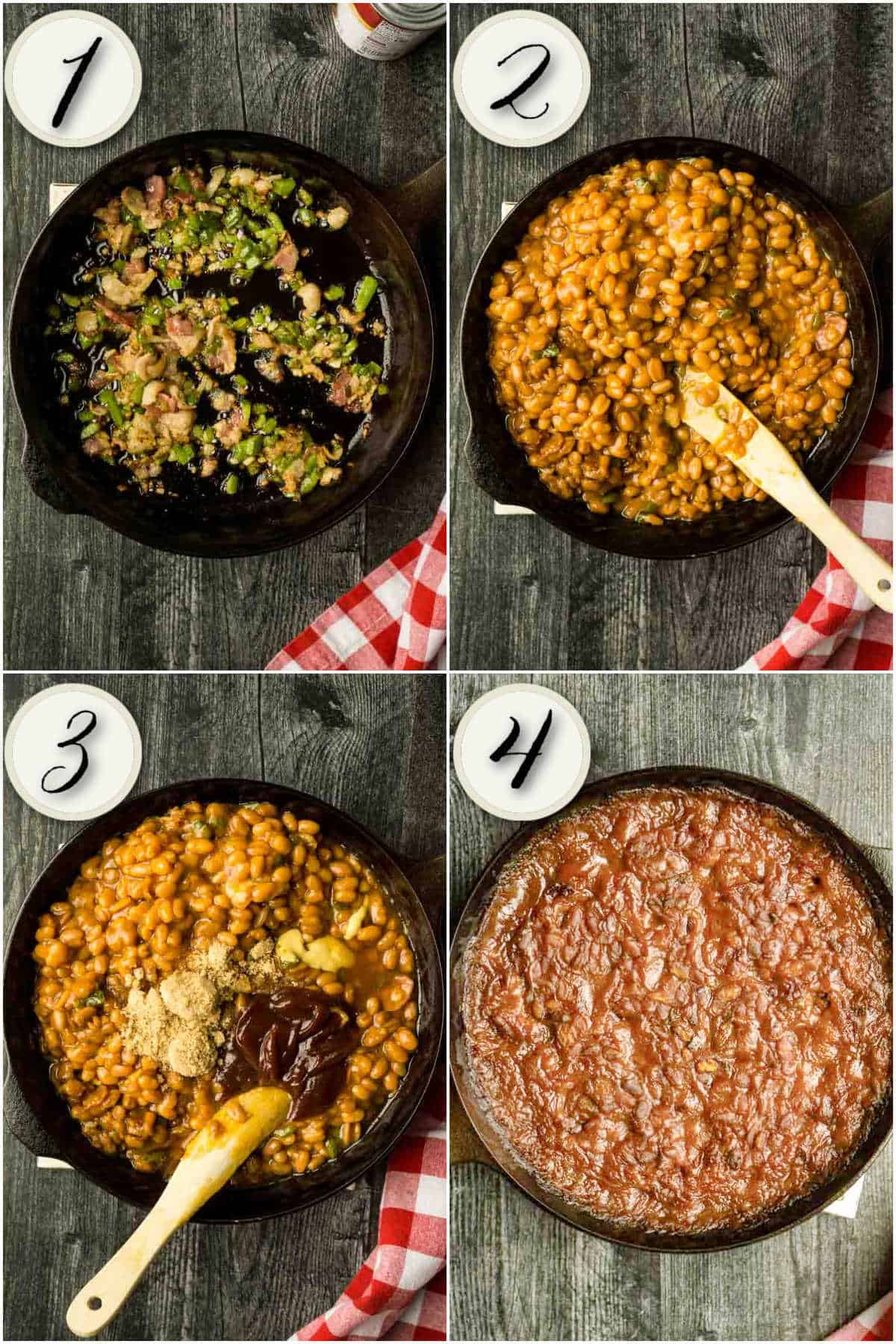 My friends, this recipe is as easy as they come. The best part is you'll only have one pan to wash: it goes from stovetop to oven to dining table. (For the easiest clean up, make sure your skillet is well seasoned. Try this seasoning oil for a beautifully non-stick surface.)
Preheat your oven to 300 degrees (yes, these cook for a long time at a lower temperature).
Begin by cooking the bacon, onion, and green pepper on the stovetop over medium heat. You'll want the pepper and onion completely softened and the edges just starting to turn brown.
Then add the cans of pork and beans and all the remaining ingredients: the brown sugar, barbecue sauce, Dijon mustard, and apple cider vinegar. Stir them well, making sure you eliminate any big lumps of brown sugar.
Pop the skillet into the preheated oven, uncovered, and let them bake for 11/ hours up to 2 hours. Why the big range? If your skillet is a little larger, your layer of beans will be more shallow and they will brown faster.
You'll know they are done when they are deep brown with slightly crisp looking edges.
Print the recipe
Cast Iron Skillet Baked Beans
Print Recipe
Simple canned beans made delicious with bacon and barbecue sauce, then baked in a cast iron skillet. Your new favorite baked beans.
Click here to grab a free mini-cookbook with my best seasonal recipes
Ingredients
4

slices

bacon

diced

1

small onion

finely diced

4

tablespoons

green pepper

finely diced

2

large cans pork and beans

(usually 23.8 ounces each)

1/3

cup

barbecue sauce

¼

cup

brown sugar

2

tablespoon

apple cider vinegar

1

tablespoons

Dijon mustard
Instructions
Preheat oven to 300 degrees with the rack in the center.

Cook the bacon, onion, and green pepper in a medium cast iron skillet (about 8 inches wide) until the bacon is mostly cooked and the onion and pepper are soft. Add the canned pork and beans and remaining ingredients and stir well to combine.

Bake, uncovered for 1 ½ hours, or until beans are well-browned. Serve directly from pan.
Notes
This recipe can be doubled and baked in a 12 inch skillet.
Keep any leftovers covered and refrigerated.
Nutrition
Calories:
152
kcal
|
Carbohydrates:
29
g
|
Protein:
6
g
|
Fat:
2
g
|
Saturated Fat:
1
g
|
Cholesterol:
9
mg
|
Sodium:
628
mg
|
Potassium:
402
mg
|
Fiber:
7
g
|
Sugar:
4
g
|
Vitamin A:
45
IU
|
Vitamin C:
6
mg
|
Calcium:
68
mg
|
Iron:
2
mg
Hope you enjoy this easy recipe!