How to welcome fresh air, sunshine, and the promise of a brand new start. These are the best ways to get your home ready for spring.
Every year, that day comes in March where the sky looks just a little different and the birds are chirping just a little louder. You look around your house and suddenly get the urge to change…everything.
Spring fever has hit you hard, and you need to know to make your home mirror that bright and beautiful world outside. Here's how.
1. Let in the air and light
Winter is cozy, but spring is fresh. And after months of huddling by the fire and wearing fuzzy stuff, we are all feeling ready to breathe some fresh air and enjoy the sunlight.
Everyone enjoys sparkling clean windows and window screens. This is one of the most annoying household chores, but one of the most important when you're ready to make your house feel like spring.
If you hate doing windows and can't afford to hire someone to do it for you, try just cleaning one window per day. (This is a great strategy for deep cleaning in general.) You'll get there!
Make sure you have screens in all your windows so you can open them on that first warm day.
Are your curtains heavy and dark? Consider switching them out for something lighter for spring and summer, or invest in some tie back pulls so that you get as much light shining in as you can.
Ready to settle into a slower, simpler life at home? Download your free guide: 3 Simple Steps to a Homemaking Routine You'll Love.
2. Add white and cream
White and cream are bright, cheerful, and go with everything. Any time you can add a touch of them, that room will feel lighter and happier. And you can work them in just about anywhere.
Some ideas:
sheer white curtains on your windows (this is especially pretty in bedrooms and bathrooms)
fresh white pillowcases on your bed
a collection of small creamware pitchers on your dining room table
white platters hung on the wall
a light-colored or white rug (not practical for everyone, but makes a huge difference!)
cream or white throw pillows
3. Get something growing
It honestly doesn't matter what. But spring means growing above all else, and your home should reflect that. But when you're ready for spring and it's too cold to plant outside, what to do?
Start garden plants inside (even if you don't have a vegetable garden, you can start seeds for containers indoors)
Get a houseplant
Buy some small herb plants and keep them on a sunny windowsill
4. Spring fragrances
A new season means new fragrances. And springtime fragrances are some of the best. Whether you like candles, room sprays, or wax melts, switch up your fragrances for the season to help you welcome spring.
Don't forget to get springy fragrances for your dish soap and cleaning spray, too!
Some favorites:
5. Floral touches
Fresh flowers do something special for every house. And if you can grow your cutting flowers or simply cut some blooming branches, your home will look like spring instantly.
But what if you don't have room for a garden or you have allergies? That's okay!
Here are some other ideas to add floral elements to your home, without the flowers.
A light floral quilt folded at the foot of your bed or draped over your bed.
Vintage-style floral botanicals framed in a group of four in your hallway.
Faux floral branches or wreaths (from a distance they don't look bad!)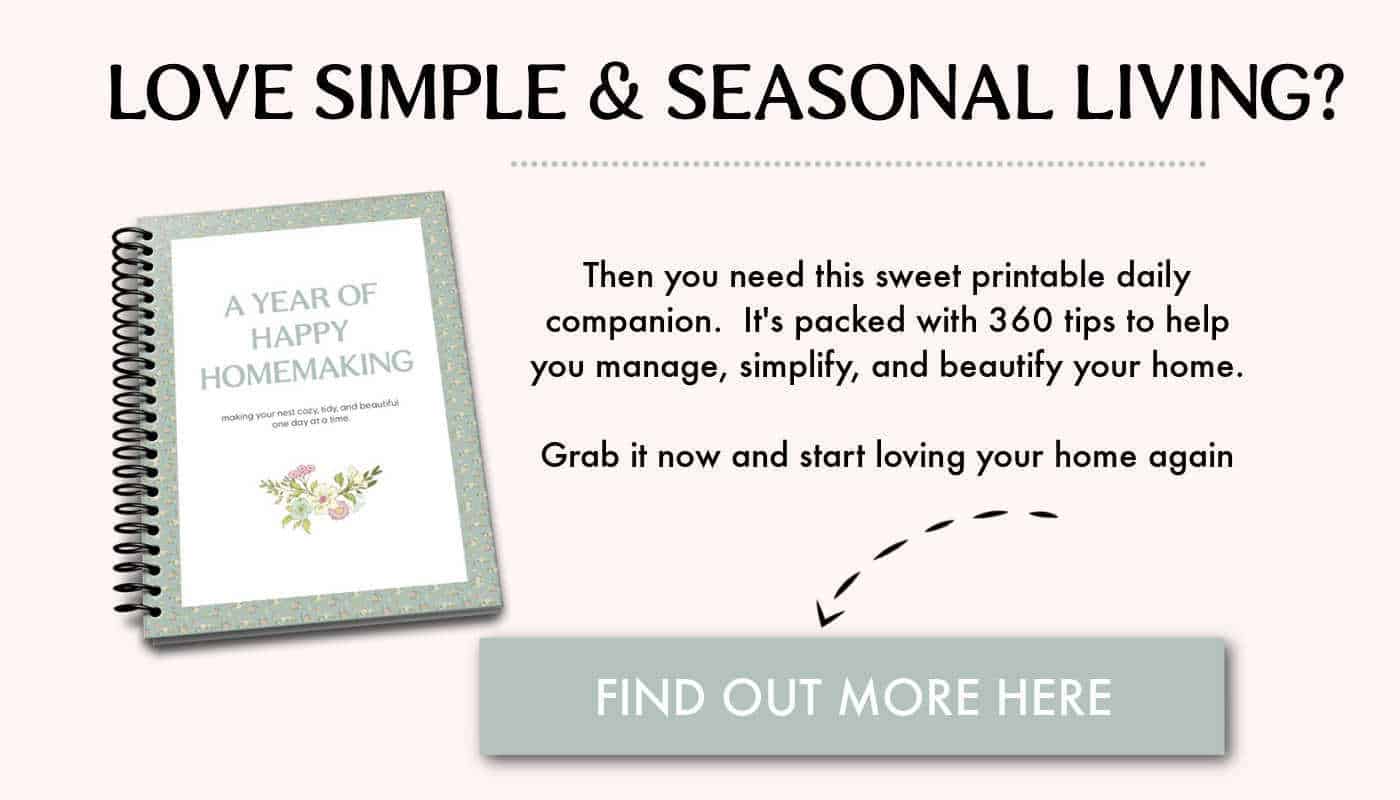 5. Rearrange your furniture
Switching furniture around also makes your house feel new. To prepare your home for spring, try orienting your view to look out a window. Move your end tables around, try lamps in new spots, or just remove pieces if your house feels cluttered overall.
Even if the result is not better than what you have, it feels good to try something new now and then.
Go ahead and dust while you're at it.
6. Find seasonal recipes
Every season has its own recipes, and of course, spring is no different. Make sure you spend a little time before spring gets here researching things you'd like to try.
Whenever you come across a recipe you like that uses the grill or strawberries or feels out of season in the winter, make sure you save it! When the weather changes, you'll have a whole collection of things to try.
It might seem like a little thing, but nothing is more seasonal than food.
7. Hang up a clothesline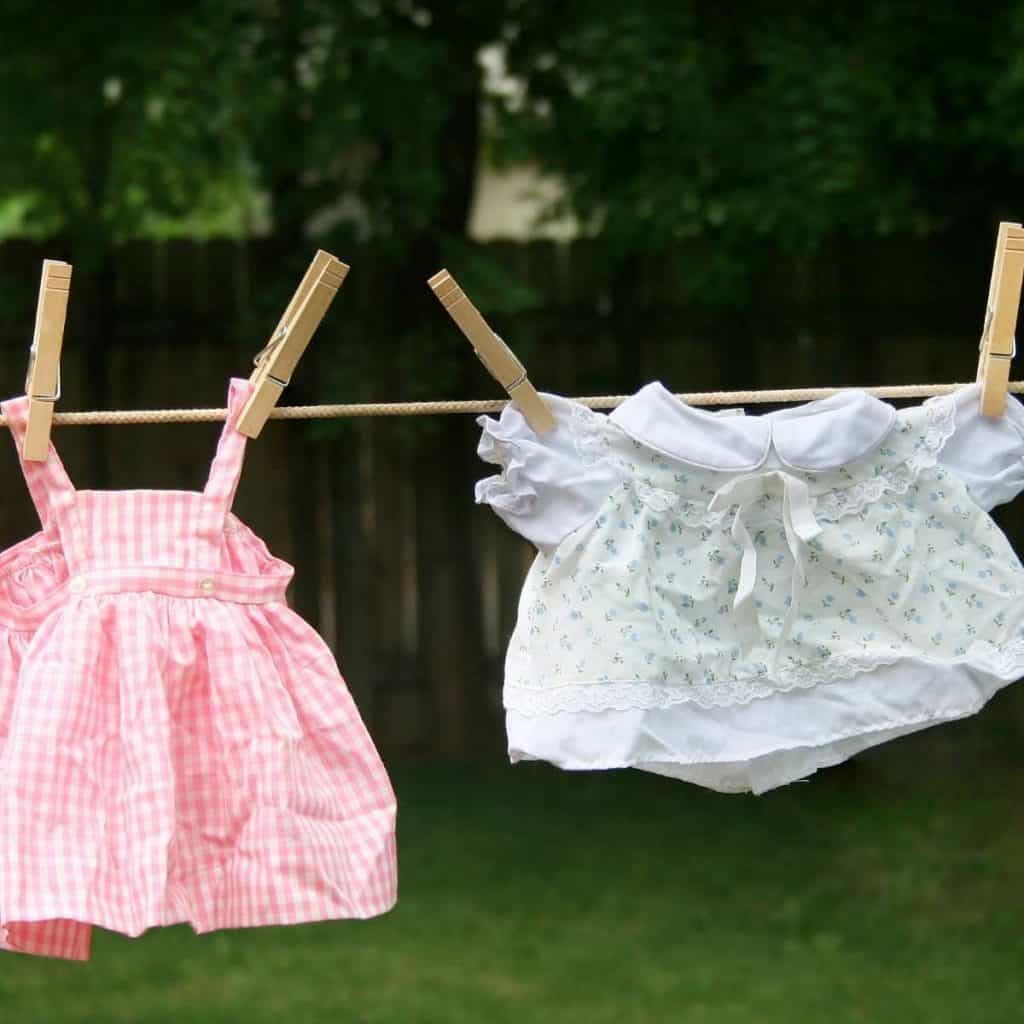 One of the best tips for improving your mood is to start line-drying your laundry. Does this sound nuts? Well, it works!
Hanging up your clothes in the fresh air forces you outside, twice, to get a little sun and air and exercise. It makes you feel productive, and it looks pretty. Sheets and towels that have dried in the sun smell great and feel fresh. It's a great way to capture the outdoors and bring them in.
If you don't have space for a clothesline, try a folding drying rack or just hang your towels over the edge of your deck.
8. Purge the pantry
Cleaning out the pantry is one of those home tasks that isn't fun but is always rewarding.
Go through all those foods you know you'll never really eat and just throw them out. Organize what's left, and start stocking your pantry with things you'll really use for the season.
Since spring is on the way, stock up on sparkling water, barbecue sauce, and anything else you need for warmer weather.
Do you love preserving food at home? Don't forget to get ready for canning season too!
9. Spruce up your mudroom and coat closet
This is one of the best parts of saying goodbye to winter! That messy jumble of coats, mittens, and snow boots can get packed away. Give your mudroom a good scrubbing, and clear out the coat closet.
Of course, spring will bring rainy days, so you'll need your raincoat and boots. Be sure to check and replace your springtime weather gear as needed.
But clearing out all that winter stuff is a great way to make room for a new season, mentally and physically.
10. Style your shelves
There's no need to go crazy here and make your house look fake and weird. But overstuffed bookshelves that feel cozy and slightly cluttered in winter will drive you crazy in spring.
Remove enough items so that your books have a little breathing room. You can add vases, framed photos, small sculptures, or anything else to add beauty and a little space to your shelves.
11. Do some spring cleaning (on your terms)
There's absolutely no reason to set aside a week of misery to clean the gutters, wash all the windows, and go through every cabinet in the house.
But spring cleaning is a tradition for a reason. Winter does a number on a house, from ashy fireplaces to muddy shoes to all that time at home making messes. But more than that, spring comes with a light and fresh energy that all but demands a clean house. So when the urge hits, do a little extra cleaning. It's in the air.
12. Add pretty linens
We've already discussed white pillowcases and light floral quilts. But there are even more opportunities to add touches of spring to your home through the linens you choose. Here are some of the best ones to add a little cheerfulness and color:
13. Clean up the deck and porch
Winter can be hard on your outdoor spaces. When spring is on the way, cleaning up your deck and porch is one of the best things you can do to make sure you're ready. Check for cracked planters, damage to your furniture, and anything else that needs to be cleaned or thrown away.
If you used covers on your outdoor furniture, it's probably in good shape. When the weather turns warmer, fold them and tuck them away so your deck is ready to enjoy.
Hopefully you found this list of ways to prepare for spring encouraging and exciting, not overwhelming. Enjoy the season!