Make this pizza dough at least one day ahead for a stretchy, thin pizza crust 
This recipe for thin crust pizza dough is the best way to have New York style, thin crust pizza at home. It combines a long cool rise and high-protein flour to produce a chewy, well browned crust that can be stretched easily.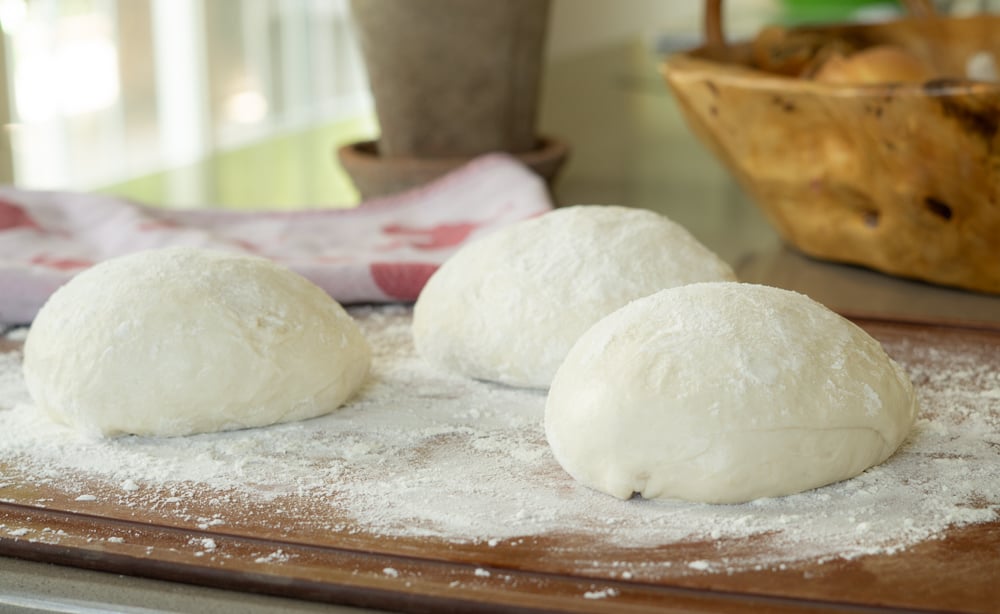 (If you're looking to turn this into an actual pizza, I have a separate New York style pizza recipe.)
What makes a good homemade pizza dough?
I have tried probably every homemade pizza dough known to man. After combining elements of recipes from the Pioneer Woman and America's Test Kitchen, this recipe was born. I was primarily looking for a dough that could be stretched thin. This is really important for a thin, New-York style pizza. A good homemade thin crust pizza also bakes all the way through and has a crisp bottom. (Have you ever made a floppy, doughy homemade pizza? I have! It's gross.) I wanted a lot of flavor, a crust that would brown, and a relatively simple method. This recipe accomplishes all of that!
When you look over this recipe, it may seem like there is a lot of sugar. Don't worry, the dough won't taste sweet. That's because as the pizza dough sits in the fridge during its long rise, the yeast will consume some of that sugar. Whatever remains is helpful in browning the crust and adding flavor. Don't reduce the sugar in the recipe!
How long should the dough rise?
An essential part of this recipe is the 1-3 day rise. Part of that is due to the amount of sugar in this dough. Without that long rise, the dough will be overly sweet. More importantly, the rise allows the dough to be very stretchable and easy to work with. Without it, the dough will spring back on you and be too difficult to stretch out into a nice, thin crust. But if you let the dough rise an instructed, it will be easy to work with and pull as flat as you want. If you have any trouble getting it thin, just let it rest on the counter for ten minutes, and pull again.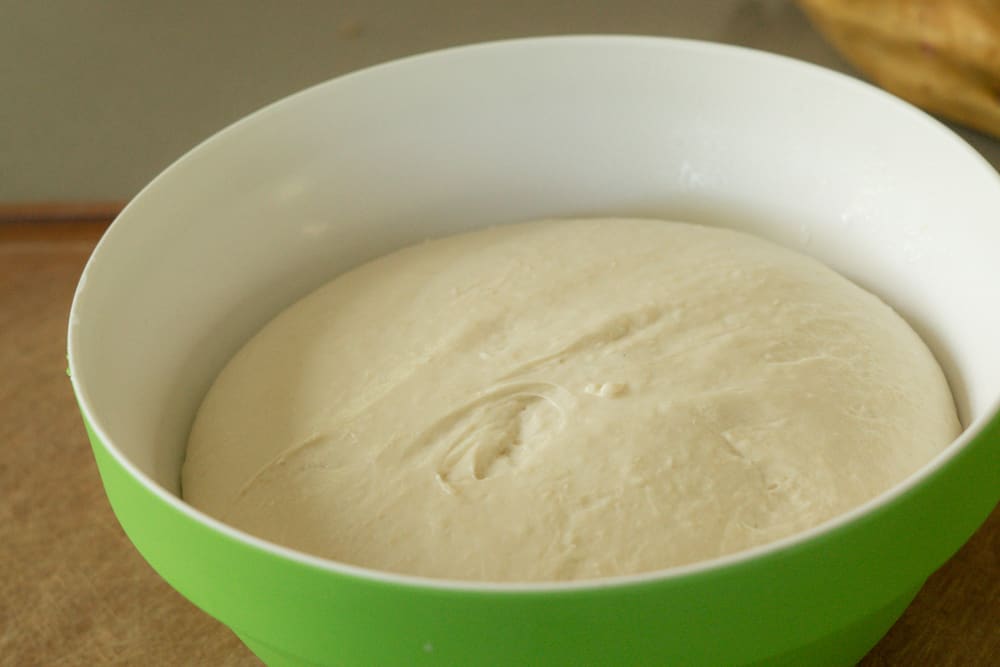 How to use homemade pizza dough
I like this dough recipe for pizza (duh), pizza rolls, and breadsticks..
To make a thin crust pizza with this recipe. Remove the dough from the fridge after its 1-3 day rise. Divide in thirds and place on a floured surface on the counter. Lightly cover, and allow it to rest at room temperature. Lay out three sheets of parchment pape, sprinkle them with cornmeal, then start stretching out your pizza dough into your desired shape. Continue with your favorite sauce and toppings. (I bake at 500 degrees for 11 minutes on a pizza stone that has been preheated for 1 hour. I usually bake my favorite wing recipe while the stone is there heating up.)
To make a pizza roll, just stretch some of the dough into a rectangle, top with cheese and a topping or two, and roll up. Brush with egg wash and bake at 400 degrees for 40 minutes. Half of this recipe will make a family sized pizza roll.
If you are using the dough for breadsticks, remove it from the fridge, divide into small balls and let them rest on the counter for 30 minutes. Then pull them into the desired shape and brush them with a blend of melted butter and minced garlic. (2 tablespoons of butter to 1 clove of garlic.)
Is this an easy recipe?
Yes! The food processor is the key to make this recipe easy. There aren't many ingredients, and not much hand kneading. The only thing is that this recipe needs a lot of time. There's the long rise, and then the long preheat of the pizza stone once it comes time to actually turn this dough into pizzas. It also make a mess of flour once you remove it from the fridge and start shaping it. But it is definitely easy.
Ingredients you'll need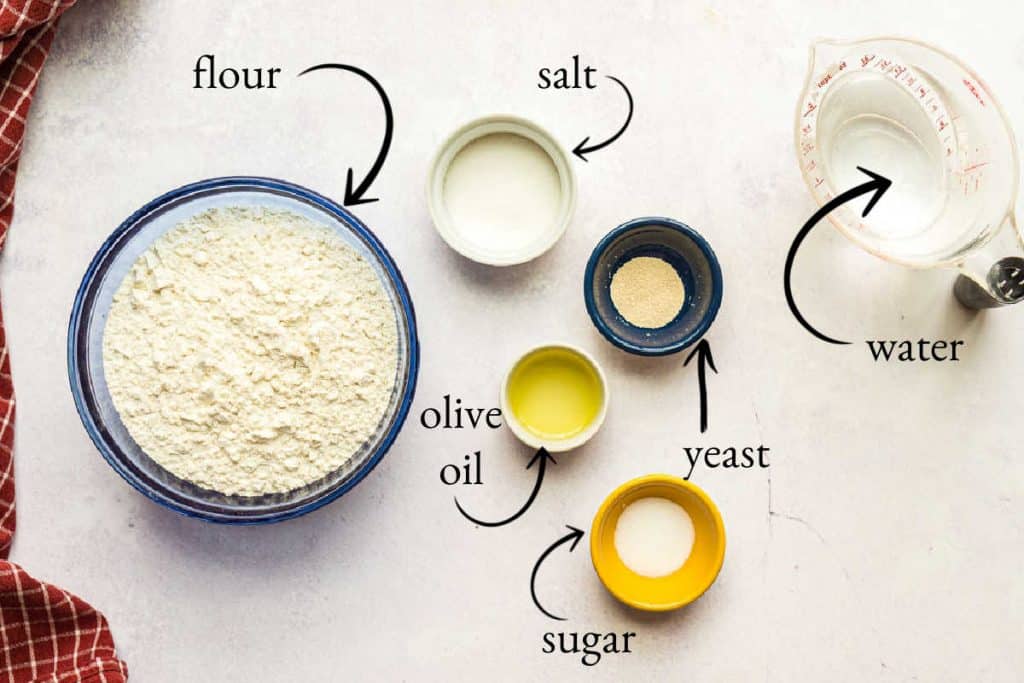 4 cups bread flour
2 1/2 tablespoons granulated sugar
2 teaspoons salt
3/4 teaspoons instant yeast
1 3/4 cup water
1 tablespoon olive oil
Step by step thin crust pizza dough
Kneading the dough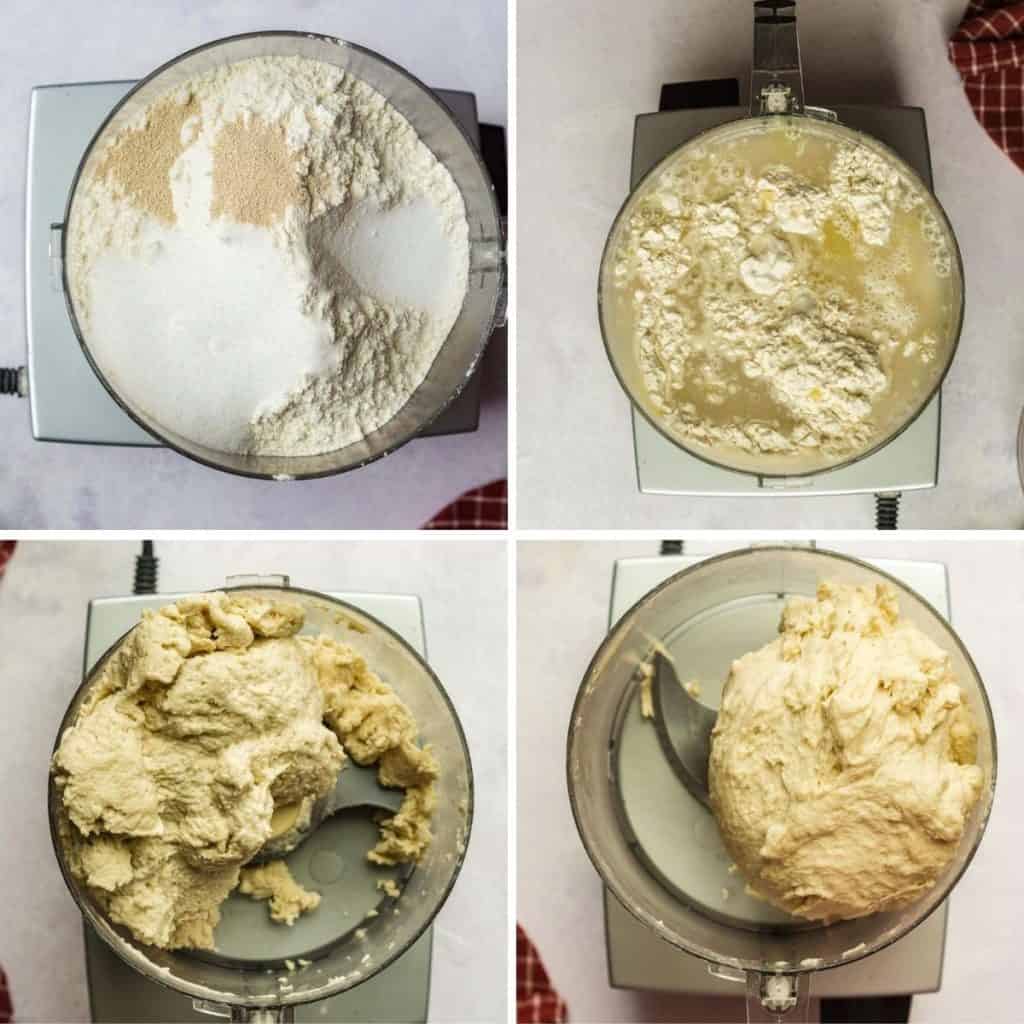 We begin by quickly mixing the dry ingredients (the flour, yeast, salt, and sugar) in the food processor. Then add the oil and water and blend until combined. Run the food processor for about 20 seconds until a dough is formed. If it seems dry and is not coming together, add more water a teaspoon at a time. If it seems too wet and is overly sticky, add more flour a teaspoon at a time.
Continue to knead in the food processor in 20 second bursts until a smooth dough is formed. Keep in mind that dough can be tough on the motor of your food processor, so it seems hot or like its straining, give it a break.
Prefer to knead dough in your stand mixer? Learn how here.
Checking and proofing the pizza dough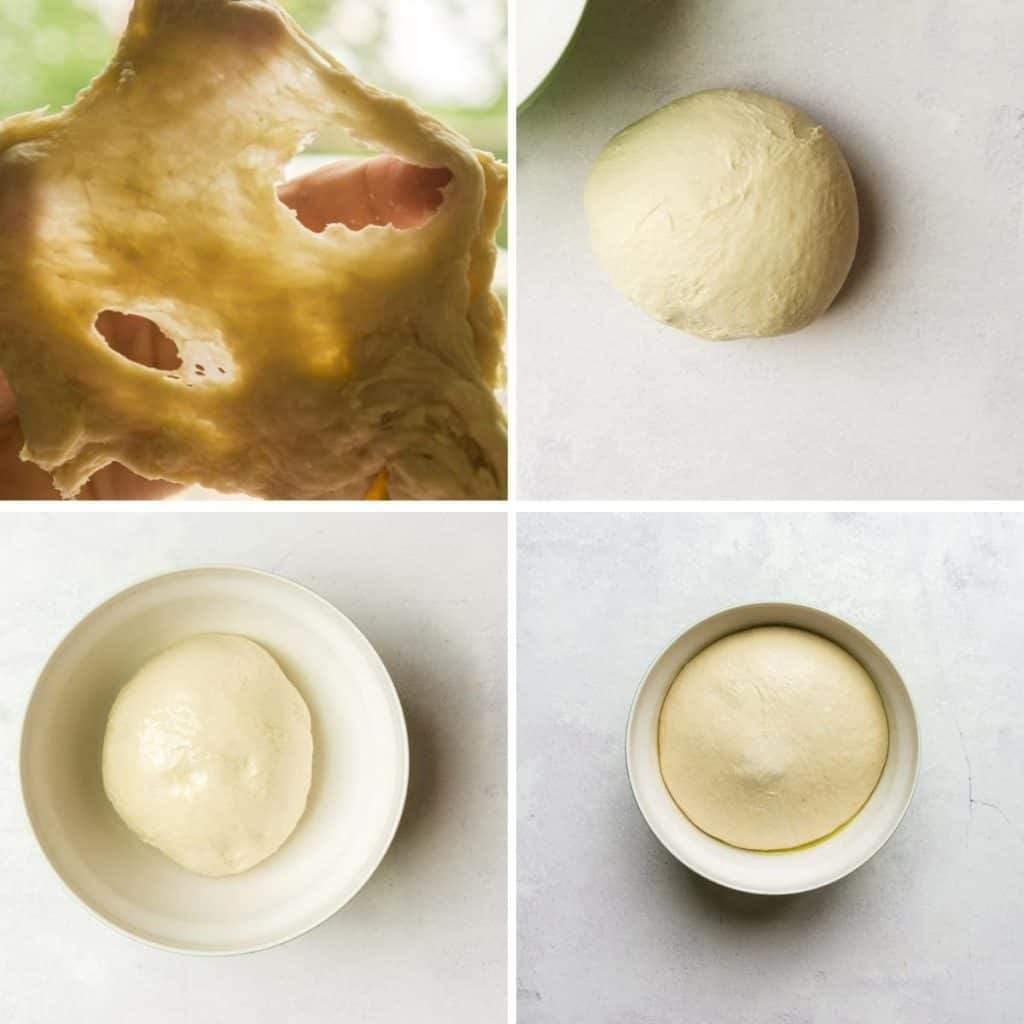 When the dough looks smooth, you can start checking to see if its been kneaded enough. Do this by taking a golf-ball sized piece and stretching it out. You are looking for translucent areas. It may still tear some, and this is okay because the gluten will continue to develop during its long rest in the fridge. As long as you see some translucent areas, it's been kneaded enough.
Shape the dough into a ball and coat it lightly with olive oil. Place in a bowl and cover tightly with plastic wrap, place it in the fridge for its long overnight rise.
When its time to bake
When you're ready to make your pizza, remove the dough an hour or so beforehand. Divide it into two or three balls and let them rest on a floured surface. Proceed with your pizza recipe once the dough has warmed to room temperature and becomes easy to work with.
For the pizza lovers:
Our favorite pizza recipe uses a super-hot pizza stone with parchment paper for trouble-free baking.
Forgot to make your dough the day before? No worries. Pepperoni bread has all the flavors of pizza and is ready to eat in about 3 hours.
Sourdough pizza crust is another great recipe for the sourdough baker.
Print the recipe here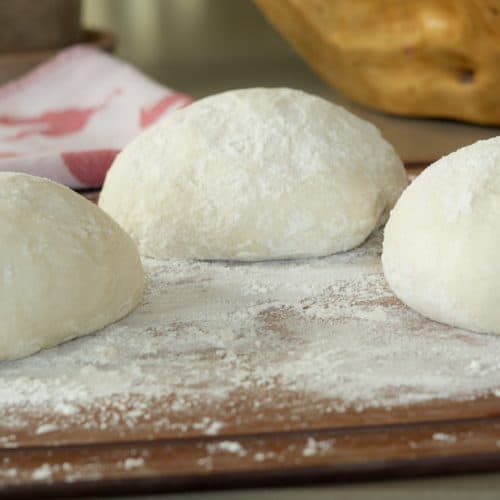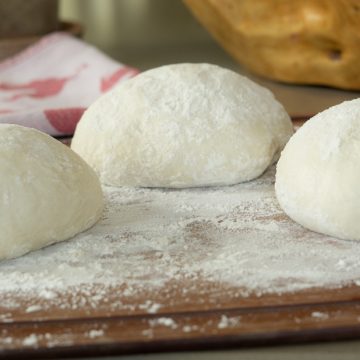 Homemade Thin Crust Pizza Dough
Print Recipe
Make this pizza dough at least one day ahead for a stretchy, thin pizza crust
Click here to grab a free seasonal e-cookbook!
Ingredients
4

cups

bread flour

2 ½

tablespoons

sugar

¾

teaspoons

yeast

SAF instant brand is best

1 ¾

cup

water

cool or room temp.

1

tablespoons

olive oil

vegetable is fine too

2

teaspoons

salt
Instructions
In a food processor, combine the flour, sugar, yeast, and water. Allow to sit a minute or two to hydrate all the dry ingredients.

Add the salt and oil and knead the dough in the food processor. Run it for 30 seconds, then let the machine rest a minute. Run it another 30 seconds. Check the dough for a stretchy, translucent quality "windows". If they have not developed, knead in the the machine for another 30 seconds.

Remove dough from machine and place in lightly oiled bowl. Cover tightly and refrigerate for at least 24 hours and up to 3 days. Allow to come to room temperature before using.
Notes
This recipe will make 3 thin-crust pizzas that fit on a standard sized home pizza stone.
Nutrition
Calories:
176
kcal
|
Carbohydrates:
33
g
|
Protein:
5
g
|
Fat:
2
g
|
Saturated Fat:
1
g
|
Sodium:
391
mg
|
Potassium:
49
mg
|
Fiber:
1
g
|
Sugar:
3
g
|
Calcium:
7
mg
|
Iron:
1
mg
Did you make this recipe?
If you loved it, please leave a review!