Chewy, flavorful, perfect. This thin-crust pizza dough recipe lets you enjoy New York-style pizza at home.
With it, you can create a simple dinner or a meal for friends and family. It's about bringing a bit of that pizzeria taste to your kitchen without much fuss. Try it out and see how it becomes your favorite base for all your pizza toppings.
This recipe is budget-friendly, flexible, and easy to make. It's a great way to start working with yeast dough if you aren't quite ready for bread baking.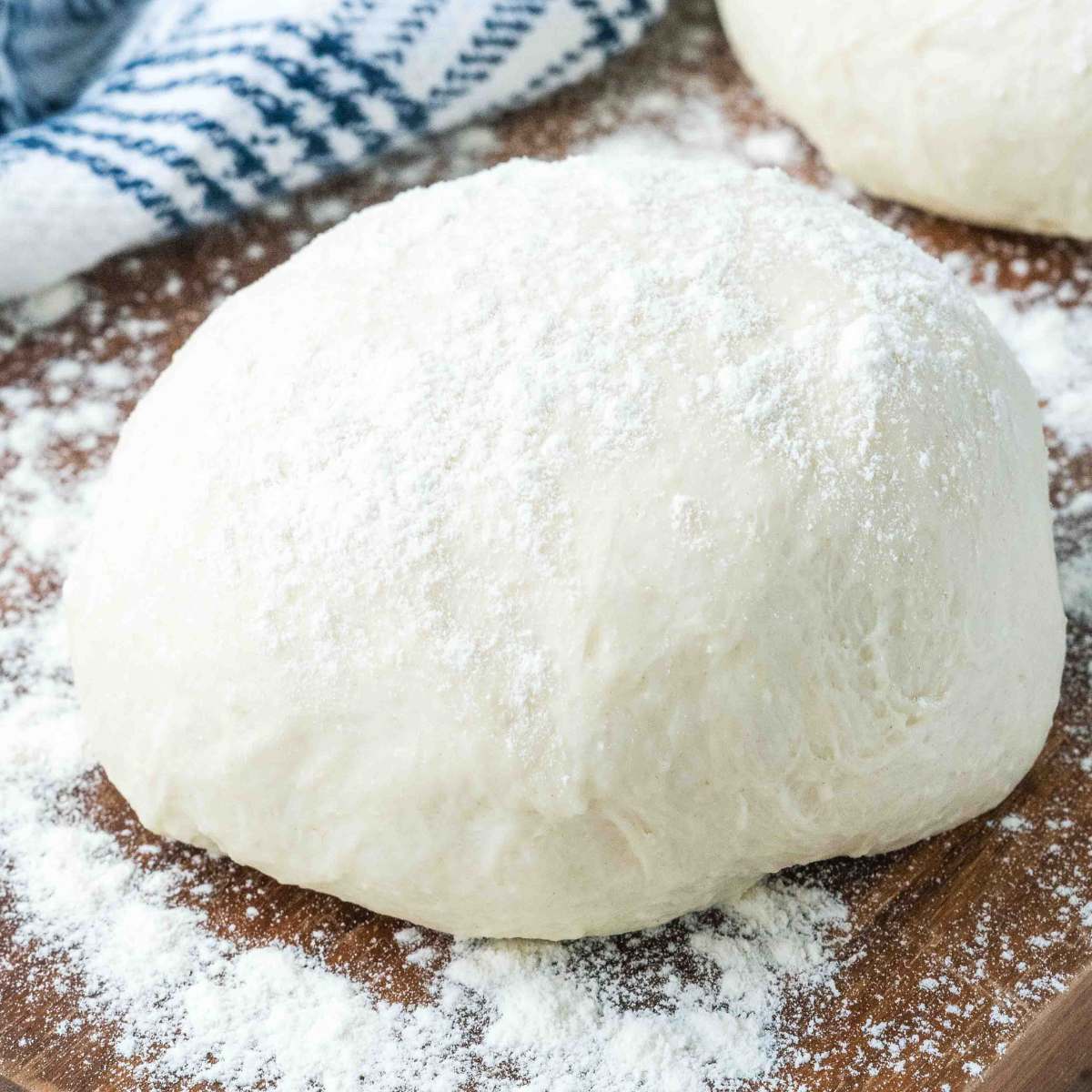 Want a free fall cookbook? Click here to grab a cookbook with 25+ of my best autumn recipes
Ingredients
2¾

cups

bread flour

2

tablespoons

sugar

¾

teaspoons

yeast

(I like SAF instant yeast)

1

cup

water

1

tablespoons

olive oil

vegetable is fine too

1½

teaspoons

salt
Instructions
Combine all ingredients. In a food processor, stand mixer, or mixing bowl (if kneading by hand), combine all ingredients. If they are not coming together and seem crumbly, add more water a teaspoon at a time. If the dough is sticking excessively to the mixer or bowl, add more flour a teaspoon at a time. The dough will stick slightly but should still form a ball.

Knead until smooth. Knead by hand or machine until a soft, smooth, stretchy dough has formed. This will take about 1 minute in a food process, 5 minutes with a mixer, or 10 minutes by hand.

The first rise. Shape the dough into a smooth ball and place in a lightly oiled bowl. Cover tightly. Allow to rise until doubled in size. This will take about an hour in a warm place or overnight in the fridge

Rough shape and rest. When the dough has risen, divide it in half and shape into rough rounds. Allow to rest at room temperature, lightly covered, for 30 minutes. Prepare two pieces of parchment paper by sprinkling with cornmeal if desired. Stretch the dough into two 12-inch rounds. If it is hard to stretch thin, give it a time to rest.

Stretch into final shape. Prepare two pieces of parchment paper by sprinkling with cornmeal if desired. Stretch the dough into two 12-inch rounds. If it is hard to stretch thin and keeps "retracting" on you, cover and let rest 10 more minutes and come back to it.
Notes
To bake into a pizza. Preheat a pizza stone in the oven at 500 degrees for 1 hour. Top the pizza dough as desired. Slide the parchment paper and pizza onto the hot stone and bake for 9-11 minutes.
You can adapt this recipe to your preferences and schedule, but I like it best kneaded in the food processor and allowed to rise 24-48 hours in the fridge
Nutritional facts are for 1/16th of the recipe and are only for the dough portion of a pizza.
Nutrition
Calories:
92
kcal
|
Carbohydrates:
17
g
|
Protein:
3
g
|
Fat:
1
g
|
Saturated Fat:
0.2
g
|
Polyunsaturated Fat:
0.2
g
|
Monounsaturated Fat:
1
g
|
Sodium:
219
mg
|
Potassium:
23
mg
|
Fiber:
1
g
|
Sugar:
2
g
|
Vitamin A:
0.4
IU
|
Vitamin C:
0.001
mg
|
Calcium:
4
mg
|
Iron:
0.2
mg
Did you make this?
Let me know how it was! Please see below for serving ideas, storage instructions, and substitutions.
Key ingredients for the best pizza dough
Bread Flour: This is essential for achieving the right texture in your crust. It has a higher protein content than all-purpose flour, giving your pizza that classic chewy consistency.
SAF Instant Yeast: Preferred by many bakers, SAF instant yeast ensures a reliable rise and saves you the step of proofing.
Everything else is pretty basic!
A stand mixer or food processor is very helpful for kneading the dough, but it's unnecessary.
You'll want parchment and a pizza stone when it comes time actually to bake this into a pizza.
I like parchment sheets that lay flat (much easier to work with!).
Honey-Can-Do Round Pizza Stone, 16 Quarter Sheet Pans 8×12 Inch Pack of 120 Parchment Paper Baking Sheets by Baker's Signature | Precut Silicone Coated & Unbleached – Will Not Curl or Burn – Non-Toxic & Comes in Convenient Packaging Saf Instant Yeast, 1 Pound Pouch (2-Pack)
When you look over this recipe, it may seem like there is a lot of sugar.
Don't worry; the dough won't taste sweet. That's because the yeast will consume some of that sugar as the pizza dough rises (especially if you do an overnight rise). Whatever remains helps brown the crust and add flavor.
Tips for the best Pizza Dough
Water Adjustments: Depending on the flour brand and your environment's humidity, you might need to tweak the amount of water. If the dough feels crumbly, add water in small increments. Conversely, if it's too sticky, sprinkle in more flour.
Rising Time: Allowing the dough to rise for an extended period (24-48 hours in the fridge) intensifies the flavor. If you're short on time, an hour in a warm spot works fine. But for the best results, plan ahead.
Stretching the Dough: Don't rush this step. If you're struggling to get the thinness you desire, give the dough a rest and return to it after 10 minutes. This allows the gluten to relax, making it easier to shape.
It's amazing how these super simple ingredients are all you need.
How to use homemade pizza dough
I like this dough recipe for pizza (duh), pizza rolls, and breadsticks.
To make a thin-crust pizza with this recipe. Lay out two sheets of parchment paper, sprinkle them with cornmeal, then stretch your pizza dough into your desired shape. Continue with your favorite sauce and toppings. (I bake at 500 degrees for 11 minutes on a pizza stone preheated for 1 hour. I usually bake my favorite wing recipe while the stone is heating up.)
To make a pizza roll, stretch some of the dough into a rectangle, top with cheese and a topping or two, and roll up. Brush with egg wash and bake at 400 degrees for 40 minutes. .
If you use the dough for breadsticks, divide it into small balls and let them rest on the counter for 30 minutes. Then, pull them into the desired shape and brush them with melted butter and minced garlic. (2 tablespoons of butter to 1 clove of garlic.)
Can I make pizza dough with all-purpose flour?
Yes, but only in a pinch. It won't have that chewy, great texture.
Reduce the water by a bit when you're mixing up the ingredients, too
Stretching out dough
First of all, a long cold rise is better than a short warm rise because it allows the dough to be very stretchable and easy to work with.
But a short rise is still okay. I do it all the time.
The key to stretching out your dough is: don't fight with it; let it rest.
If you have trouble getting it thin, just lightly cover it let it rest on the counter for ten minutes, and try again.
More Recipes for Pizza Lovers:
Full recipe