Looking for the prettiest way to organize your papers? These free monthly printable divider tabs are just what you need! In today's digital age, the allure of tangible, well-organized documents is extra charming.
Whether you're a mom with lots of papers, a homemaker, student, or a professional,, these pretty and practical tabs blend functionality with pretty fonts and patterns. Three of the styles are pretty vintage designs and one is more simple.
You'll find the PDF files and tips for using them below.
There are four different styles and sure to be be one you like.
UseS For Monthly Divider Tabs
Organizing Files: These divider tabs make segregating files easily by month, ensuring you find that important paper without the usual rummaging.
Monthly Planner: Use these tabs in your planner to clearly mark each month, making it easier to locate your appointments, reminders, or to-do lists.
Scrapbooking: Add a chronological touch to your memories. These tabs can effortlessly segment your scrapbook into monthly memories, letting you reminisce about each month's special moments distinctly.
Recipe Book Organization: Seasonal recipes at your fingertips! Organize your recipe collection by month, ensuring you effortlessly find that perfect summer salad or cozy winter soup when you crave it.
Classroom Materials: Teachers can use these tabs to divide lesson plans, student assignments, or monthly activities, ensuring a smooth educational journey throughout the year.
Business Records: Stay on top of monthly expenses, invoices, or client communication by using these tabs to structure your business documents efficiently.
Personal Journals: Reflect on your thoughts and experiences month by month. These tabs can assist in navigating your personal musings, helping you re-visit moments from specific months.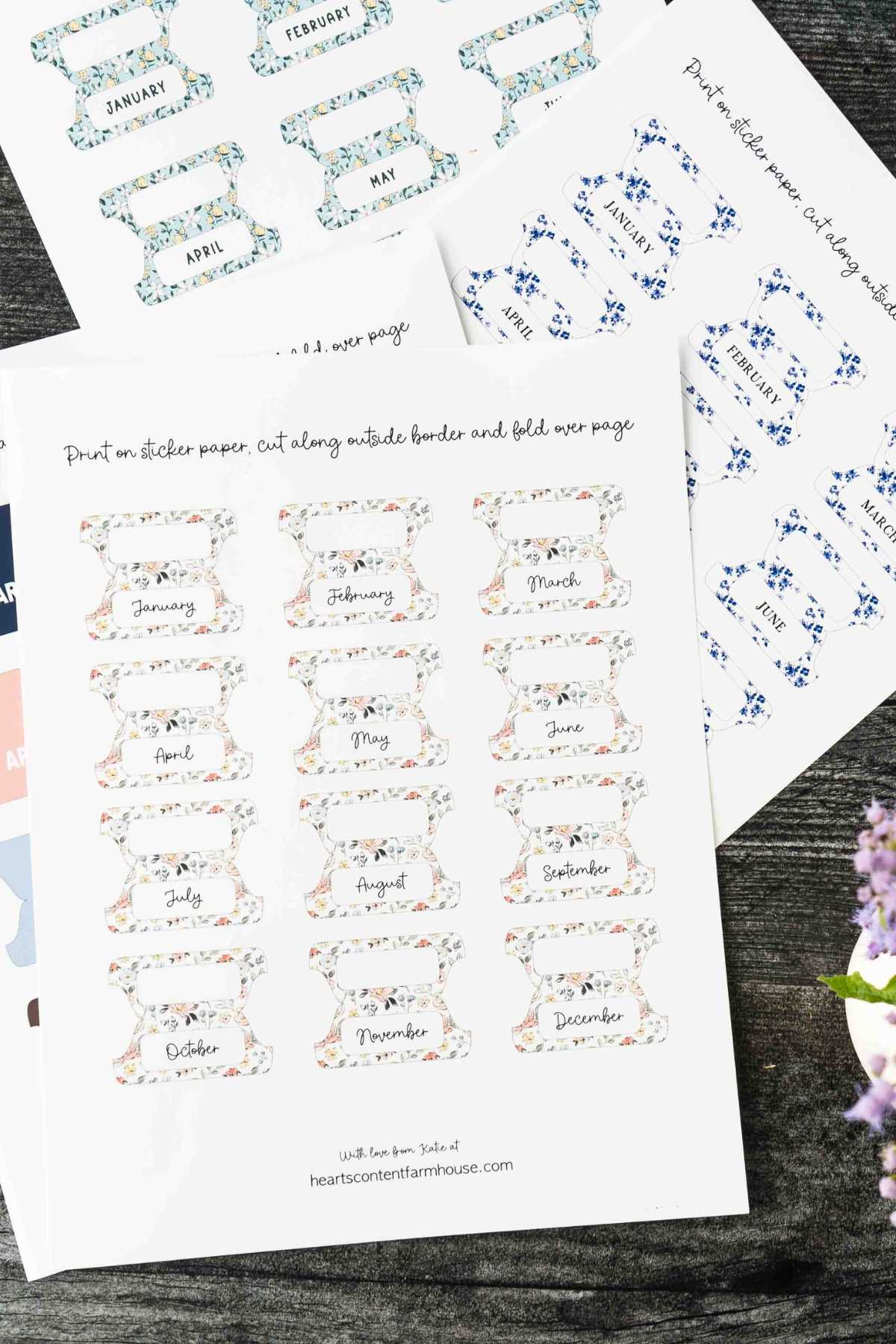 Each month is printed on them, but the back is blank, you can also flip the tabs around and write anything you'd like in the blank space.
Recommended materials and tips for printing
In a pinch, you can print these in black and white on plain paper and cover them in clear packing tape. But for the best results, here's what you'll need.
Printable Vinyl Glossy Sticker Paper for Inkjet Printer 100 Sheets White Waterproof Self-Adhesive Sheets 8.5×11 Inches Aesthetic 3 Ring Binder Set of 2 – Sturdy 1 Inch Binder Fits Letter Sized Paper – A Cute Three Ring Binder for Women or Men with Pocket Easily Organizes Your Paperwork for School, Office or Work Amazon Basics Clear Sheet Protectors for 3 Ring Binder, 8.5 in x 11 in, 3 holes, 200 Pack
Materials You'll Need
Sticker paper: I recommend glossy sticker paper for the best colors. Investing in good-quality sticker paper ensures durability and a professional finish. Thin or low-quality sticker paper might tear easily or not stick properly.
Printer: Not all printers are created equal. For the best printing results, inkjet printers are often recommended due to their ability to reproduce colors vibrantly and accurately. If you don't own a printer, consider visiting a local print shop for professional-quality prints.
How to Print
Printer settings: Before hitting that print button, double-check your printer settings. Ensure you've selected the correct paper type (often labeled as "sticker" or "photo paper"). Also, ensure you're printing at the highest quality setting to get crisp, clear images.
Color vs. Black and White: The design of your divider tabs will guide this choice. Colorful designs can pop and make your dividers stand out, while black and white designs offer a classic, elegant look. Previewing the design in both modes is essential to decide which complements your style better.
Tips for avoiding common printing pitfalls
Always run a test print on regular paper to ensure the design aligns well and appears as intended.
Ensure your printer's ink levels are sufficient to prevent streaks or faded prints.
Allow ink to dry fully before handling to prevent smudging.
Attaching to paper
Folding: First, lightly mark the midpoint of the tab without pressing down too hard. Then, fold the tab cleanly at this midpoint.
Sticking: When attaching the tab to your file or page, position it carefully before pressing down. Once in the desired position, press firmly from the center outwards to ensure even adhesion without air bubbles.
More pretty organizing printables
I love creating helpful goodies, and here are some more.
Links to files
Click on the button below your desired design, download it, and print. I recommend the free Adobe Acrobat Reader for the best results.
MultiColored floral design
Blue and Yellow Floral Design
Solid COlor Simple DEsign
Vintage blue and white design
Organization doesn't have to be dull. With these free monthly printable divider tabs, you can add a touch of elegance to your everyday tasks. Whether you're using them for personal or professional purposes, these tabs are a simple and effective way to enhance your organization game. So, don't wait! Download, print, and start organizing with style today.