Burger buns can be tricky. But these are not. Using a bread machine for your dough guarantees that it kneads and rises perfectly. This yeast bread recipe gives you a bun with a deep, shiny golden brown exterior, a soft and tender crumb, and a bun that's sturdy enough for your biggest burger.
Soft, golden brown, and lovely.
If you don't have a machine, knead in your stand mixer 😊.
Want some free Christmas printables? Click here to grab 'em
Ingredients
For the Dough
3½

cups

all purpose flour

1

cups

water

1½

teaspoons

salt

3

tablespoons

sugar

2

tablespoons

butter

softened at room temperature

1

egg

2¼

teaspoons

instant yeast
For Topping
1

egg

2

tablespoons sesame seeds or poppy seeds

optional
Instructions
Mix ingredients and check consistency. Add all ingredients to the bucket of a bread machine in the order recommended by the manufacturer. Select the dough cycle and press start. Keep an eye on the dough for the first few minutes of mixing. Add more water if it is dry and crumbly and more flour if it is too sticky. The dough should be smooth and slightly sticky but completely clear the sides and bottom of the bread machine bucket. Allow the cycle to finish.

First rise. Allow the cycle to finish. When the machine beeps, the dough should be soft, puffy, and have risen to nearly the top of the bucket.

Divide and shape. Remove the dough when the machine beeps and cut into eighths with a sharp knife. (It is easiest to divide into half, then quarters, etc.). Gently shape into rolls by pulling down the bottoms of the dough to smooth out the tops. Brush with a beaten egg and sprinkle the seeds on top.

Second rise. Place the rolls on the baking sheet and flatten them slightly. Cover with heavily greased plastic wrap. Place the baking sheet in a warm place for the rolls to rise, until they are very puffy, about 45 minutes. Towards the end of the rising time, preheat your oven to 375° with the rack in the center.

Bake. Bake for 14-17 minutes until deep golden brown. Rolls will appear very browned due to the egg wash. Remove and cool on a wire rack. Allow to fully cool before slicing. For best results, toast with butter on a hot skillet turned to low. Eat within a day, or freeze for longer storage.
Notes
Don't limit yourself to burgers; these buns are great for pulled pork, chicken sandwiches, and more.
Try topping with poppy seeds or everything bagel seasoning.
I recommend SAF instant yeast for bread machine baking, and this basic bread machine, perfect for kneading.
Nutrition
Calories:
246
kcal
|
Carbohydrates:
48
g
|
Protein:
9
g
|
Fat:
2
g
|
Saturated Fat:
1
g
|
Trans Fat:
1
g
|
Cholesterol:
41
mg
|
Sodium:
460
mg
|
Potassium:
111
mg
|
Fiber:
2
g
|
Sugar:
5
g
|
Vitamin A:
66
IU
|
Vitamin C:
1
mg
|
Calcium:
21
mg
|
Iron:
3
mg
Did you make this?
Let me know how it was! Please see below for serving ideas, storage instructions, and substitutions.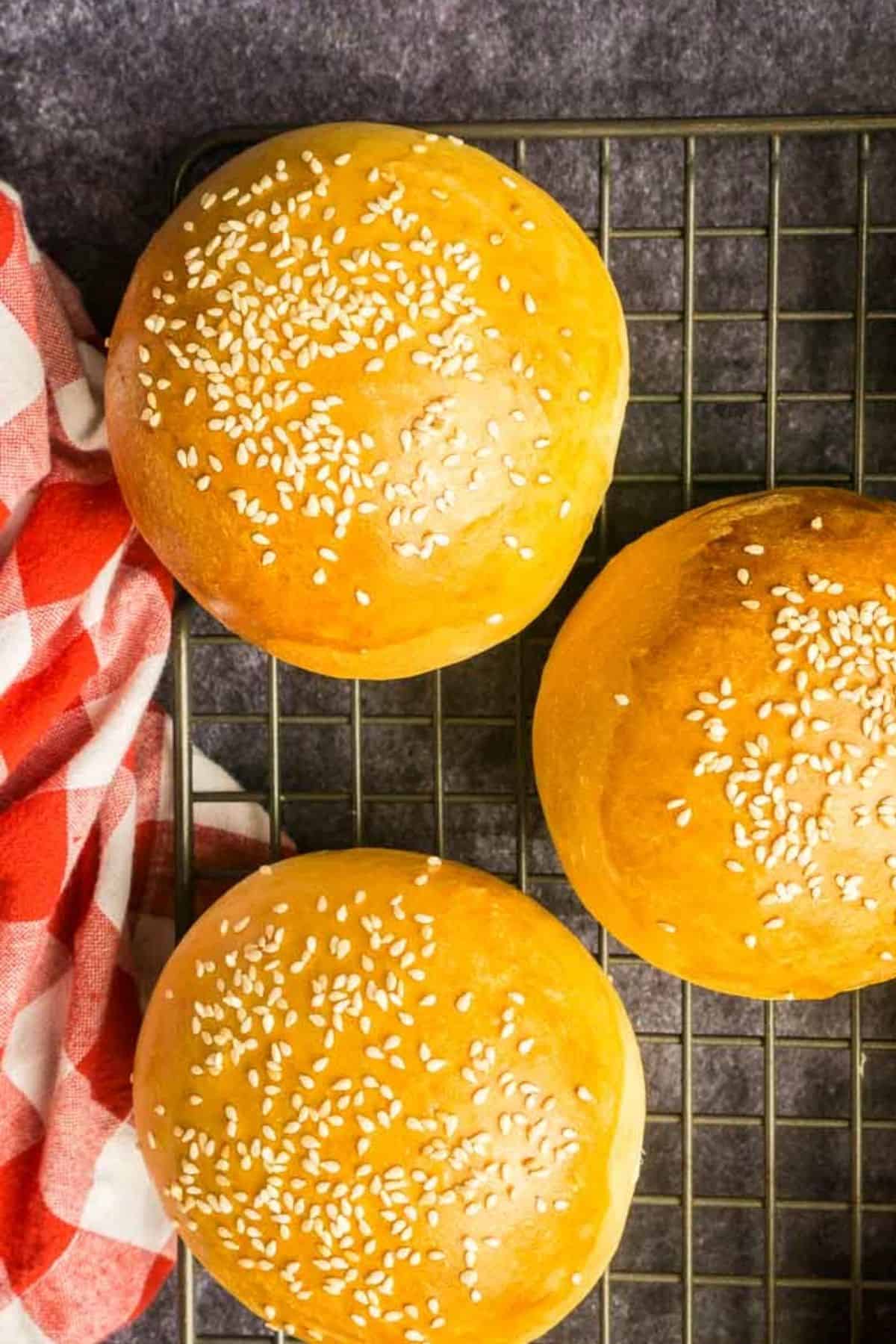 Table of contents
🧂 Ingredients
This is an overview of the ingredients. You'll find the full measurements and instructions in the printable recipe at the bottom of the page.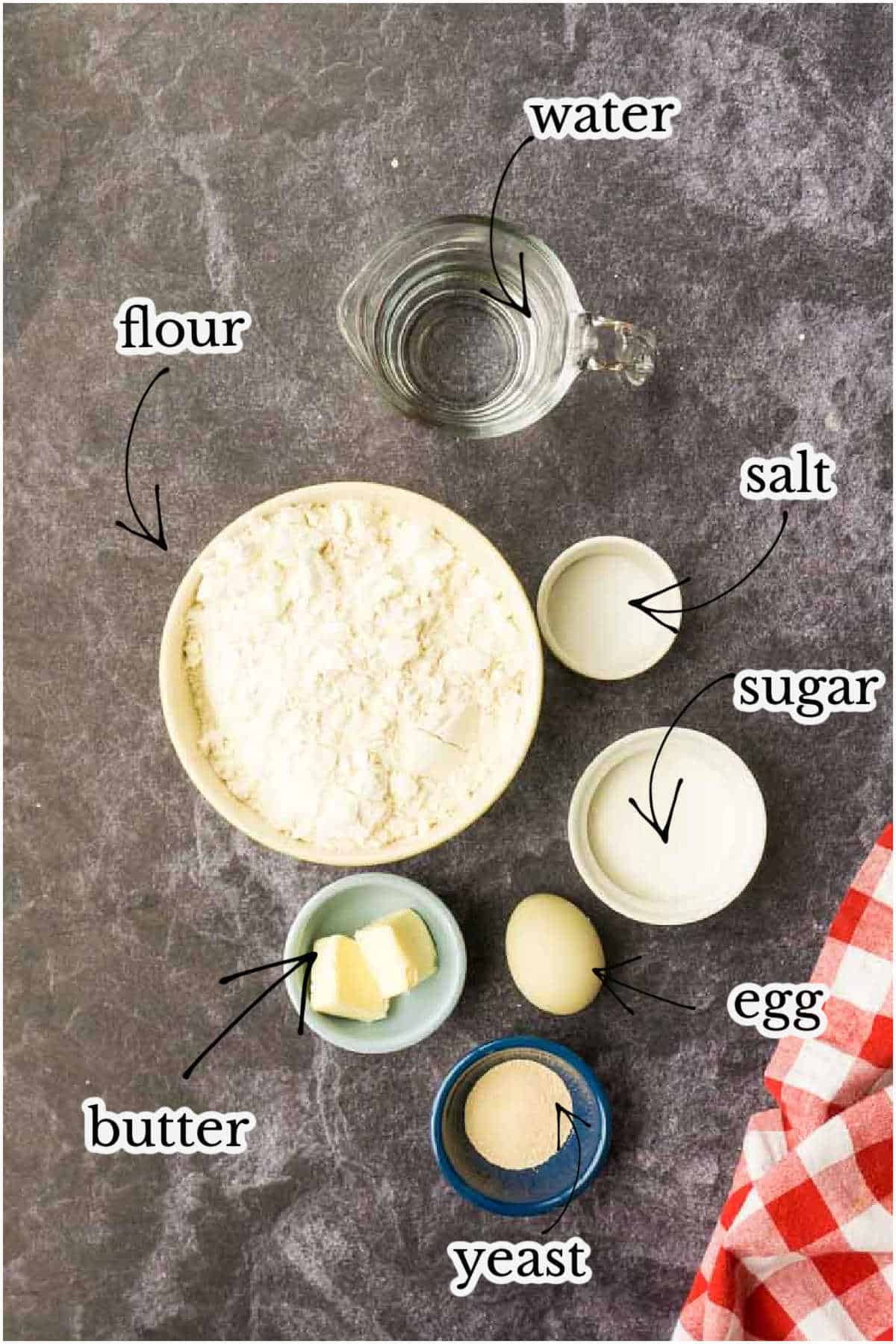 You'll need the following for this bread machine burger buns
all purpose flour
water
salt
sugar
butter softened at room temperature
egg
instant yeast
egg
sesame seeds or poppy seeds optional
🥣 Equipment
bread machine
parchment paper
baking tray
plastic wrap
cooking spray
🍴Instructions
Step One: making the dough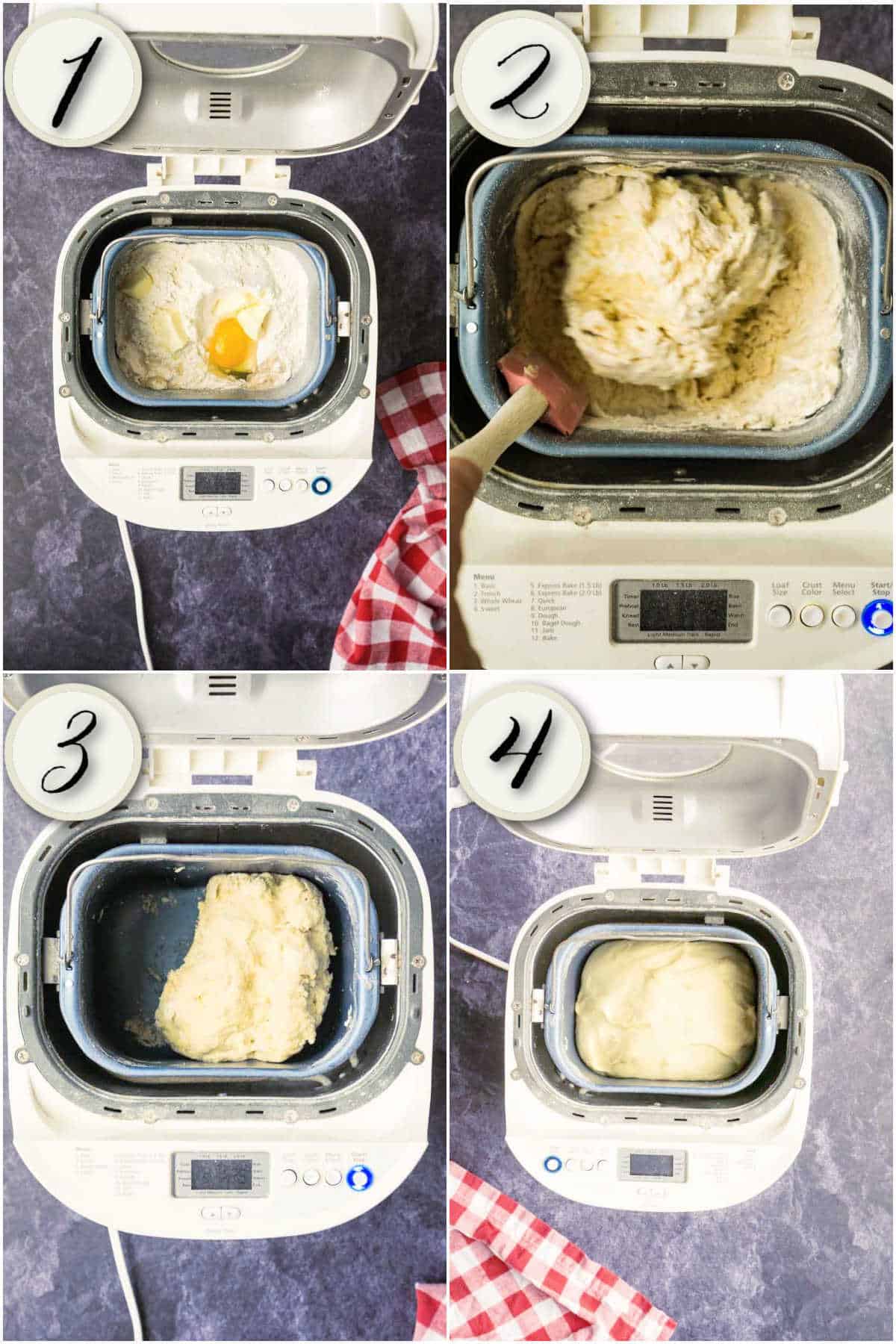 My friends, this recipe is easy! The bread machine does all the hard work.
We begin by adding all the dough ingredients to the bread machine and starting the dough cycle. I never, ever worry about the order the ingredients go in, but if your manufacturer recommends a specific order you might want to use that.
Before you walk away, check the consistency of the dough. You want the dough to be smooth and elastic, not sticking to the bread machine bucket. If it's too dry and crumbly, add a bit more water. If it's too wet and sticky, a bit more flour.
When the machine beeps, you'll have lovely, risen dough. All that's left to do is shape, rise again, and bake!
Step Two: shaping and baking the buns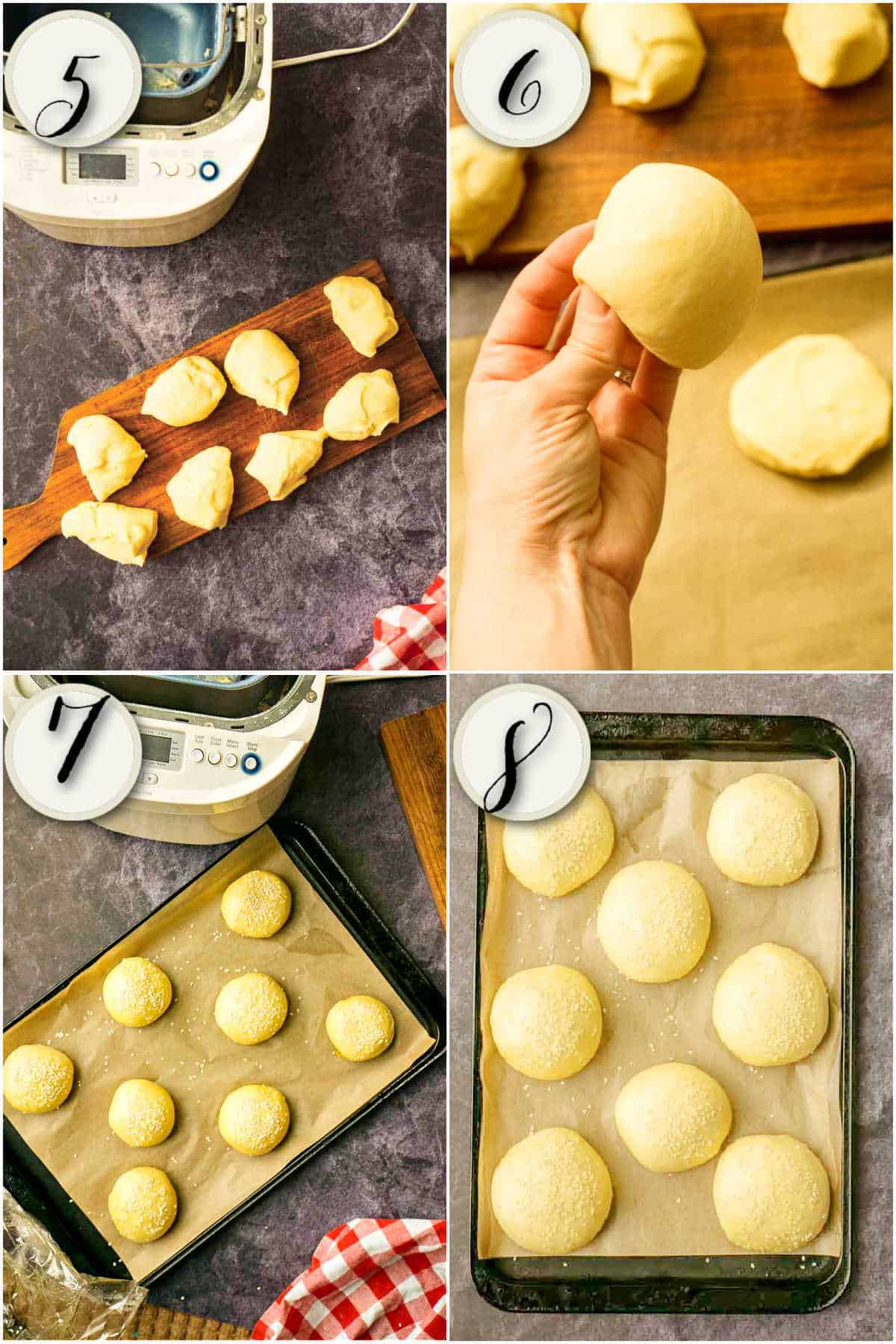 Once the dough is ready, divide it up into eight equal sized pieces. You can use a scale if you want to be sure they're the same, or you just divide it in half and keep going. Of course, if you want smaller buns you could make 12 or even 16.
To shape them, pinch the bottoms so that the top becomes round and smooth. Don't try to squish them down from the top. Place them on a parchment-lined baking sheet and very gently flatten them out, just a little.
For a pretty shine and professional look, brush the burger buns with an egg wash and then sprinkle with sesame seeds or poppy seeds. You can also do this after the second rise, but I like to do it first to avoid deflating them later.
Cover the baking tray with plastic wrap that's been generously sprayed with cooking spray. You don't want the buns rising to the plastic wrap and getting stuck!
Tuck them into a warm place, like a slightly warmed but turned-off oven, and let them rise until they are very puffy. Towards the end of the rising, preheat your oven (but make sure the rolls aren't still in there!) to 375 degrees.
When the oven is bake, bake for about 15 minutes until the rolls are baked through, with deep golden brown exteriors.
🥫 Storage instructions
Burger buns can be stored at room temperature in a bread bag or an airtight container for up to 2 days. Alternatively, they can be frozen for up to 2-3 months.
🔍 FAQs
Can I substitute something else for all-purpose flour?
You can use a different type of flour, but you may need to adjust the amount of water accordingly. Bread flour typically has more gluten than all-purpose flour, so you may need less water if you use all-purpose flour.
Can I make these homemade hamburger buns ahead of time?
Yes, you can make these buns ahead of time.
How do I know if the dough is well-kneaded?
A well-kneaded dough should be smooth and bounces back quickly when poked with your finger.
How else can I knead the dough?
No bread machine? No problem. You can knead the dough in your stand mixer, or by hand. The only adjustment you'll make to the recipe is you'll need to have the dough rise in a warm place, in a clean lightly oiled bowl, before you move on to shaping the buns.
👩🏻‍🍳 Expert tips
When making burger buns, make sure that your ingredients are at room temperature before putting them in the bread machine. This will help ensure that your dough is properly mixed and doesn't get too stiff.
Be sure to use the correct ingredients and measurements, as using the wrong ones can result in buns that are dense or heavy.
If you are using a bread machine for the first time, be sure to read your machine's manual. Each machine is a little different.
📘 Related Recipes
🍽 Serve it with
Having a summer get-together? Try these recipes too: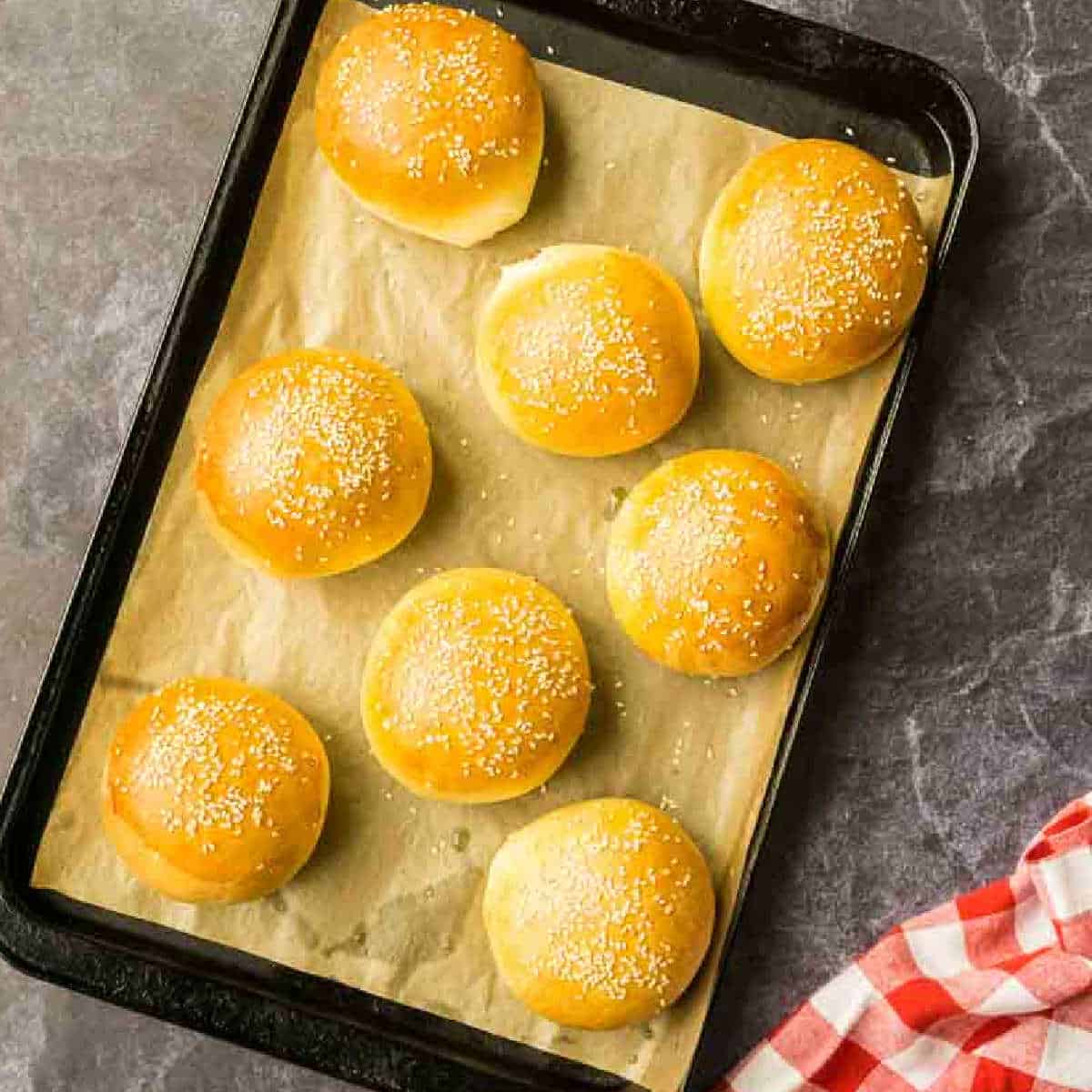 Let them cool completely on a wire rack before you use them. If you want to toast them, try buttering a skillet and letting them toast there for a few minutes.
They are delicious with homemade pulled pork, deep-fried chicken sandwiches, and of course, burgers.