A soft and tender sandwich bread made with milk and honey.
It consistently turns out a soft and tender, slightly sweet loaf that is perfect for sandwiches. This one is my kids' favorite bread recipe.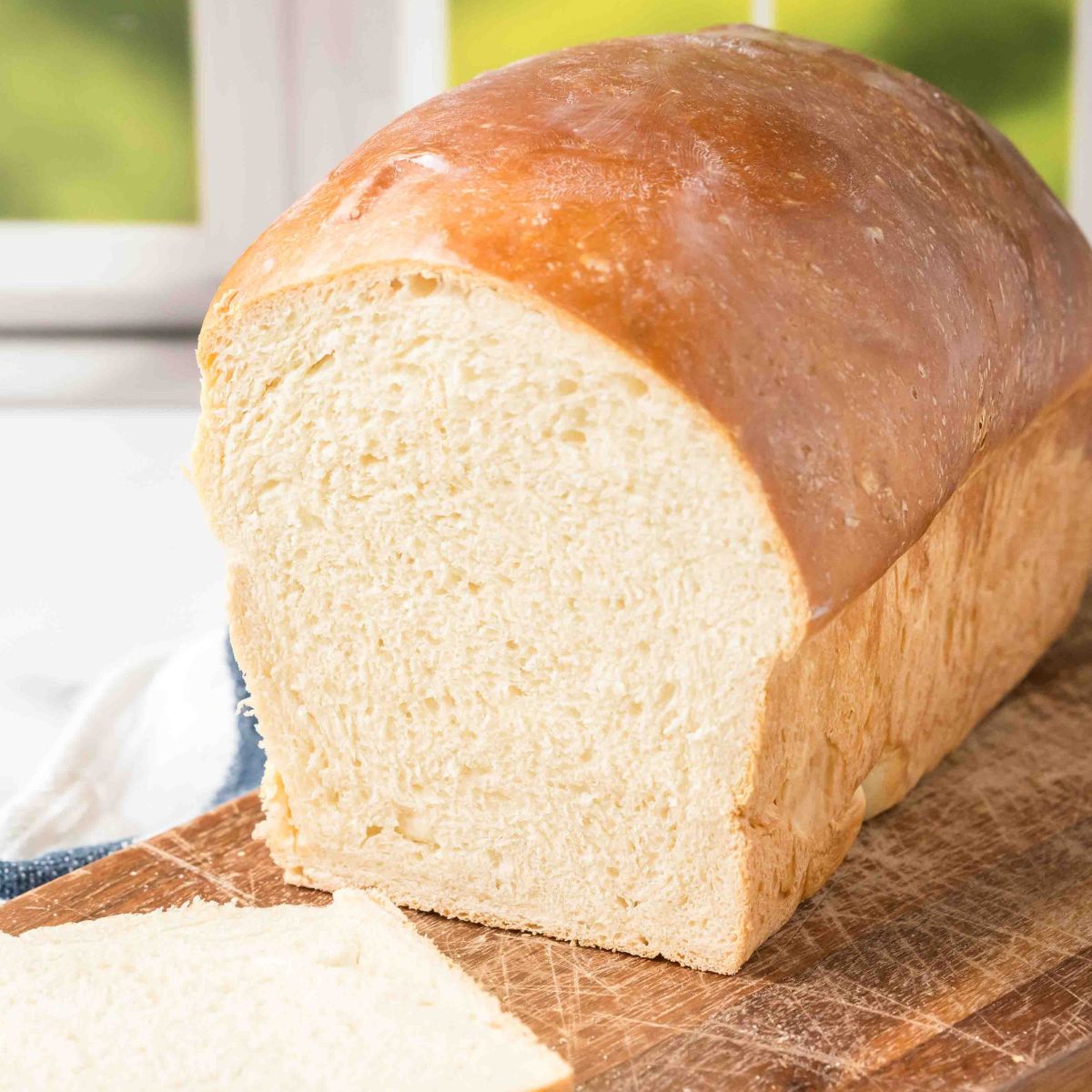 Want some free Christmas printables? Click here to grab 'em
Ingredients
3

cups

all-purpose flour

3

tablespoons

honey

1

cup

milk

1

teaspoons

salt

2

tablespoons

softened butter

2¼

teaspoons

instant yeast
Instructions
Mix. Combine all ingredients in the bowl of a heavy-duty electric stand mixer fitted with a dough hook. (If using a bread machine, put everything in the bucket and select the dough cycle.). Stir for a minute and evaluate the consistency of the dough. It should form a ball and clear the sides of the bowl. If it is crumbly and not coming together, add a bit more milk. If it is sticking to the bowl, add a bit more flour. (If using a bread machine, skip to step 4.)

Knead. Knead the dough until it is smooth, bouncy, and elastic. To see if the gluten is developed, take a golf ball sized piece of dough and stretch it out to see if if translucent areas form. If these areas are visible, the dough is sufficiently kneaded.

First rise. Shape the dough into a ball and place into a lightly oiled bowl. Cover with a clean damp tea towel and place in a slightly warm place to rise. Allow it to double in bulk, about 45 to 60 minutes.

Shape. Shape the dough into a loaf by spreading it out into a rectangle. The short side of the rectangle should be roughly as long as the loaf pan. Tuck the corners in and roll up into a cylinder, then tuck the ends in.

Second rise. Place into a greased loaf pan and lightly cover with oiled plastic wrap. Place the dough in a warm place and allow to rise until very puffy and the top of the dough has risen 1 inch over the top of the loaf pan. Towards the end of the rising time, preheat the oven 350 degrees.

Bake. Remove the plastic wrap and brush the bread with milk. Bake for 40 minutes, until very golden brown. Remove from the loaf pan and allow to cool on a wire rack for at least an hour before slicing. Store leftovers tightly wrapped for up to 2 days.
Notes
A slightly warmed but turned off oven in a great place to have your dough rise. Turn it on for a minute, then turn it off. Make sure you don't preheat it with the dough still inside!
Nutrition
Calories:
199
kcal
|
Carbohydrates:
36
g
|
Protein:
6
g
|
Fat:
4
g
|
Saturated Fat:
1
g
|
Polyunsaturated Fat:
1
g
|
Monounsaturated Fat:
1
g
|
Cholesterol:
3
mg
|
Sodium:
271
mg
|
Potassium:
107
mg
|
Fiber:
2
g
|
Sugar:
6
g
|
Vitamin A:
140
IU
|
Vitamin C:
0.04
mg
|
Calcium:
38
mg
|
Iron:
2
mg
Did you make this?
Let me know how it was! Please see below for serving ideas, storage instructions, and substitutions.
What you'll need for milk and honey bread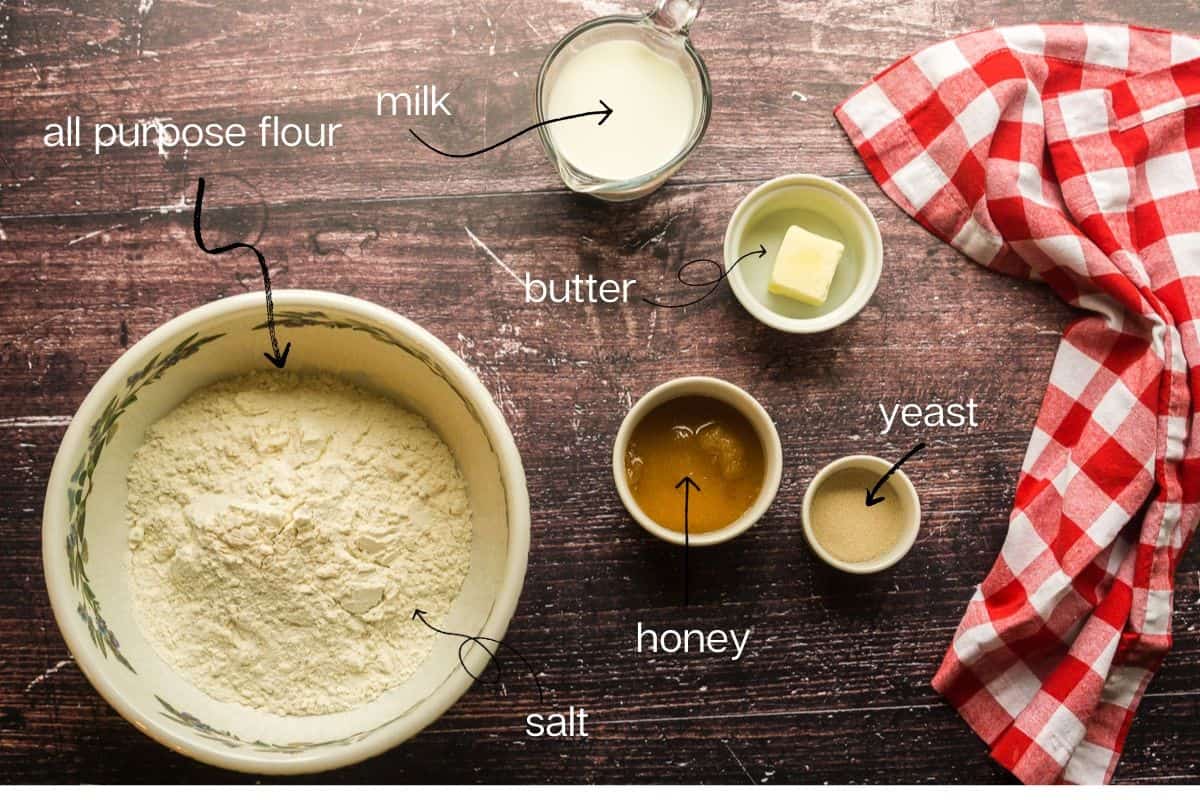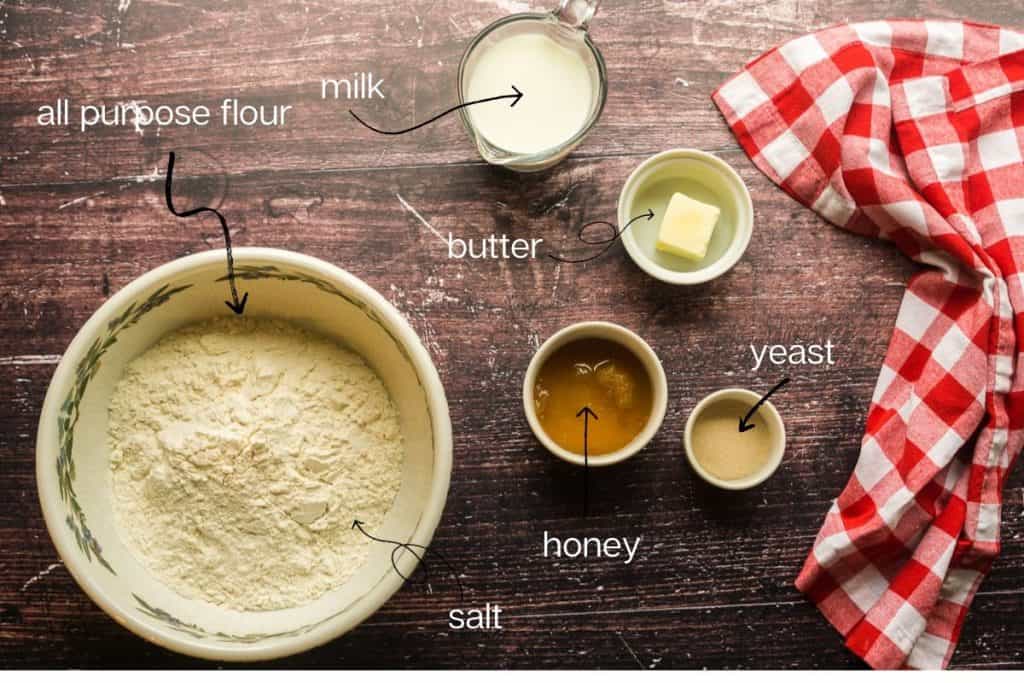 Ingredients
3 cups all-purpose flour
3 tablespoons honey
1 cup milk (add a few more tablespoons if necessary)
1 1/2 teaspoons salt
2 tablespoons softened butter
2 teaspoons instant yeast (SAF brand is the best and can be purchased in bulk and frozen)
Non-stick cooking spray
Tools
A "standard sized" loaf pan: 8 1/2 inches x 4 1/2. inches x 2 1/2 inches. (Goldtouch brand is my favorite.)
A stand mixer fitted with a dough hook or a basic bread machine. (I love this model, which is affordable and mixes and rises the dough beautifully.)
A pastry brush for brushing the top of the loaf with milk.
Let's make it together
Making the dough
There is no need to be fussy about combining the ingredients, especially when you are using instant yeast. Just toss everything in together and mix. If you are using a bread machine, just hit the dough cycle. Keep an eye on the dough for a while. You are looking for dough that stays as a ball. It should not be so dry that it won't come together, but it should also not be so wet that it sticks to the sides of the bowl. If it seems off, just add a bit more flour or milk as needed.
Once the consistency is right, start kneading. I recommend ten minutes of kneading in the stand mixer, with short breaks every few minutes so you don't burn out the motor.
To check for readiness in the dough, take a golf-ball sized ball of dough and attempt to stretch it out. If it tears easily, the dough is not ready. If translucent "windows" appear in the dough, its ready to go!
Rising and shaping the loaf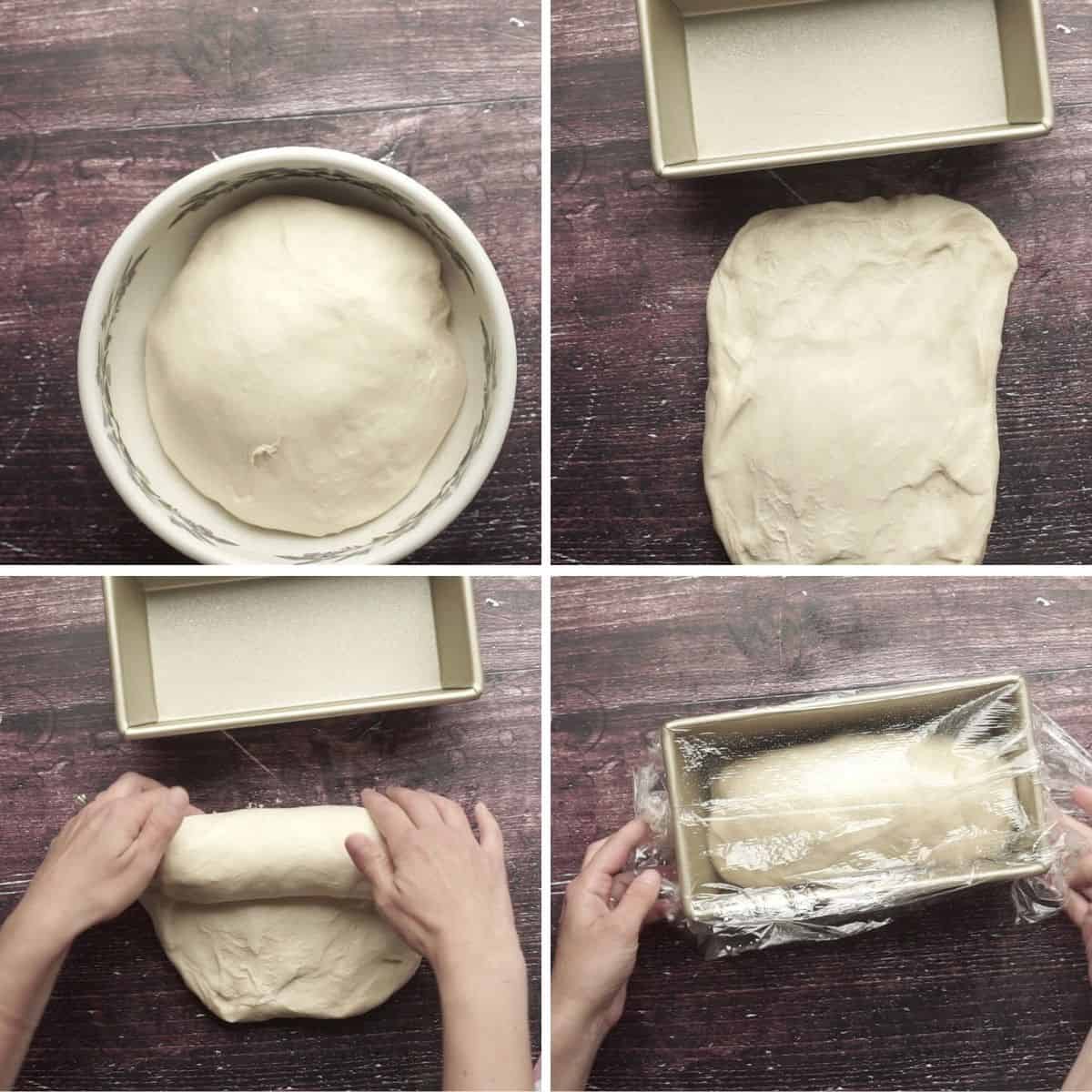 Shape the dough into a ball and place in a lightly oiled bowl to rise. Cover with a clean, damp tea towel or greased plastic wrap and place into a warm place to rise. The best temperature for bread rising is about 80-90 degrees. If you don't have a suitable place, turn your oven on for a minute or two, turn it off, and place the dough inside.
After an hour or so, check on your dough. It should be very puffy and have doubled in size. Now we shape! Lay your loaf pan on the counter and use it help guide you. You want to gently stretch the dough out into a rectangle when the short side of the rectangle is the same length as the long side of the loaf pan. Tuck in the top two corners and start rolling down. "Shoulder in, head down."
Tuck the sides under and pinch the seams the best you can to close. Don't get upset if this doesn't go perfectly. Your loaf will still be fine!
Final rise and bake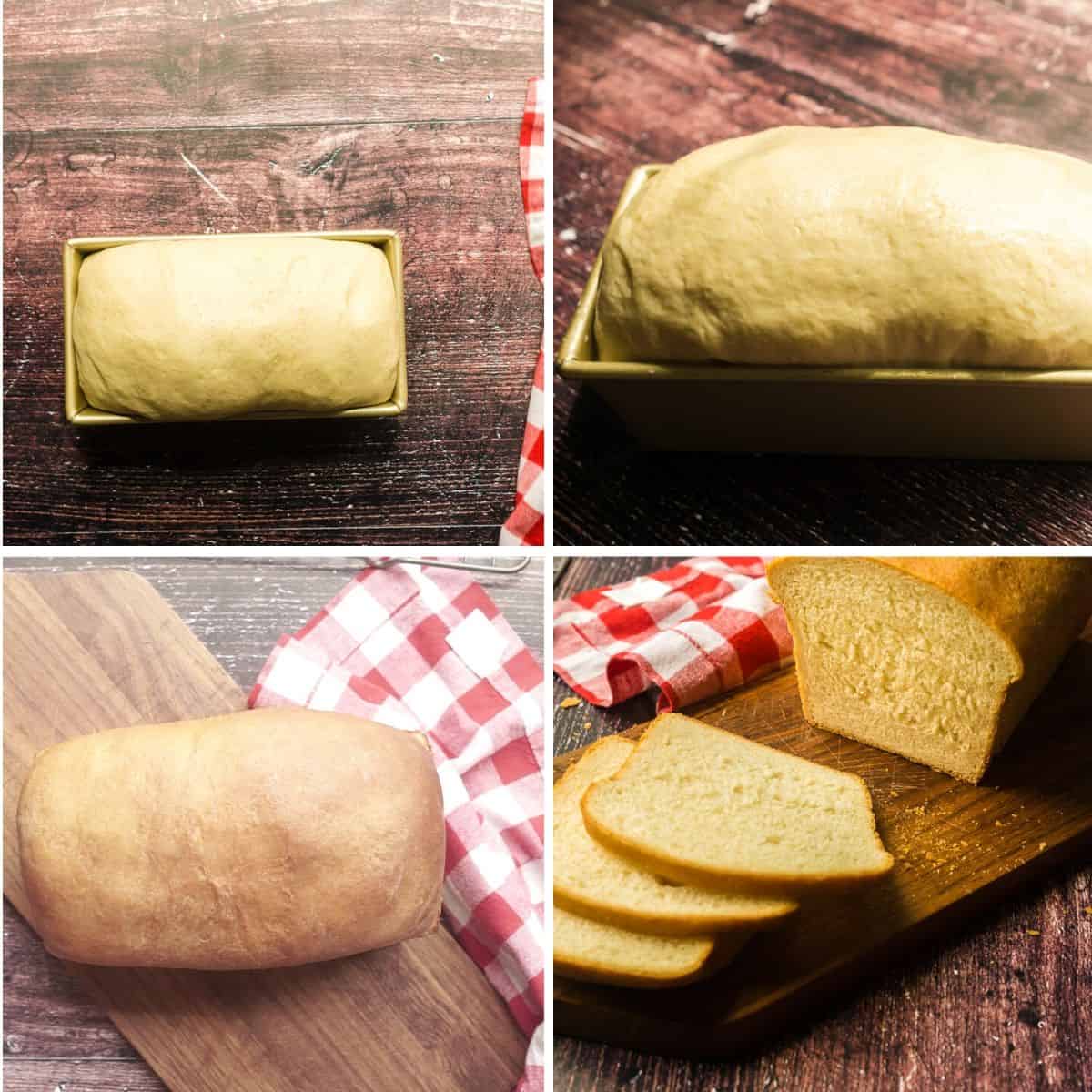 Spray your loaf pan with non stick spray and gently place the loaf of bread inside. Cover it with heavily sprayed plastic wrap and put back in a warm spot to rise again. This rise will be around 45-60 minutes, until the loaf is an inch over the top of the pan. Towards the end of the rising time, preheat your oven to 350 degrees with the rack in the center. Brush the top with milk if you want a beautifully browned crust.
Bake the loaf for 40-45 minutes, until the top is very golden brown. When you take it out of the oven, feel free to brush it with melted butter to help it shine.
Remove the bread from the pan and place it on a wire rack to cool for at least an hour or two before slicing.
Homemade bread in general only keeps a few days at room temperature. But it freezes very well if allowed to cool completely and then tightly wrapped.
more sandwich bread recipes?