With hardly any prep work and zero kneading, this loaf has plenty of flavor and is delicious dipped in olive oil and vinegar. Just mix and go.
A foolproof bread dough with the flavors of olive and herbs. You won't need any special equipment or skills for this delicious loaf.
❤️ Why you'll love this recipe
Unbelievably Easy: This recipe requires no kneading – yes, you read that right, no kneading at all. All you need to do is mix the ingredients and let the yeast and time work their magic.
Bursting with Flavor: The blend of herbs and olive oil gives this bread a rich, savory flavor that is hard to resist. It's truly a stand-out loaf that can turn any meal into a feast.
Minimal Prep Time: With just 5 minutes of prep work, this bread recipe can easily fit into any busy schedule.
Versatile: Whether you want to enjoy it as is, dip it in olive oil and vinegar, or use it to make a hearty sandwich, this bread fits the bill.
🧂 Ingredients
This is an overview of the ingredients. You'll find the full measurements and instructions in the printable recipe at the bottom of the page.
You'll need the following
All-purpose flour
Water
Salt
Sugar
Yeast (instant or active dry)
Mixed dried herbs (thyme, oregano, basil)
Fresh rosemary
Olive oil
🥣 Equipment
baking sheet
parchment paper
🍴Instructions
Step One: mix
In a large bowl, get all your ingredients together – the flour, water, salt, sugar, olive oil, yeast, rosemary, and your chosen herbs. Stir it up with a rubber spatula. The dough will look ragged but don't worry, that's how it should be.
Step Two: first rise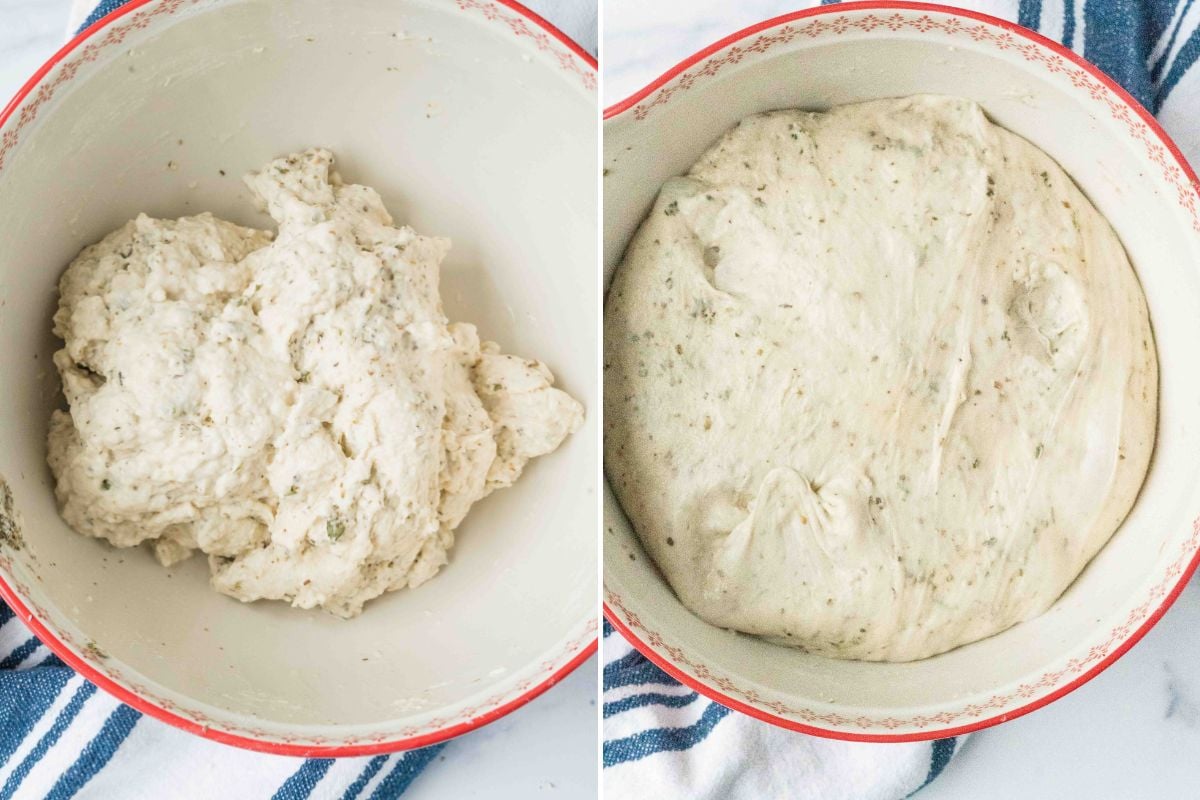 Cover the bowl tightly with some plastic wrap and leave it to rise on your kitchen counter. We're aiming for a ten-hour rise. The dough should roughly double in size, but if it doesn't, just leave it be for a bit longer.
Step three: second rise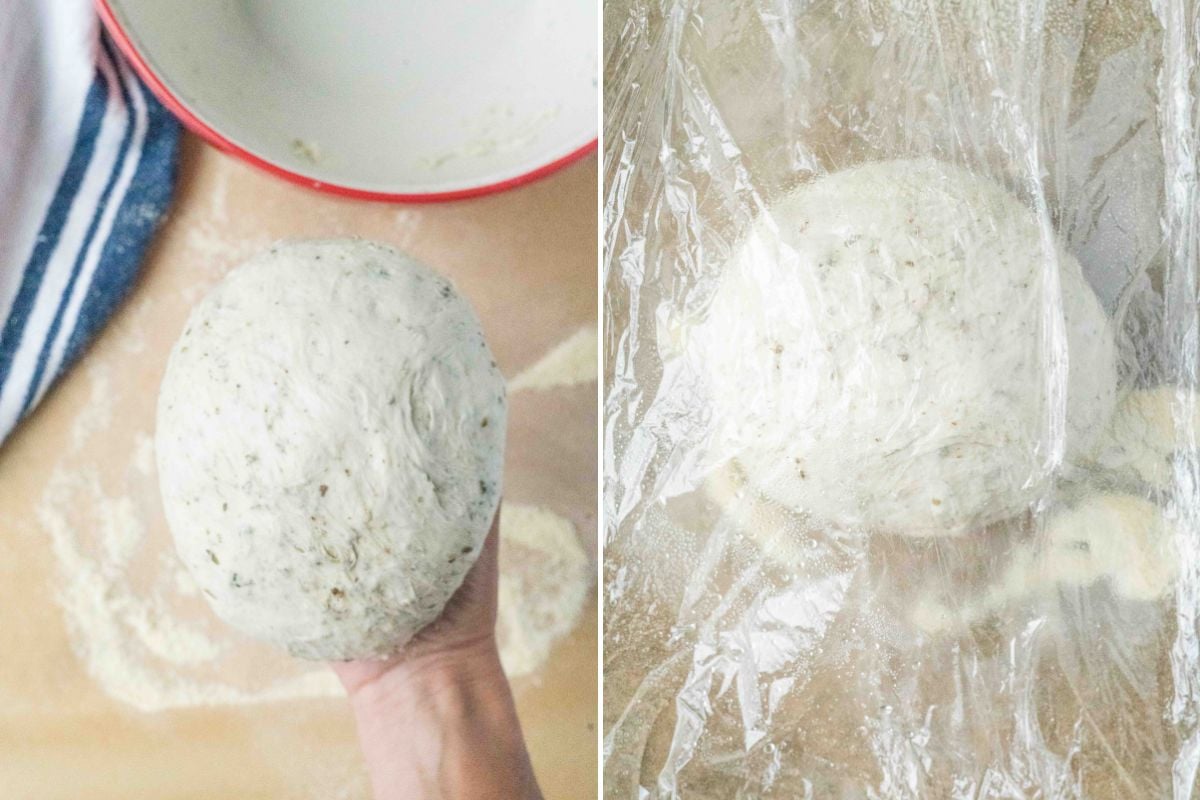 Once the dough has risen, scoop it out of the bowl and shape it into a smooth ball. Use the baking sheet you've prepared with either parchment or cooking spray.
Find a warm spot (like inside a briefly heated oven or near a bowl of hot water) and let the dough rise for about 45 minutes. Remember to remove the dough from the oven before preheating it to 425 degrees.
Step Four: slash
Decorate the top with a little flour and rosemary if you want, then make slashes on the top.
Step Five: bake
Finally, it's baking time! Bake your beautiful creation for 35-40 minutes at 425. You'll know it's ready when it's turned a deep golden brown and the inside temperature is around 200 degrees.
🥫 Storage instructions
Note: Make sure the bread is completely cool before storing. This takes hours.
To store the bread, wrap it tightly in plastic wrap or put it in a zip-top bag at room temperature. It will last about 2-3 days.
If you want to extend its life, you can definitely freeze it. Just wrap it tightly in plastic wrap and then aluminum foil. It will keep in the freezer for up to 3 months. To thaw, remove the foil and leave it at room temperature for a few hours.
🔍 FAQs
Can I use fresh herbs instead of dried?
I prefer dried. Fresh are wet and have less flavor. Rosemary is the exception.
Can I use a different type of flour?
Bread flour is fine but you'll need a bit more water.
👩🏻‍🍳 Expert tips
For an extra crispy crust, you can preheat an empty, metal-rimmed baking sheet and pour 1 cup of water on it to create steam.
If your dough hasn't doubled in size after ten hours, give it more time. Let the dough be your guide, not the clock.
📘 more no-knead bread Recipes
Cheddar Jalapeno No-Knead Bread
🍽 Serve it with
Soup: This bread is perfect for dipping into a warm, hearty soup, like Crockpot Potato Soup.
Cheese and Fruit: Make a delicious cheese platter with this bread as the centerpiece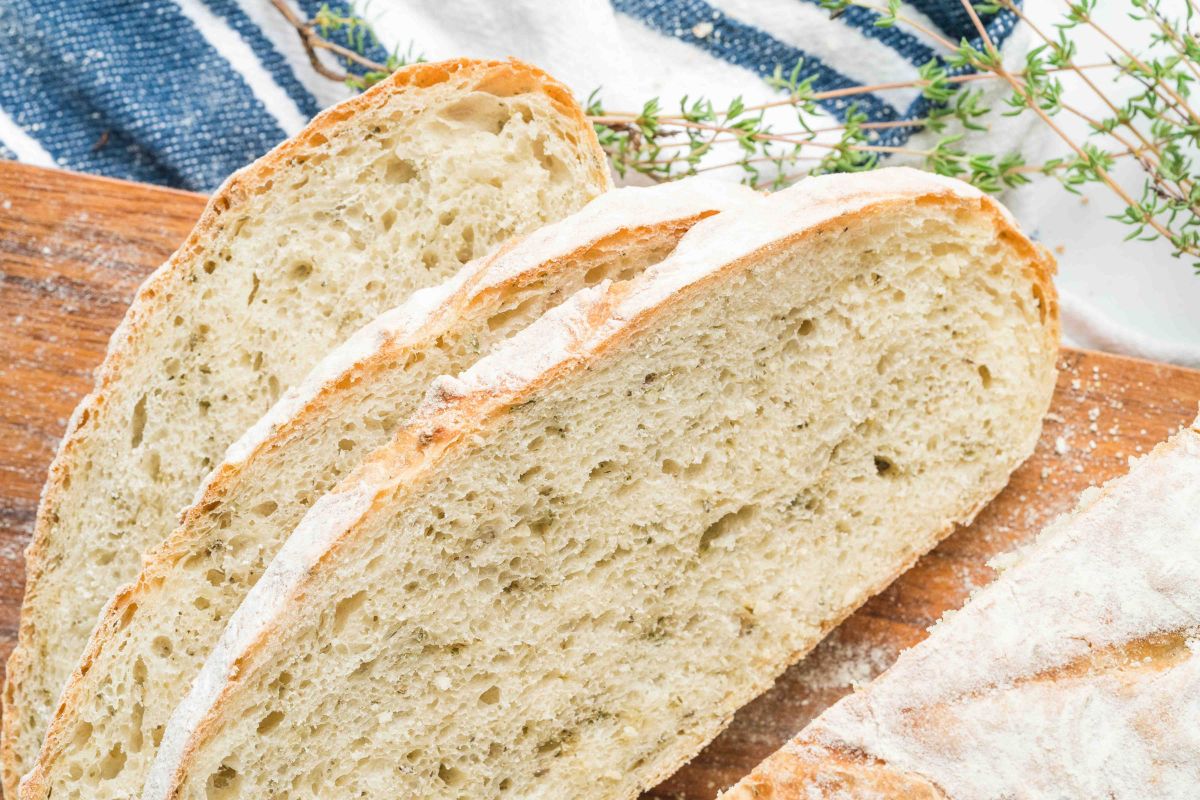 📖 Here's the recipe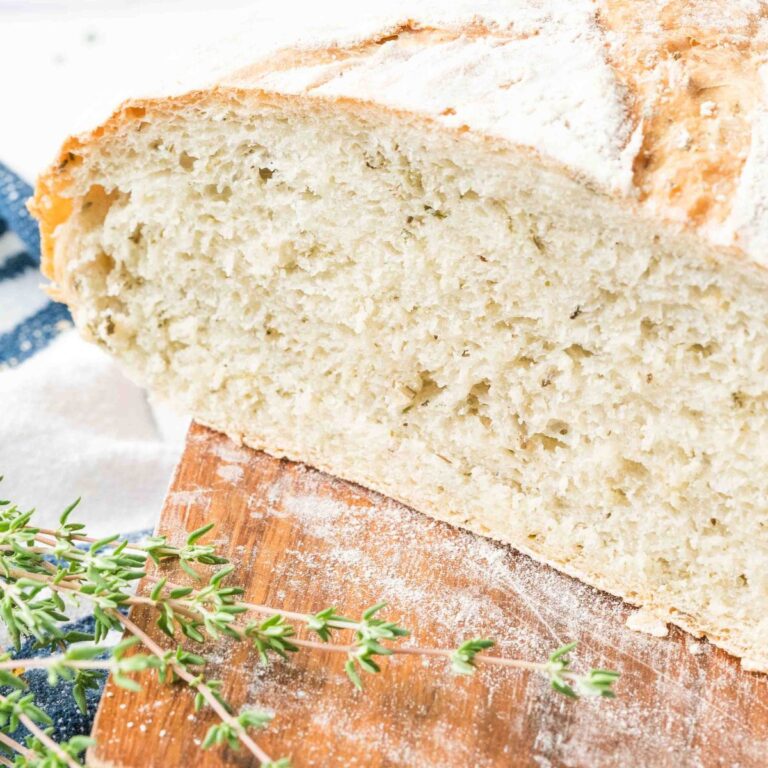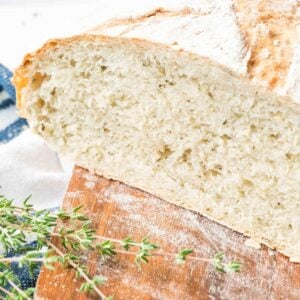 No-Knead Herb and Olive Oil Bread
Print Recipe
With hardly any prep work and zero kneading, this loaf has plenty of flavor and is delicious dipped in olive oil and vinegar. Just mix and go.
Click here for a FREE autumn cookbook (25+ Recipes!)
Equipment
Dutch oven with li

optional, see note
Ingredients
425

grams

all-purpose flour

3 ¼ cups plus 2 tablespoons

280

grams

water

1 cup plus 3 tablespoons

1 ½

teaspoons

salt

1

teaspoon

sugar

1/2

teaspoon

yeast

instant or active dry

3

tablespoons

mixed dried herbs

such as thyme, oregano, basil

1

tablespoon

chopped fresh rosemary

optional, use it if you have it

2

tablespoons

olive oil
Instructions
Mix the ingredients: In a large mixing bowl, combine the flour, water, salt, sugar, oil, yeast, rosemary, and other herbs. Use a rubber spatula to mix well, incorporating any dry areas of flour. The dough should form a shaggy ball. If there are any dry bits that are not being incorporated, add a few more teaspoons of water and mix again.

Cover and allow to rise: Tightly cover the bowl of dough with plastic wrap. Place the covered bowl on the counter and allow it to rise for ten hours. Ideally, it will have doubled in size. If the dough has not changed much in size, give it more time to rise on the counter. You can always place the dough in the fridge to slow the process down and pick it upp again later.

Shape into a ball: Prepare a baking sheet by lining it with parchment or spraying generously with nonstick cooking spray. Gently pick the dough out of the bowl and shape it into a smooth ball. Pull from the bottom of the dough to smooth out the top rather than smashing the dough down. Deflate any large air bubbles that have formed. Place the dough onto the prepared baking sheet. Sprinkle the loaf with flour and some additional rosemary for decoration if you'd like. Using a very sharp knife or lame, make a slash in the center of the loaf, cutting around ¼ inch deep.

Allow the dough to proof: Prepare a warm place for the second rise, either by briefly turning on your oven or placing a bowl of hot water inside it. Cover the ball of dough with greased plastic wrap, making sure that the loaf is completely covered. Allow to rise in a warm place for about 45 minutes, until puffy but not quite doubled in size. Towards the end of the rising time, preheat the oven to 425 degrees with the rack in the center. Be sure to remove the dough first.

Bake: Bake the loaf for 35-40 minutes at 425. The finished loaf will be deep golden brown and have an internal temperature of 200 degrees. Carefully remove the bread from the baking sheet and place it on a cooling rack. Allow to cool at least thirty minutes before serving.
Video
Notes
If you have a Dutch oven, you'll. get an even better rise in the oven and more browned crust. Preheat the Dutch oven and carefully lower the shaped loaf into it. Bake with the lid on for 30 minutes, and off for 15 minutes.
Nutrition
Calories:
227
kcal
|
Carbohydrates:
41
g
|
Protein:
6
g
|
Fat:
4
g
|
Saturated Fat:
1
g
|
Polyunsaturated Fat:
1
g
|
Monounsaturated Fat:
3
g
|
Sodium:
439
mg
|
Potassium:
59
mg
|
Fiber:
1
g
|
Sugar:
1
g
|
Calcium:
9
mg
|
Iron:
2
mg
Did you make this recipe?
If you loved it, please leave a review!