So easy to make, these sweet treats are perfect to gift at the holidays. A vintage favorite.
The perfect combo of creamy sweet peanut butter and rich chocolate, with Rice Krispies to keep them from feeling too heavy. You'll make these Old Fashioned Peanut Butter Balls year after year.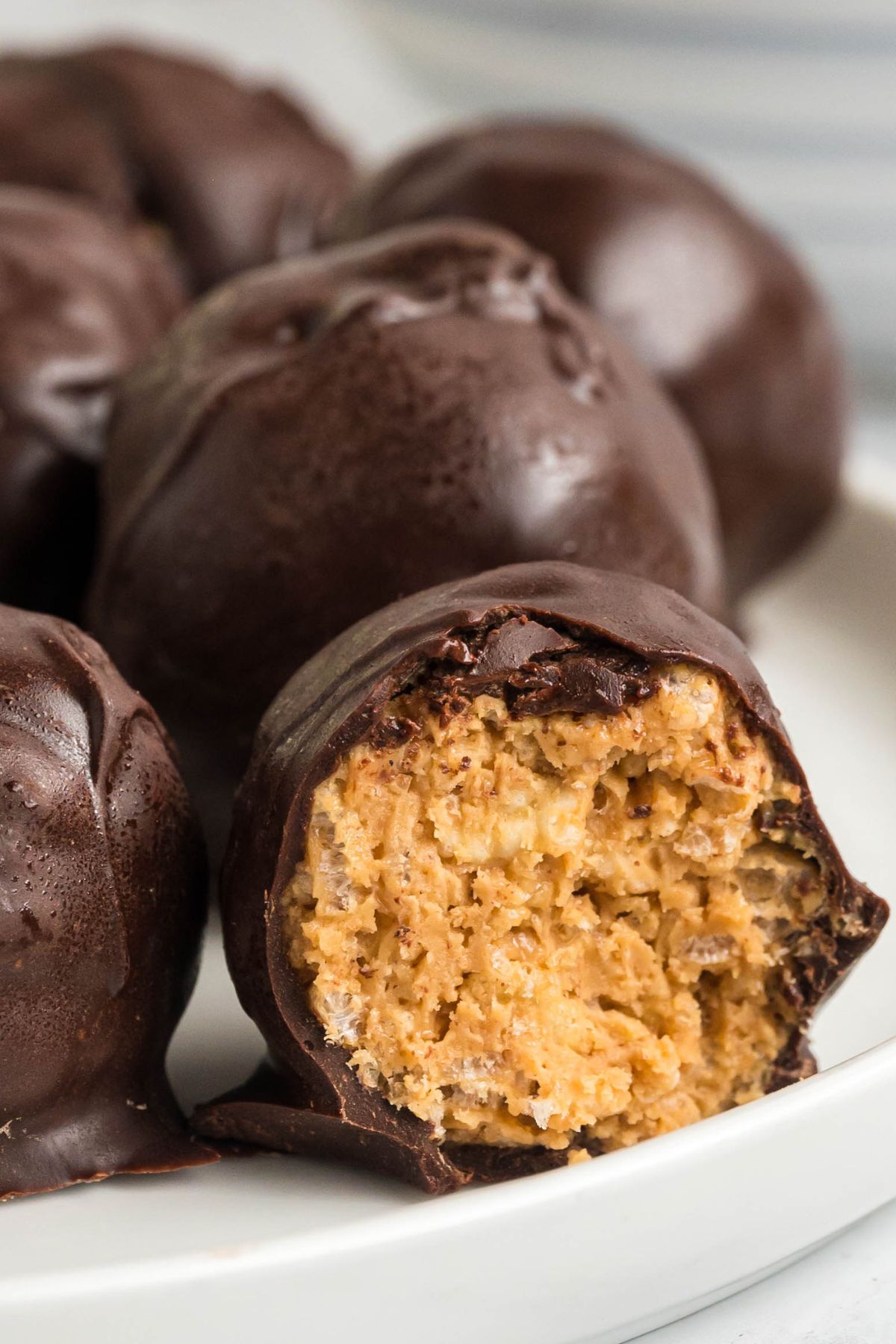 These are an easy Christmas candy that everyone loves and won't take all day or use any fancy equipment.
❤️ Why you'll love this recipe
Incredibly tasty: One bite into these peanut butter balls, and you'll get it. Salty-sweet, rich but not too rich, and a nice chocolate coating.
Easy peasy prep: With just a handful of ingredients and some simple steps, you can whip up these up. It's the easiest homemade candy EVER.
Stress-free storage: Double the batch gift some and keep some for yourself. You can store these gems at room temperature for a week, or freeze them for an impulse treat.
🧂 Ingredients
This is an overview of the ingredients. You'll find the full measurements and instructions in the printable recipe at the bottom of the page.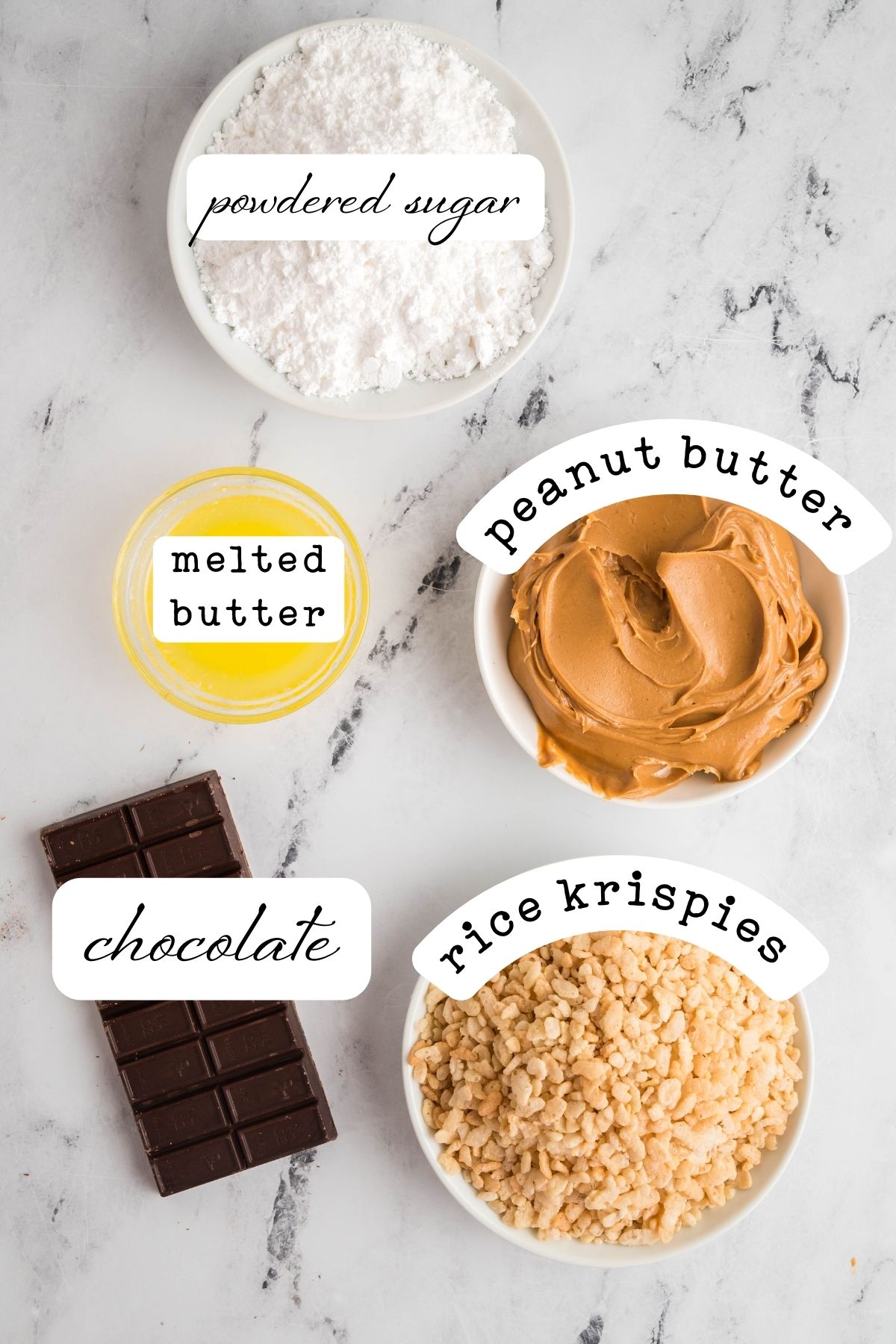 You'll need the following for this simple chocolate-covered treat:
Creamy peanut butter (You can replace the peanut butter with equal amounts of almond or cashew butter.)
Salted butter
Rice Krispies cereal
Powdered sugar (you can substitute the powdered sugar with a non-sugar sweetener like Stevia or Erythritol.)
Melting chocolate
🥣 Equipment
🍴how to make old fashioned peanut butter balls
Tip: Feel free to sprinkle some crushed nuts, coconut flakes, or even some sea salt over the balls right after you dip them in the melted chocolate. The toppings will stick to the chocolate as it sets, adding an extra bit of flavor and texture.
Step One: blend butter and peanut butter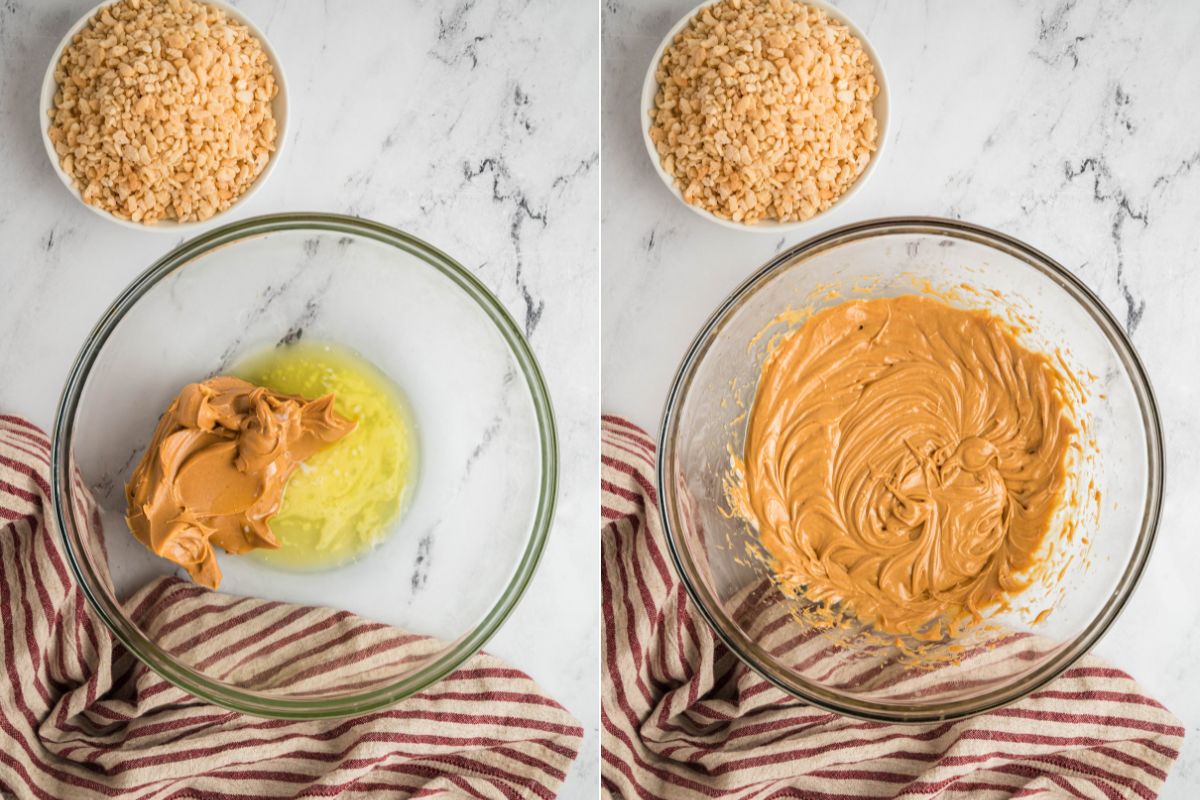 First, you'll need to mix your creamy peanut butter and melted salted butter in a large mixing bowl. You can use a handheld mixer or a rubber spatula for this. Just keep going until you've got a smooth, combined mixture
Step Two: add sugar and rice krispies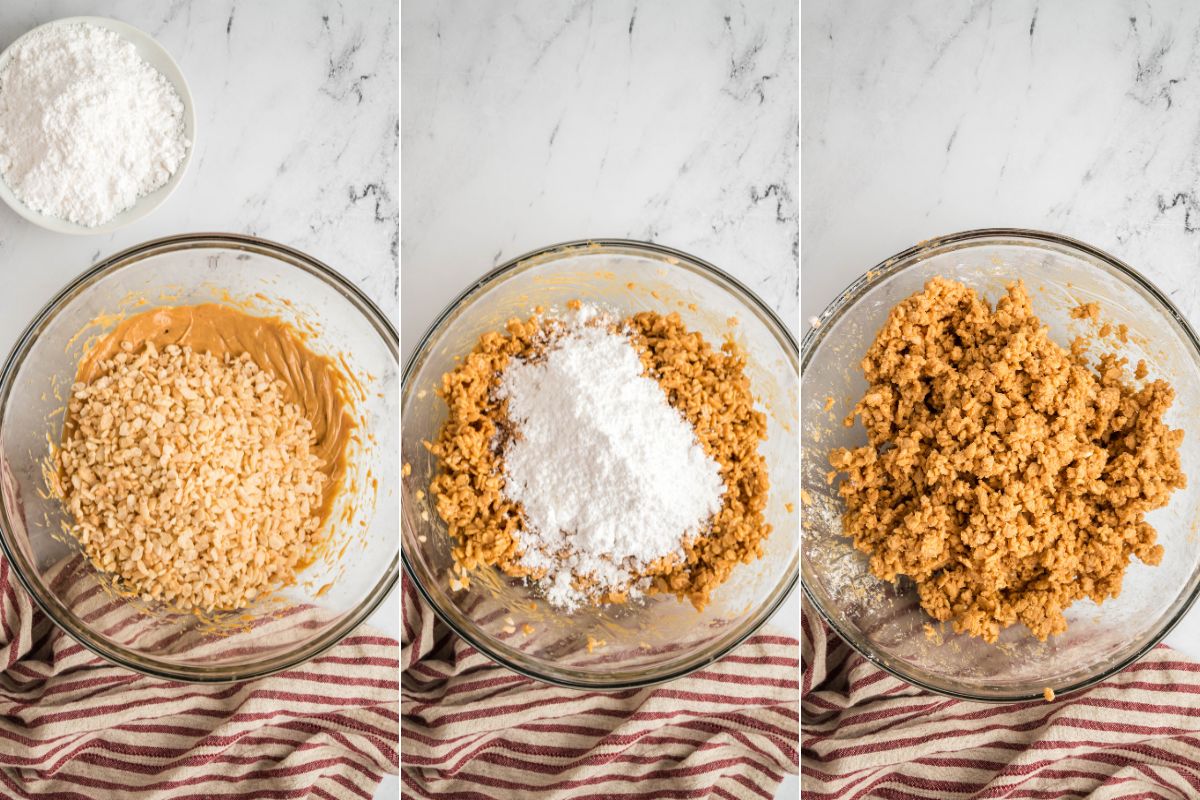 Stir in the cereal until combined. Add the powdered sugar and mix until well incorporated.
Step three: shape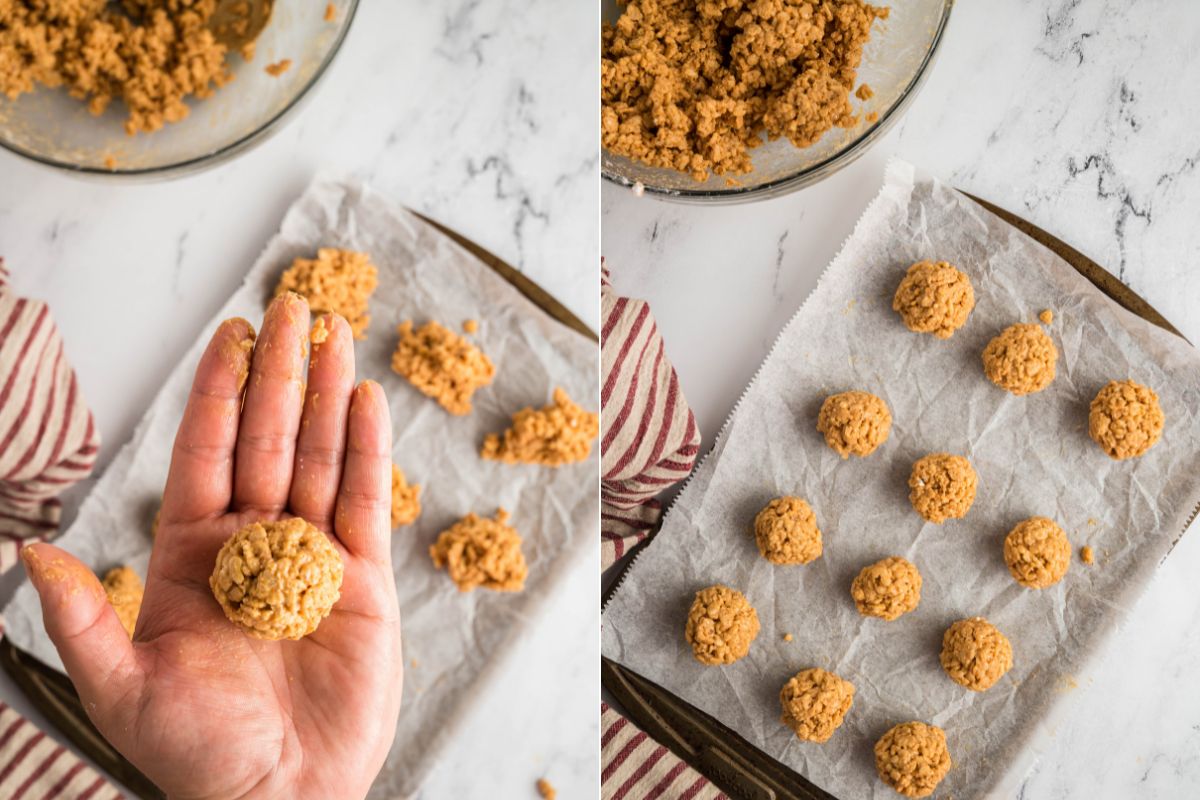 Line a cookie sheet with some parchment or wax paper. Then, with the help of a tablespoon, scoop out some of your mixture and shape it into a ball using your hands. You might find it helpful to lightly grease your hands first. Once you've filled up your tray, let them chill in the fridge for about 30 minutes.
Step Four: dip
Get your chocolate ready. In a microwave-safe bowl, heat up the chocolate in 30-second intervals, giving it a stir each time. The result should be beautifully smooth and melted chocolate.
With the peanut butter balls nicely chilled, it's time for their chocolate bath! Dip each ball into the melted chocolate until it's fully coated. You can use a spoon to dip and a fork to remove – it makes the process much easier. Once they're all dipped, pop them back on the baking sheet.
Step Five: set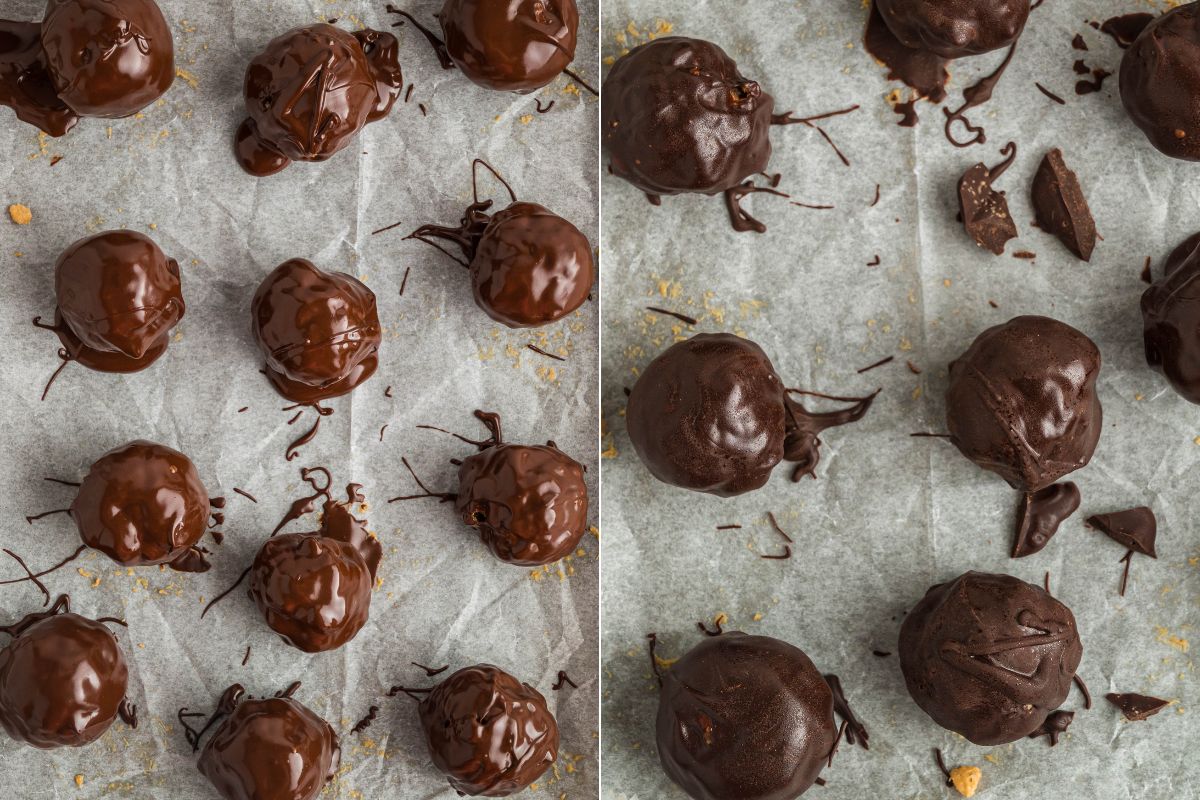 Now, they need one last trip to the fridge. Let them chill until the chocolate sets, and then you're done!
🥫 Storage instructions
Storing at Room Temperature: After the chocolate has set, you can store these tasty morsels in an airtight container at room temperature. They'll keep for up to 7 days like this. Just make sure to layer parchment paper between any stacked balls to prevent them from sticking together.
Freezing for Later: If you want to keep them around for longer or want to prep in advance for a party or event, you can also freeze these peanut butter balls. Place them in a freezer-safe container, again with parchment paper between layers, and they can be stored for up to 3 months.
Serving: When you're ready to serve the frozen peanut butter balls, remove them from the freezer and let them sit out at room temperature for about 10-15 minutes. This short thawing period will ensure they're at their best when you bite into them.
Remember, whether you store them at room temperature or in the freezer, keeping them in an airtight container is key.
what's the best way to melt chocolate without a microwave?
You can melt the chocolate using a double boiler on the stove. Just place a heatproof bowl over a pot of simmering water, ensuring the bottom of the bowl doesn't touch the water, and add the chocolate to the bowl. Stir occasionally until it's completely melted and smooth.
👩🏻‍🍳 Expert tips
Prevent Sticking: When rolling your peanut butter mixture into balls, your hands might get slightly sticky. To prevent this, lightly grease your hands with cooking oil or butter.
Patient Melting: Be patient and cautious when melting your chocolate. Overheated chocolate can seize and turn grainy. Heat in 30-second intervals in the microwave, stirring well each time, to ensure the chocolate melts evenly and maintains a smooth texture.
Even Coating: When dipping your peanut butter balls into the chocolate, using a fork can help. Place a ball on the fork and spoon the chocolate over it for an even coat. Allow the excess chocolate to drip off by gently tapping the fork on the edge of the bowl.
Setting Space: Make sure to leave a bit of space between each of the peanut butter balls on the tray when you put them in the fridge to set. This helps ensure they don't stick together and the chocolate sets evenly.
📘 more easy candy Recipes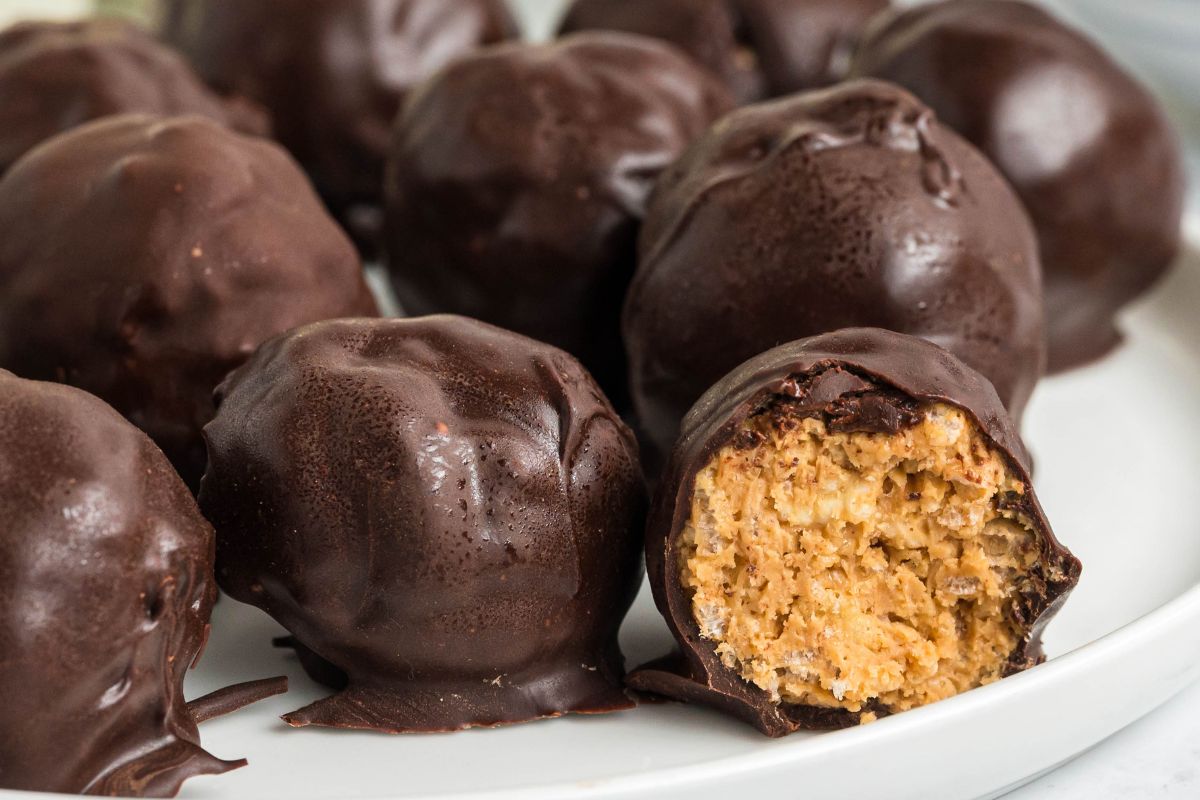 📖 Here's the recipe
Old Fashioned Peanut Butter Balls
Print Recipe
So easy to make, these sweet treats are perfect to gift at the holidays. A vintage favorite.
Click here for a FREE autumn cookbook (25+ Recipes!)
Equipment
Large mixing bowl

Microwave safe bowl
Ingredients
1

cup

creamy peanut butter

3

tablespoons

salted butter

Melted

2

cups

Rice Krispies cereal

1

cup

powdered sugar

12

ounces

melting chocolate

(look for wafers or bars in the baking aisle)
Instructions
Instructions:

Using a handheld mixer or rubber spatula, mix together the peanut butter and melted butter until smooth.

Stir in the cereal until combined. Add the powdered sugar and mix until well incorporated.

Line a cookie sheet with parchment or wax paper. Using a tablespoon, drop peanut butter ball batter onto the cookie sheet. Roll into balls using lightly greased hands and place in the refrigerator for at least 30 minutes.

Melt the chocolate in the microwave in 30 second intervals until smooth.

Dip the peanut butter balls into the melted chocolate until completely covered and place back onto the baking sheet.

Chill in the refrigerator until the chocolate has set. Enjoy!
Notes
The peanut butter balls can be stored at room temperature in an airtight container for up to 7 days, or stored in a freezer safe container for up to 3 months.
Nutrition
Calories:
283
kcal
|
Carbohydrates:
29
g
|
Protein:
5
g
|
Fat:
19
g
|
Saturated Fat:
8
g
|
Polyunsaturated Fat:
2
g
|
Monounsaturated Fat:
8
g
|
Trans Fat:
0.1
g
|
Cholesterol:
6
mg
|
Sodium:
115
mg
|
Potassium:
168
mg
|
Fiber:
2
g
|
Sugar:
22
g
|
Vitamin A:
318
IU
|
Vitamin C:
2
mg
|
Calcium:
15
mg
|
Iron:
2
mg
Did you make this recipe?
If you loved it, please leave a review!