Soft, simple, and delicious yeast rolls to serve with a holiday dinner.  Made even easier if you have a bread machine!
What is a special dinner without homemade rolls? This is the best recipe for those soft and fluffy, slightly sweet and buttery, yeast dinner rolls we all know and love, made easy in your bread machine!
Getting back to basics
I love unusual bread recipes just as much as the next person, but for Thanksgiving dinner or Christmas dinner, you have to have classic soft rolls. It's the law.
(Looking for more a crusty roll for sandwiches? You'll love this recipe for sandwich rolls in the bread machine.)
But a lot of recipes for simple rolls can be disappointing. I wanted one that was extra fluffy and soft, somewhat sweet and buttery, and still easy enough for the complete beginner. If you have a bread machine, these are totally foolproof. If you don't, they are still very easy! You can knead bread very well in a stand mixer too.
This recipe uses plain, everyday ingredients that you probably have on hand.
This article contains affiliate links, meaning that if you purchase after clicking on one, I may earn a commission at no extra cost to you. As an Amazon Associate, I earn from qualified purchases.
What you'll need for these rolls
Nothing fancy! Just flour, salt, sugar, milk, butter and an egg. It's sort of amazing how delicious it is when you consider how plain the ingredients are.
If you want to, you can sprinkle them with poppy seeds or sesame seeds, but it's not necessary, and there is something perfect about them just as they are.
Helpful tools:
Step by step dinner rolls, if you're a beginner
If you have never made a yeast bread before, please check out my beginners guide to yeast bread baking, which will go over the basic steps and different methods you can try.
If you are using instant yeast, like you should, you can just dump all the ingredients in a bowl or your bread machine bucket in any order.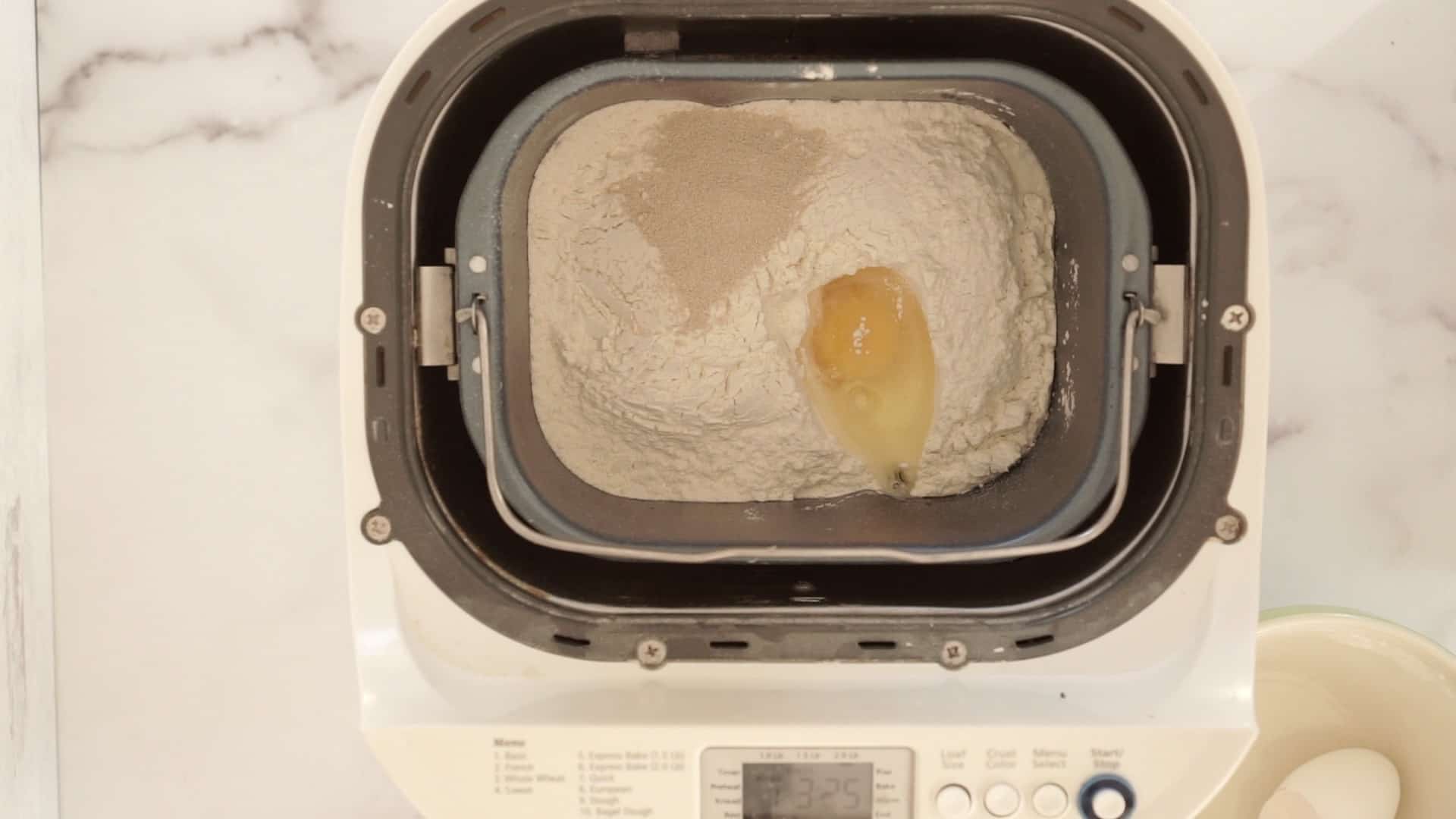 Mix everything to form a dough. It seems dry and there are crumbly bits, add water a teaspoon at a time. If it's too wet and is sticking to the bowl, add flour a teaspoon at a time.
The dough should clear the sides of the bowl and form a ball, like this: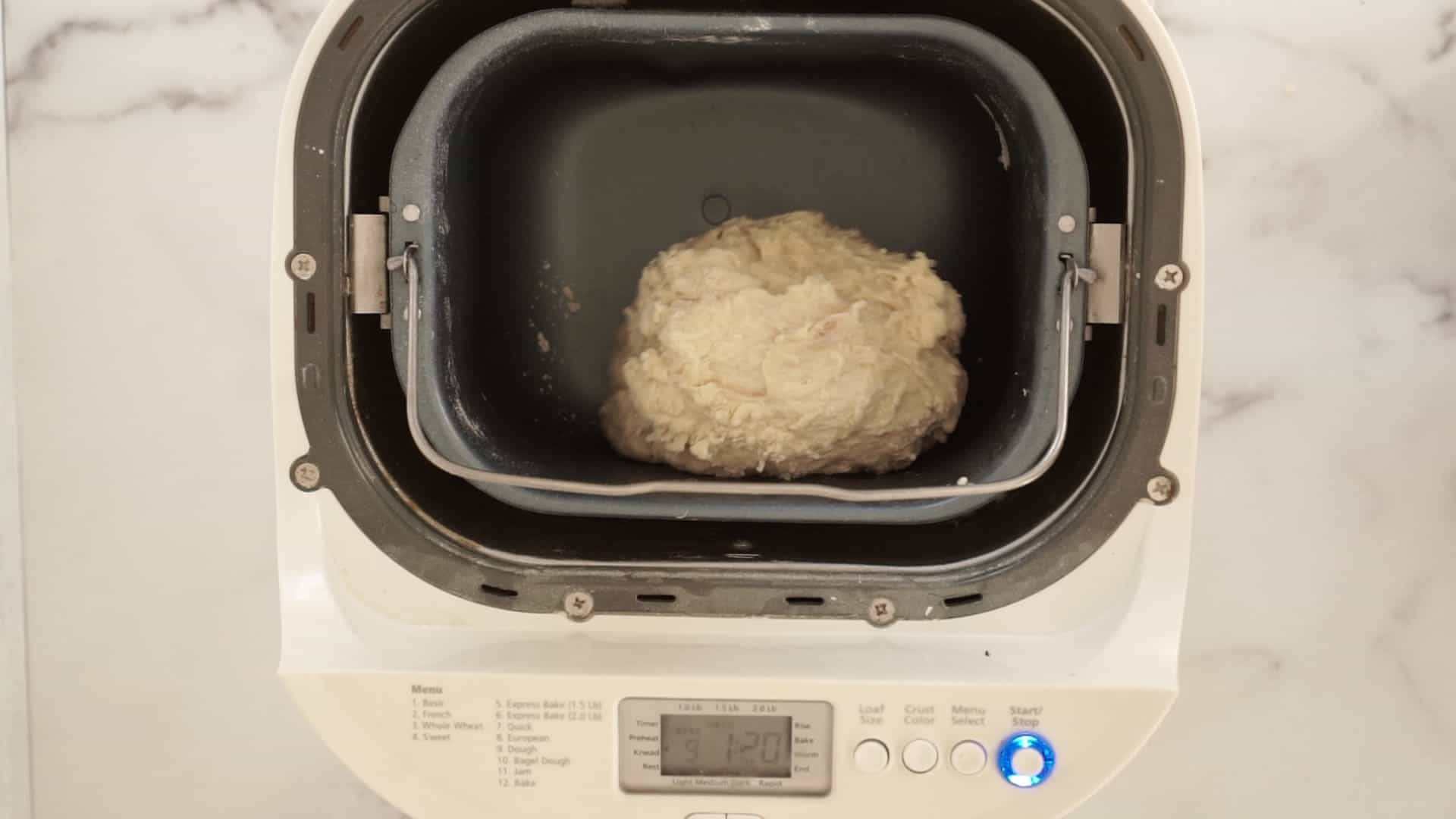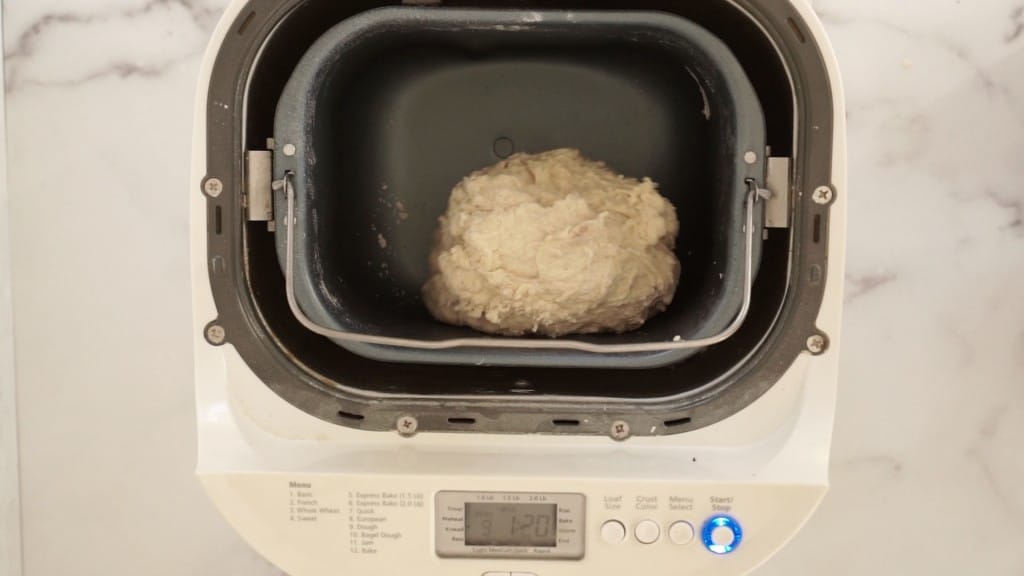 Knead by hand, mixer, or bread machine until a smooth dough forms, about 15 minutes.
Then cover it in and place it in a warm place to rise. (The bread machine dough cycle will automatically switch over to a rising period and do this for you.)
It will be very puffy once its risen: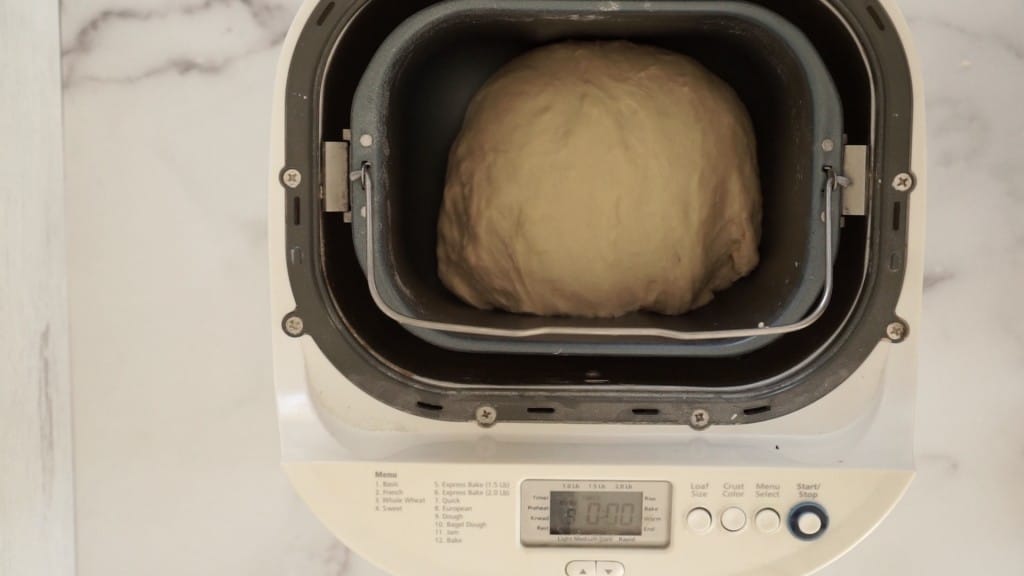 Shape it into a log so it's easier to divide equally. You want 16 pieces, so it's easy to divide in half, then quarters, then eighths, then sixteenths. (Is that a word?)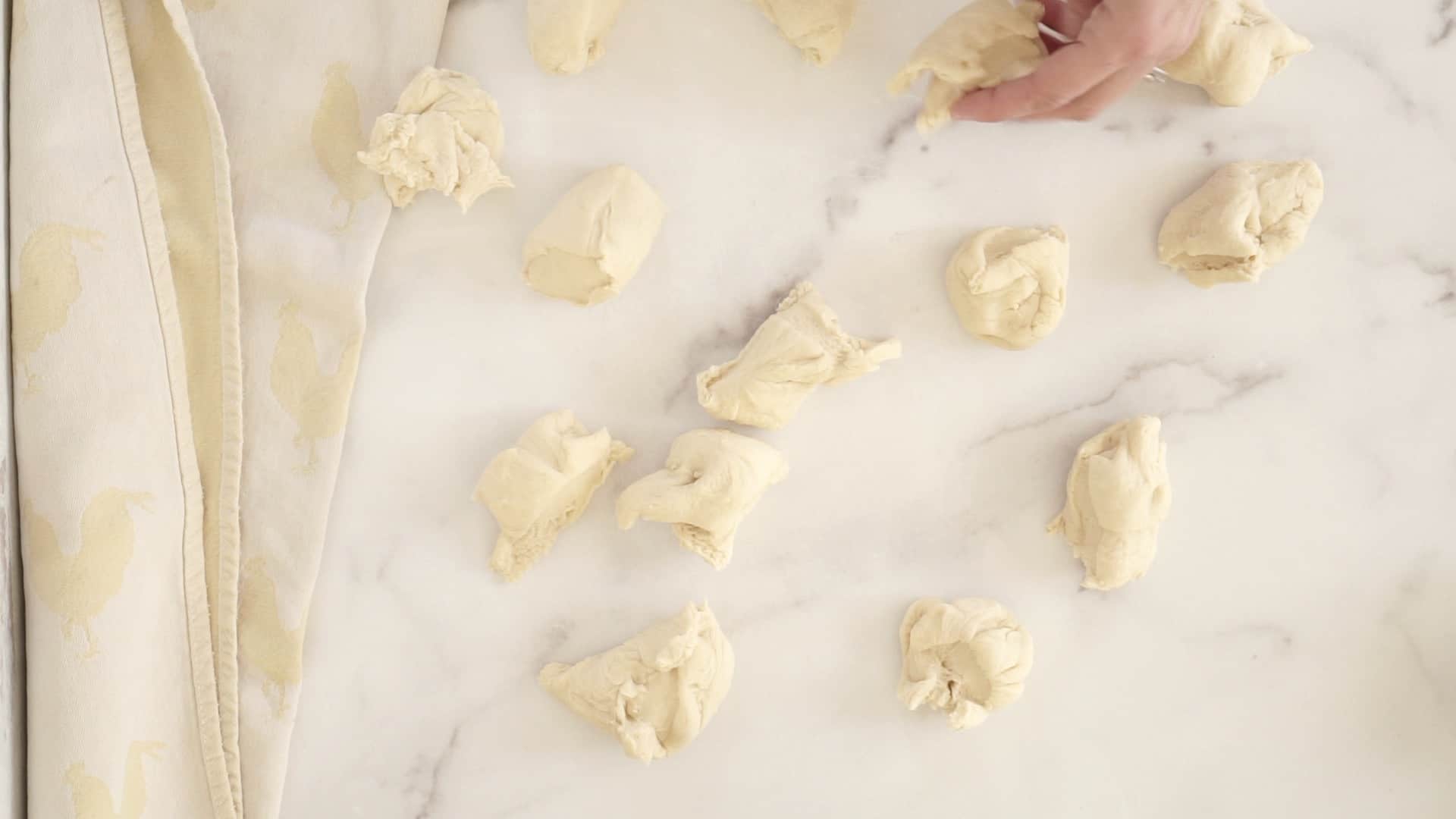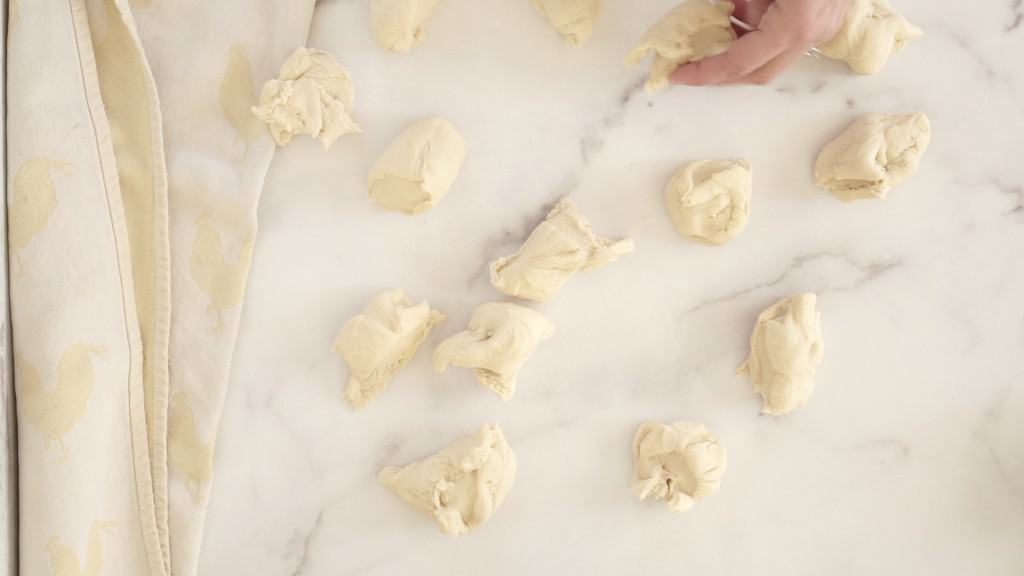 Now don't be afraid of shaping them into rolls. There's no need to get hysterical about what the bottom looks like, we are just concerned with the top. So just pinch the bottoms and you'll see how the top smooths out and gets round. Don't smash from the top. Handle them as lightly as you can.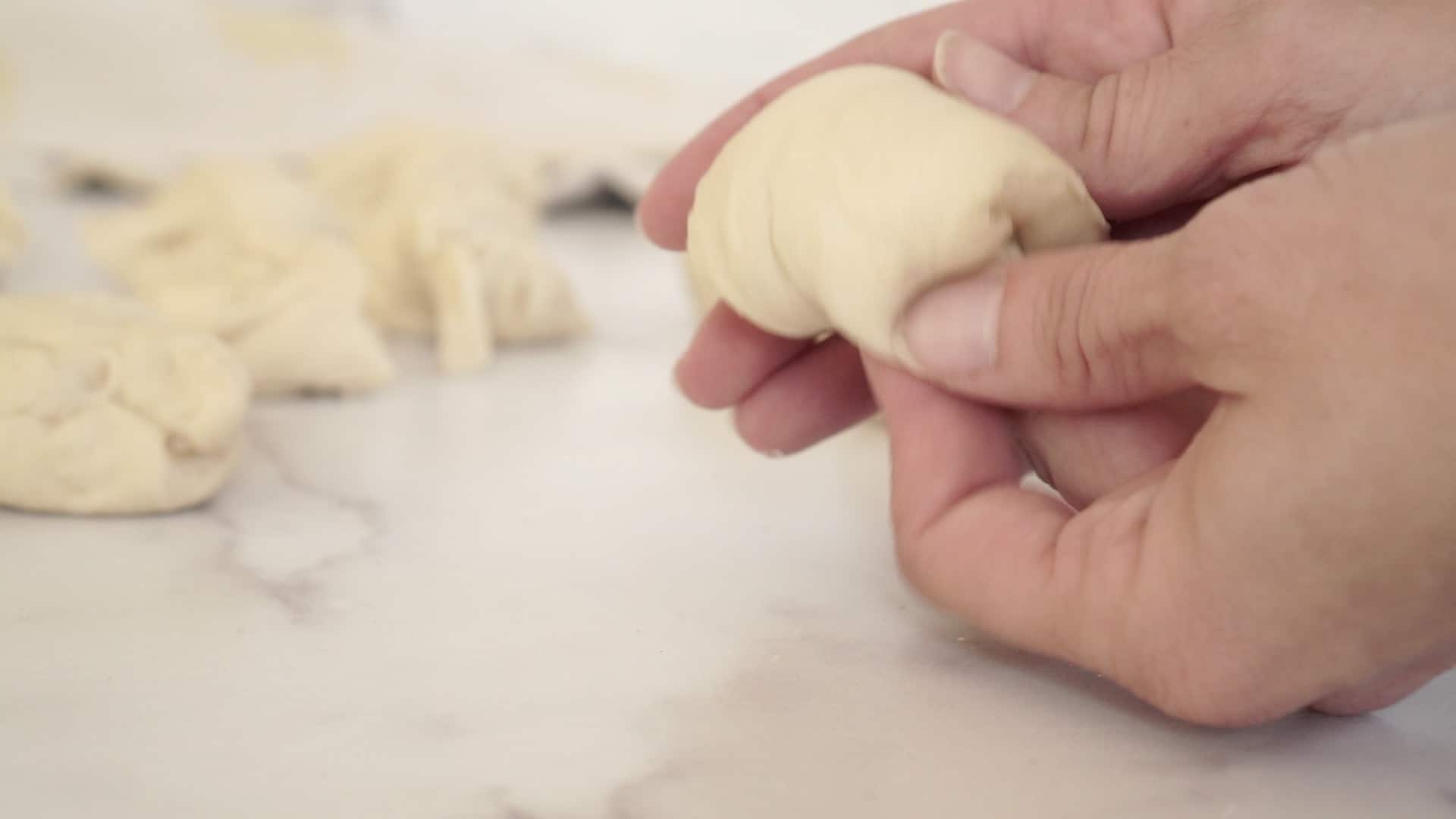 They will all fit on one baking sheet, but they will look small at first.
Make sure to cover them with plastic wrap that's well-sprayed with cooking spray. They will rise up to touch it, and it will stick to the rolls if it's not well greased. Place them in a warm place to rise for about 45 minutes. Partway through the rising time, start preheating your oven to 400 degrees.
They will look like this when they are ready to bake. Before they go in the oven, brush with two tablespoons of melted butter. Don't be shy!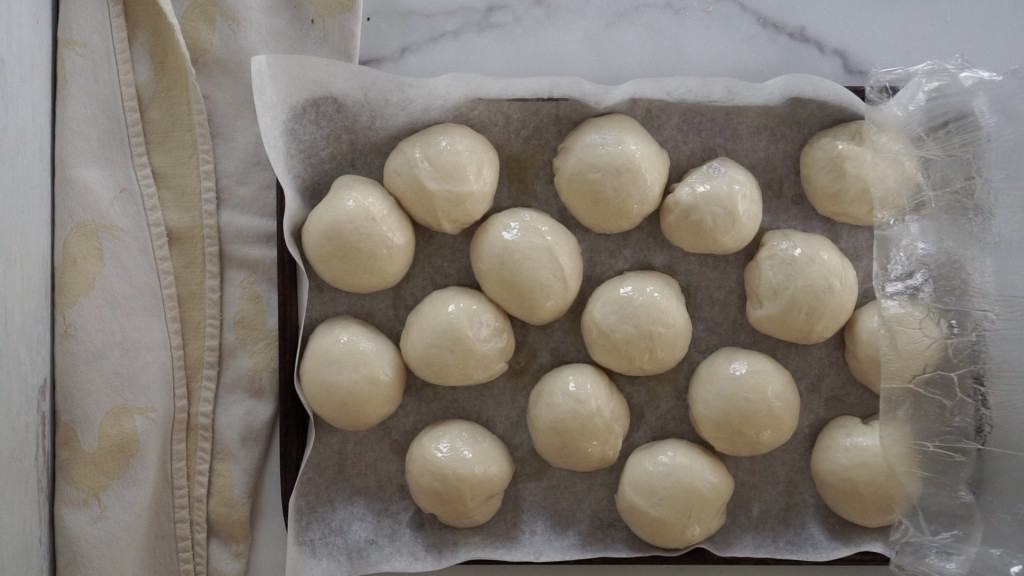 Bake for 13-16 minutes, until golden brown. Then brush with another tablespoon of melted butter. (Or be lazy and grab a stick of butter and just rub it on.)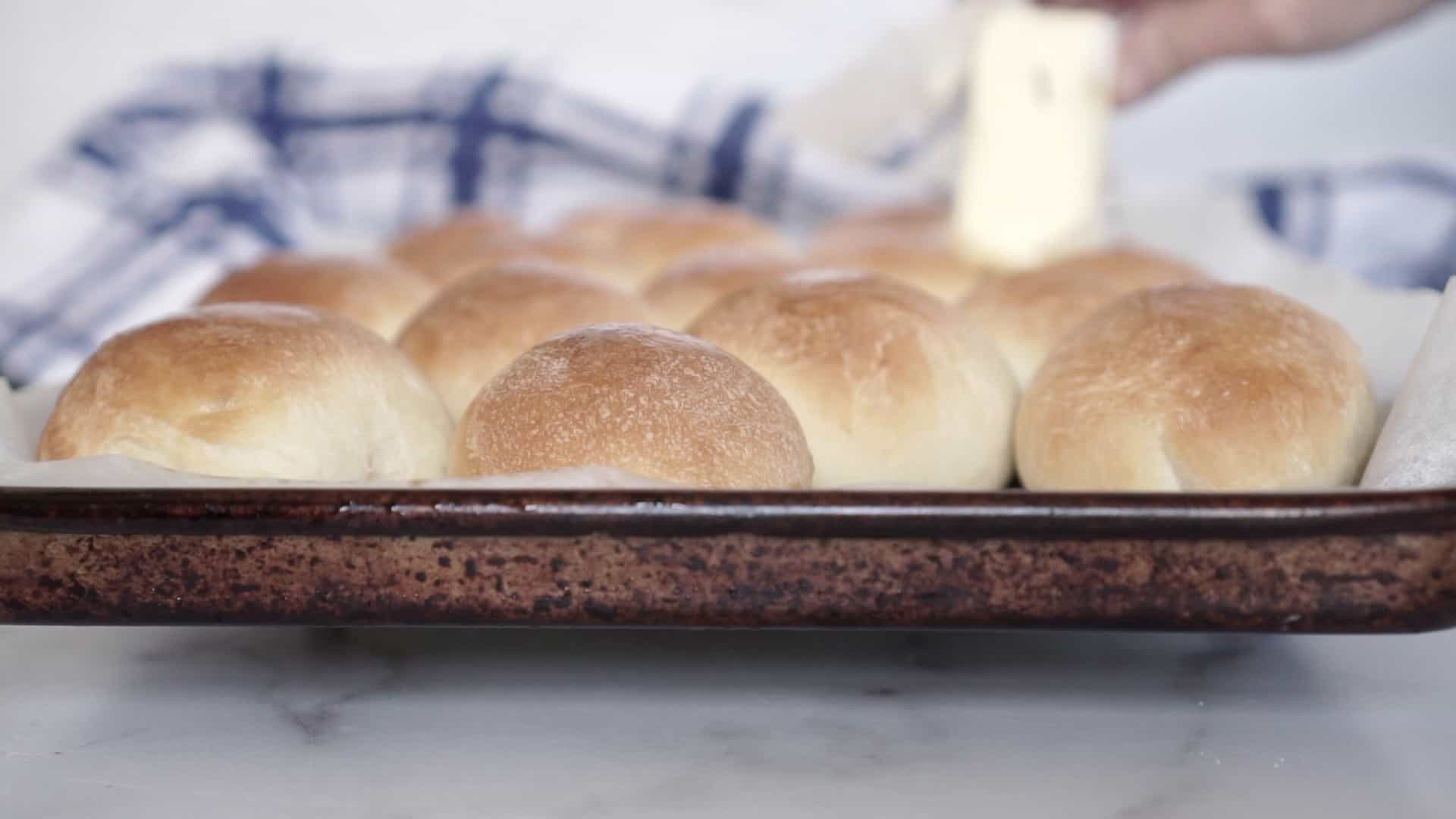 Print the recipe here:
Soft Bread Machine Dinner Rolls
Print Recipe
Soft, simple, and delicious yeast rolls to serve with a holiday dinner.  Made even easier if you have a bread machine!
Click here to grab a free seasonal e-cookbook!
Ingredients
For the dough
1/2

cup

water

1

egg

1/4

cup

milk

3

tablespoons

sugar

1 1/2

teaspoons

salt

3

cups

all purpose flour

1 1/2

teaspoons

instant yeast
Top with:
3

tablespoons

melted butter

divided
Instructions
Combine all ingredients in a large bowl or in the bucket of your bread machine.  Knead by hand, with a stand mixer, or with a bread machine set on the "dough" cycle. (If using bread machine, skip step 2 and allow machine to complete the full cycle.)

Shape dough into a ball and place in a clean, lightly oiled bowl to rise.  Cover with plastic wrap or a damp tea towel and allow to rise in a warm place for 1 hour, or until doubled in size.

Turn dough out onto clean surface and divide into 16 pieces with a sharp knife.   Shape the pieces into balls by pinching the bottoms until the tops are round and smooth.

Prepare a baking sheet with parchment paper or cooking spray, and place the rolls an equal distance apart.  They will all fit on one sheet.  Cover with greased plastic wrap and set in a warm place to rise until very puffy, about 45 minutes.  Towards the end of the rising time, preheat oven to 400 degrees.

Remove the plastic wrap and brush the rolls with 2 tablespoons of the melted butter.  Bake for 13-16 minutes, until golden brown.  Allow to cool on rack and brush with the remaining tablespoon of butter while still warm.

Serve immediately, or allow to cool completely and freeze for up to 1 month.  Warm in 200 degree oven for 10 minutes before serving.
Notes
You can sprinkle with poppy seeds or sesame seeds after brushing with melted butter the first time (before baking).
Unfortunately, the dough does not freeze well (they won't rise as fluffy when you bake them).  So to make ahead, bake fully and freeze.
Nutrition
Calories:
104
kcal
|
Carbohydrates:
21
g
|
Protein:
3
g
|
Fat:
1
g
|
Saturated Fat:
1
g
|
Cholesterol:
11
mg
|
Sodium:
225
mg
|
Potassium:
45
mg
|
Fiber:
1
g
|
Sugar:
3
g
|
Vitamin A:
21
IU
|
Calcium:
9
mg
|
Iron:
1
mg
More dinner roll recipes that we love:
Need more sides and baked goods to round out your holiday dinner?
Jenn at the Everyday Farmhouse has a Cranberry Harvest Pie for a little change from your typical Thanksgiving pies.
The Duvall Homestead prepares Brussel sprouts my favorite way: Crispy Brussels sprouts.
The Tidy Cape Code has a dessert recipe I love: Pumpkin Cupcakes with Caramel Buttercream.
A classic Thanksgiving favorite is Jayden's recipe for sweet potato casserole.
Any bread baking questions? I am always here to help!