It's easy to forget the charm and warmth that handwritten notes and recipes can bring into our homes. They add a personal touch that's often missing from our tech-dominated lives.
No one is going to pass your browser bookmarks onto their children. Right? Right.
Here are ten free printable recipe cards I think you'll love. Links to download are at the bottom ❤️.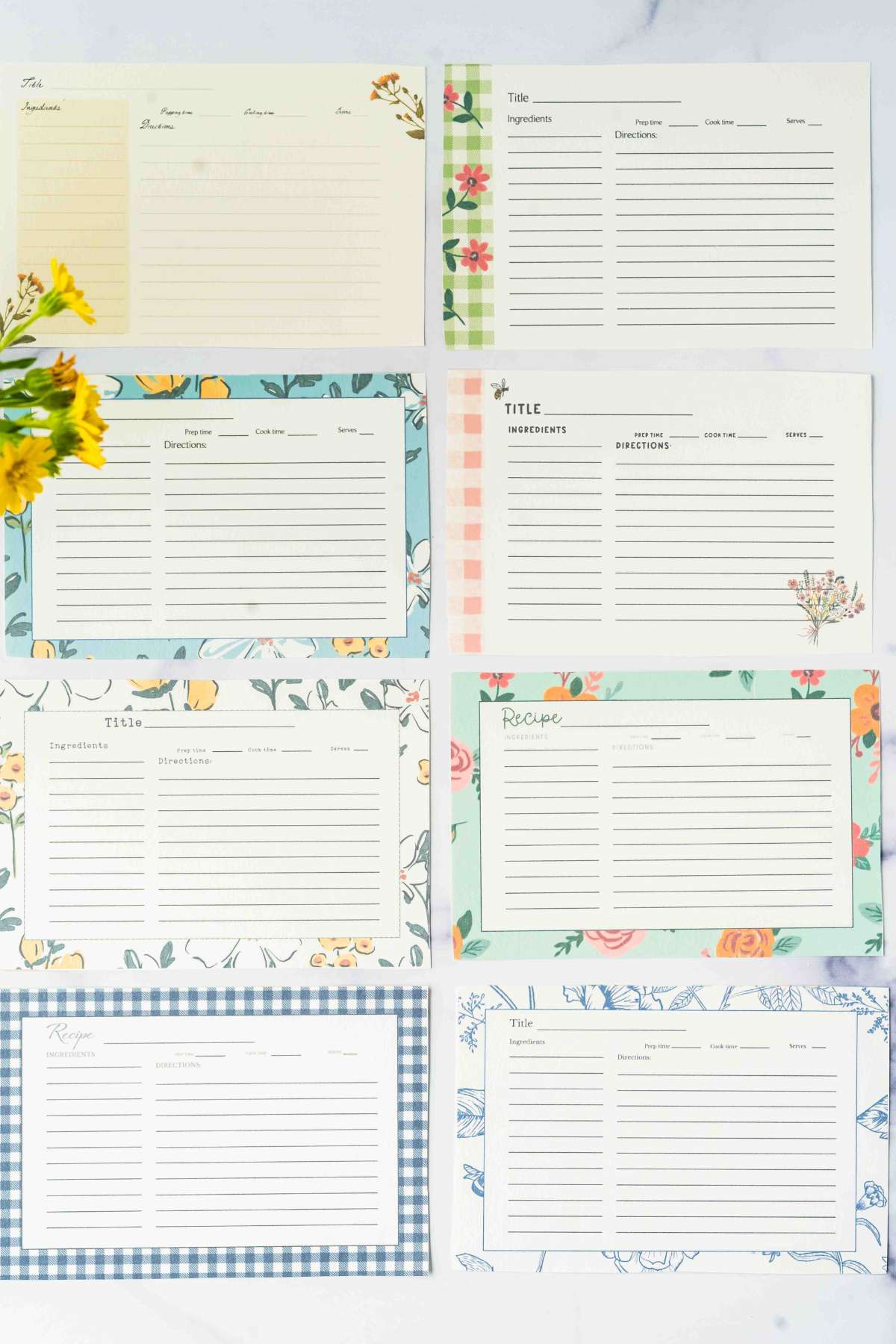 Even if you love the convenience of digital recipes (so do I!), there are other ways to use these vintage-inspired printables.
Ways to use recipe cards (Besides the obvious)
Heirloom Recipe Binder: Create a beautiful binder filled with family heirloom recipes. This makes a thoughtful gift, especially for young adults moving out on their own or couples just starting their journey together. Add photographs of the dishes or the family members known for the particular recipes to make it even more special.
Homemade Soup or Mix Gift: Pair a recipe card with the dry ingredients for a soup, dessert, or hot drink mix. Place the ingredients in a mason jar or decorative bag, and attach the recipe card with a ribbon. This is a perfect housewarming, holiday, or "get well soon" gift.
Kids' Culinary Kit: Gather simple and fun recipes that kids can make, and create a recipe card box or binder just for them. This can be a fantastic way to get kids interested in cooking. Pair it with a child's apron or a mini cooking set.
Themed Recipe Collections: Think of themes like "Summer BBQ Favorites", "Holiday Treats", or "Around the World in 10 Dishes" and compile recipes to match. It's a unique way to celebrate occasions or explore diverse cuisines.
Recipe Swap Party: Host a recipe swap party where everyone brings their favorite recipes written on these cards. By the end of the event, each guest will have a collection of new recipes to try!
Bridal Shower Gift: Ask each bridal shower attendee to fill out a recipe card with their favorite recipe. Compile these cards into a beautiful box or binder as a gift for the bride-to-be.
Memory Keepsake: Use the cards to jot down memories associated with particular dishes, like "Grandma's Christmas Cookies" or "Dad's Sunday Pancakes". It's a culinary trip down memory lane.
Cooking Challenge: Gift a set of recipe cards to a friend with the challenge of cooking each recipe by the end of the year. It can be a fun way to try new dishes and techniques.
SENSORY4U Tin Recipe Box – Includes 100 4X6 Cards, 12 Dividers – Beautiful Decorative Tin Box Gift Set (Wild Flower) 30 Pcs Clear Index Card Pockets, Self-Adhesive Label Pocket for Replaceable Labels with Top Opening, Ideal Index Card Holder for 4×6 Inch Photos, Notes Aesthetic 3 Ring Binder Set of 2 – Sturdy 1 Inch Fits Letter Sized Paper A Cute Three for Women or Men with Pocket Easily Organizes Your Paperwork School, Office Work
Don't let this list stress you out. It's just fine to find a style you like and use it for yourself.
More pretty vintage printables:
All of my printables use pretty fonts and patterns. Promise!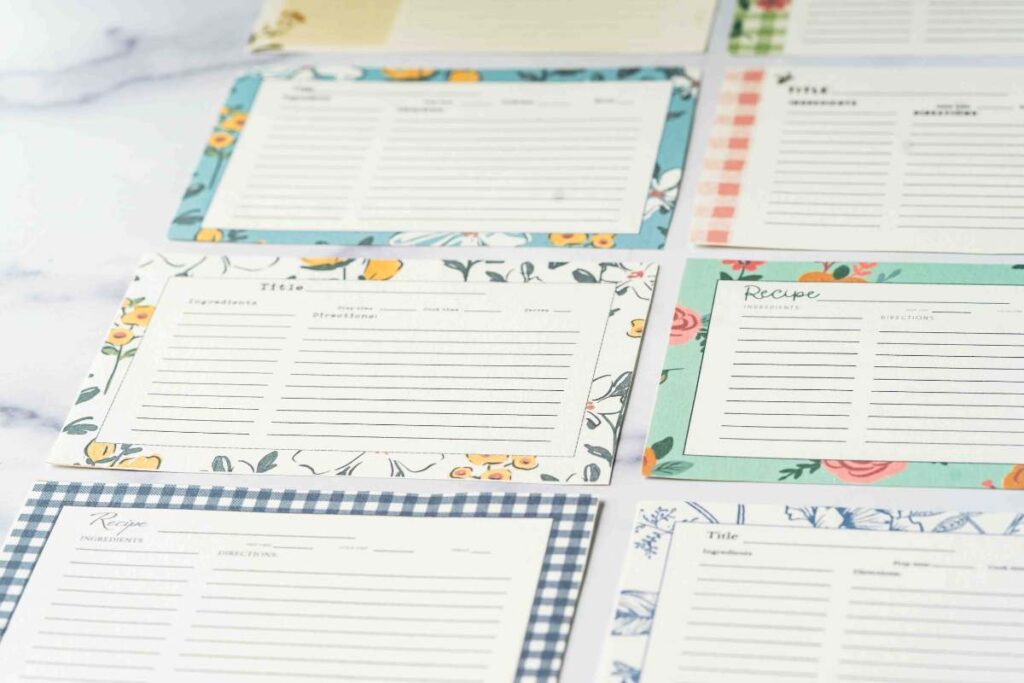 link to pdfs
This image shows you what each recipe card looks like, but each sheet has only one style per sheet.
You can select the pages you'd like to print.