Planning a vegetable garden but all you have room for is a 10 x 10 space? You might be surprised by what you can grow. Whether you're looking for inspiration or a garden plan to use right away, you'll find something that works in one of these examples.
The general rule of laying out a small garden: you can have anything you want, but not everything you want.
If you want to grow space hogs like corn and pumpkins, that will be pretty much all that fits. If you want a mix of veggies, you'll only be able to fit a small amount of everything. You can't expect a 100-foot garden to feed you and your family the whole year. (And if all you have the room for are 4×8 beds, check out these layouts.
But we can still do a lot! Browse through these plans and see all your options.
Plan 1: The summer classic
If you love basil, tomatoes, and cucumbers (and who doesn't!), this is a great choice. You'll have enough tomatoes, peppers, and beans for fresh eating all summer, plenty of carrots, and so many herbs. There are even enough cucumbers to make refrigerator pickles and eat fresh.
If you don't need this many herbs, mix in some zinnias (super easy to grow from seed!), and add some color to your backyard.
Plan 2: The early spring plan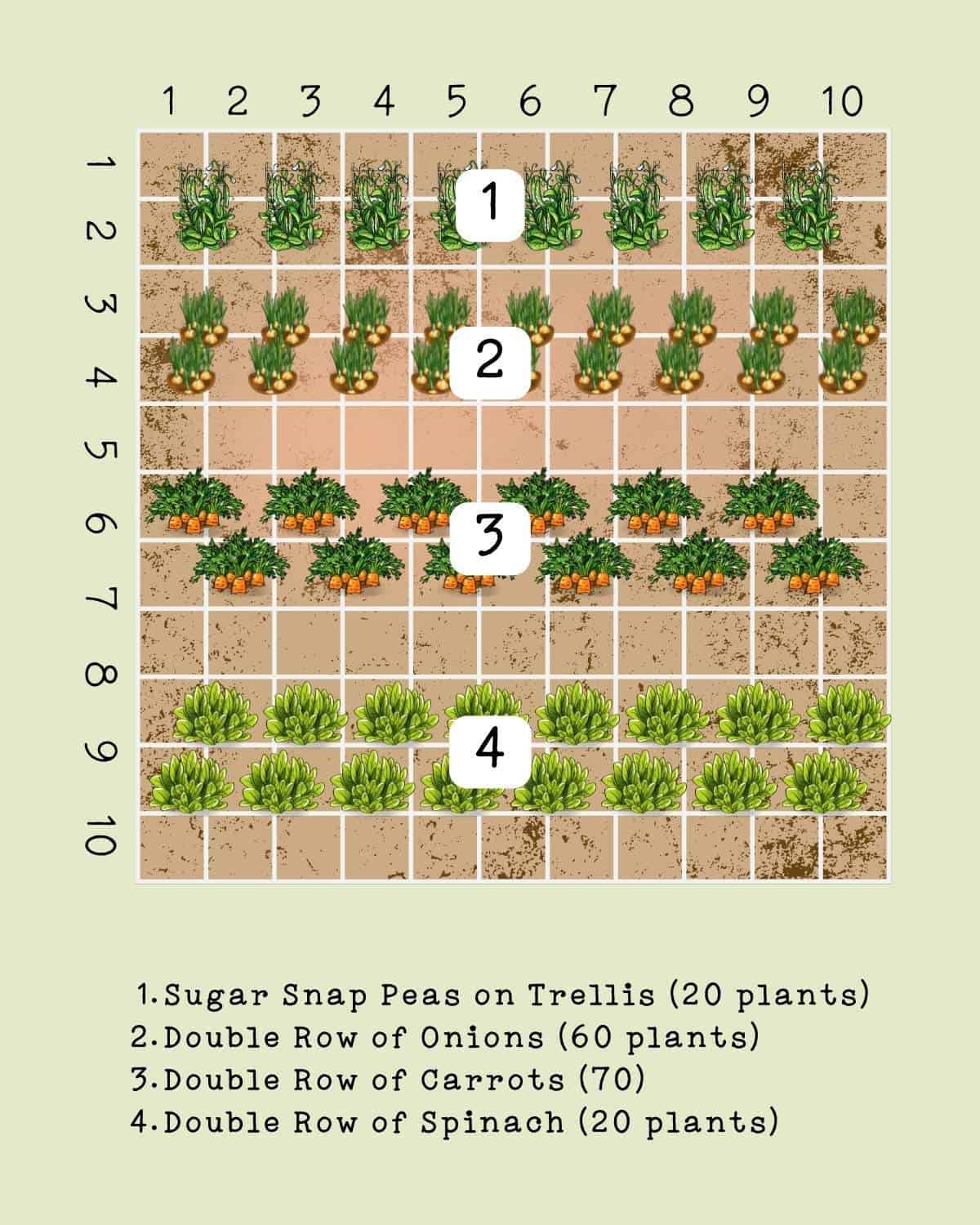 If you get spring fever every year, this garden will have you harvesting as soon as possible. Everything in here is harvested early. You'll start munching on peas and radishes early, and the homegrown onions and carrots will arrive before the real heat of summer hits.
(Tip: in areas with long growing seasons, use the next plan as a fall garden and plant right after you harvest your early spring crops.)
Plan 3: The fall garden
Pumpkins take up a lot of room, so you have to be willing to give up about half your space. If that works for you, there's still room for brussels sprouts, cabbages, and broccoli, all of which can be harvested right up to Halloween in many climates.
Plan 4: The Chef's Garden
If you want to fill your harvest basket with big beautiful veggies, you'll love this plan. A summer squash and a zucchini will keep you full all summer long, and you have enough tomatoes to plan some for slicing and canning tomatoes too.
Eggplants can be substituted for peppers if you'd like.
Plan 5: Kid's Favorites Summer Garden
Kids love growing sunflowers and corn (they're easy to grow, get super tall, and fun to harvest), and everything else in this plot is a happy summer choice. If you're willing to give up the cucumbers and carrots from plan one, you can have room for both of these fun picks.
Plan 6: A practical garden for food storage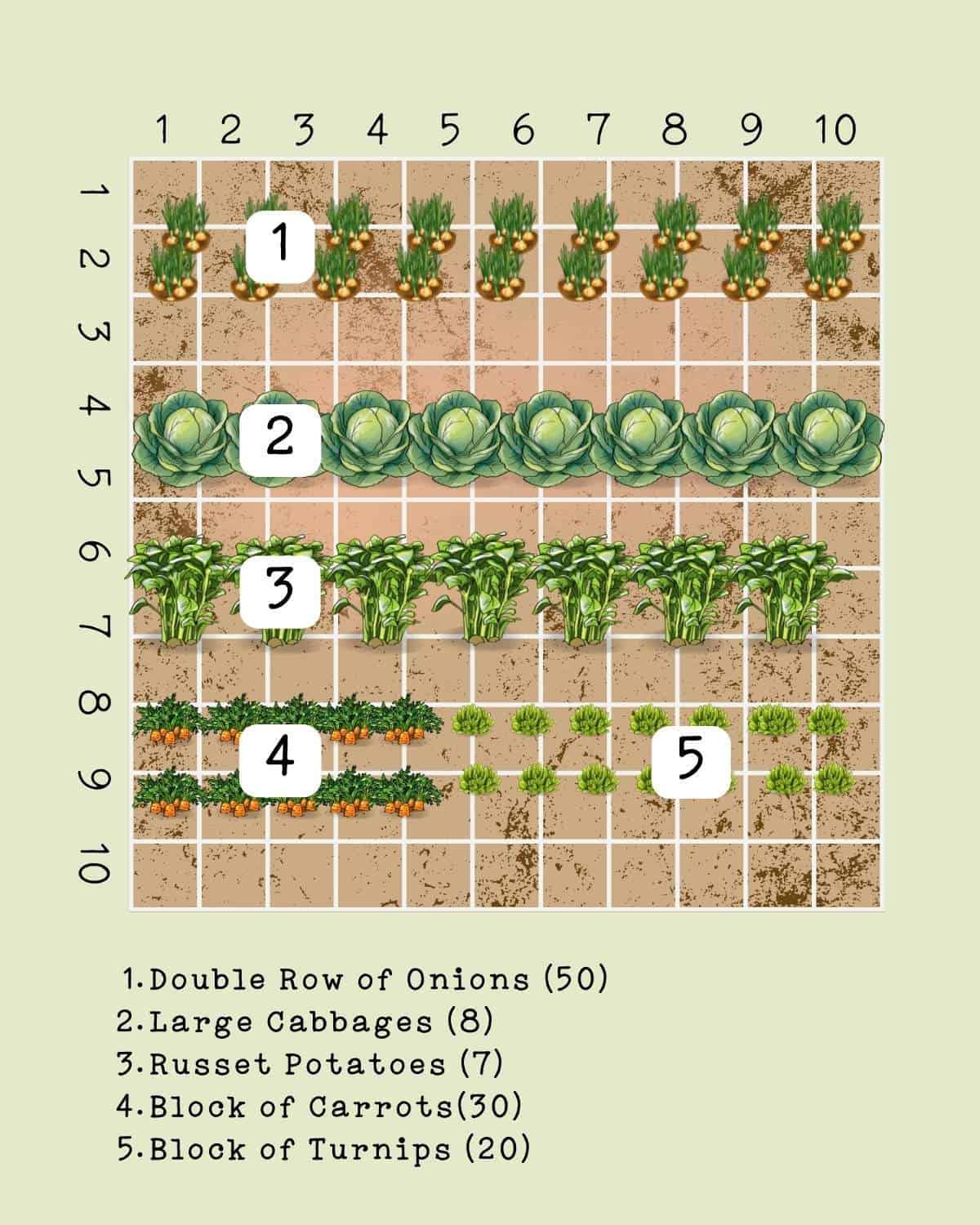 If you're gardening to save money, you'll want to plant some storage veggies that are filling and practical. And everything in this plan (onions, potatoes, turnips, cabbages, and carrots) keeps well.
This is a plan that you'll want to start early in the spring.
Plan 7: the canning and preserving garden
Finally, we have a garden designed just for all your favorite canning recipes. You'll want to plant Roma tomatoes, pickling cucumbers, basil and dill, and plenty of jalapenos. From this small space, you'll get sauces, homemade salsa, home-canned relish, and pickled peppers.
Printable plans
Tips for laying out a square garden
Make sure you leave enough room between rows to walk. These plans allow for just enough space for a person to weed and harvest. If you want to fit a tiller or wheelbarrow, you'll need more space
Plant tall things to the north of shorter things. Otherwise, your shorter plants will always be in shade.
Do not try to cram in more stuff. This is the most common rookie gardener mistake, and it basically guarantees that nothing will do well.
In case you're wondering
How much can you grow in a 10 x 10 garden?
Well… anywhere from two pumpkin plants to 300 carrots. If you're planting medium-sized plants like basil, you could theoretically plant 100 of them (one per square foot). But you'll need to allow room for walkways too.
How can I customize a garden plan?
Easy. Just substitute plants on the plan for similar-sized plants you like better
What if I want to grow more than this but I only have 100 square feet of garden space?
I'm sorry but math is math. If you add too much, none of your plants will thrive and you'll harvest less than you would have if you'd just given them plenty of space.
🌽 More on garden planning and choosing your veggies
Enjoy the harvest
There is plenty you can do with a 10 x 10-foot space. I hope you found a layout here that's right for you.